Fuqua School Falcon Flyer - 11/15/2020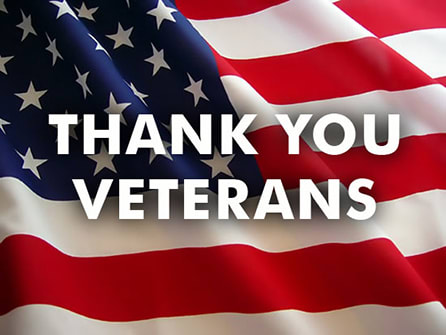 Fuqua Family,
As you know, the heavy rainfall that we saw this week forced us to have to cancel this year's Veterans Day event. I can't begin to tell you how much it hurt my heart to do so.

As the son of a veteran, I know how much this day means to the many men and women who have served our country courageously. And, I how much it means to me to be able to show them our appreciation and support.

As a small child, I used to go into my parents' bedroom and look with admiration at the medals and military decorations my dad earned from his time in Vietnam as an E-6 in the United States Marine Corps.

The recipient of three Purple Hearts for wounds incurred and the Silver Star for gallantry in action, my dad didn't speak much of his time in the war. And, I didn't push because I would come to learn, with age, that each of these medals involved memories for him of sights and sounds that he hoped I would never be forced to hear or see.

With that said, age has also taught me that duty, honor, and country are more than just words, and the freedoms we enjoy as a nation come with sacrifice.

As Head of School, I am proud of the fact that we are a school where students still stand at attention each morning with their hands on their hearts while reciting the Pledge of Allegiance. I am proud of the fact that our students still learn patriotic songs in band, write essays about what patriotism means to them, and wear the colors of our flag proudly. And, I am proud of the fact our students still take the time to acknowledge and appreciate the service and sacrifice of our Veterans in a year where we, unfortunately ,aren't able to gather together as one.

Go Red, White, and Blue! Go Falcons!
Paul "Chance" Reynolds, M.P.A., Ed.S.
Head of School
Fuqua School
While we weren't able to serenade our veterans, parents, faculty, alumni, and community members with our annual band performance due to rain showers, we were excited to shower them with love from our students with these amazingly thoughtful Thank You cards! These cards, made with lots of love and admiration for our veterans, were created by lower and middle school students. Lower School SCA officers, Wyatt Tucker (President), Reece Pembelton (Treasurer), Rocco Fortino (Secretary) and Paige McWilliams (Vice President- not pictured) delivered the cards on Veterans' Day to the local Piedmont Area Veterans Council.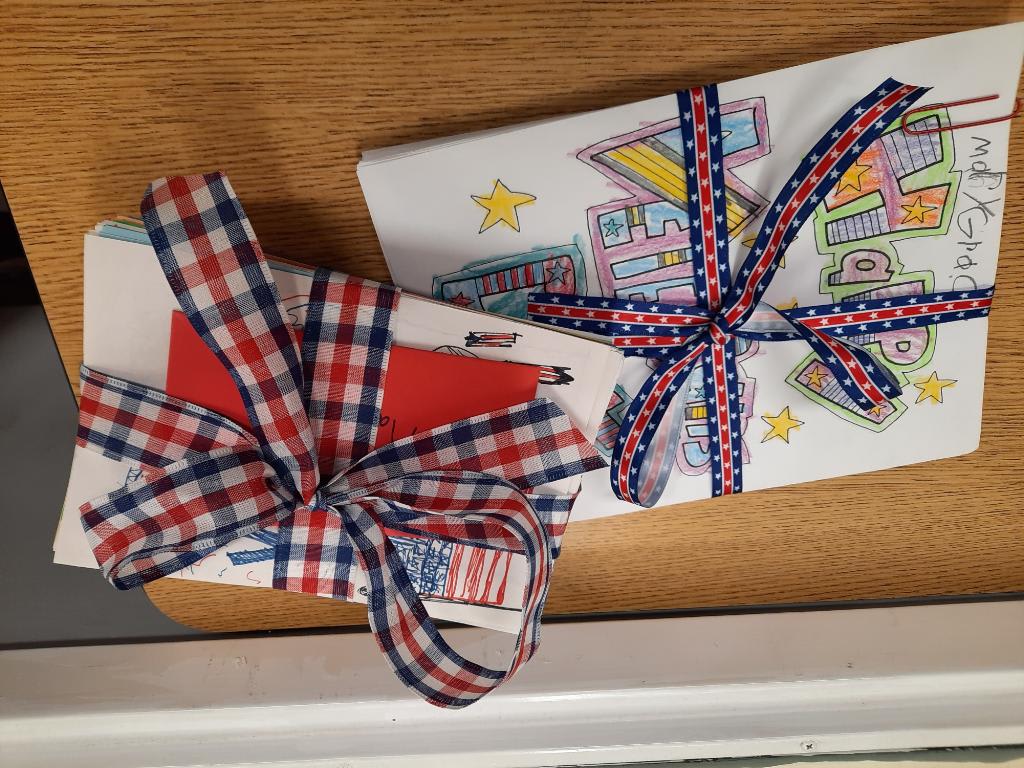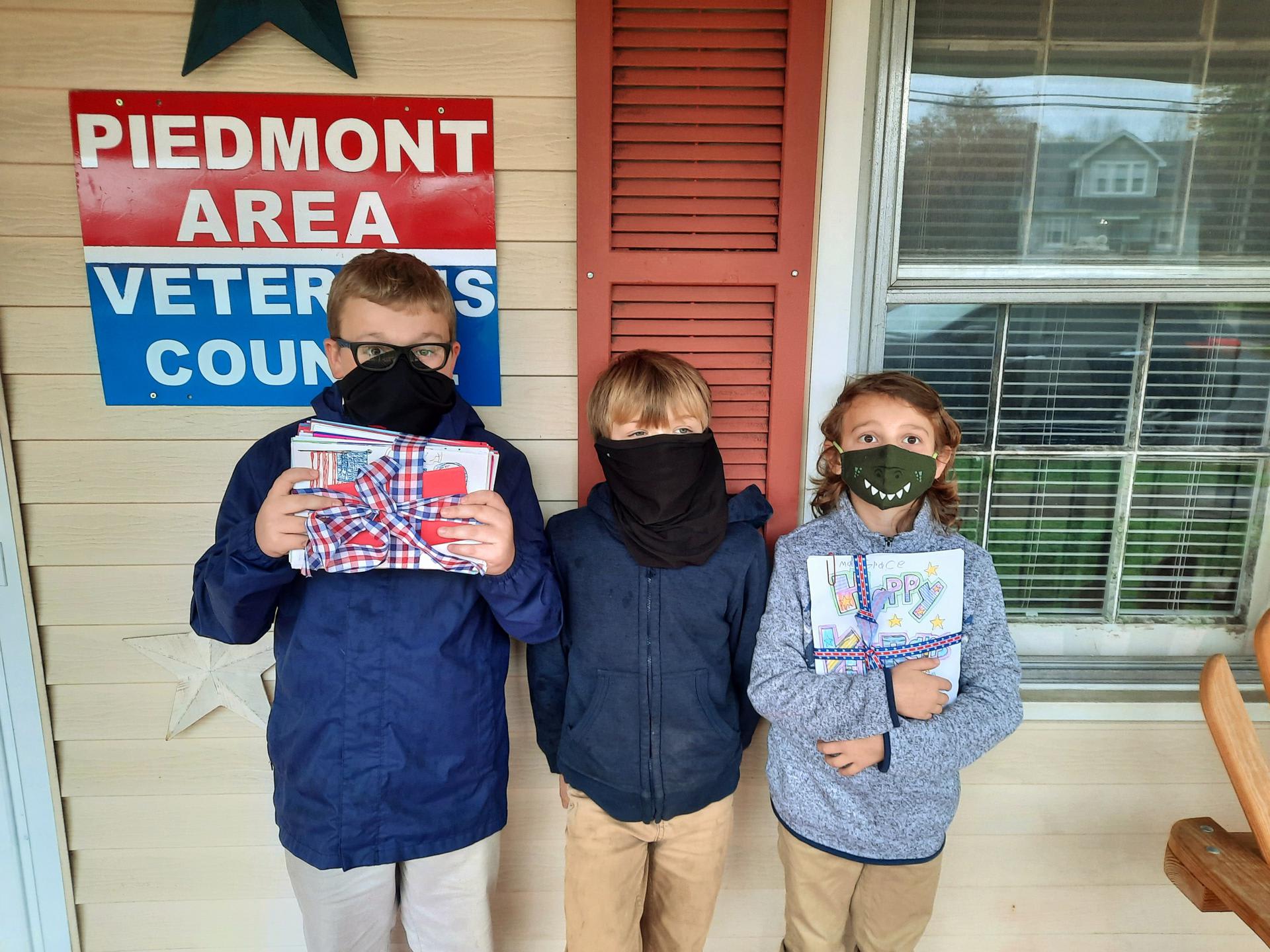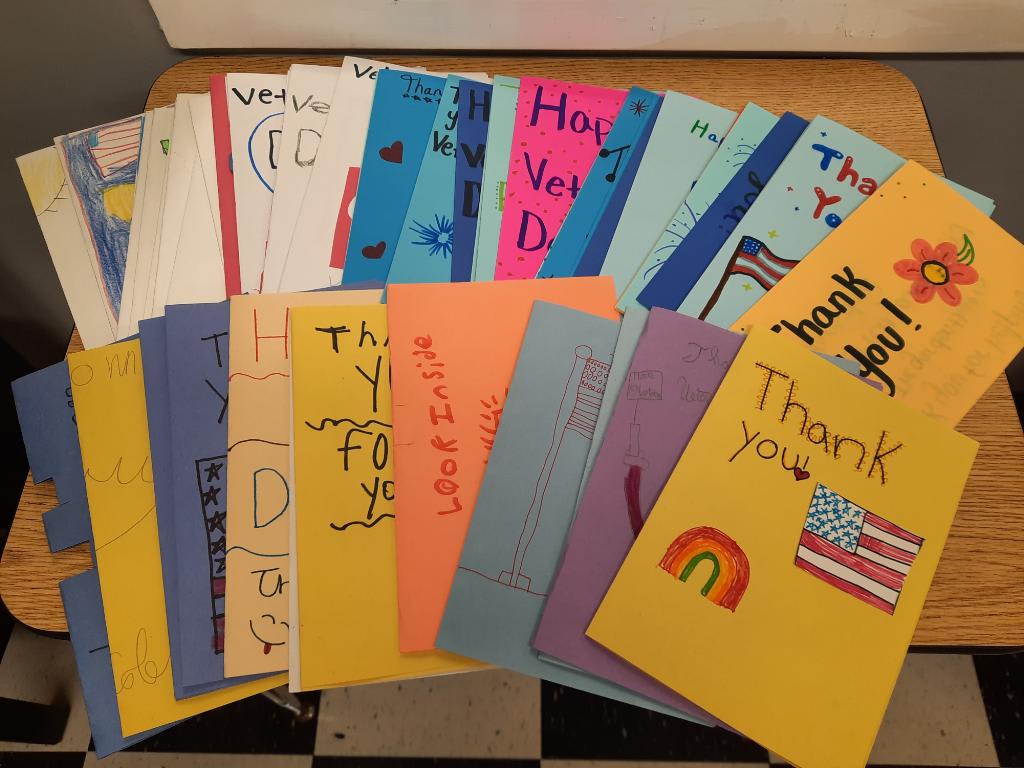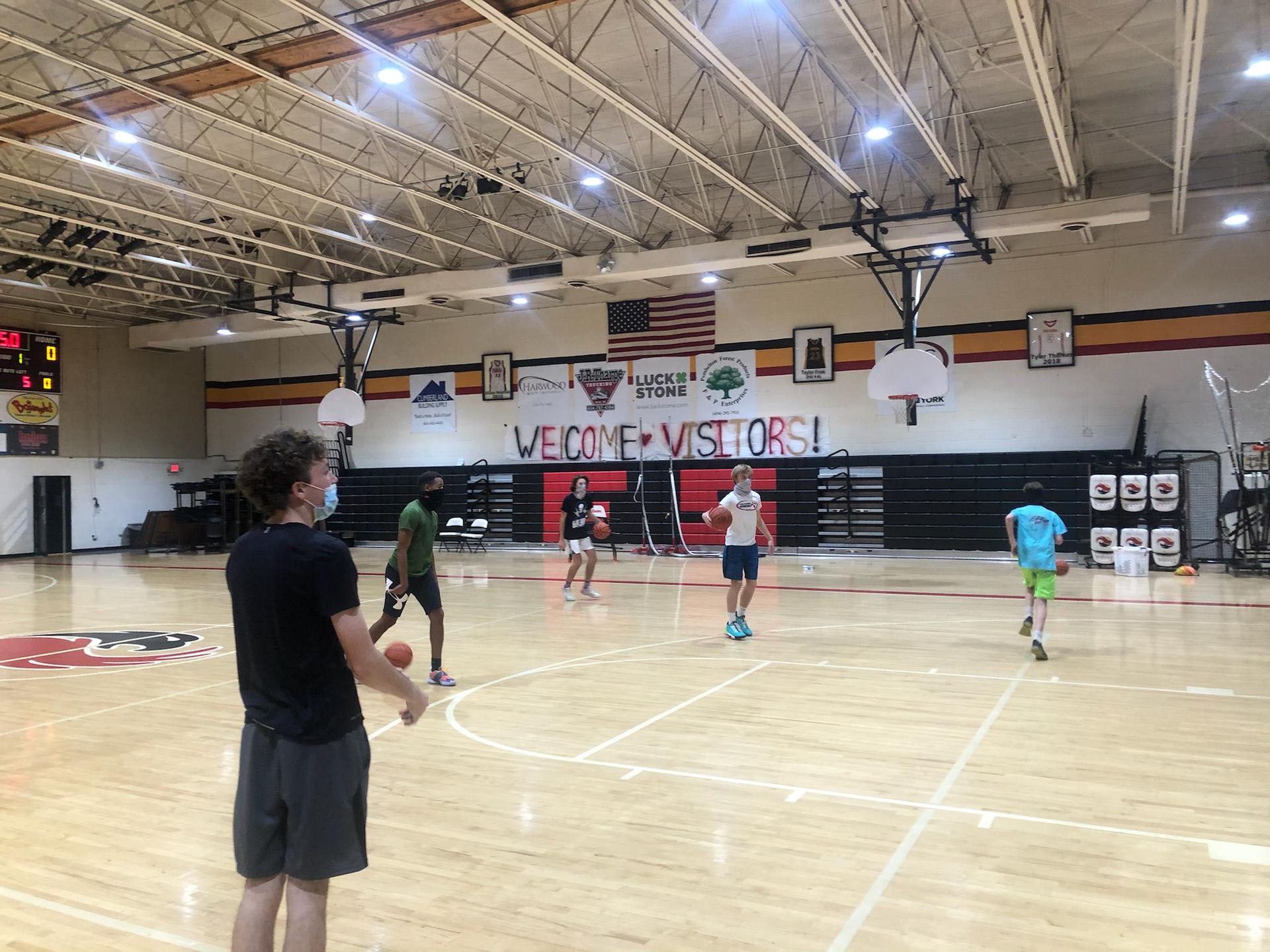 Fuqua to Join Virginia Colonial Conference
Fuqua School has been granted, and has accepted, the invitation extended from the Virginia Colonial Conference (VCC), to join their conference. Schools associated with the VCC are Amelia Academy, Banner Christian, Brunswick Academy, Blessed-Sacrament Huguenot, Kenston Forest School, Richmond Christian, Southampton Academy, and Tidewater Academy. Fuqua and Isle of Wight Academy will join as probationary members seeking full membership in the Spring of 2022."It is a great opportunity for both our boys and girls to compete with schools very similar to ours," commented Athletic Director Mike Edwards. "It will give our fans and student body an opportunity to come out and support our teams on a consistent basis."
The VCC sponsors an array of sports such as volleyball, basketball, baseball, cheer, softball, co-ed soccer, golf, cross country and football (8-Man). The VCC fields middle school, junior varsity, and varsity teams. Edwards added, "It has been a long time in the making for our boys and girls to be in the same conference. The first games for our boys and girls are on December 1 at home versus Isle of Wight Academy."
Lower School Holds Election
Head of School, Chance Reynolds, and Head of the Lower and Middle Schools, Dara Tucker, casted their ballots this Election Day. It was a tough choice between Terrance the Turtle, Kermit the Frog, and Winnie the Pooh running for Kindergarten President. They each had a wonderful platform that included more recess, more time for specials classes, and more food options at lunch. Congratulations to Kermit the Frog on his landslide win!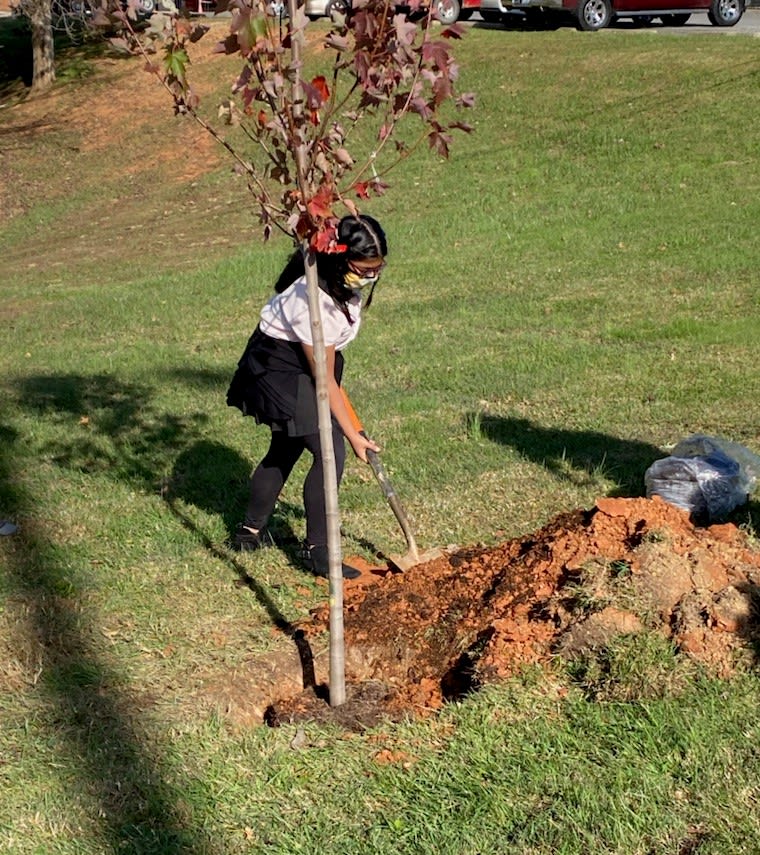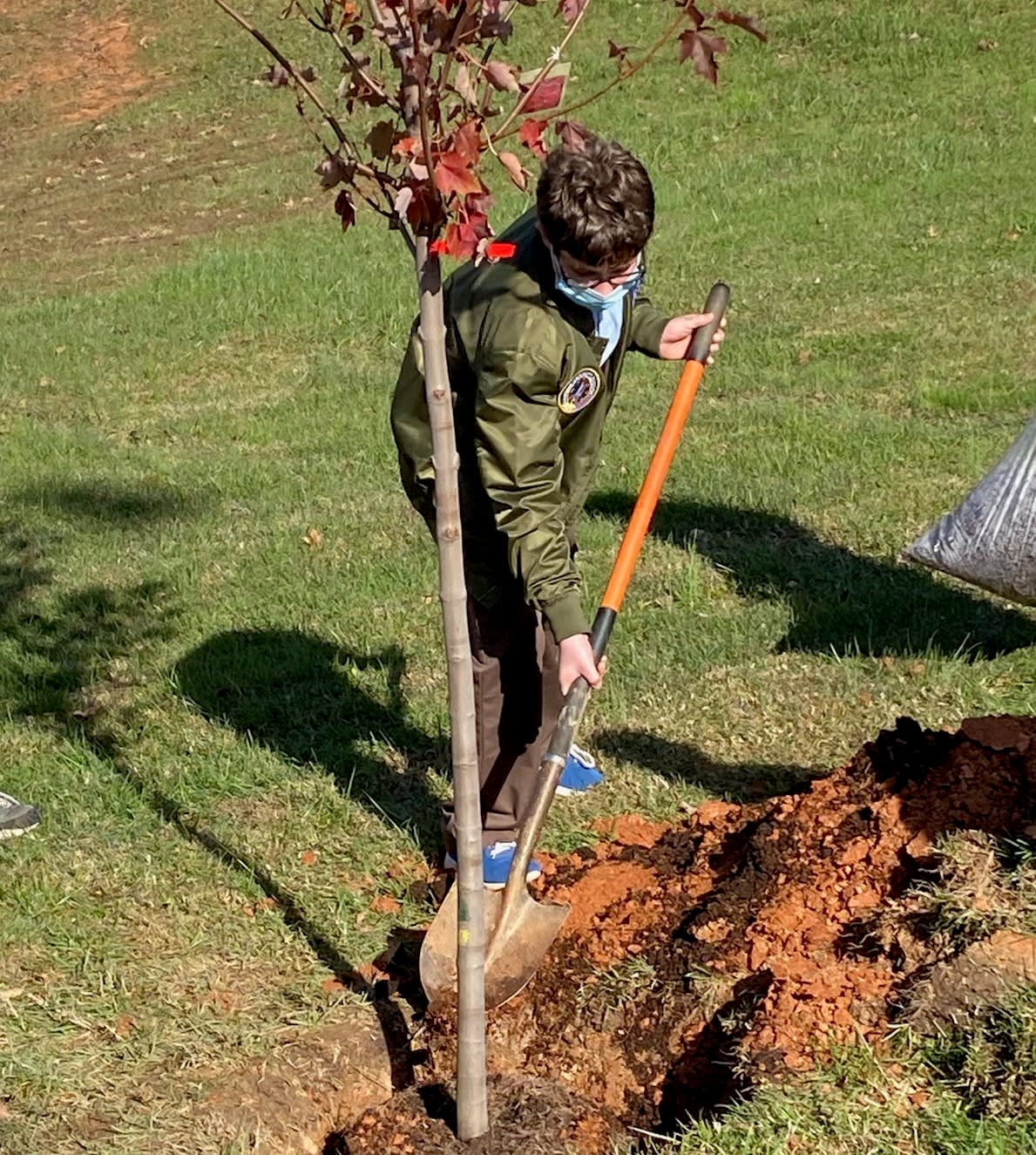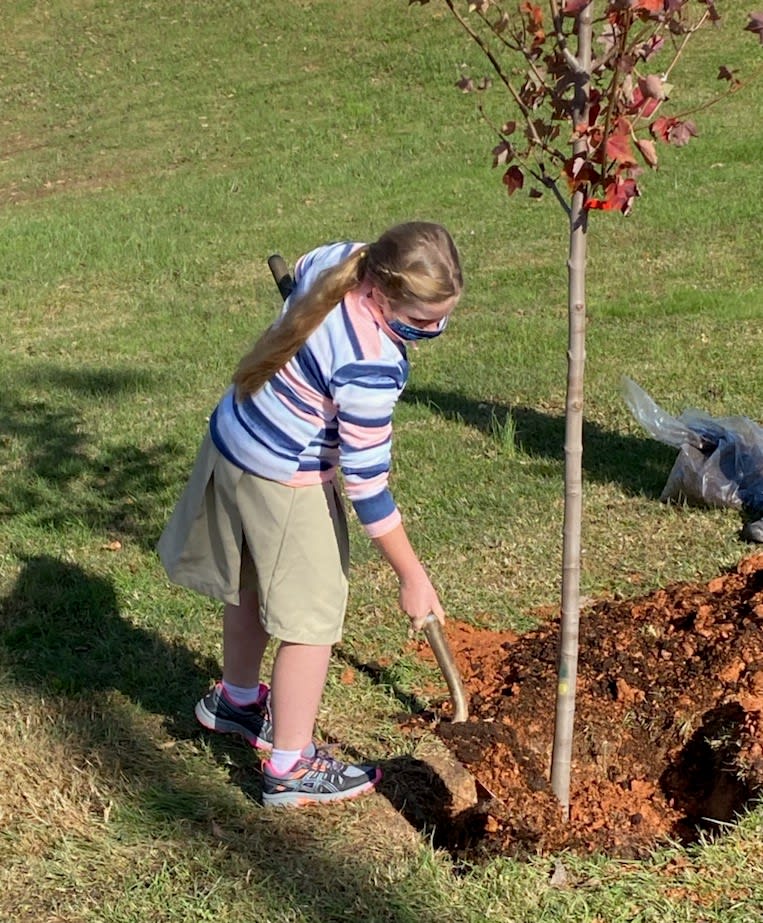 Class of 2027 Tree Planting
In Fuqua School tradition, the 6th grade class planted their class tree last week. Like a tree, these 6th graders will grow by leaps and bounds over the years. We cannot wait to see the Class of 2027 take another group photo next to their tree on their upper school graduation day! (If you look close enough, our virtual learners were able to be a part of the tradition and photo via cell phone). A huge thank you to Justin Hicks, of our PTSA, and Kelly Atkinson, Education Coordinator at Piedmont Soil and Water Conservation District, for helping us continue this tradition.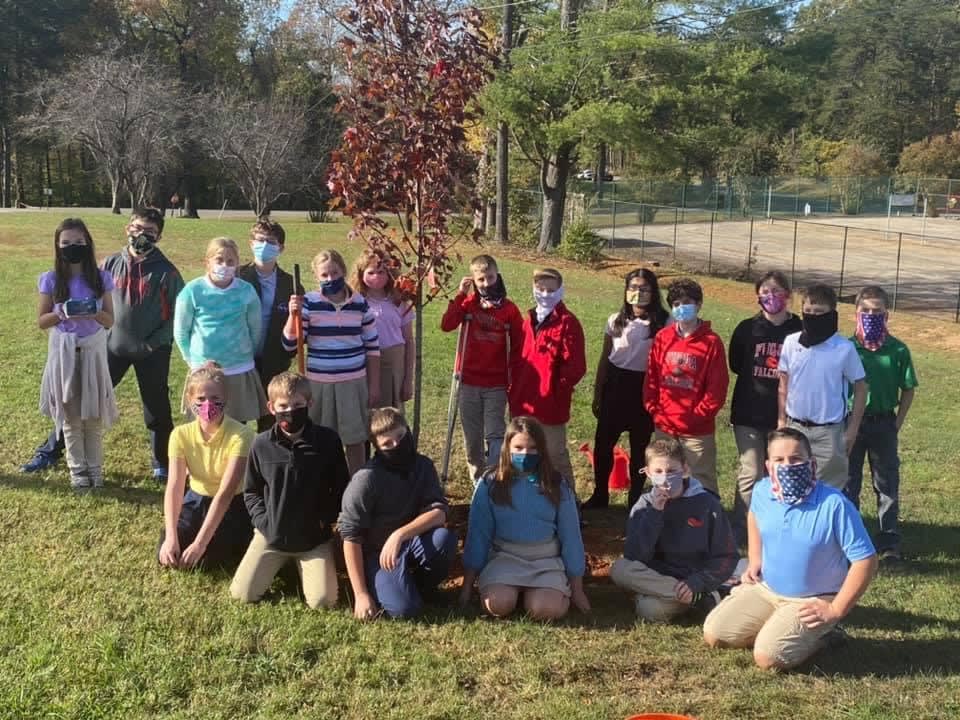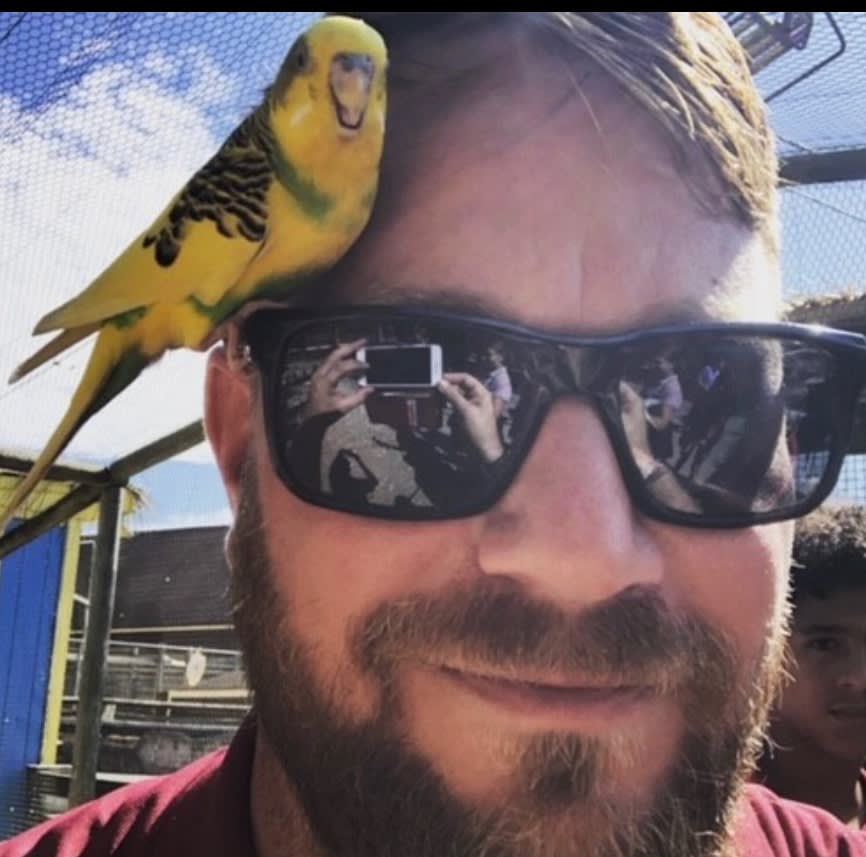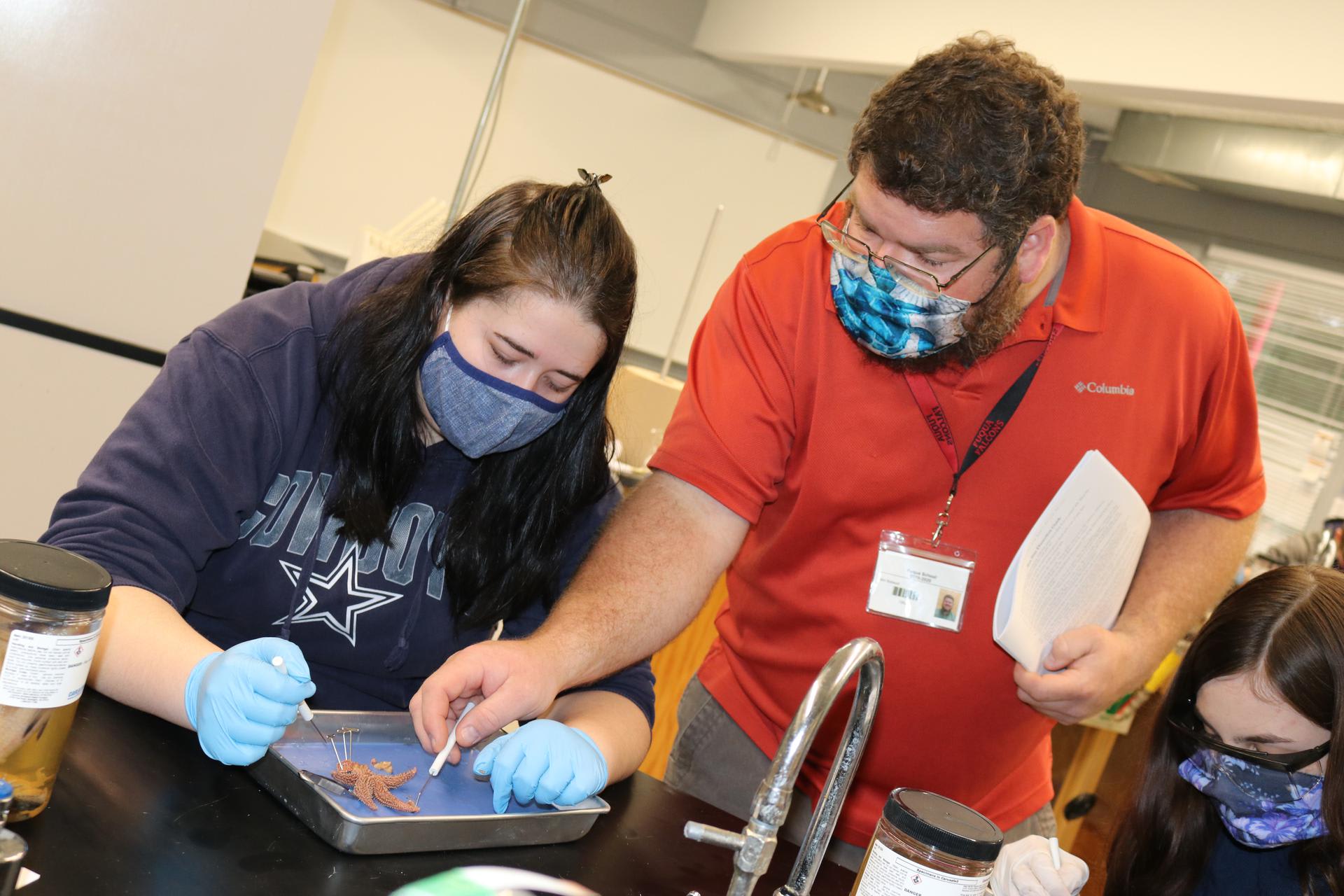 School Science Departments Awarded Grant Funding
The upper school's environmental science class and the middle school's 7th and 8th grade science classes have been awarded a mini grant through the Piedmont Soil and Water Conservation Office for our Food Forest Project. The grants were both in the amount of $500.
This grant will help the upper school cover the cost of purchasing Virginia native trees and shrubs that will produce fruits and nuts for human consumption. The students will design the garden's layout and implement strategies for sustainability and minimal environmental impact. This space will allow students to have an outdoor learning experience while also providing healthy, organic food for years to come.

This grant will also help middle school science teacher, Aaron Green, with his outdoor learning tools and garden improvement project that the students are helping to design. The grant will be used to purchase more outdoor seating, raised bed materials, soil, soil amendments, and native plants.

For more information or if you would like to get involved, please contact Mr. Boswell or Mr. Green.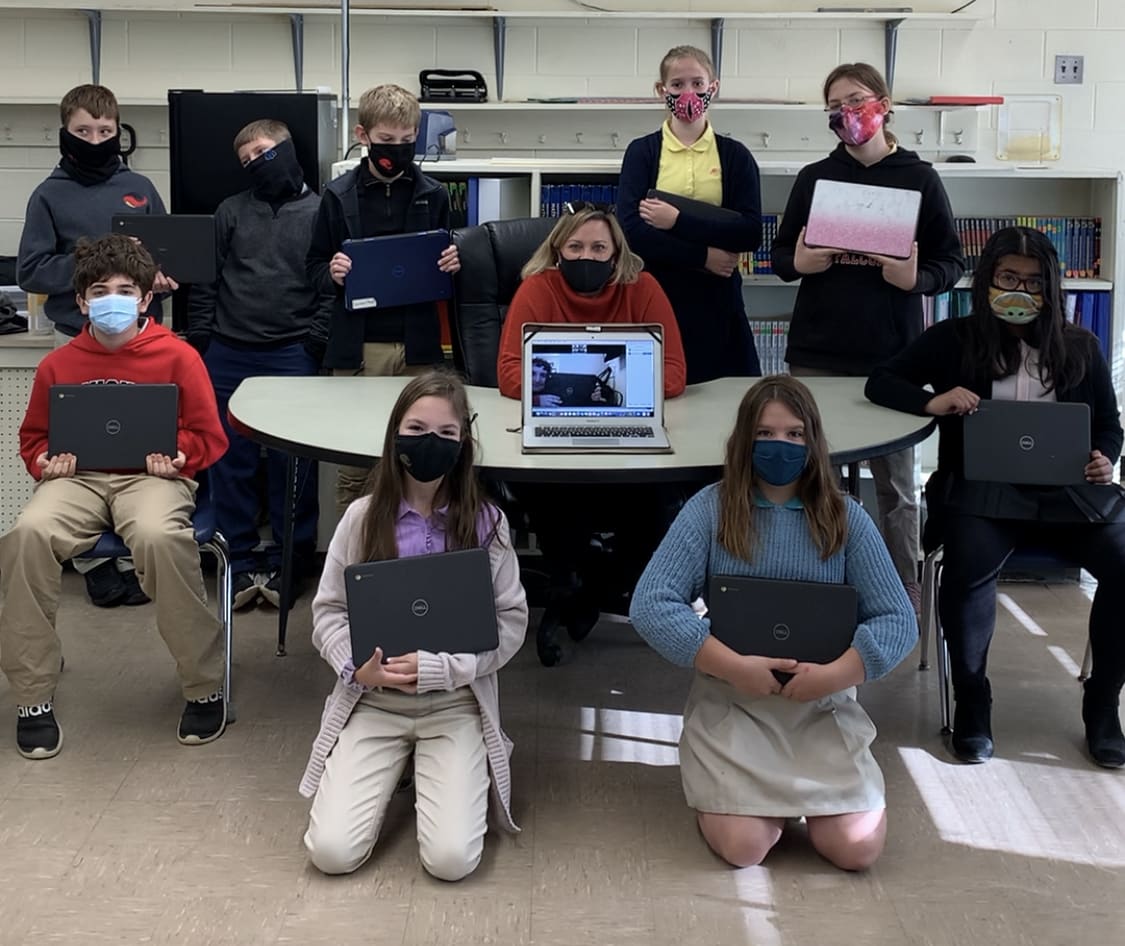 "Thankful for Fuqua" is a social media campaign where we are are sharing all we are thankful for this year. Every day in the month of November, we will be posting various students, staff, faculty, and families explaining why they are grateful for Fuqua, and what they love about our school. Some of the things they're grateful for that have already been showcased include: each other, parent volunteers, the family atmosphere, our coaches, Chromebooks, the SCA, being on campus, and chicken minis! Be sure to stop by our social media pages to see what else we're thankful for in the days ahead.

Facebook: Fuqua School PK-3
Instagram and Snapchat: fuqua_falcons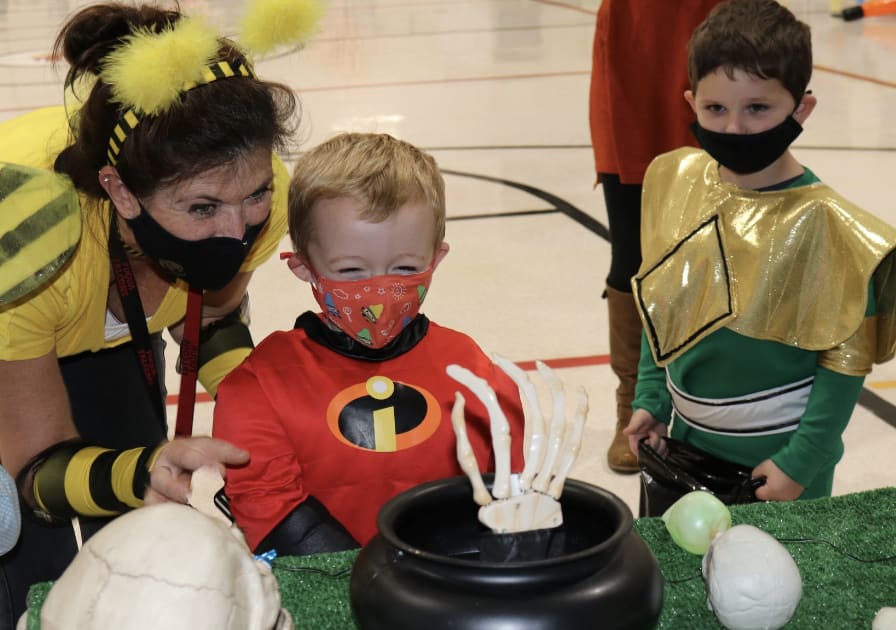 The Fuqua School PTSA is the best around! They know how to take a tradition that COVID could have made impossible, and turn it into reality. Our Pumpkin Lighting (Version 2.0) included a pumpkin penny war contest, Pumpkin Chunkin where upper school physics students designed a catapult to see how far they could "toss" a pumpkin, and an indoor trunk or treat where various stations were set up which allowed some students to have their only trick or treating experience this fall. The students and faculty, alike, all had the best time and went home with a lot of sweet treats and happy memories.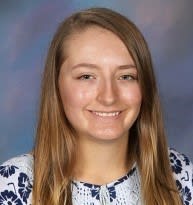 Voice of Democracy Contest Winners
We are pleased to announce that 10th grade students Olivia Grace Lorenzo and Kassidy Elizabeth Knott have placed 1st and 2nd in the Voice of Democracy contest sponsored by the Veterans of Foreign Wars. The Thomas Hardy Graham VFW Post 7059 awarded cash prizes of $200 and $150, respectively, to these top contestants, and both will be guests at the VFW spring banquet in April to receive their recognitions. This year's essay prompt was "Is This the Country the Founders Envisioned?" and students submitted both an essay and a digital voice recording in response. In addition, Lorenzo's entry will be forwarded to the Virginia District 4 level to be judged along will others from the region as the contest continues. We are so proud of our students for representing Fuqua this way!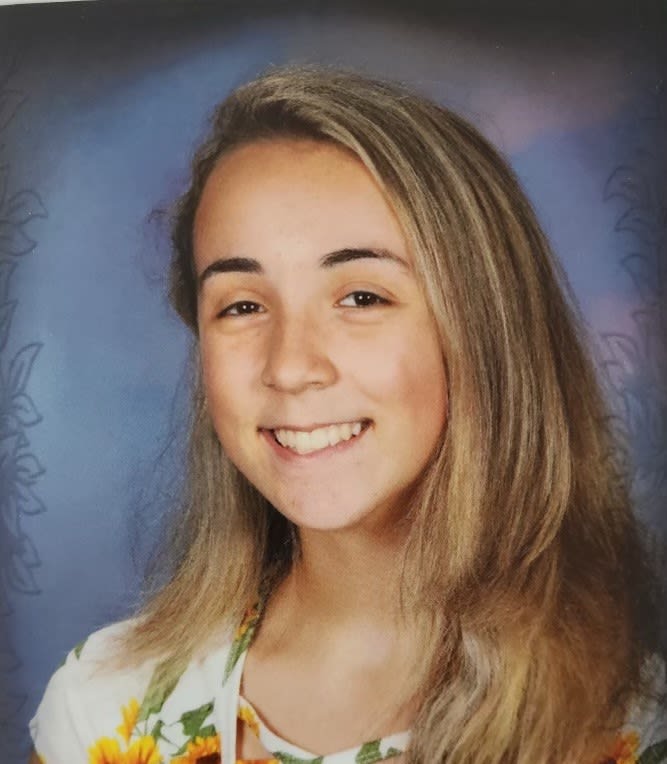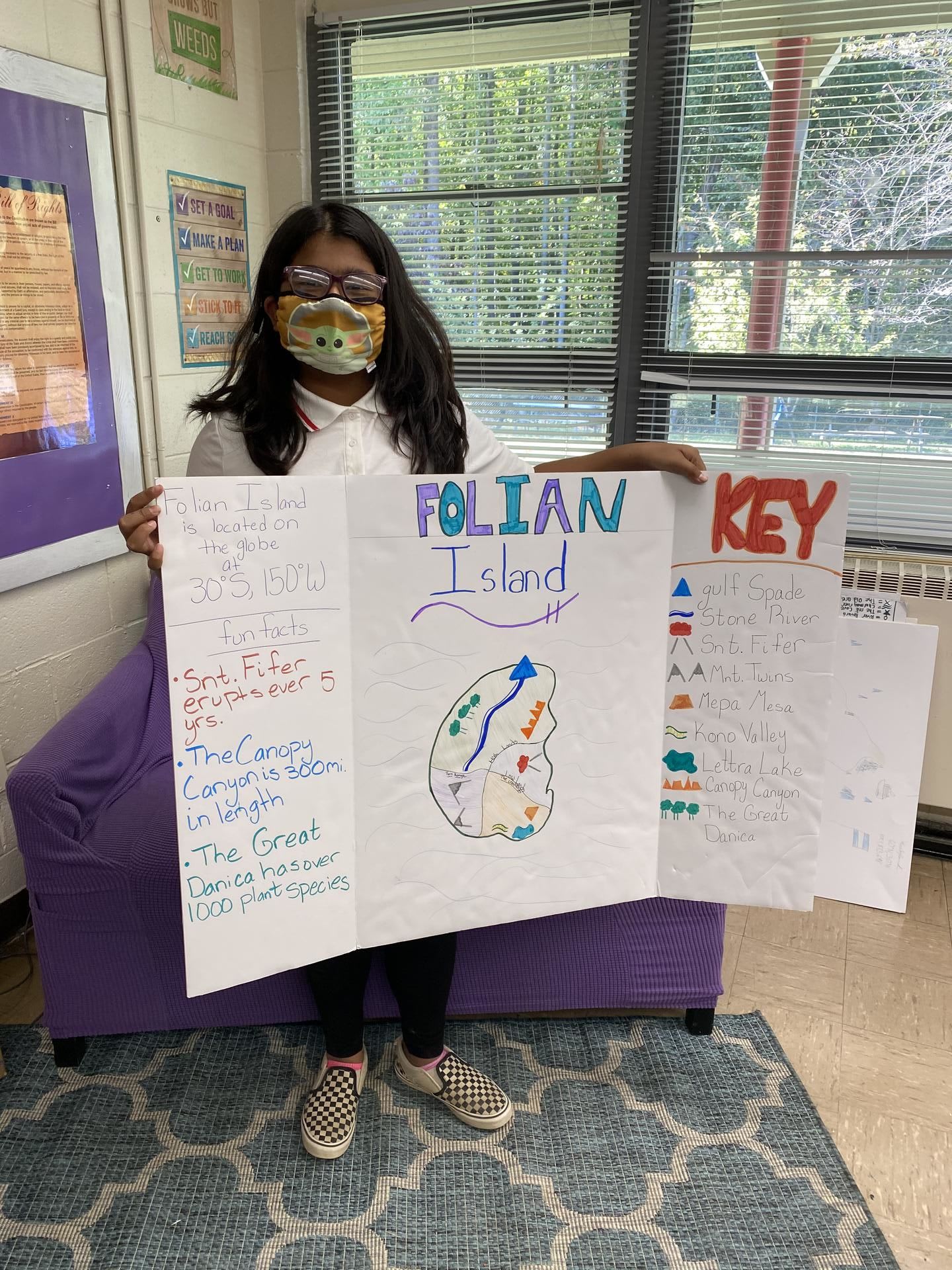 Sixth Grade students culminated their unit on geography by creating an island completely based on a chocolate chip cookie. Students included four landforms and two water features on their island based on how the crevices and chocolate chips were placed on their cookie. Their island was required to represent their cookie's shape, have a name, and have a place on the globe, represented by longitude and latitude.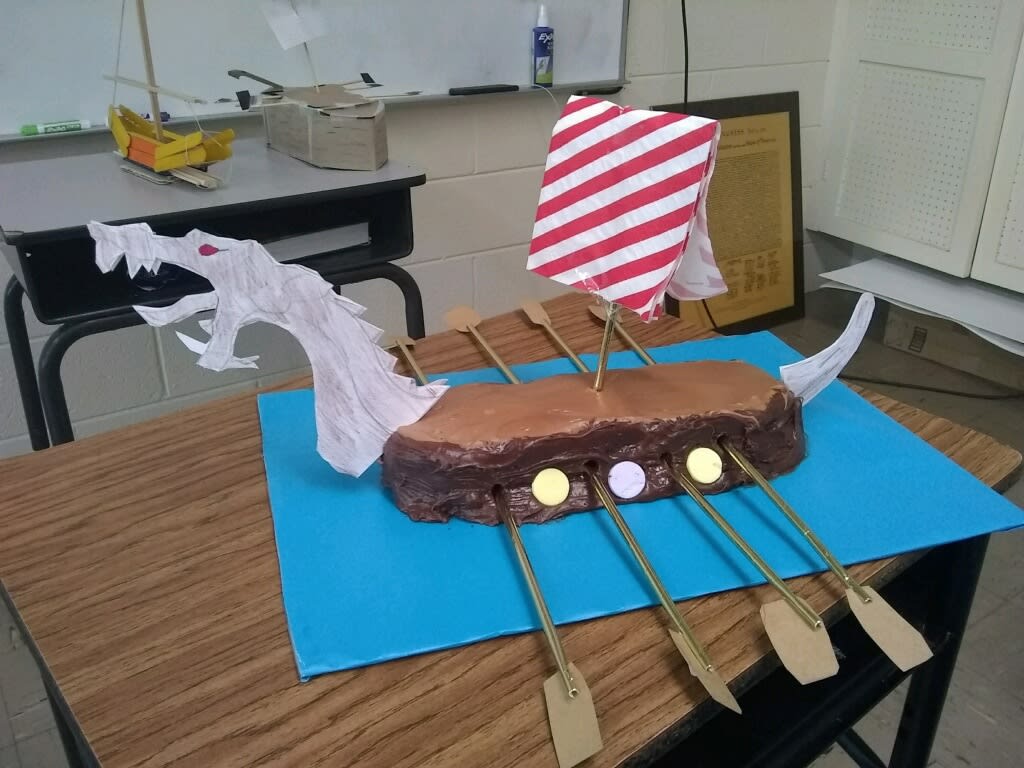 History Classes Study the Vikings
The freshman class recently finished a unit on the Vikings, the great raiders of the ninth and tenth centuries. As a final unit assessment, students had a two-part assignment. First, using their knowledge of the Viking invasions of England, they wrote a historical fiction account of that time, imagining themselves as either an invader or an Anglo-Saxon. Second, they constructed a model of a Viking ship. The ship could be made of any material, and was graded for creativity as well as resemblance to actual ships used by the Vikings. Students presented these ships to the class. The final results were very creative -- everything from a cake to minecraft to a painting!
Check Out Some of Our 5 Grand Falcon Auction Items!