Fuqua School Falcon Flyer - 09/15/2020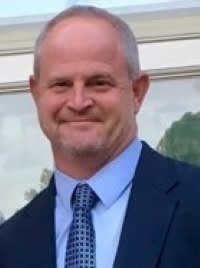 Fuqua Family,
Two weeks ago, we announced our plans as a school to begin a series of improvements here on campus.
Our goals: To raise $50,000 for our purpose of converting our dilapidated tennis courts into a first-rate, four court beach volleyball complex and to raise $25,000 for the purpose of renovating and remodeling our antiquated restrooms in the Gilmer Gym.
Since that time, I am proud to report that we have now received commitments and pledges of $31,250 (as well as many in-kind gifts) toward the "Peregrine Pit" and $13,450 (as well as several in-kind gifts) toward the restroom renovations. So, as you can see, we're a little over halfway there (in only two weeks)!
And yet, for me, this initiative has developed into so much more.
The past two weeks have granted me the opportunity to see the excitement that comes with growth, the pride that will come from having a complex that is second to none, and the joy that comes from seeing everyone come together and work towards a common goal.
These past two weeks have also provided me with the opportunity to be able to visit with families and alumni, to hear more about why they love our school, and to learn more about what they would like to see from Fuqua School in the future.
Of course, we still have some work to do to make these dreams a reality. So, if you would like to join us in these efforts, please do so by reaching out and letting me know of your interest!
I would love the opportunity to visit with you as well, to walk the proposed courts with you, to share our vision for the restroom renovations with you, and to help you see how these improvements will move our school forward in so many positive ways.
Go Red! Go Black! Go Falcons!
Paul "Chance" Reynolds, M.P.A., Ed.S.
Head of School
Fuqua School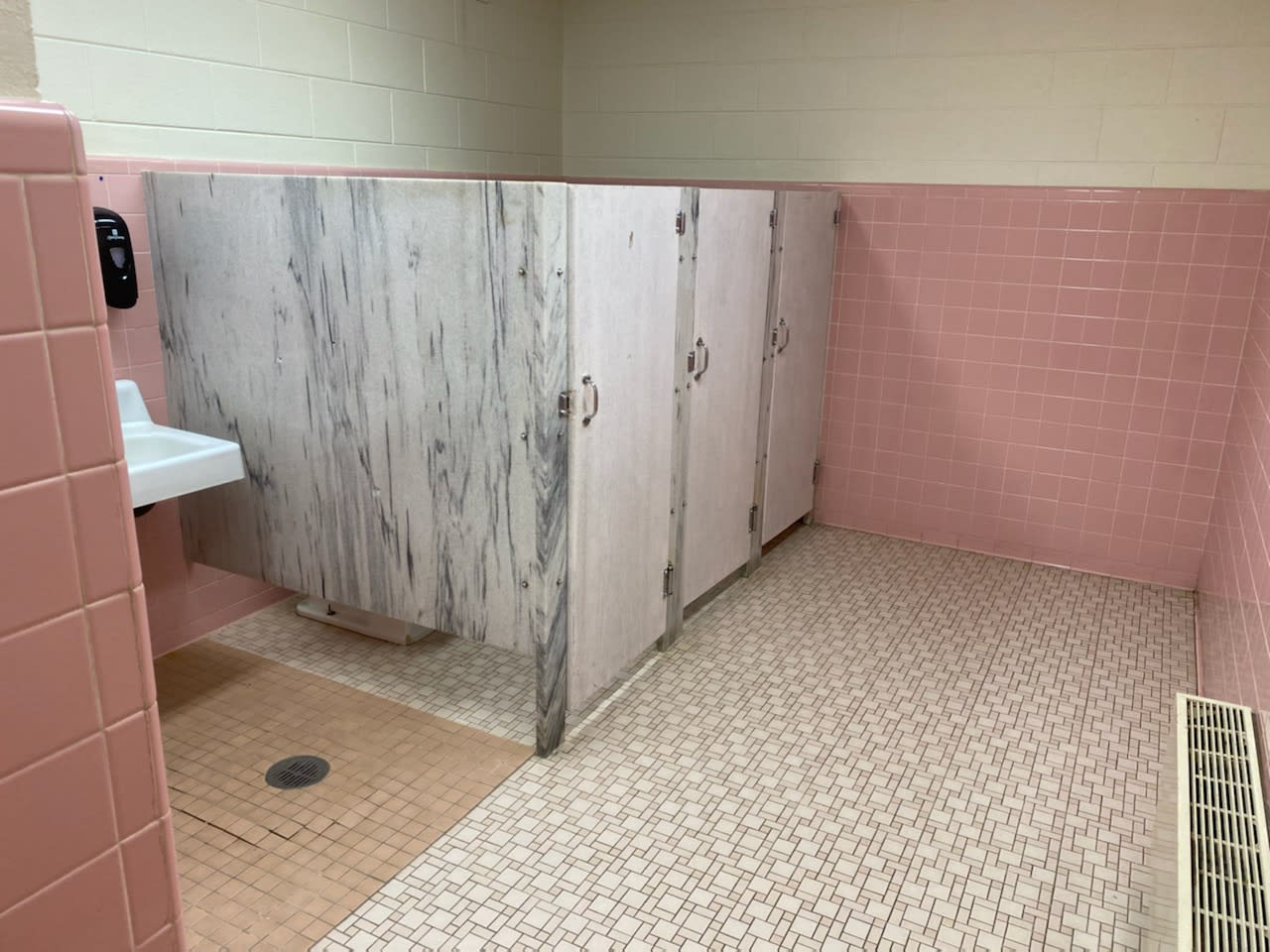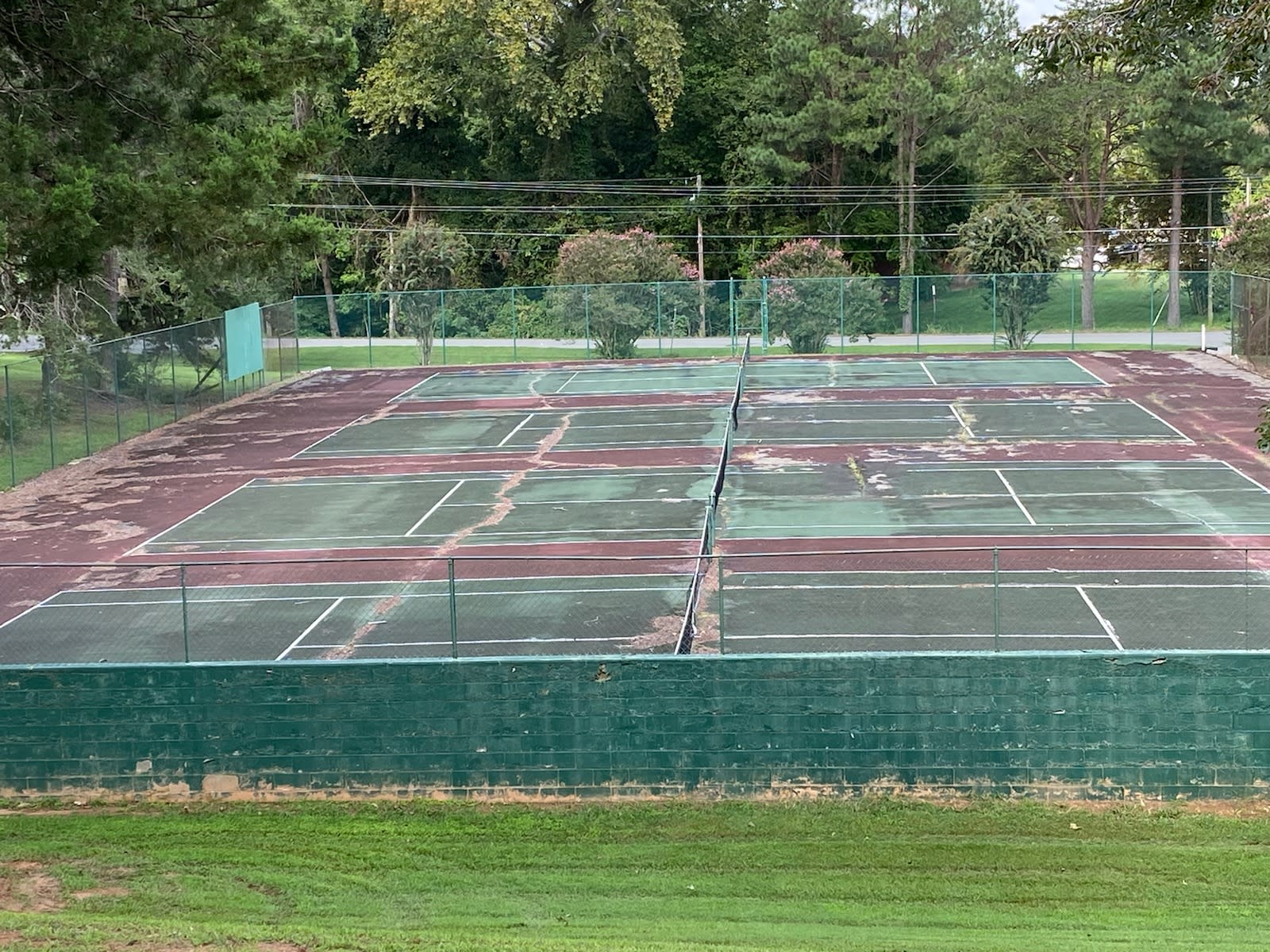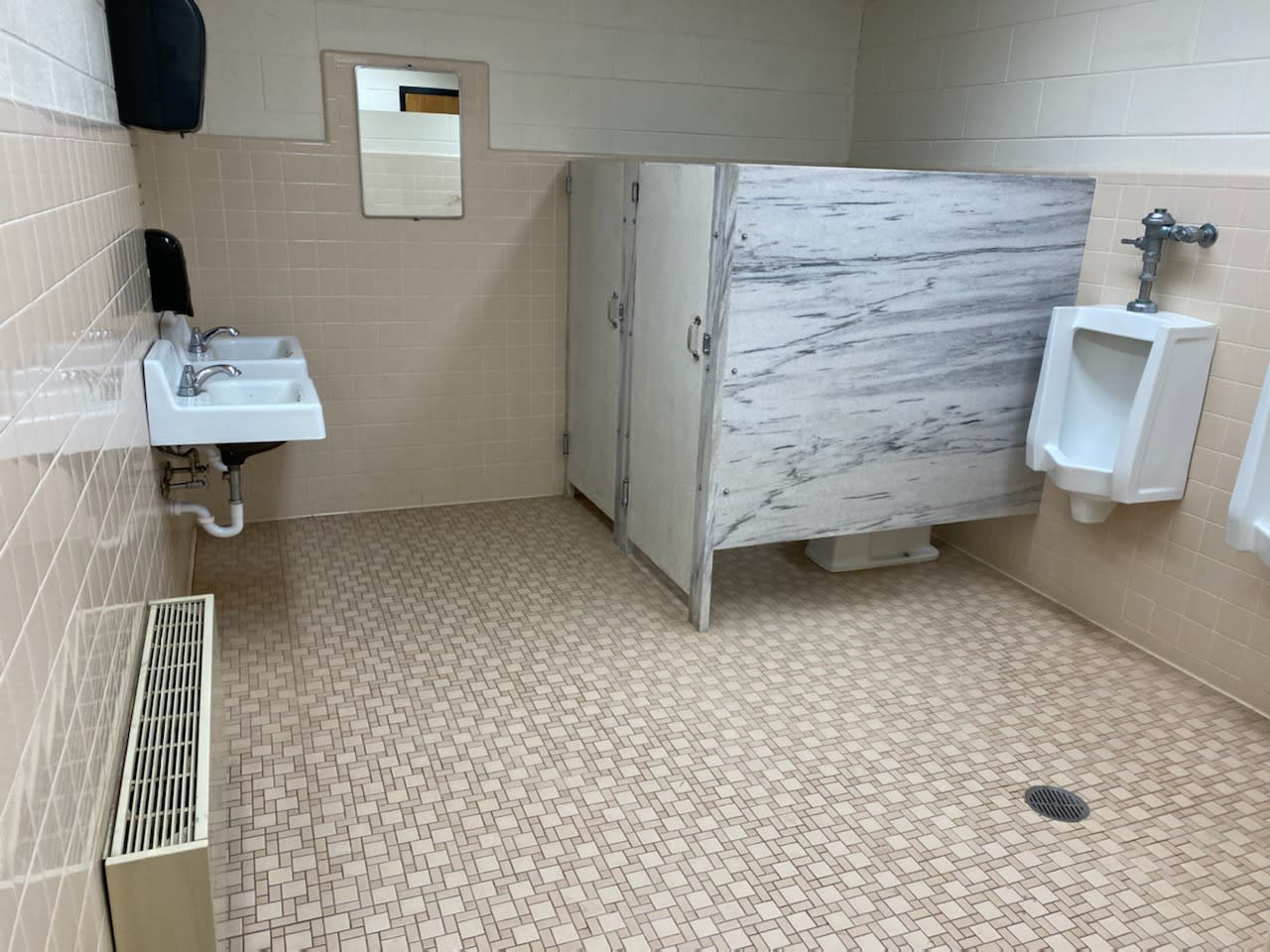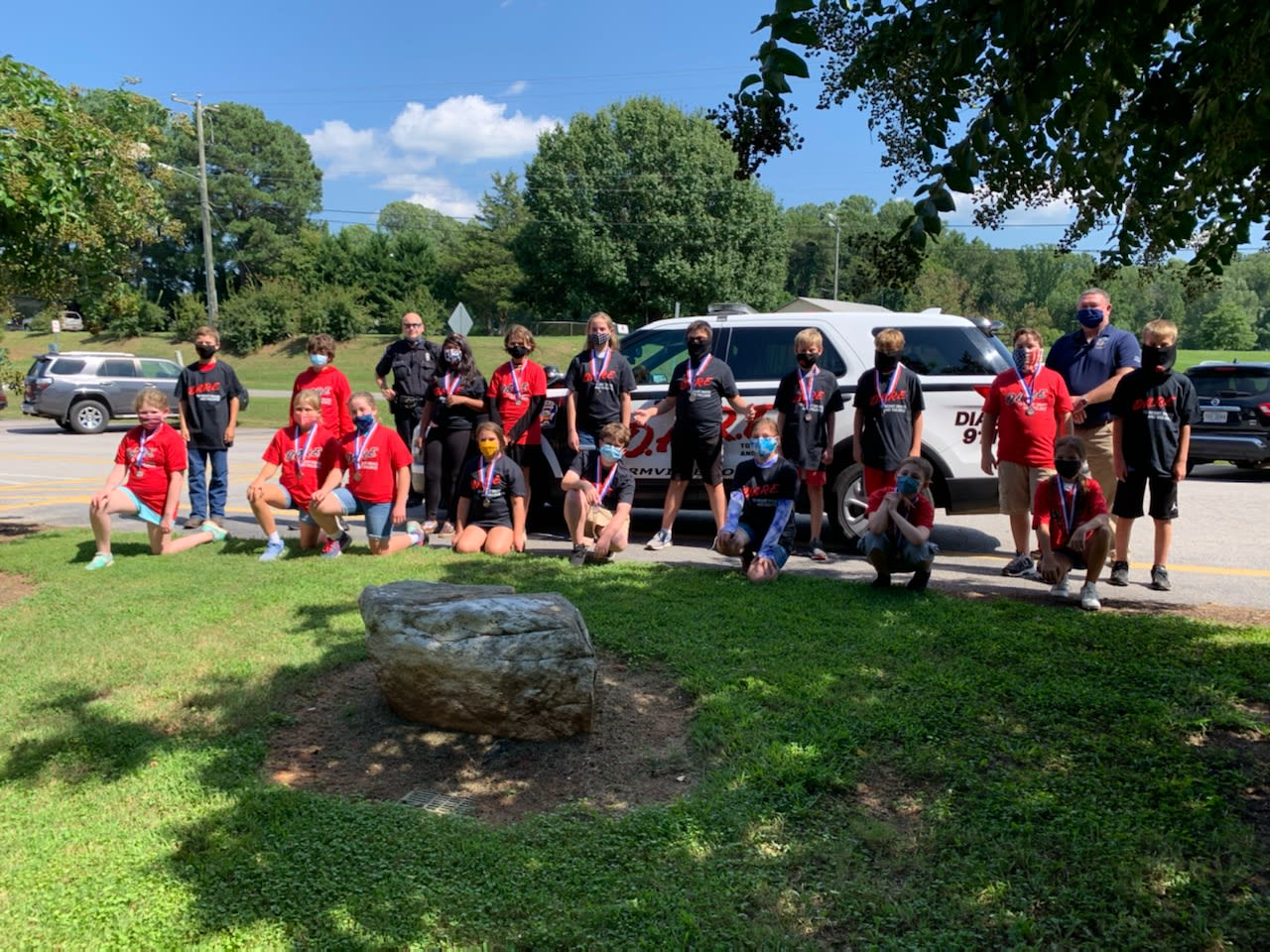 Fuqua's newest DARE (Drug Abuse Resistance Education) graduates participated both in-person and virtually in their graduation celebration on Friday, September 4. These current 6th grade students completed the program in the spring of 2020, but were unable to have their celebration due to COVID-19 precautions. Graduates of the DARE program leave with the tools and techniques to be able to confidently say no to drugs and alcohol, and are equipped with the skills needed to make smart choices throughout their early teenage years and beyond. The DARE program is a partnership between the Town of Farmville Police Department and Fuqua School and is taught by Officer Timothy Holtz and Amy Rostan, LS/MS School Counselor. Please join us in congratulating all our newest DARE graduates!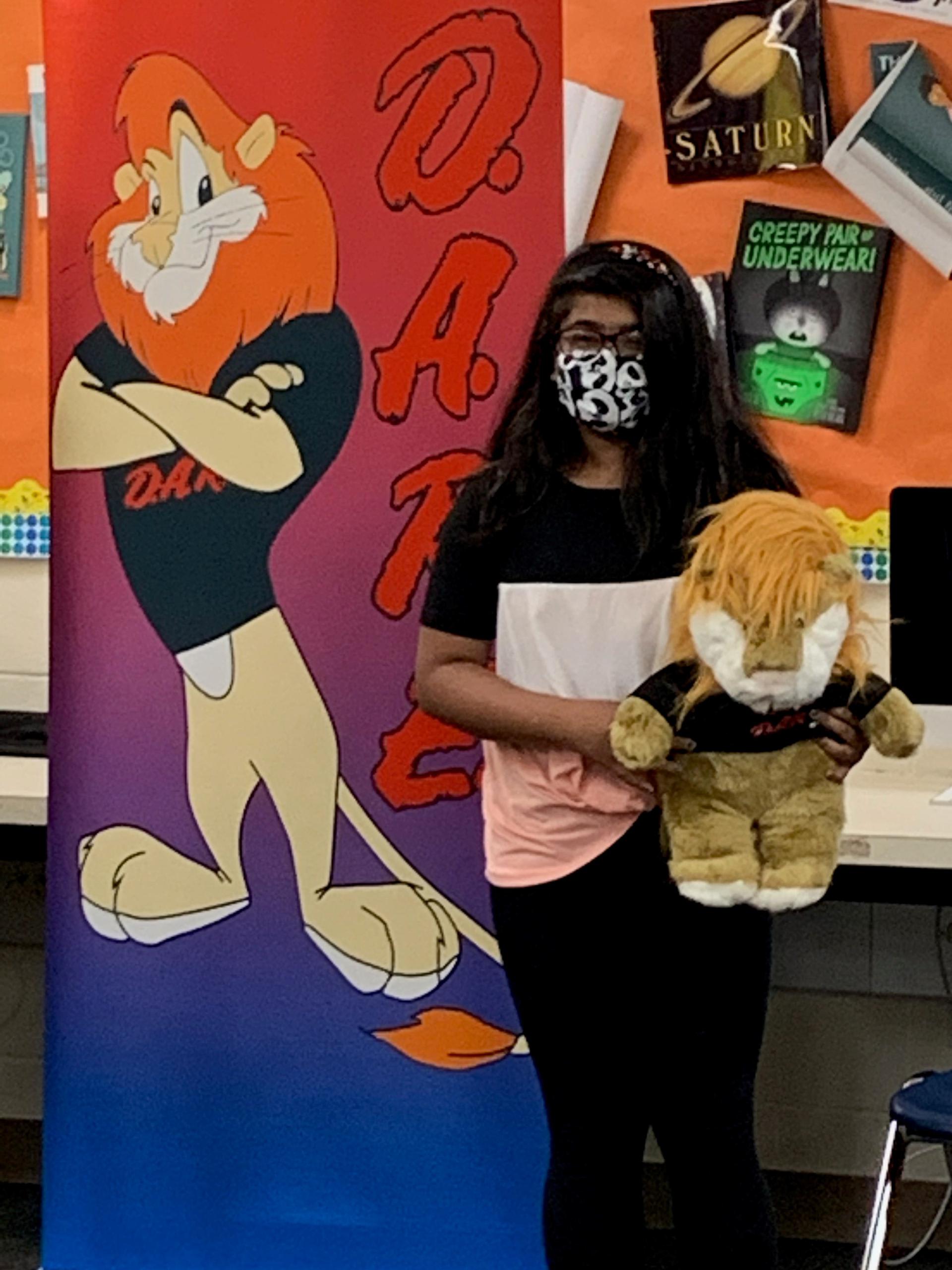 DARE Essay Contest Winner Announced
Each year, students are tasked with writing an essay about the DARE program before their graduation. All essays are then reviewed and judged by various members of the Prince Edward County Police Department before they ultimately select a winner. A big congratulations to this year's winner, Malaika Ahmed, whose beautifully written essay shared the tools and techniques she will use in real-life situations. In addition to the graduation certificates, medals, t-shirts, and fun DARE swag all graduates received, Malaika additionally received a DARE Essay Winner pin as well as a giant stuffed lion named "Daren".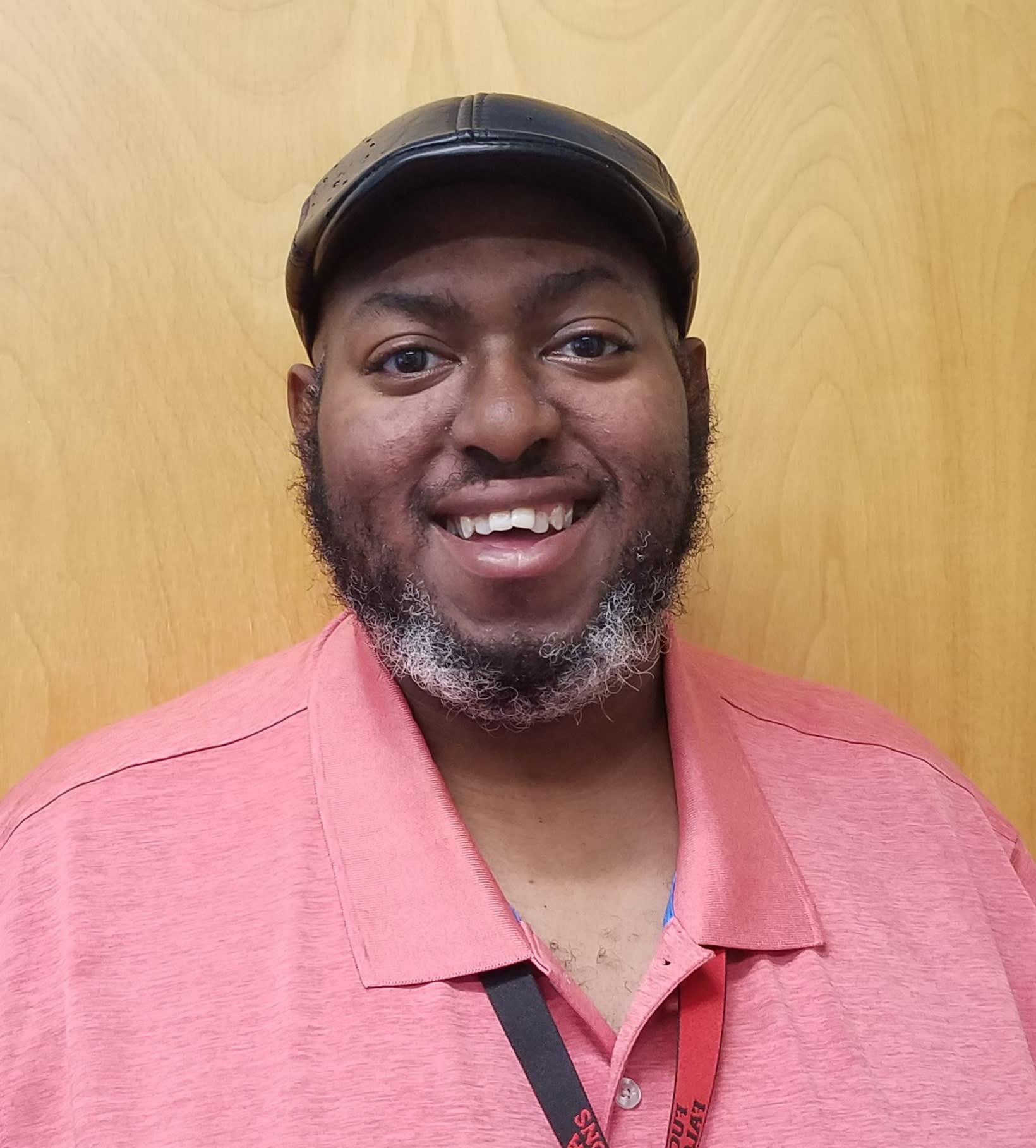 Jamiel Jackson has joined the Fuqua School faculty and staff as our new IT Specialist.
Jamiel is currently completing his BS in Information Technology at Ashford University and will be graduating in June. He and his family live in the Amelia area and we, as a school, are thrilled for Jamiel to be joining us.
Welcome to the Fuqua Family, Jamiel!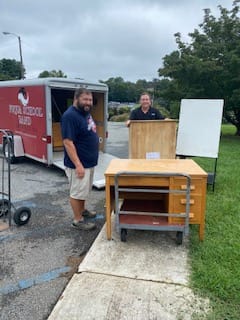 Donations Received From Holy Cross School
Last year, the Catholic Diocese of Richmond announced the closure of Holy Cross Regional Catholic School in Lynchburg following the 2019-2020 school year. While attending a final reunion at her alma matter, Fuqua School parent, Crista Morris, had the opportunity to explore her old classrooms and visit with her former administrators. As she walked the halls for a final time, she asked one administrator what they were going to do with all that was inside the building. When told they didn't have plans for it, Crista asked if Fuqua School could possibly come and take a look. A week later, with the help of Fuqua alumni Antonio Gonzales '15, Hunter Gibson '20, Cody Orange '20, and Jimmy Frank '89 along with Fuqua administrators and Fuqua parent, Justin Hicks, Fuqua School walked away from their Holy Cross visit with three trailers full of new technology, student and teacher furniture, brand new sets of textbooks, library books and so much more. While we are saddened by the closure of Holy Cross, we are forever grateful for their generosity in donating these items to benefit our Fuqua students and faculty.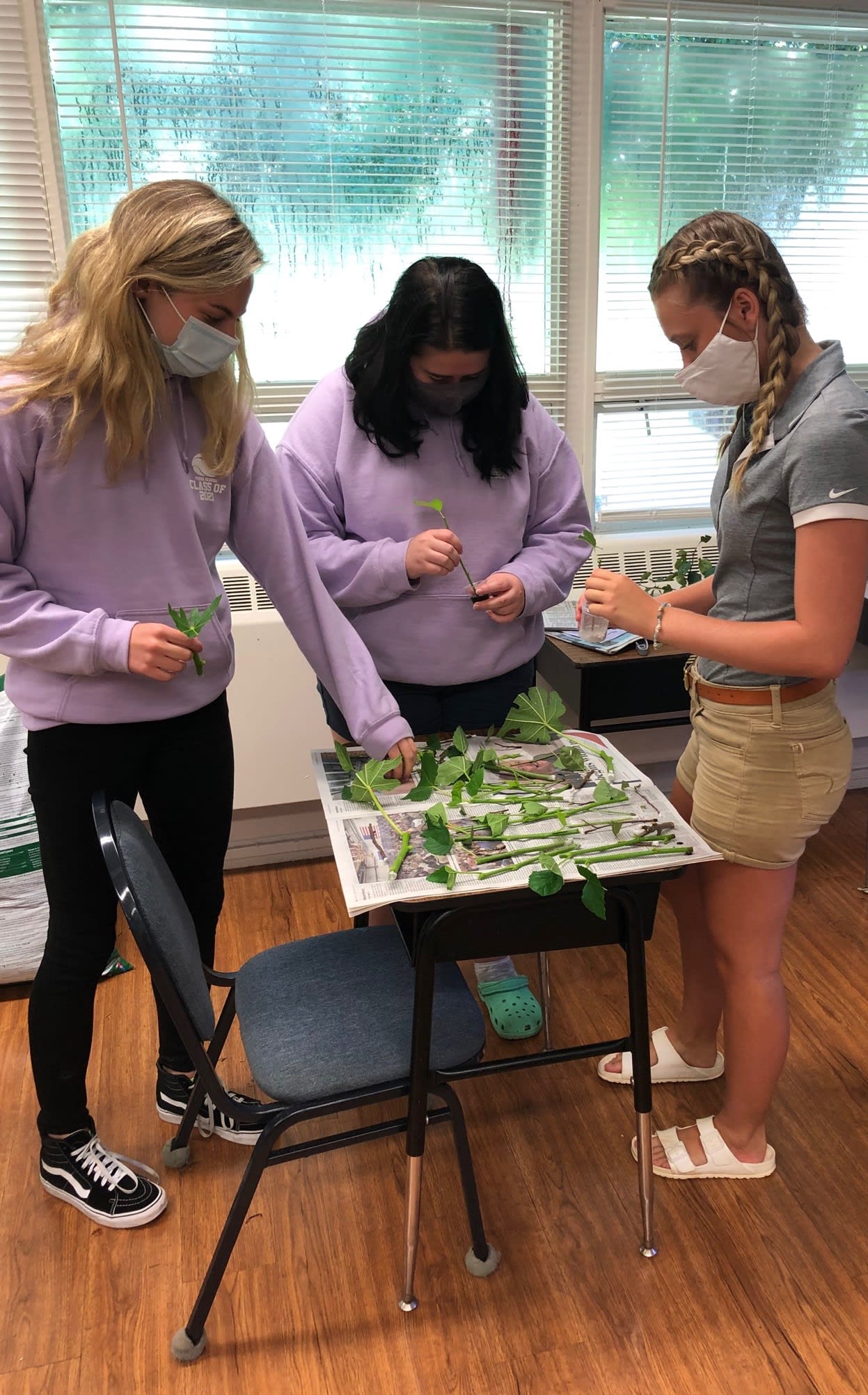 The honors zoology class went to various locations on campus to collect water samples in the search for single-celled life. After adding spring water to their samples, they let them sit overnight in hopes that the living organisms would settle out for collection. The students spent time in class searching for amoebas, paramecium, and the legendary tardigrade. The class made excellent headway with microscopy techniques, while broadening their knowledge of single-celled life.

This semester, zoology has a few new additions. They are attempting to hatch out some duck eggs that were donated by the Tharpe family. The students have taken a lot of care making sure the temperature and humidity are just right for their development. They monitor their development weekly, as to not disturb them too much. The babies are due at the end of September.

The environmental science class learned about propagating plants. In class, they learned pruning techniques and how plant hormones can influence root production. Figs, mulberries and serviceberries were the plants of choice, but they hope to try again later with different species. They made cuttings from different stages of stem growth, as well as using different concentrations of rooting hormone to see what effects it has on successful root production. If all goes according to plan, these new trees will be planted around campus and on the nature trail for both human and wildlife consumption.

Yearbook Staff Working Hard
Following tradition, the yearbook staff kicked off the 2020-2021 year by decorating their classroom windows. The staff of ten are now taking orders for the 2021 Peregrine, which is on sale now for $50 through October 31st. After this date the price will increase to $65. Orders can be placed online through the yearbook order center at www.yearbookordercenter.com (Order Number: 15063) or you may fill out a form and send money to school. Also, business ads are available for purchase until September 30th and senior tributes are available for purchase until October 16th. Please send all inquiries to schmidtfc@fuquaschool.com.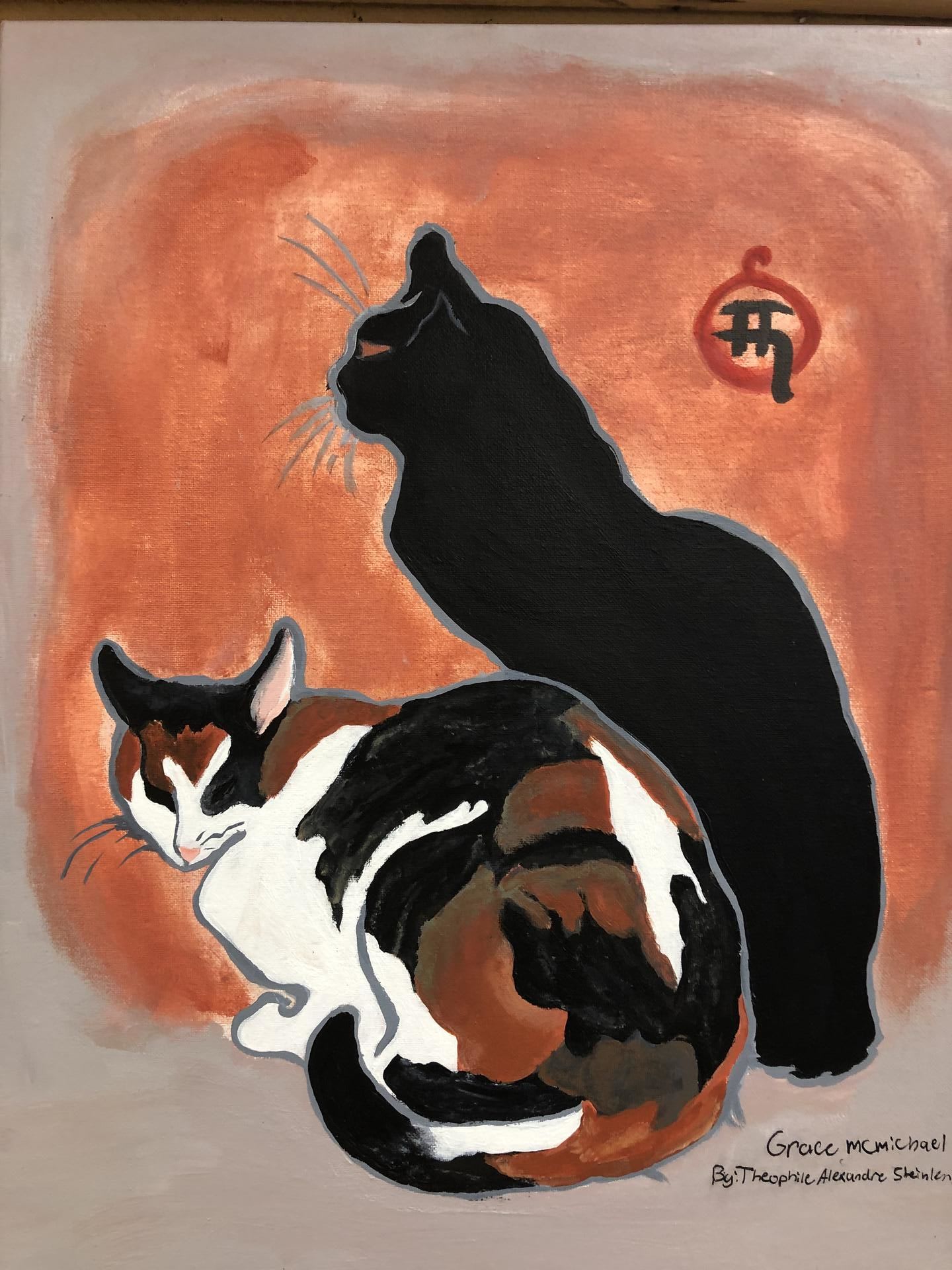 US Art Studies Modern Art
As a first time teacher at Fuqua, Ms. Audrey Sullivan believes she hit the lottery jackpot when it comes to students! The class is currently studying the Modern Art Timeline which covers artists such as Van Gogh, Picasso, Dali, Monet, Warhol and more. Each art student is reproducing an iconic painting from one of the masters and learning a bit of history along the way. She couldn't be more proud of the work they are producing! Pictured to the left is Grace McMichael's version of Theophile Alexandre Steinlen painting, Black and Calico Cats.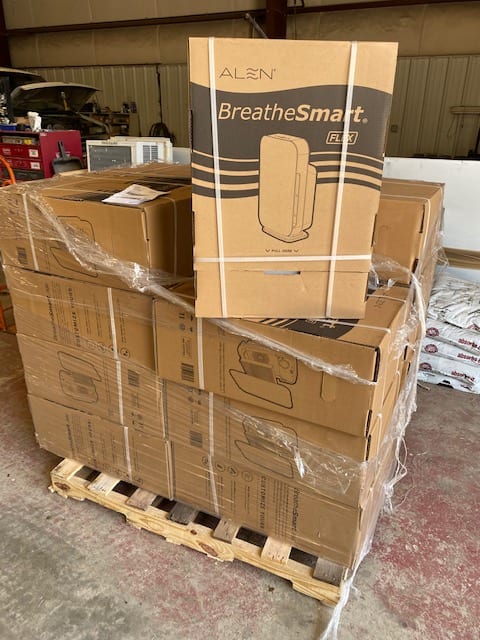 Air Filters Donated for Classrooms
Through the generosity of an anonymous donor, sixteen Breathe Smart Alen air filters were recently installed in classrooms across campus . These air filters aid in filtering out fine particles in the air to help clean the air and lessen any potential negative effects. "The teachers were surprised to walk into their classrooms to find the Breathe Smart Flex Units," commented Dara Tucker, Head of Lower and Middle Schools. "These units are amazing as they provide yet another extra level of safety to keep our students and faculty healthy during this time. We cannot thank the anonymous donors enough for this wonderful gift."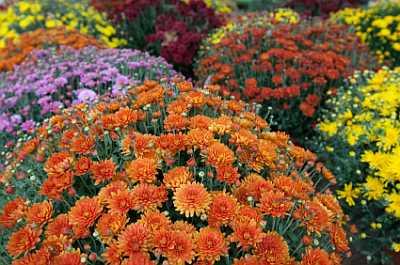 It's time to spread a little sunshine with gorgeous, locally grown mums! Support your Fuqua School PTSA, and B & M Greenhouse!. Mums are great, but you'd rather donate? The Fuqua School PTSA is always grateful for contributions, as they continue to reinvest in our school, assisting with fulfilling needs on campus for the benefit of our students.
Mums are grown in 9" pots and will be available in a variety of colors! To place your order online, please click on this link. You may also request a color choice. While we hope to honor your preferences, colors will be selected by the greenhouse at time of delivery to ensure you receive the best quality product. Typical colors include: purple, yellow, rust, and maroon. Mums will be delivered to campus at the end of September.