Fuqua School Falcon Flyer - 10/15/2021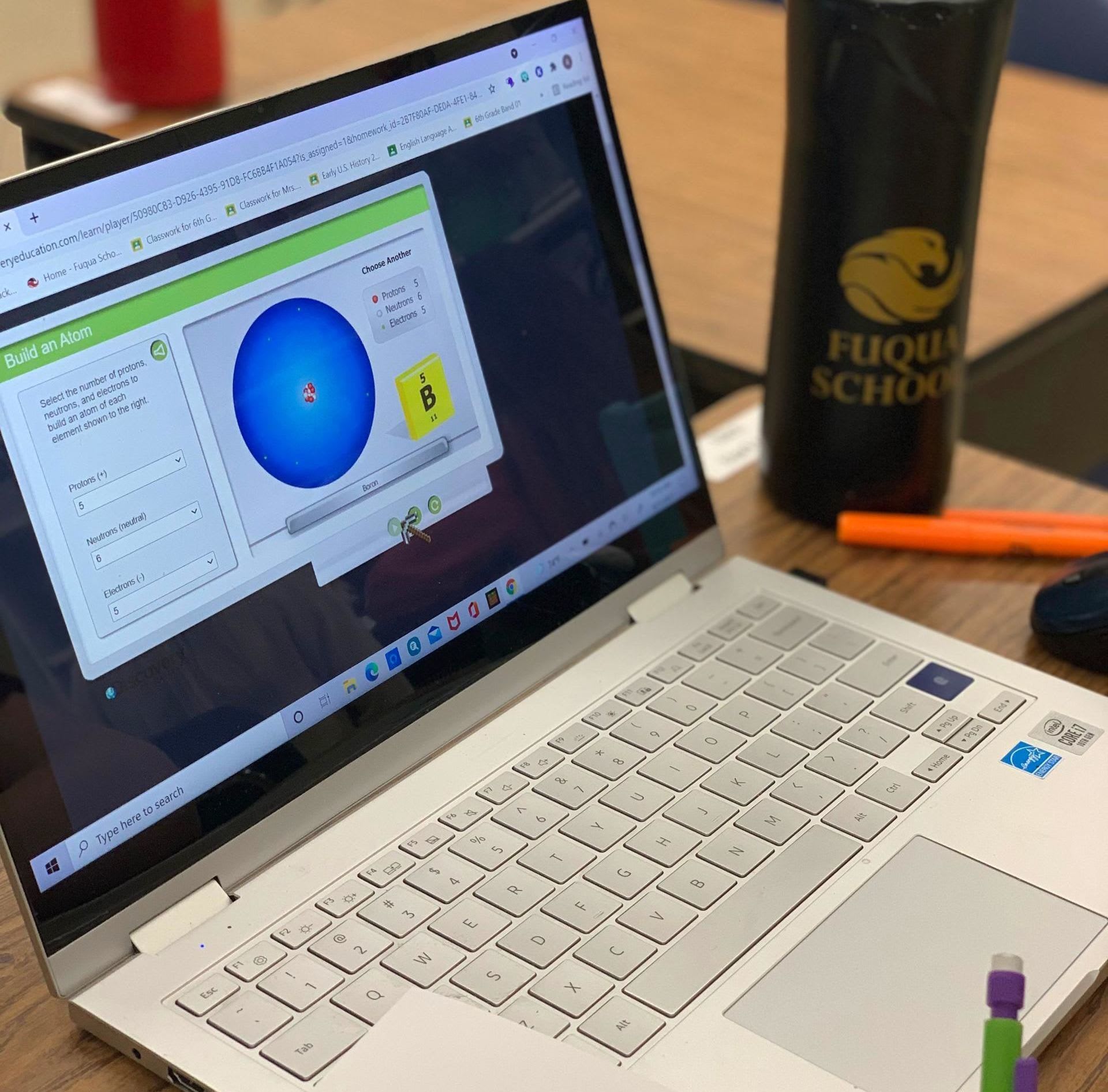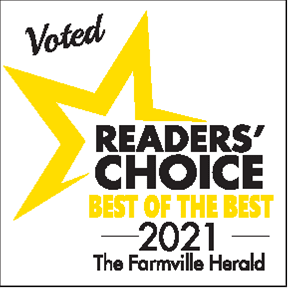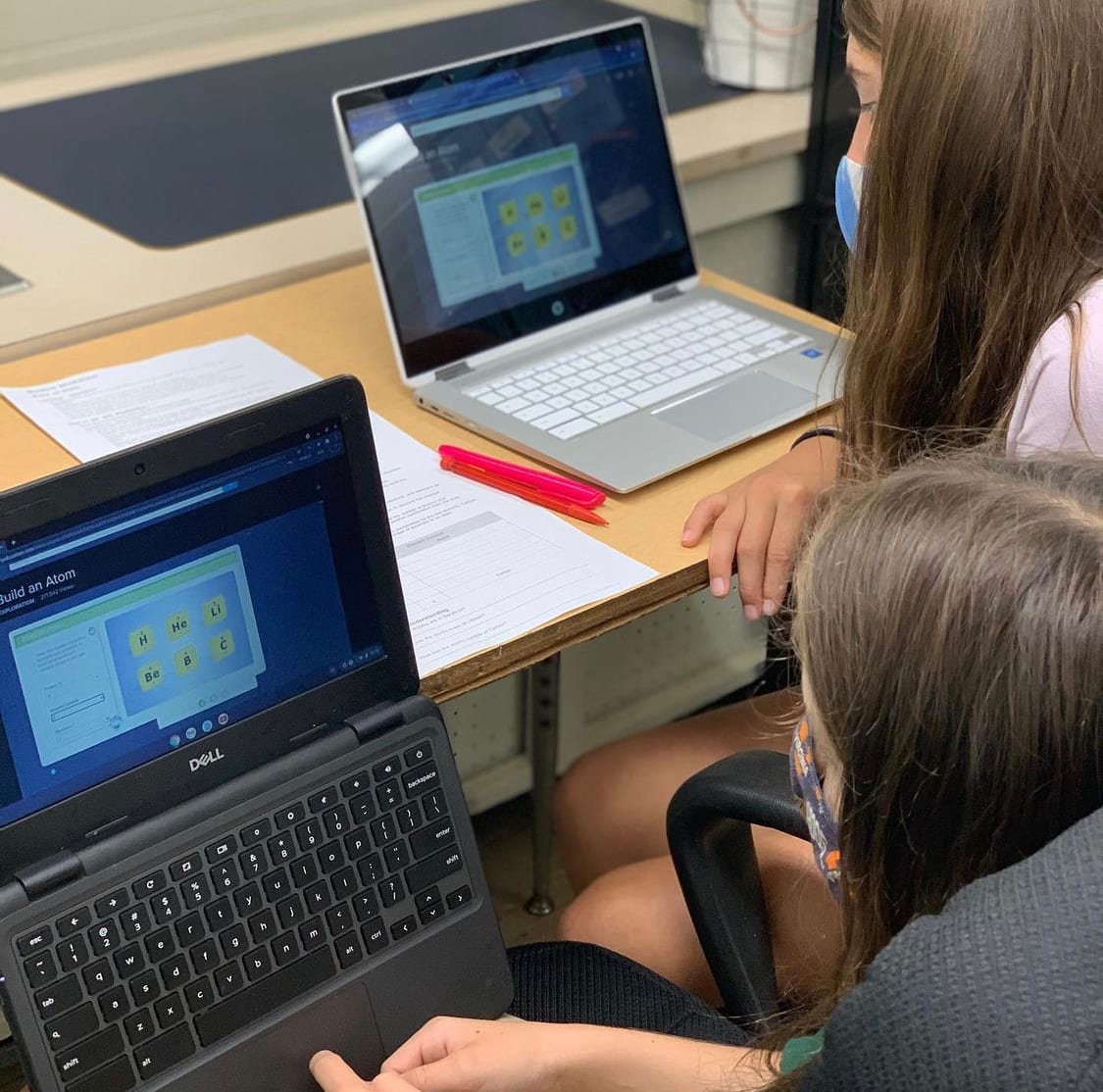 Dear Fuqua Family,
In a week full of excitement surrounding our Homecoming festivities, we just learned of two more reasons why this is a very special time in the life of our school!
First, the Emergency Connectivity Fund grant application that we submitted over the summer months has now received full approval! As a result, Fuqua School will now be able to provide a Chromebook for any student who needs a laptop in grades 2-12 and iPads for all students in grades PK3-1. Furthermore, our school buses will now be wired with Wi-Fi, outdated desktops will be replaced with Lenovo laptops for our faculty, and hot spots will be available for our families who struggle with internet access in our more rural areas.
In addition, we received notification that we have been named the Best Private School in the 2021 Farmville Herald's Reader's Choice "Best of the Best" Awards. There were 72,171 votes cast over the course of the contest in multiple categories and we were thrilled to learn this past month of our selection!
For the many of you who helped us in creating the technology survey over the summer months that we submitted with our grant application and who voted online for us as the Best Private School in the Farmville area, we thank you from the bottom of our hearts and greatly appreciate your help in making both happen!
It is, and always will be, great to be a Fuqua Falcon!
Paul "Chance" Reynolds, M.P.A., Ed.S.
Head of School
Fuqua School
Lower and Middle School Happenings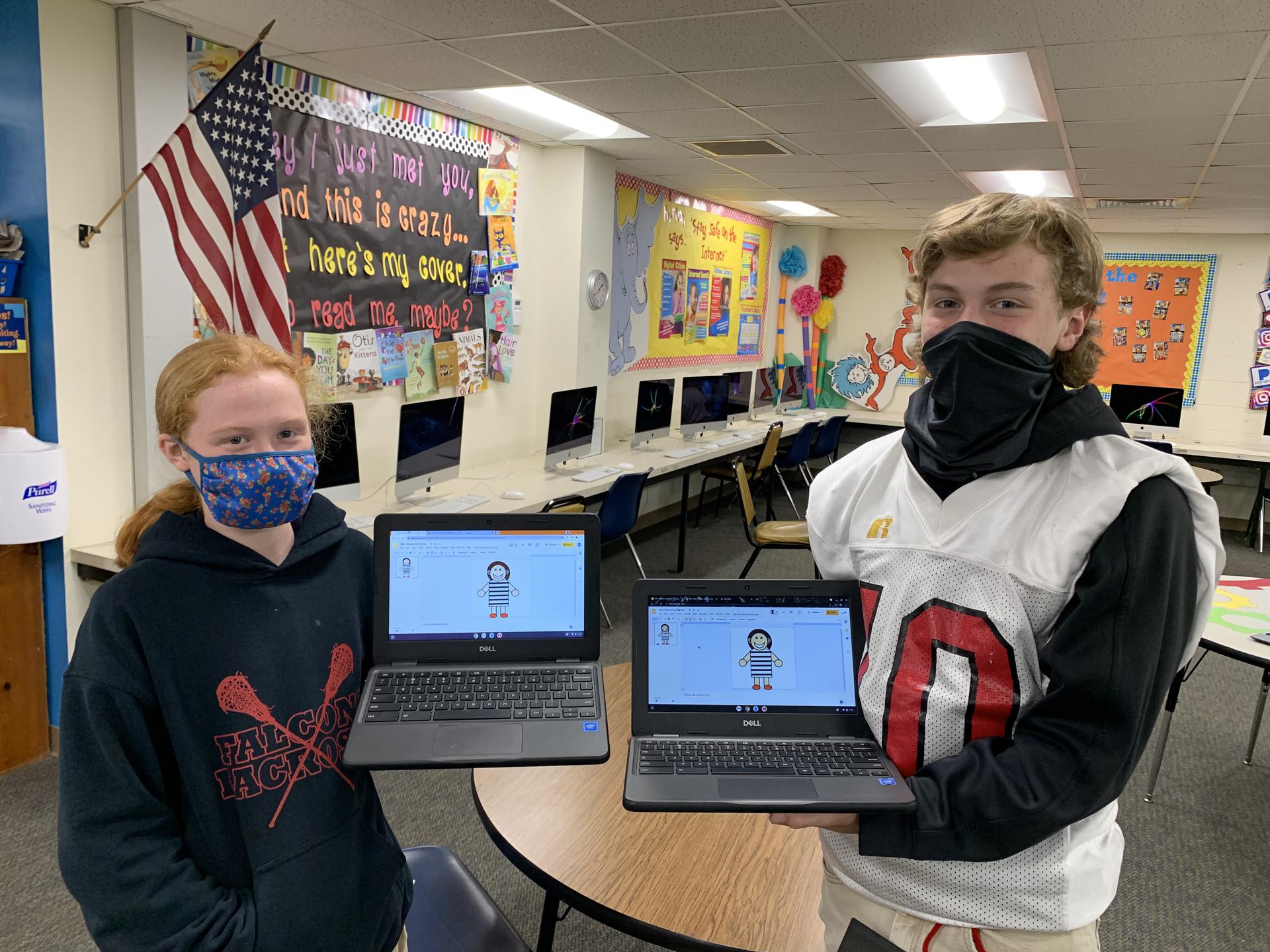 The middle school STEAM Wheel is a popular elective for our 7th and 8th grade students. The STEAM Wheel has four "spokes" and each spoke lasts one quarter. Last quarter, students worked with lower school music teacher, Mrs. Mandy Foster, in the performing arts. The students wrote and performed their own skits as a culmination of the skills learned throughout the quarter. For the second quarter, STEAM Wheel students are working with lower and middle school media specialist, Mrs. Laney Kortas, to learn computer design skills and techniques using a software program called Silhouette. Over the quarter, students will use this software to design vinyl stickers, Christmas ornaments, koozies, and t-shirts. Be on the lookout for more on these students' designs as the quarter progresses.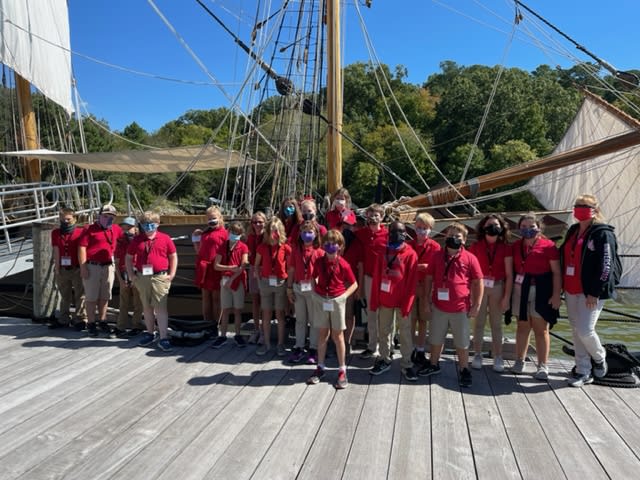 The 4th and 5th grade classes went on a field trip to Jamestown on Thursday, September 30. This is the first field trip we have been on in a long time. We got to see Yi-hakans, different ships, what houses looked like during colonial times, and much more!
We learned about many different things too, like how colonists made bread by taking corn and grounding it into flour then added water and molded it into a loaf before putting it in a brick oven. We also learned that Yi-hakans are houses that Indians lived in. Each house was long and made of sewn together tarps. All the houses had to have a lit camp fire in it at all times. Did you know that houses looked very different in colonial times? Well, they did. Houses that wealthy, middle class, and poor people owned looked very different.
At Jamestown we learned a lot of cool and exciting stuff! If you haven't gone, I suggest you do! It was a long ride on the bus but it was worth it to go on the trip to Jamestown.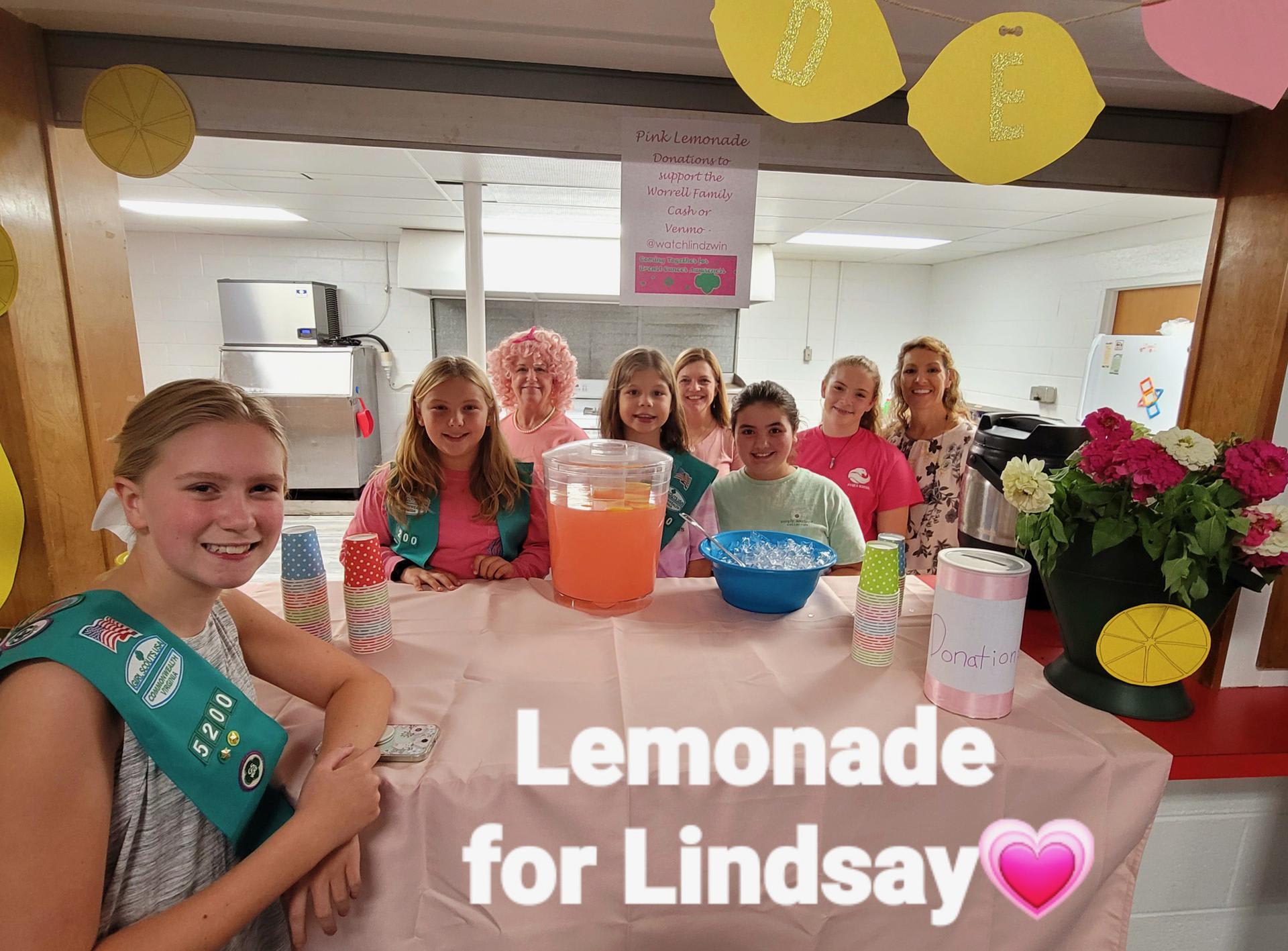 Fuqua School's Girl Scout Troop 5200 volunteered their time at a recent fundraiser to support Lindsay Worrell, wife of Clayton Worrell, Class of 2012, and mother to Atlee Worrell, age two. Lindsay has been diagnosed with breast cancer. The troop raised funds in honor of Lindsay by selling lemonade. #watchLindzwin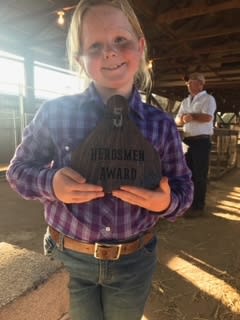 Congratulations to Lydia Hazlegrove who was awarded The Herdsman of the Year award for the Five County Fair sheep and goat barn. Lydia spent several hours every evening at the fair sharing her goat and sheep knowledge with fair attendees.
Congratulations, Lydia. We're so proud of you.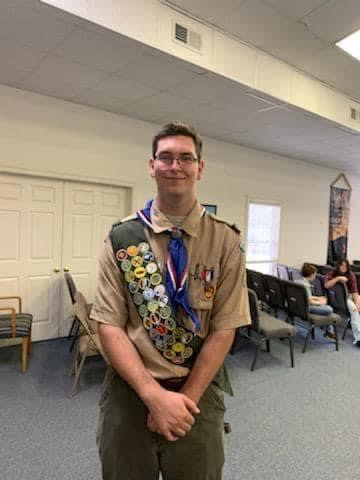 Congratulations to Fuqua School junior, James Royall, on earning Eagle Scout. "Eagle Scout" is the highest achievement or rank attainable in the Scouts BSA program of the Boy Scouts of America. Since its inception in 1911, only four percent of Scouts have earned this rank after a lengthy review process."
Congratulations, James. We're so proud of you!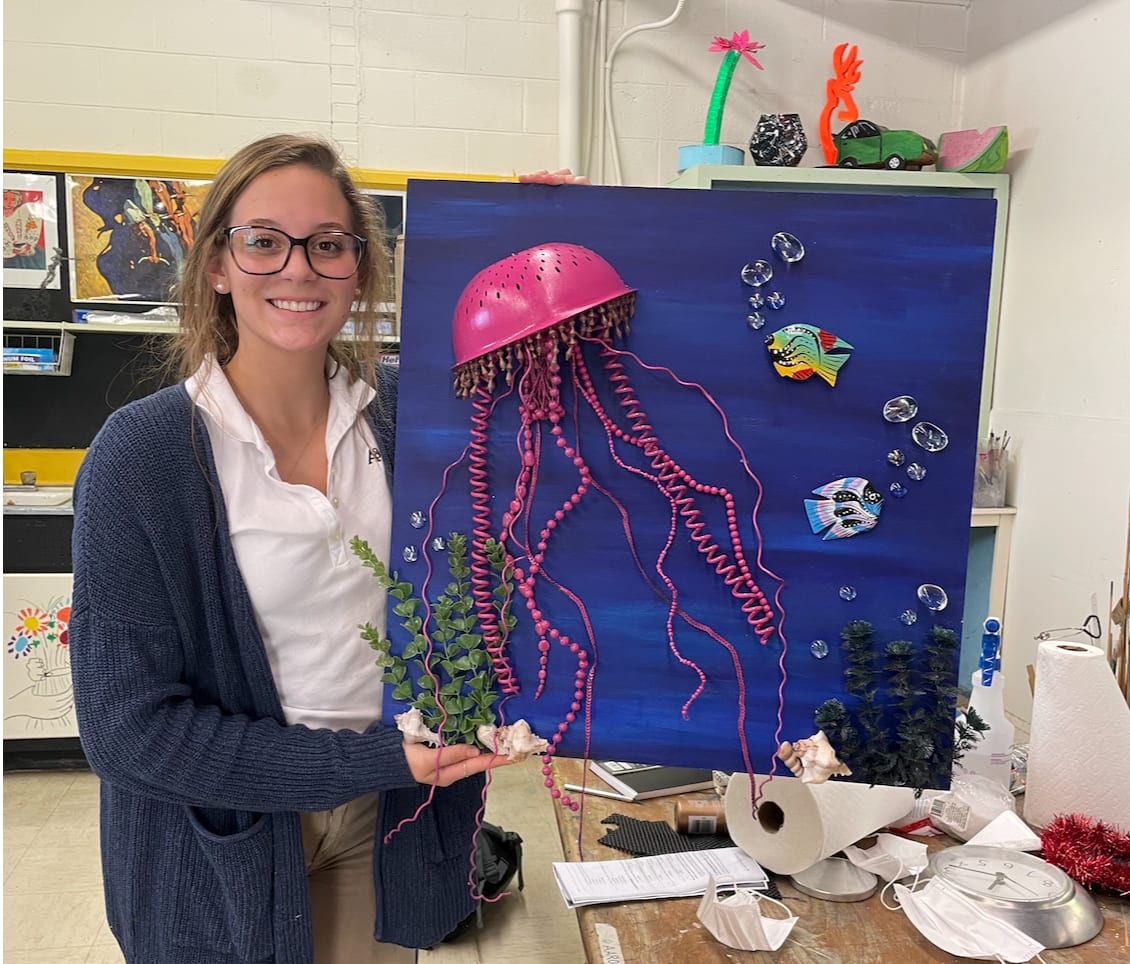 "Upcycled" Art Projects in Mrs. Sullivan's Art Class
Upper school students in Mrs. Audrey Sullivan's art class are currently working on recycled art projects; using only reused materials to produce each piece. Faculty, staff, families, and students were asked to donate recycled items that were no longer wanted or needed, such as bottle caps, wire, utensils, buttons, bubble wrap, hardware pieces, and many other interesting household finds. Students then brainstormed structural art-form ideas, and developed a plan for executing their creations. Junior, Callie Major, created a brilliant jelly fish using a recycled colander, beads, and wire. Hunter Stimpson, a freshman, used bubble wrap, utensils, and pipe to create a magnificent crab. Students have thoroughly enjoyed exploring their imaginative wheelhouse by creating these upcycled masterpieces.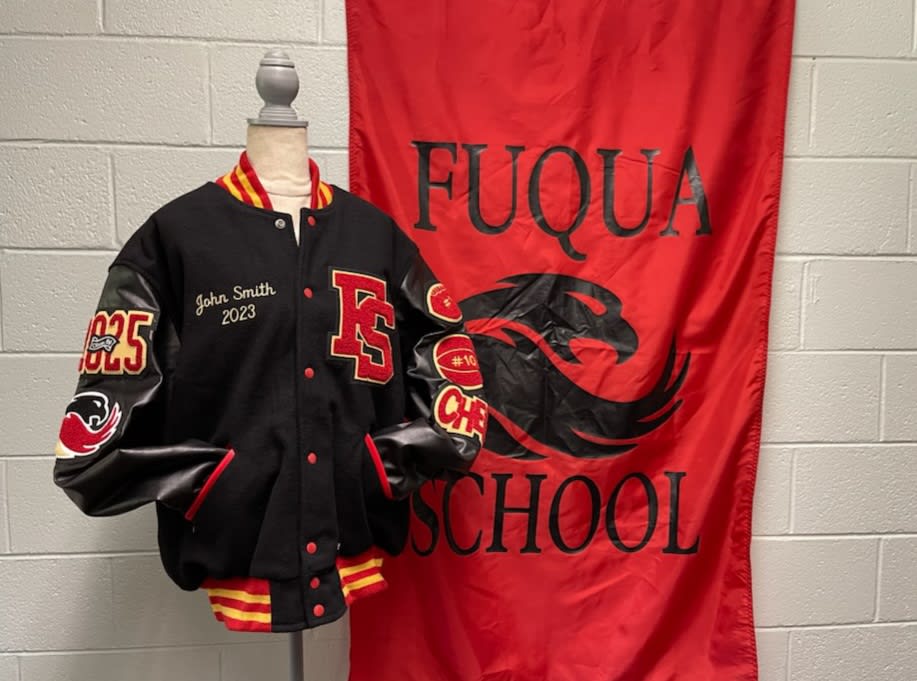 Letterman Jackets Return to Upper School Campus
Fuqua School encourages and facilitates students to reach their boundless individual potential, both academically, athletically, and socially. Countless students participate in numerous sports, clubs, honors societies, and extracurricular activities. One way students can be proud of their accomplishments and involvements on campus and showcase these successes is through a varsity or "letterman" jacket. This year, we are thrilled to offer this special item for purchase to our upper school students. Several orders have already been placed, and those students are anxious to receive such a special and distinctive keepsake that they will enjoy wearing and cherish for years to come!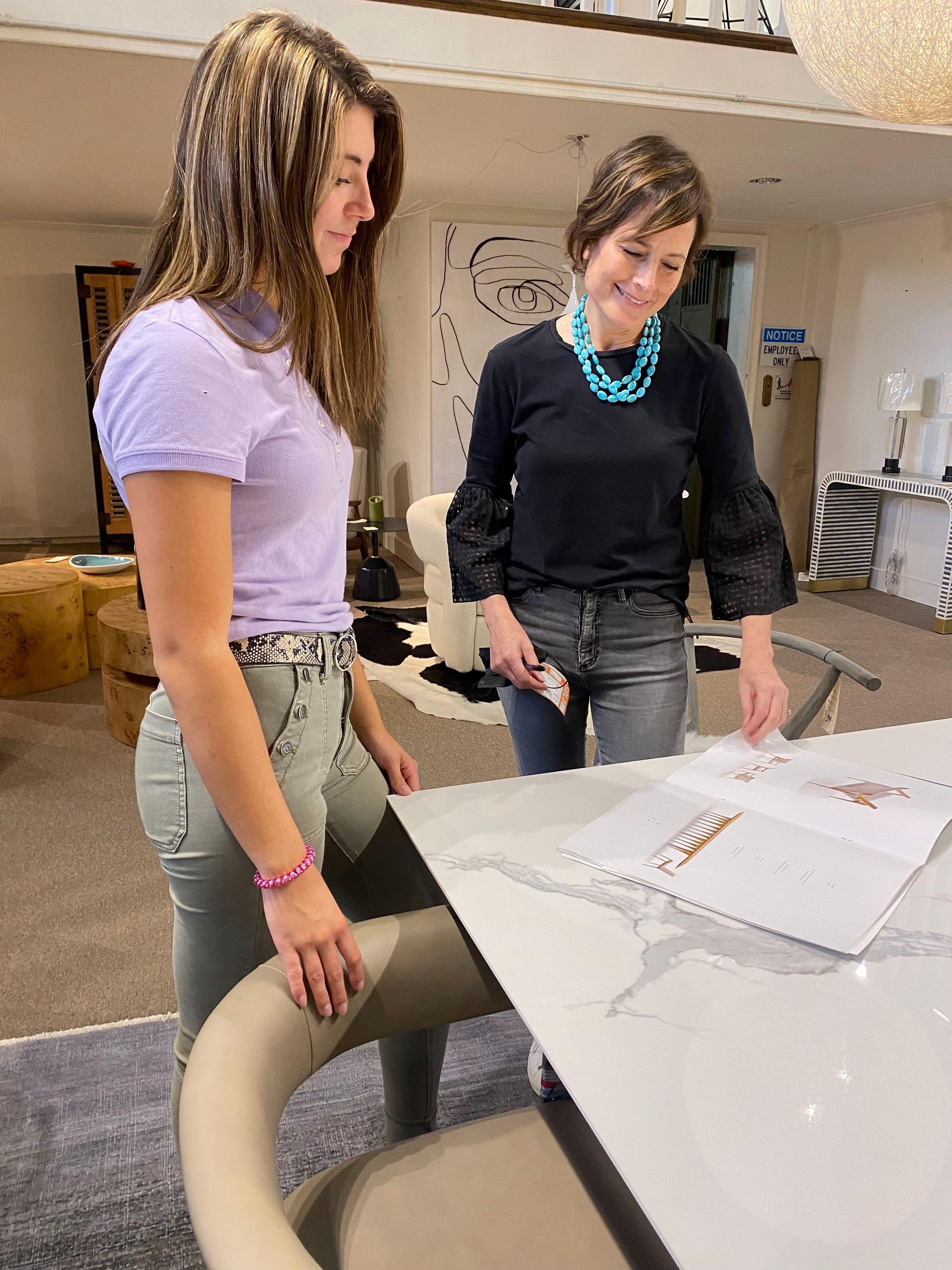 Externship Feature:
Meredith Schmidt, Green Front Furniture
Upper school students in grades eleven and twelve have the opportunity to participate in an externship program. Students who take part in this program visit local businesses to gain knowledge related to a specific field or trade throughout a semester. This is a wonderful chance for students to make important life decisions about what careers they would potentially like to explore in more depth.
With over 900,000 square feet of showroom and twelve buildings, Green Front Furniture's flagship store located in Farmville, VA is the interior designer's dream! Green Front Furniture offers rugs, furniture, and accessories from around the world. Green Front has served the Farmville community for years, facilitating in the advancement and growth of our rural town.
Senior, Meredith Schmidt, began her externship this semester with Ashley Cooper, associate at Green Front Furniture. Meredith collaborates with Ashley twice a week, working in the showroom and gaining unsurpassable knowledge in the field of interior design. She has learned about types of fabrics, leather, and styles of rugs, and furniture, all while familiarizing herself with manufacturers, companies, and suppliers. Meredith has met numerous Green Front employees and explored the vast square footage of Green Front's numerous buildings. While Meredith has not made a final college decision, she is currently visiting several college campuses that offer an interior design program, such as High Point University. Meredith looks forward to furthering her knowledge about interior design through her externship experience. Best wishes, Meredith!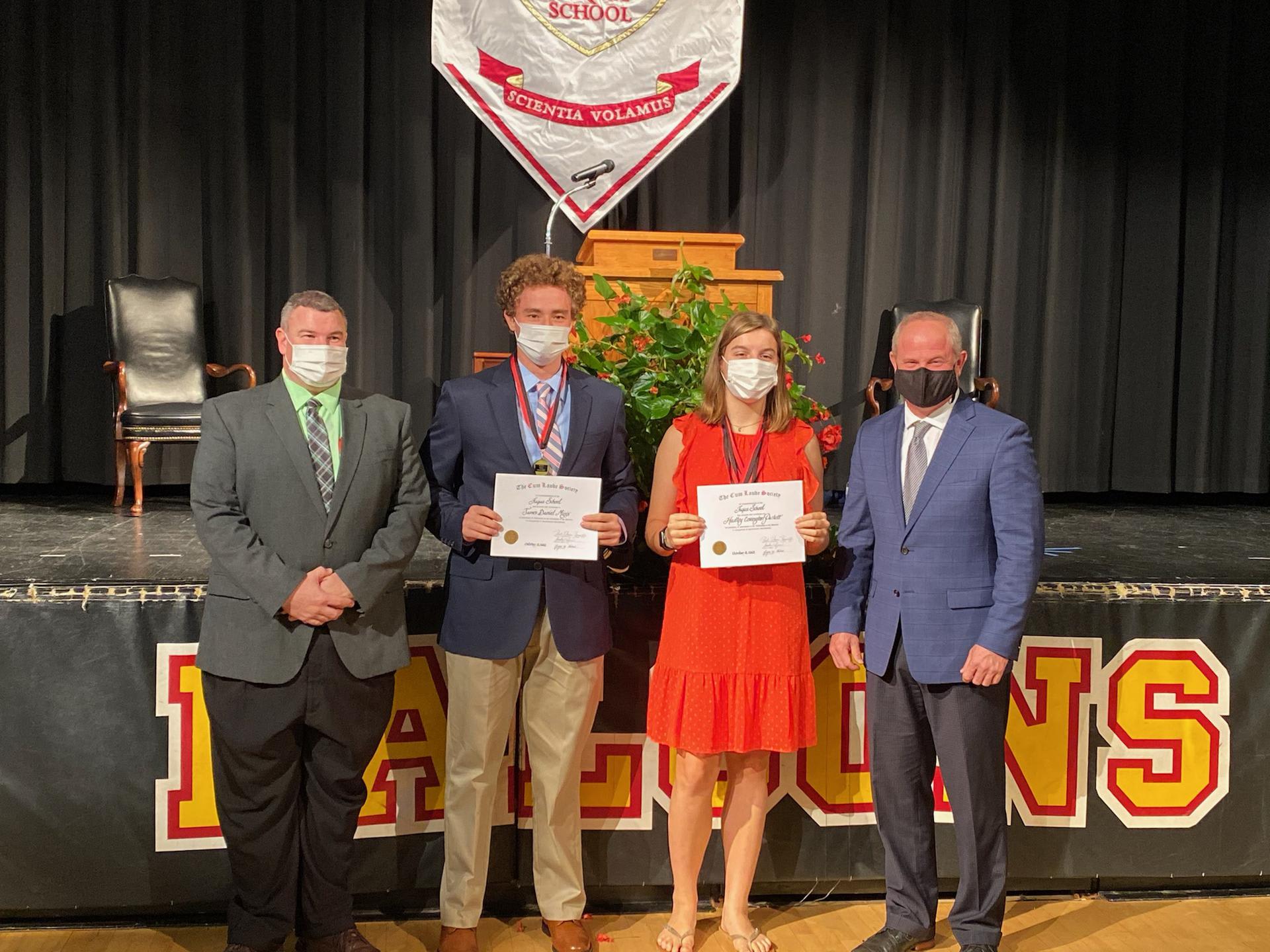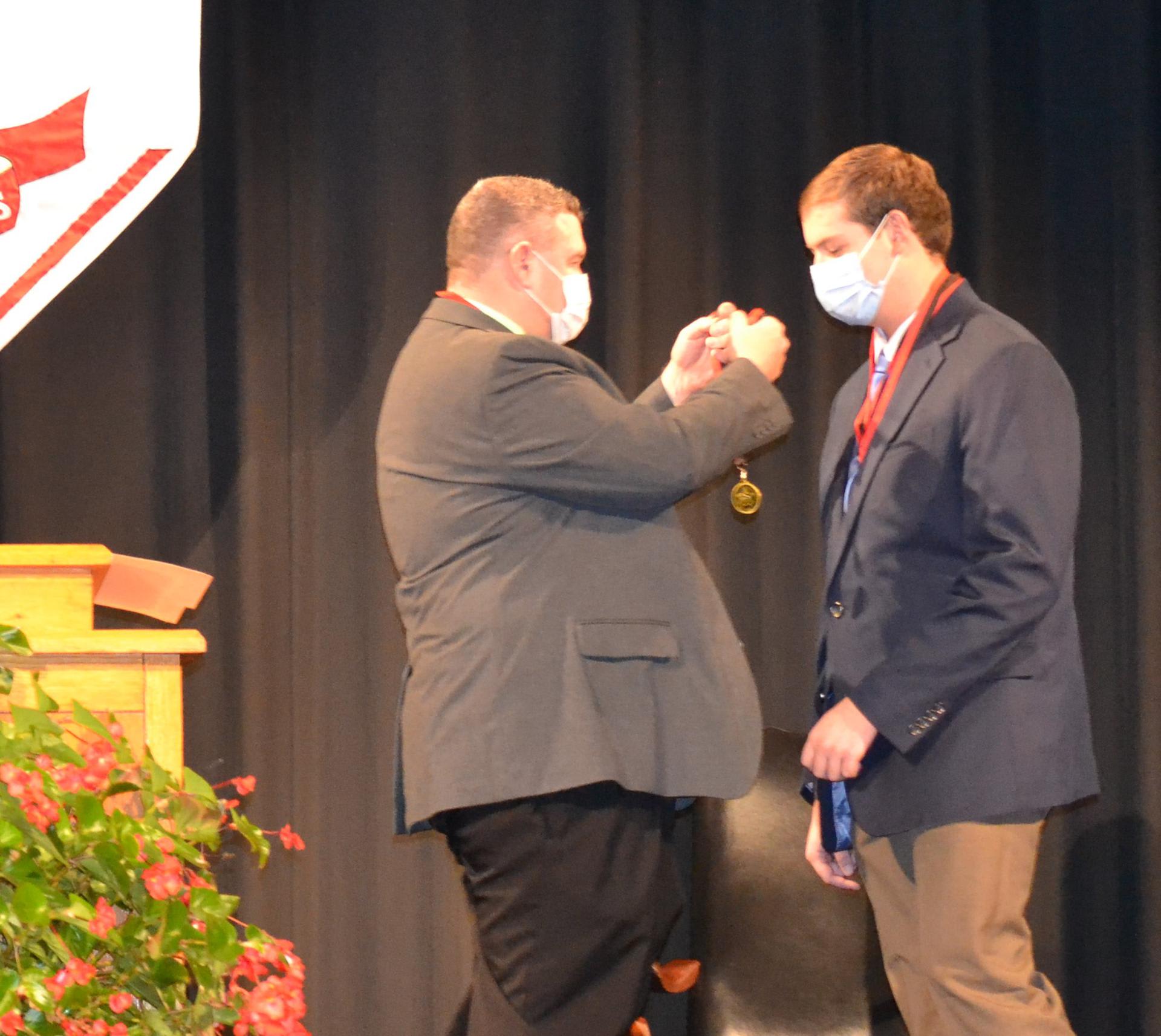 Two members of the Class of 2022, James Minix and Hadley Puckett, were inducted into the Cum Laude Society at the Upper School Fall Academic Awards program on October 8. Each inductee received a Cum Laude pin, certificate, and signed the chapter membership book. These members of the Class of 2022 are the first two inductees for this academic year; the final two will be inducted during a spring ceremony. The Cum Laude Society, an international organization founded in 1906, recognizes the top twenty percent of each senior class based on grade point average and is dedicated to honoring scholastic achievement in secondary schools. Fuqua School is one of sixteen schools in Virginia to have membership in the Cum Laude Society.
Fuqua School also recognized student achievement in the Scholars Program, which inducts students in grades 10, 11 and 12 based on their academic record from the previous school year. Qualifying students were recognized as High Academic Honors, Academic Honors, and Honors.
Also honored at the assembly were students being inducted into various Academic Societies. Fuqua School has eight Academic Societies, each designed to recognize academic excellence and strong interest in specific content areas. These societies recognize students in English, Math, History, Science, Spanish, Latin, Art, and Theater. Interested students who met the eligibility criteria applied for membership.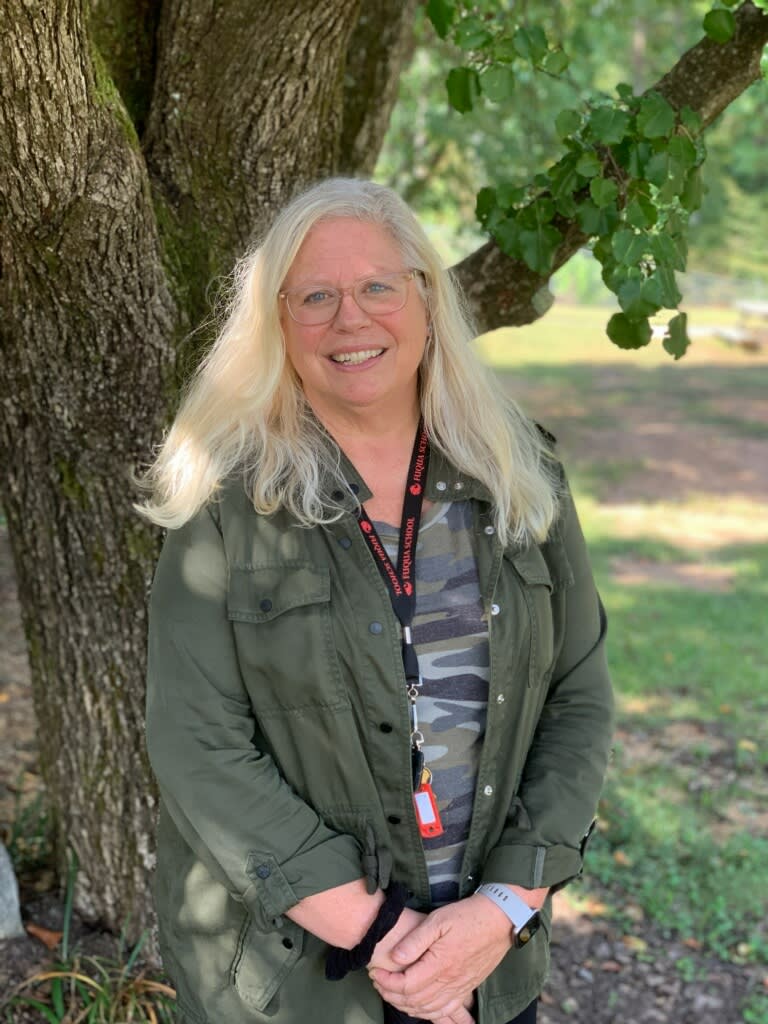 We would like to welcome Christy Martin as our new kindergarten teacher at the lower school. Ms. Martin has had many years of teaching experience working in Chesterfield County Public Schools. Over this time frame, she taught for 13 years in both junior kindergarten and kindergarten classrooms. In addition to her experience in the kindergarten setting, Ms. Martin has also taught in grades 3, 4 and 5, taught in the elementary gifted program, and served as an elementary and middle school media specialist in Chesterfield County Schools. Having earned both her bachelor's and master's degrees from Longwood University, she is fully licensed by the state of Virginia in both elementary education and library education. Please join us in welcoming Ms. Christy Martin to our Fuqua School family!
Don't Miss These Upcoming Events!