Fuqua School Falcon Flyer: March 1, 2020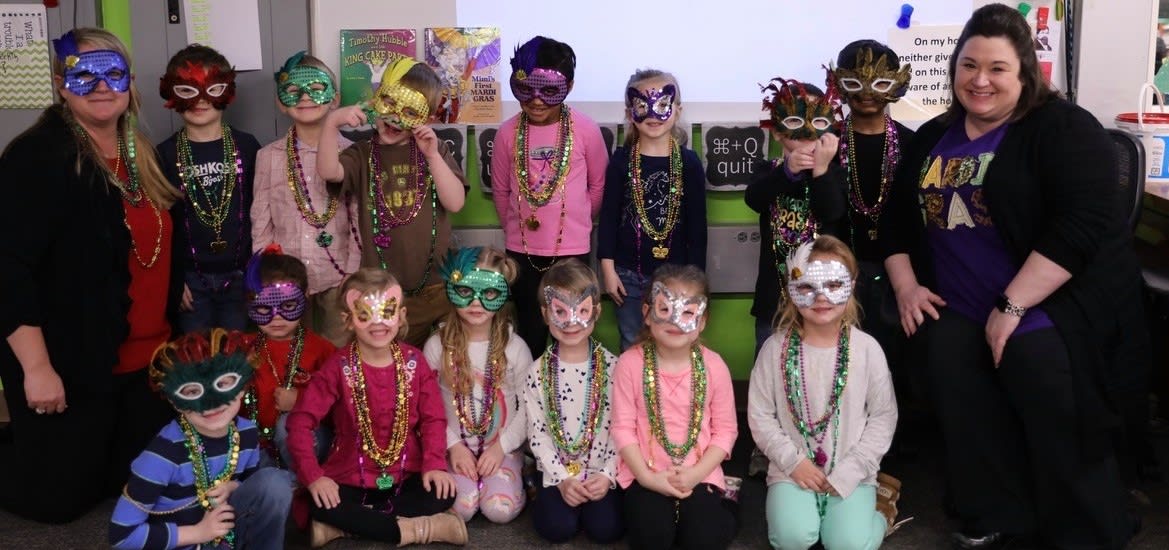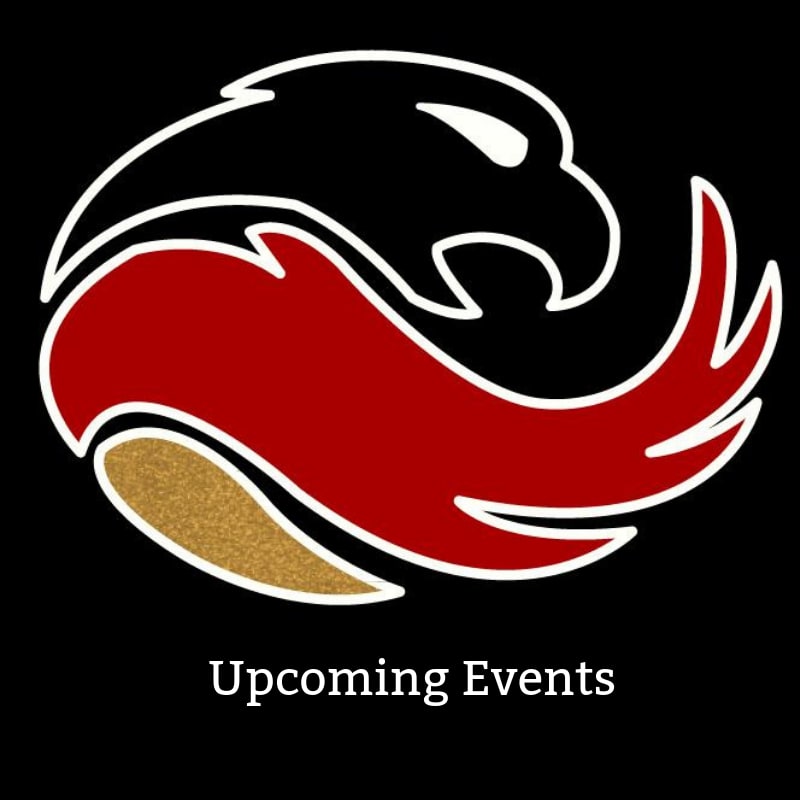 To stay up to date on all upcoming events, click here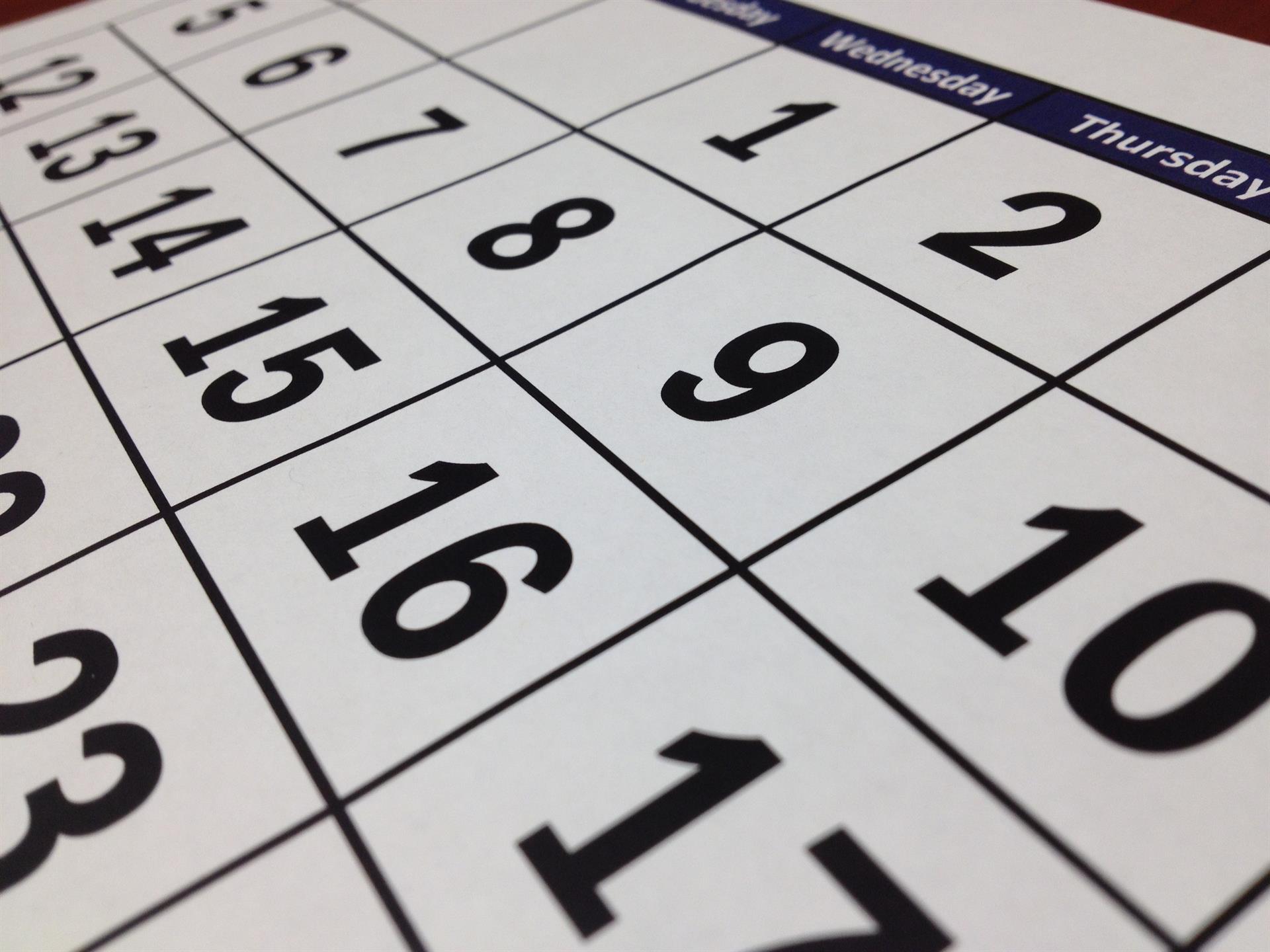 2019-2020 Academic Calendar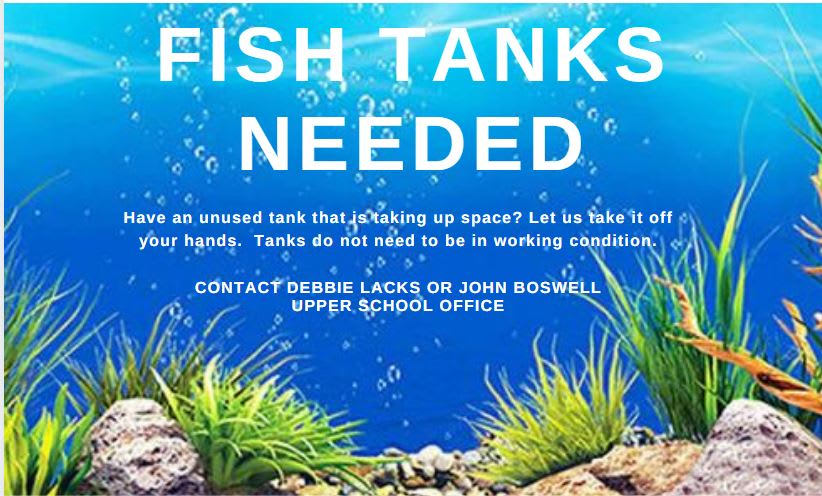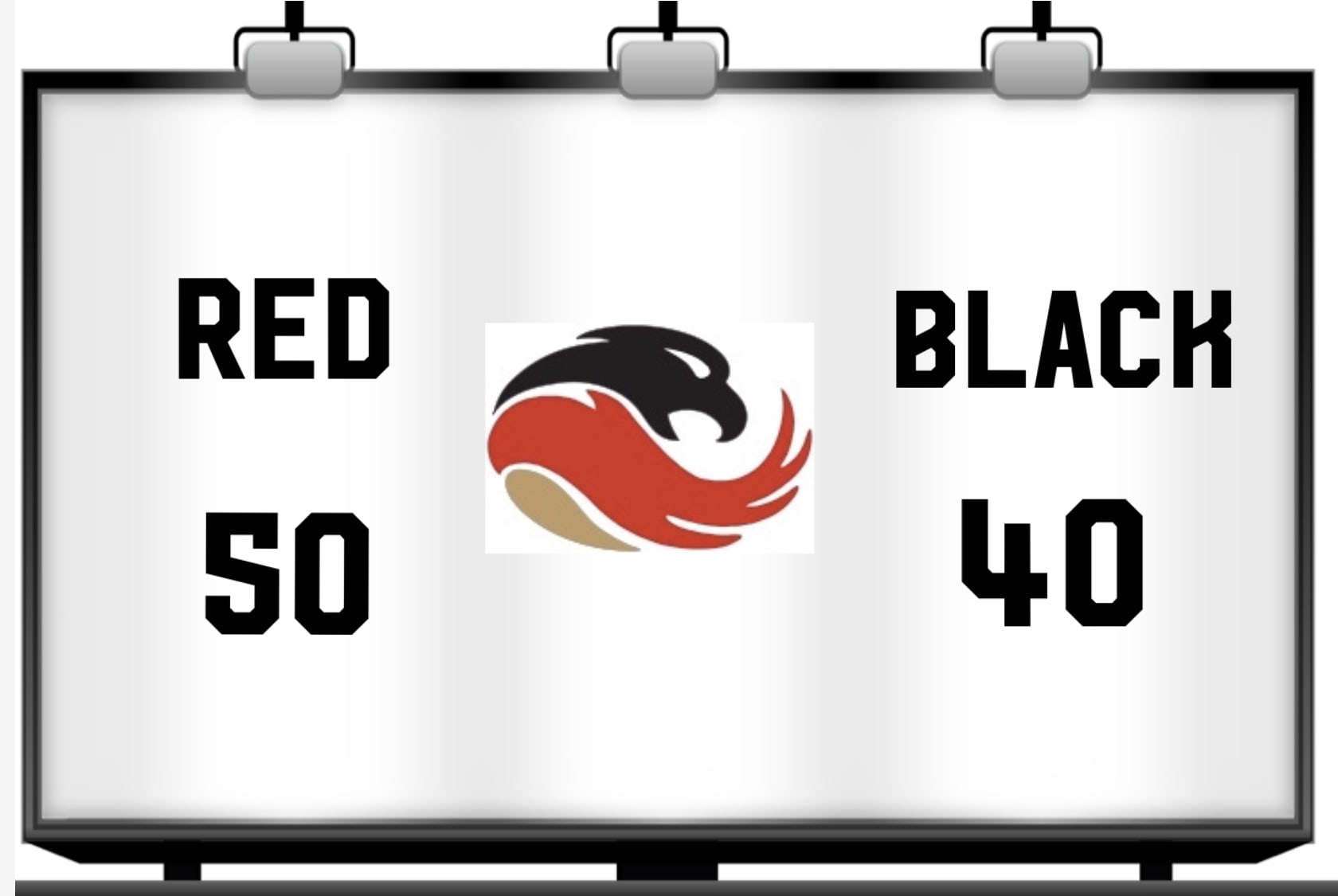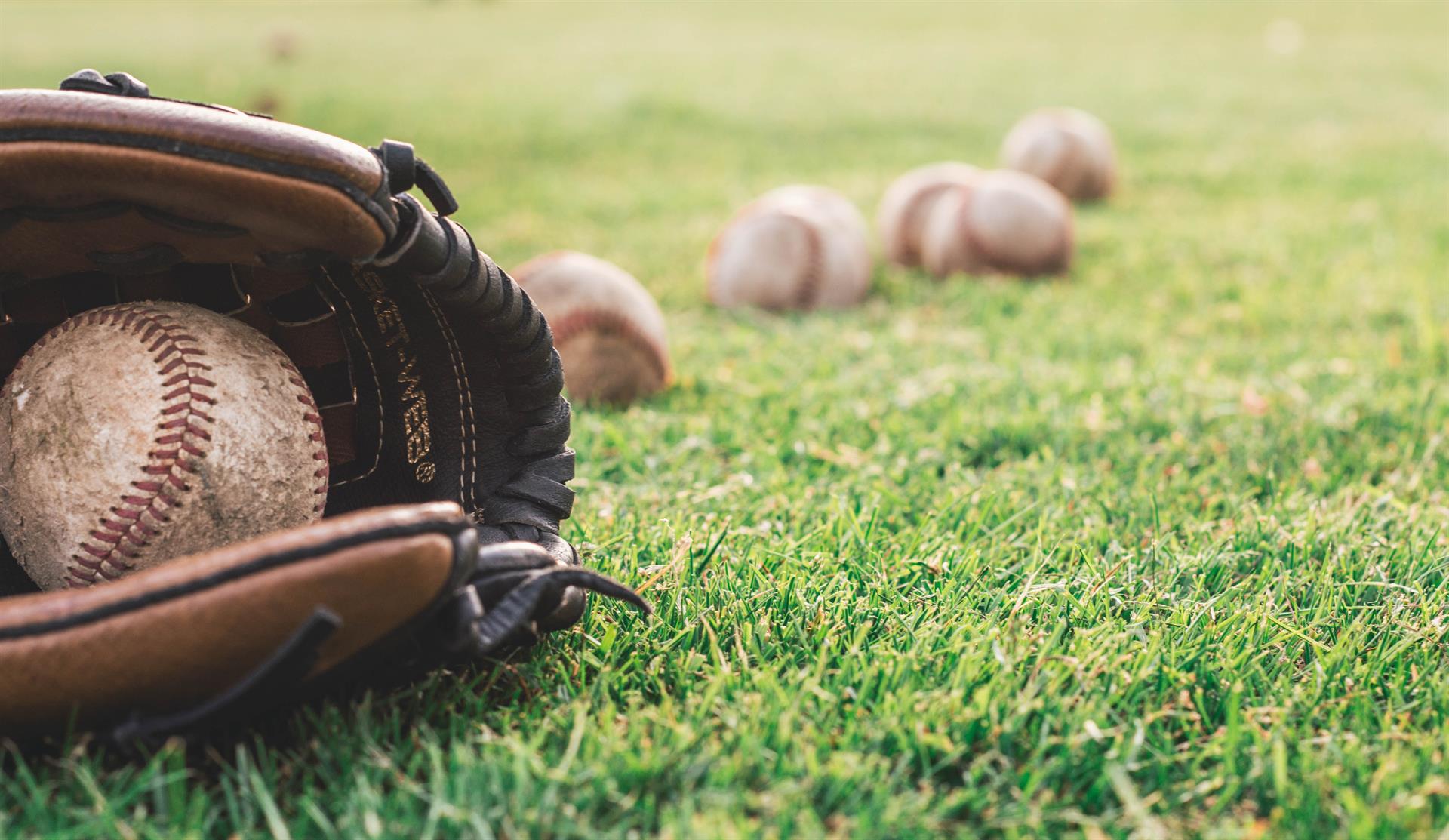 Spring Sports
JV & Varsity Baseball, Golf,
Boys Varsity Lacrosse,
Girls Varsity Lacrosse, JV & Varsity Softball
Please check Rschool for sport team schedules and updates!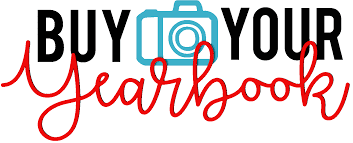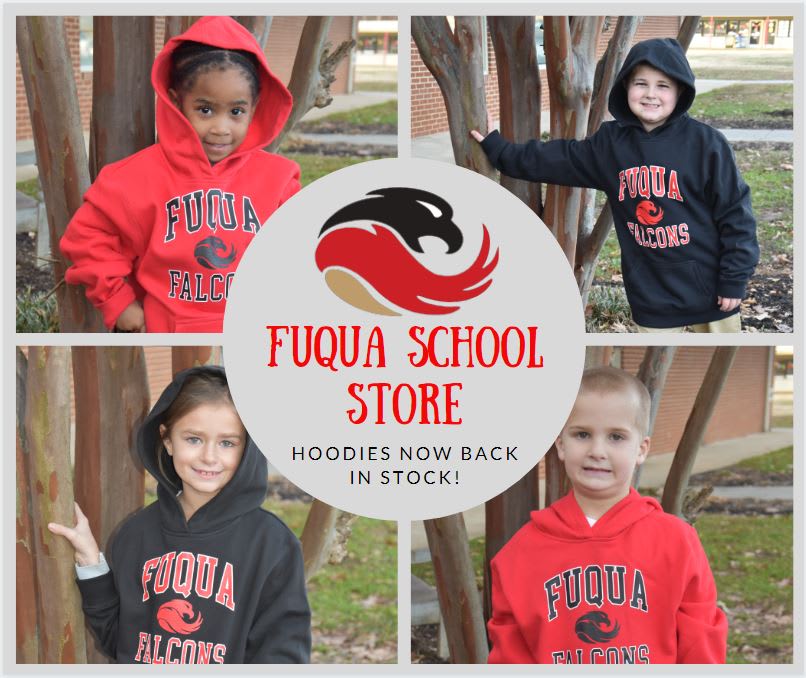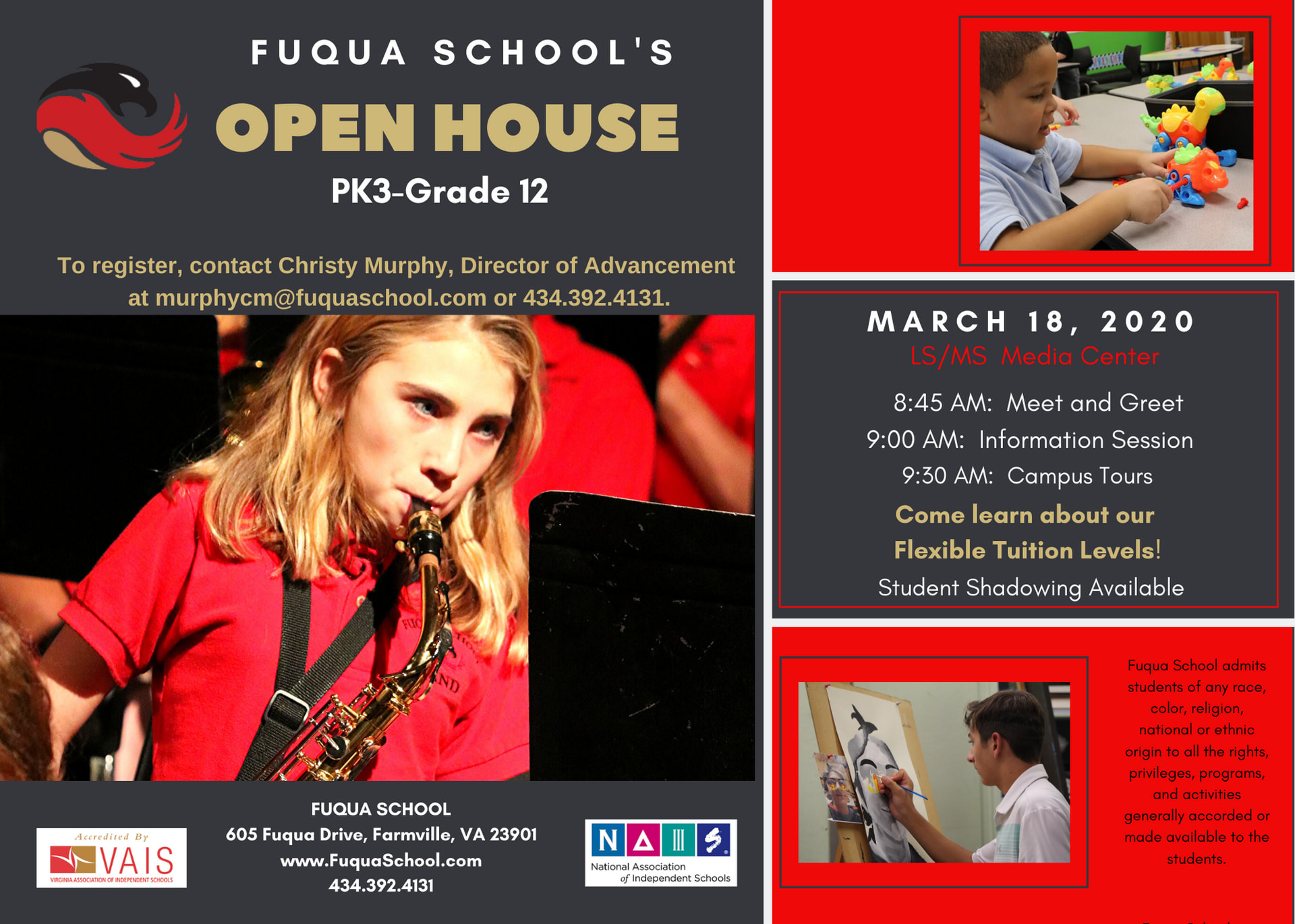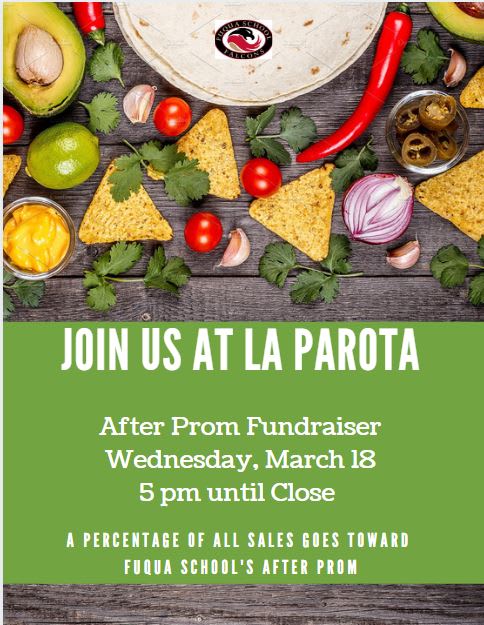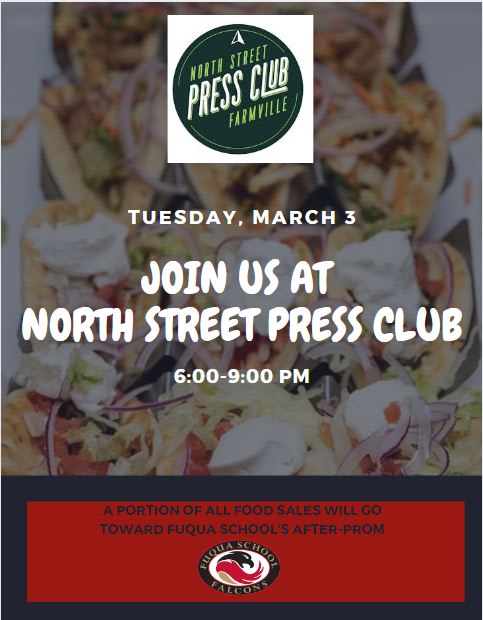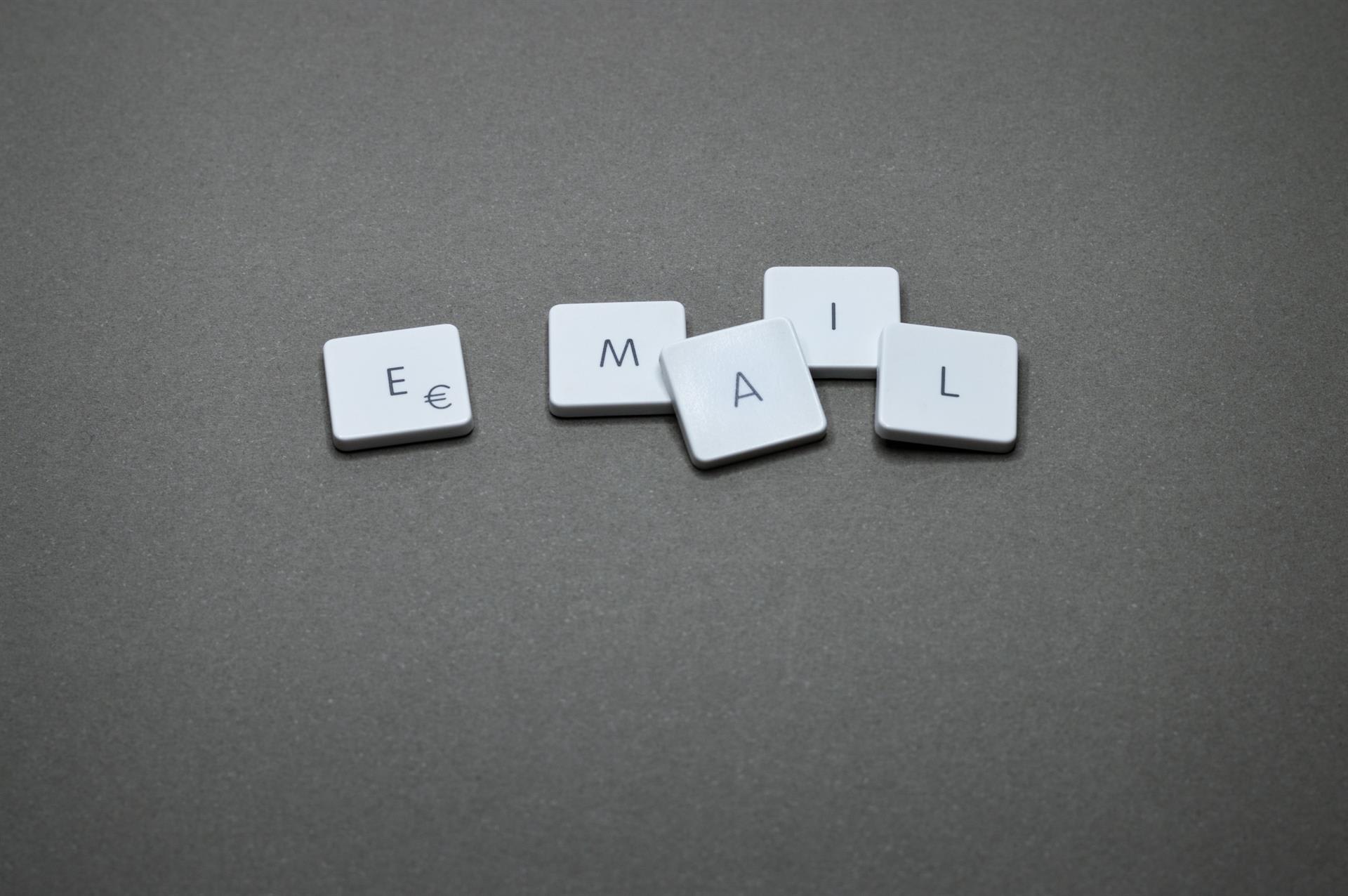 Share every Falcon Flyer with your family and friends. Send their email to FalconFlyer@FuquaSchool.com and they will be added to our Falcon Flyer guest list. Don't miss a Falcon Flyer...previous editions are available under Fuqua School Publications!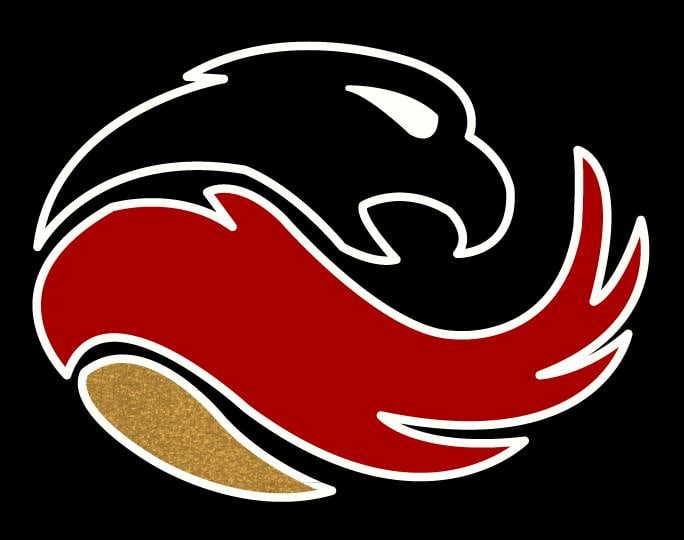 Request to Use Falcon Logo, Etc.
For information on To Use Falcon Logo / Fuqua School, click here. Vendors must have a signed copy of the request to use form before creating any items and must be approved by John Melton.

Join AmazonSmile and help Fuqua School!
Turn your Amazon purchases into a force for good. With every eligible purchase, AmazonSmile donates 0.5% to the charity of your choice. This includes all Charity List purchases as well as millions of everyday items at smile.amazon.com. Join AmazonSmile today and help Fuqua School!
Black History Month Door Decorating Contest Winner
Mrs. Krystal Tucker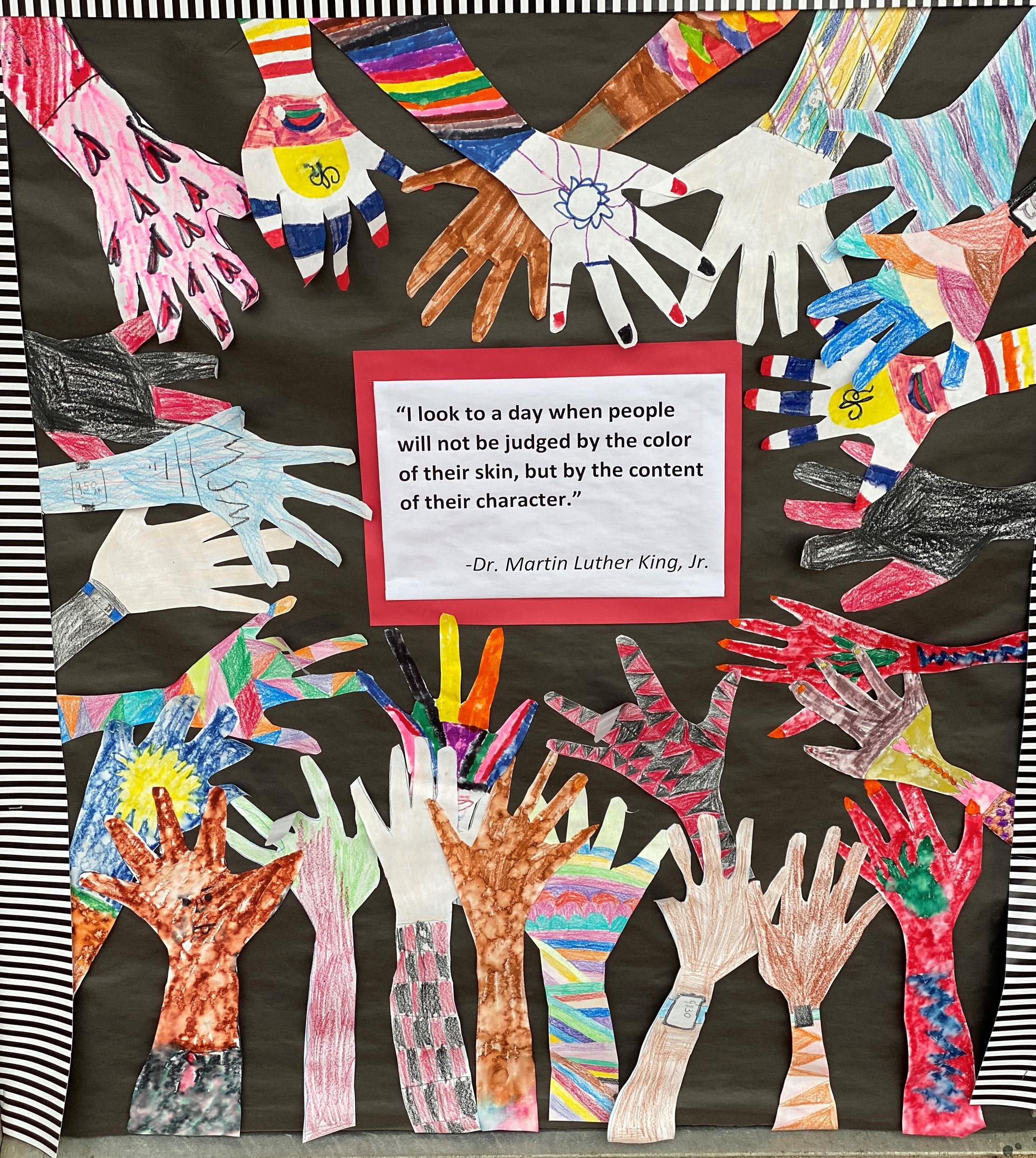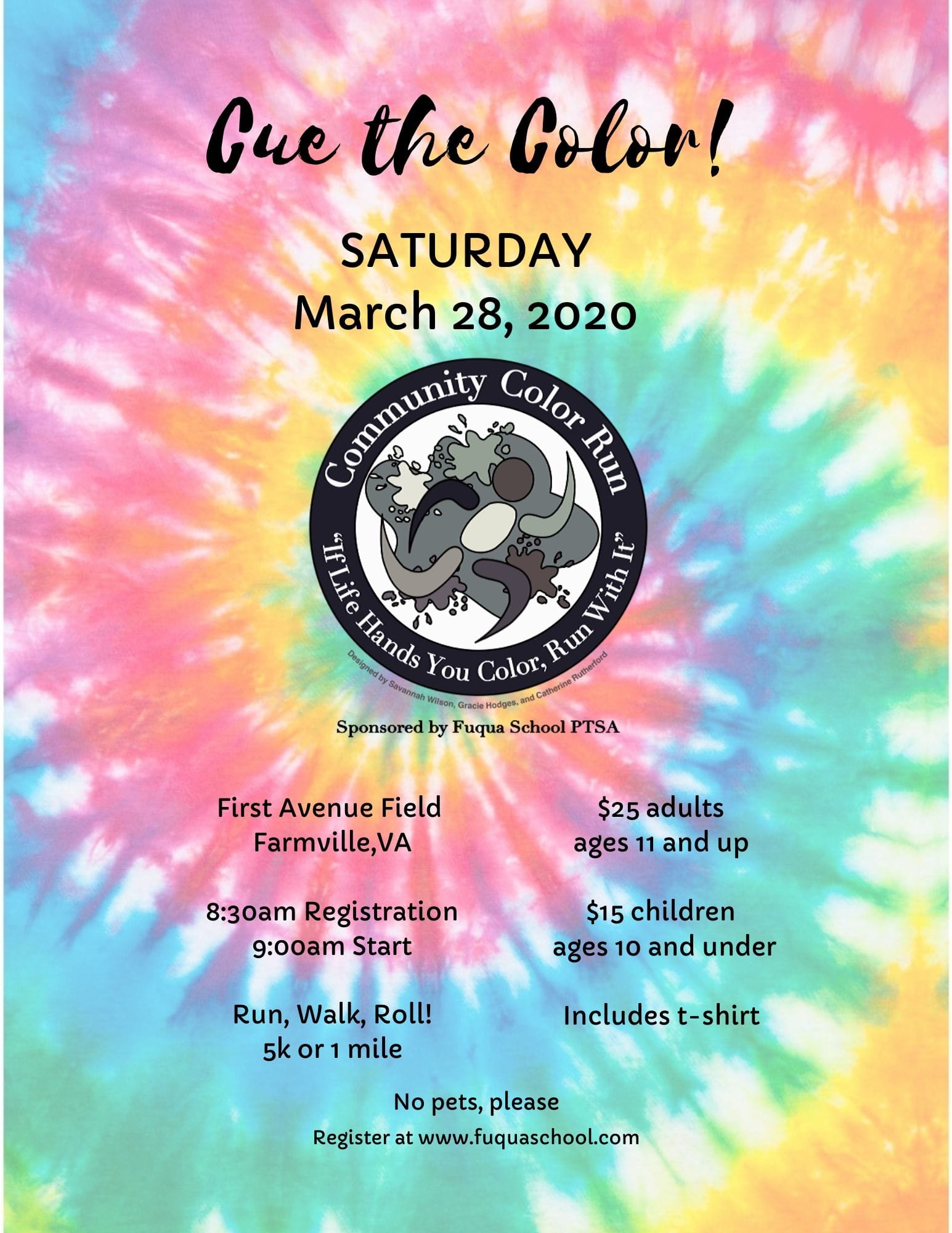 CUE THE COLOR! Join us for the 2nd Annual Community Color Run! Saturday,
March 28, at Farmville's First Avenue Field. A FUN Run for Runners, Walkers, and Rollers venturing through
the Avenues of Farmville, starting at 9:00 AM, with packet pick-up at 8:30 AM.

Register online at www.fuquaschool.com.
Bring your friends for this awesomely fun community event! Sorry, no pets permitted.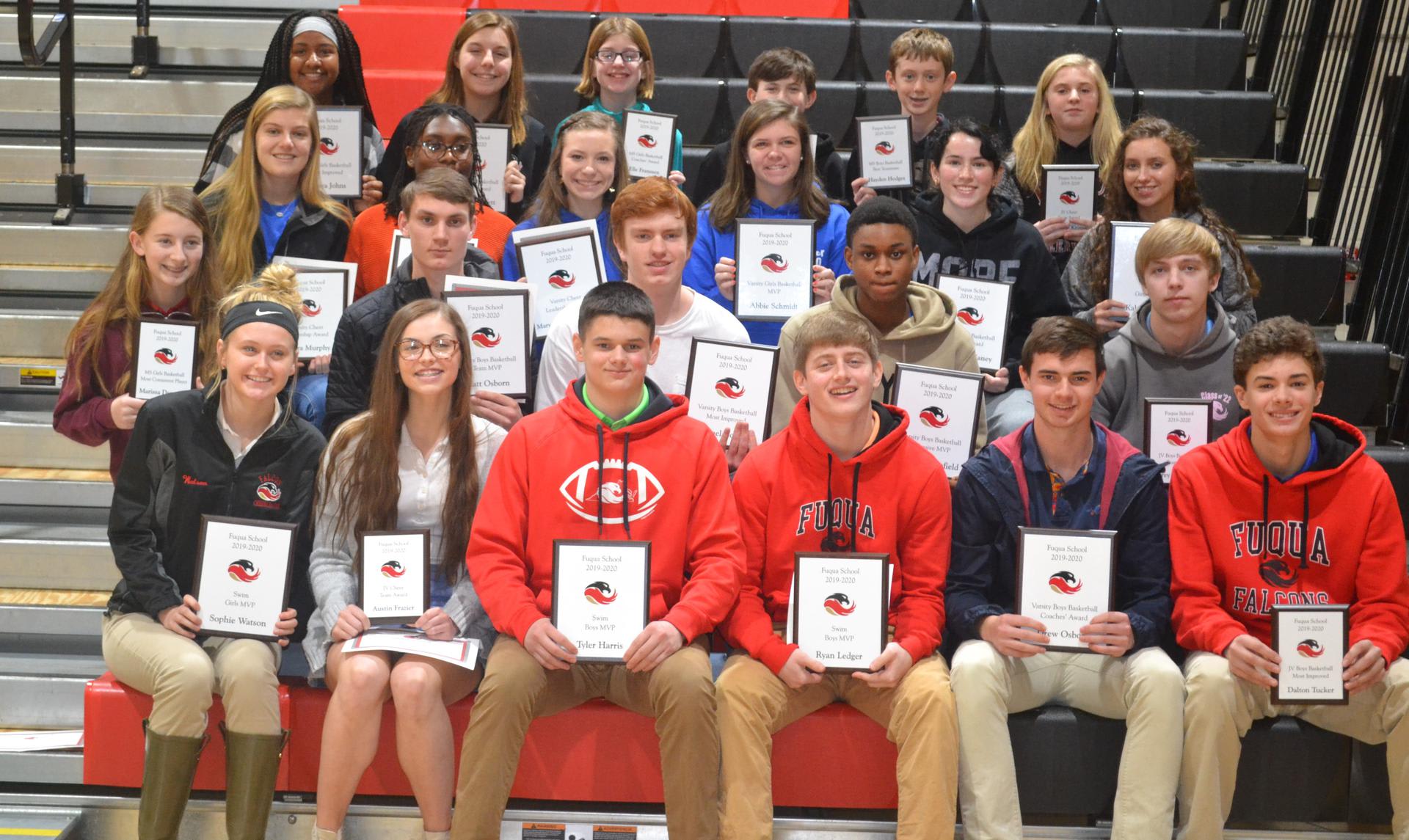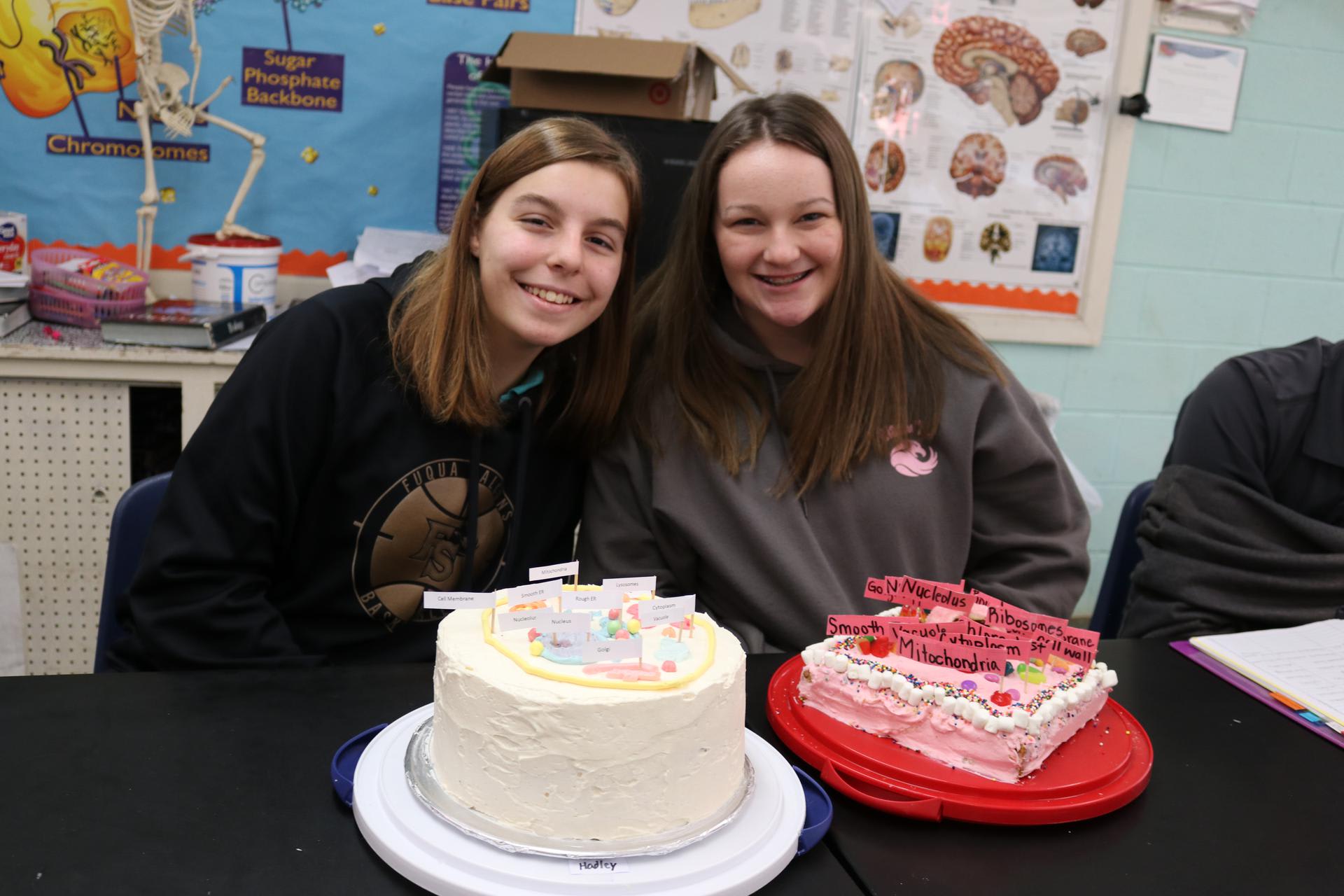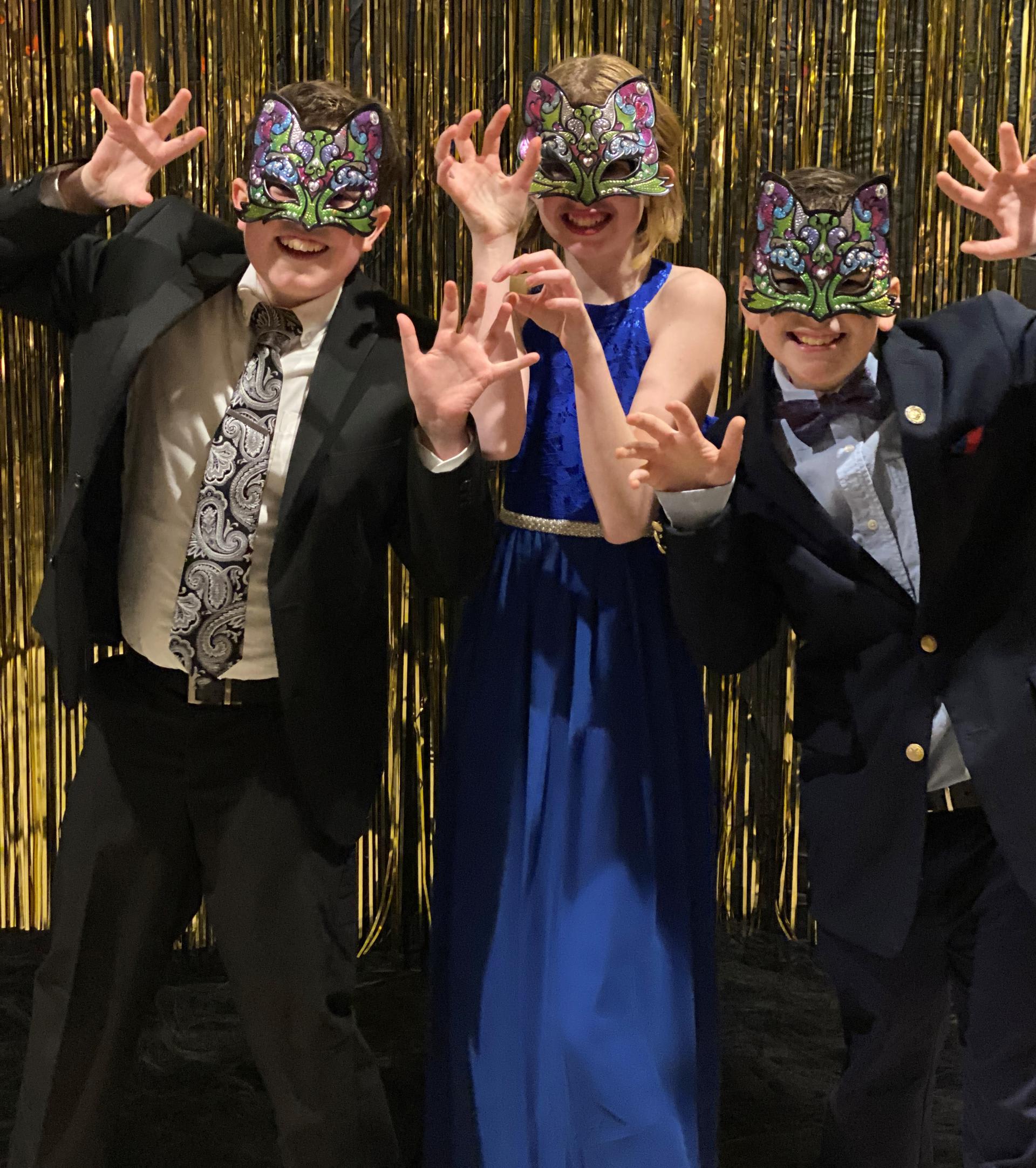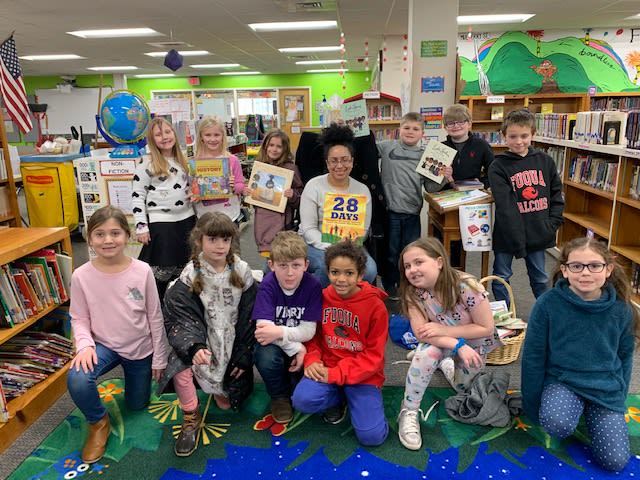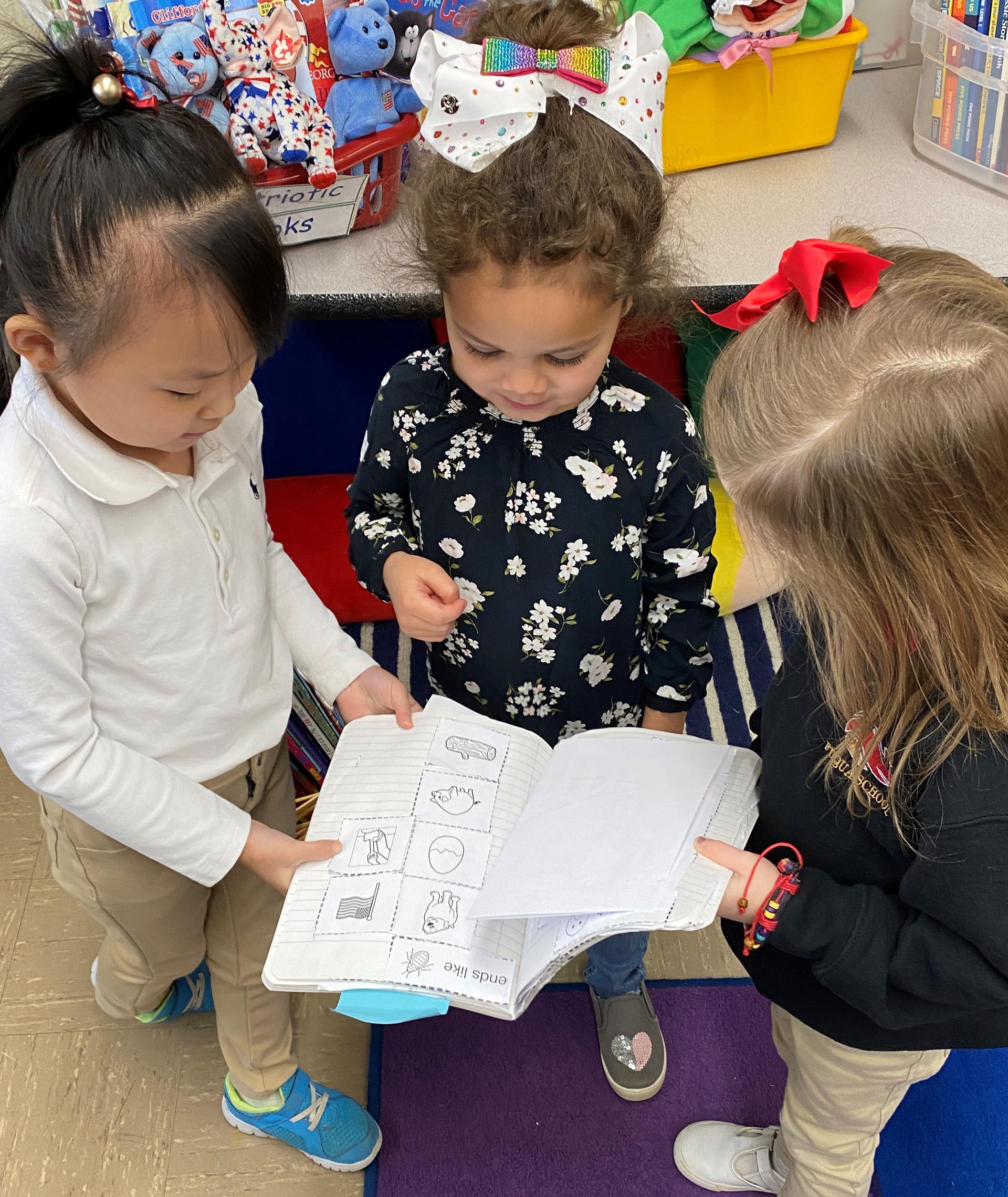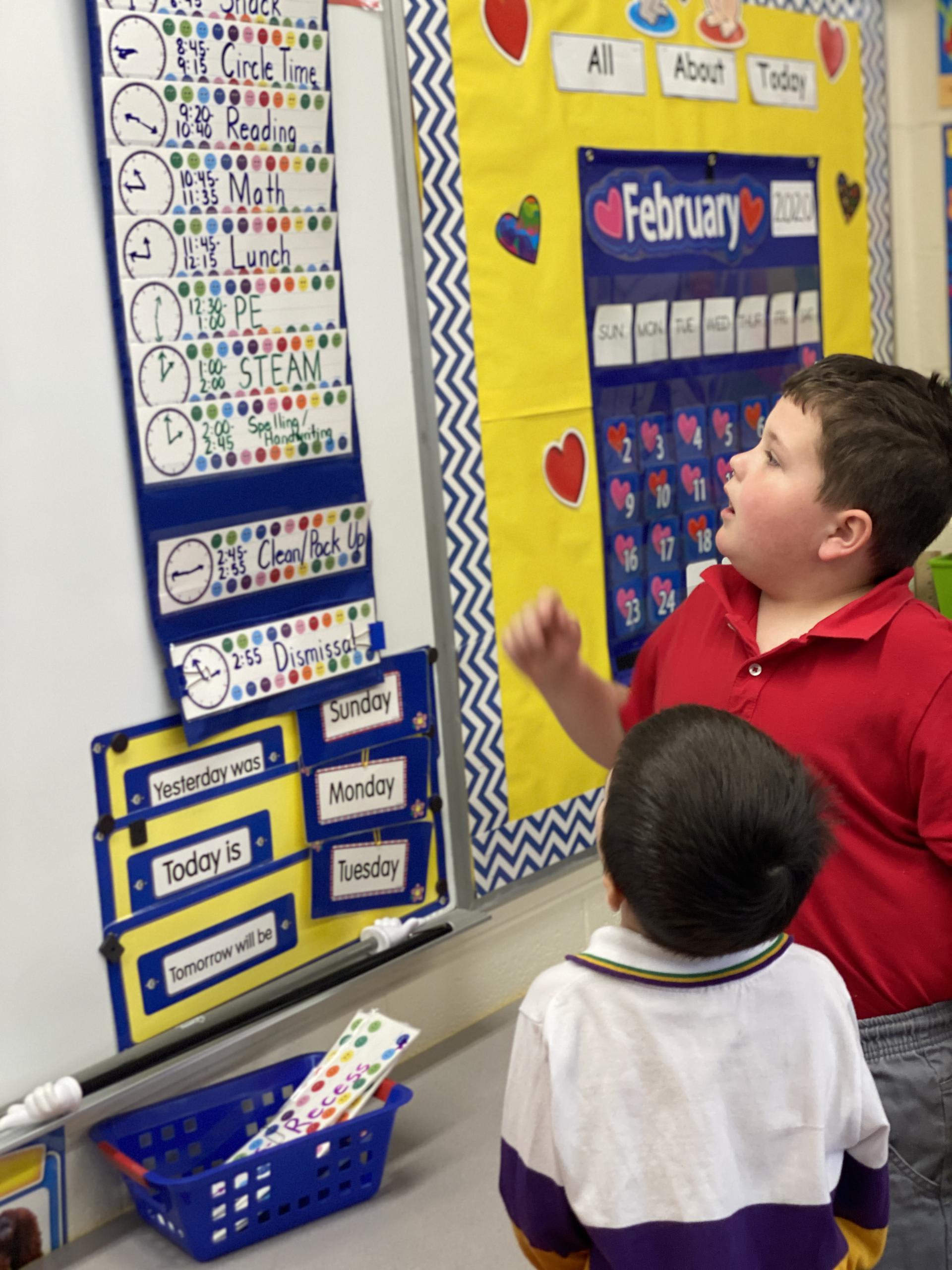 Connect with Us on Social Media
Dear Fuqua Family,
Re-enrollment season is in full swing and will end on Friday, March 20. Please log in to Parents Web on or before March 20th to complete re-enrollment so you can benefit from having your $350 enrollment fee applied to tuition for the 2020-2021 school year. Again, this year we will be offering special incentives to families who re-enroll on or before March 20th. Please be on the lookout for these new and fun incentives that will be posted on the School's Facebook and Instagram accounts. Eighth grader Austin Frazier won the first incentive of four front row seats to next year's LS/MS Holiday Program and Opus!
Our ability to keep the program strong and the tuition moderate relative to other similar independent schools depends on keeping the school as fully enrolled as possible. A fully enrolled school benefits everyone -- students, tuition payers, and faculty. Thus, we would like to ask every family to be sure to recommend the school to friends, acquaintances, and co-workers. Urge them to come in to experience the positive spirit, engaged learning, and warmth which pervade our atmosphere. We will be hosting our second Open House of the season on Wednesday, March 18, at 8:45 AM in the Lower/Middle School Commons. Please spread the word!
Go Red! Go Black! GO FALCONS!
John Melton
Head of School
Biology Class Makes Edible Cells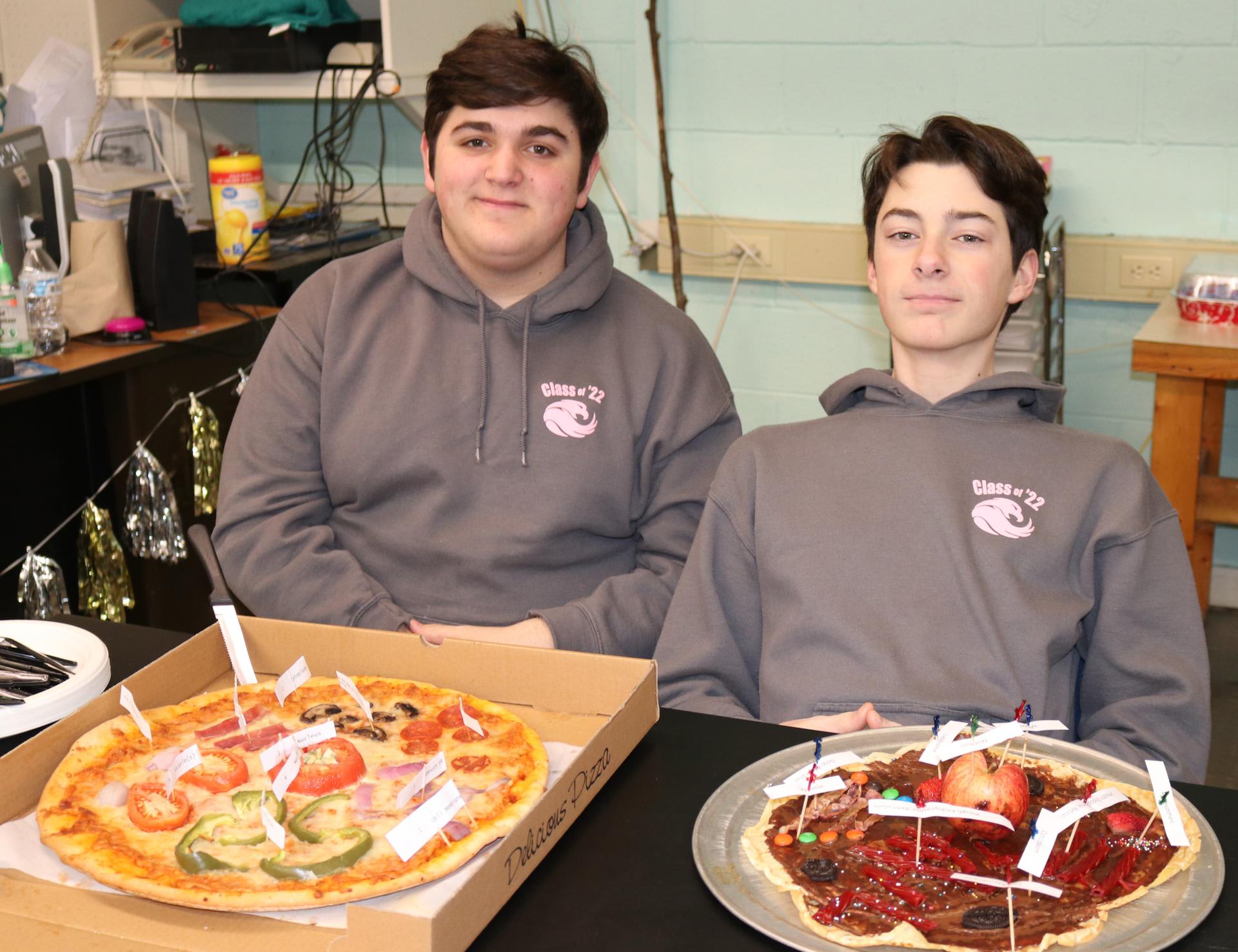 Ms. Jones' Biology students for the spring semester created edible models of cells for the unit on cell structures and functions. Each of the finished products included key cell parts such as the nucleus and mitochondrion. After the presentations, the class got to eat their yummy creations. Meredith Schmidt, a sophomore in the class, remarked, "[Making the cell model] took a lot of time, but it was fun, and in the end, it turned out really well."
Falcons In The Capital City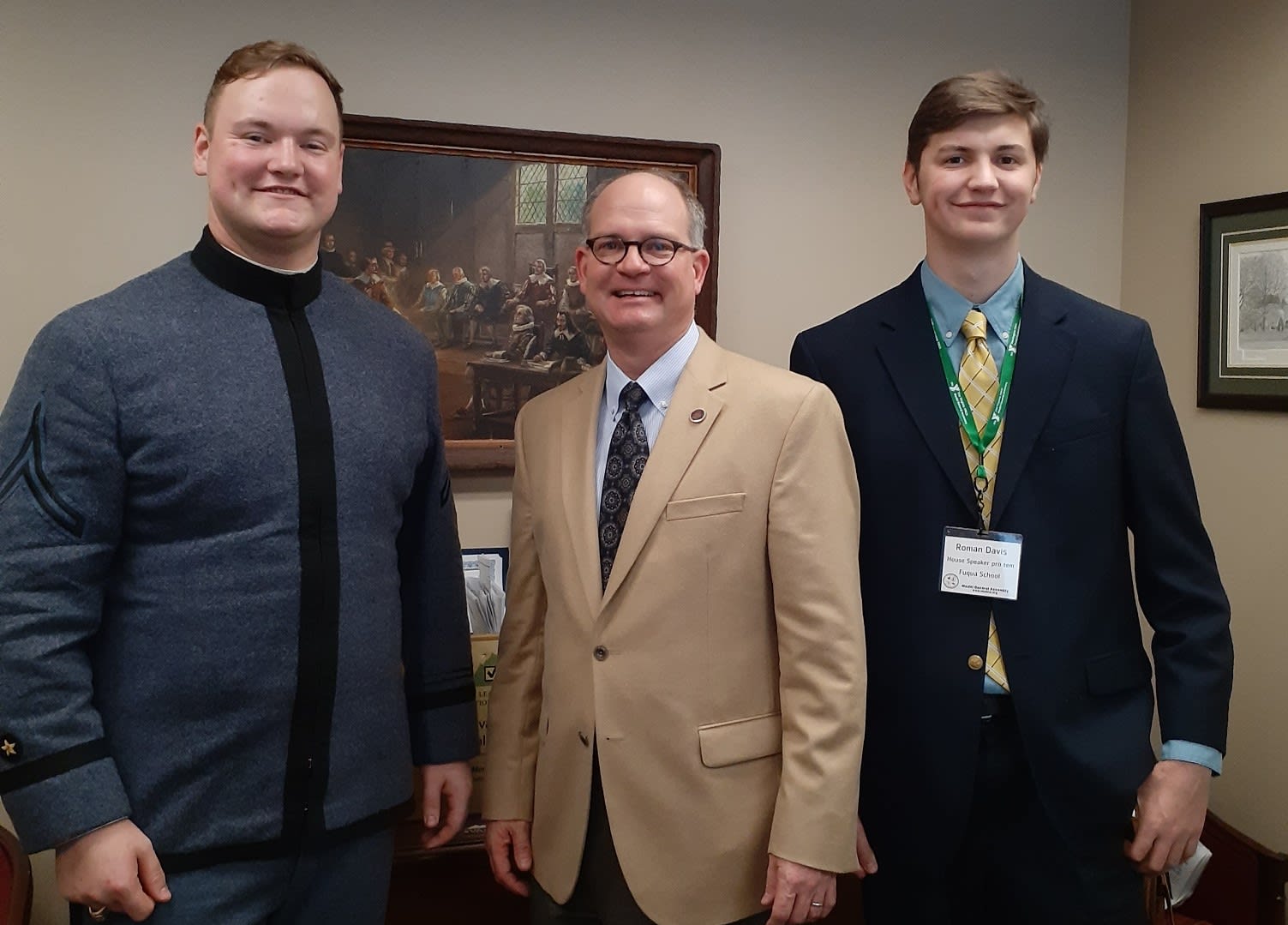 February was an important month for Falcons in Richmond. Senior Roman Davis was invited to Virginia's capital city as part of his official duties as House Speaker Pro Tempore for this year's Model General Assembly to be held in early April. Over the course of two days, he was able to meet with his local delegates in addition to shadowing the Speaker of the House. Roman shared, "It was a great opportunity for me to see the General Assembly in action." His older brother, alumnus Brad Davis '17, also earned a trip to Capitol Hill as part of a select group of students representing VMI. Both brothers met with alumnus State Senator Monty Mason '85. All three of them participated in MGA as part of their Fuqua experience, and all of them give us reason to be proud today.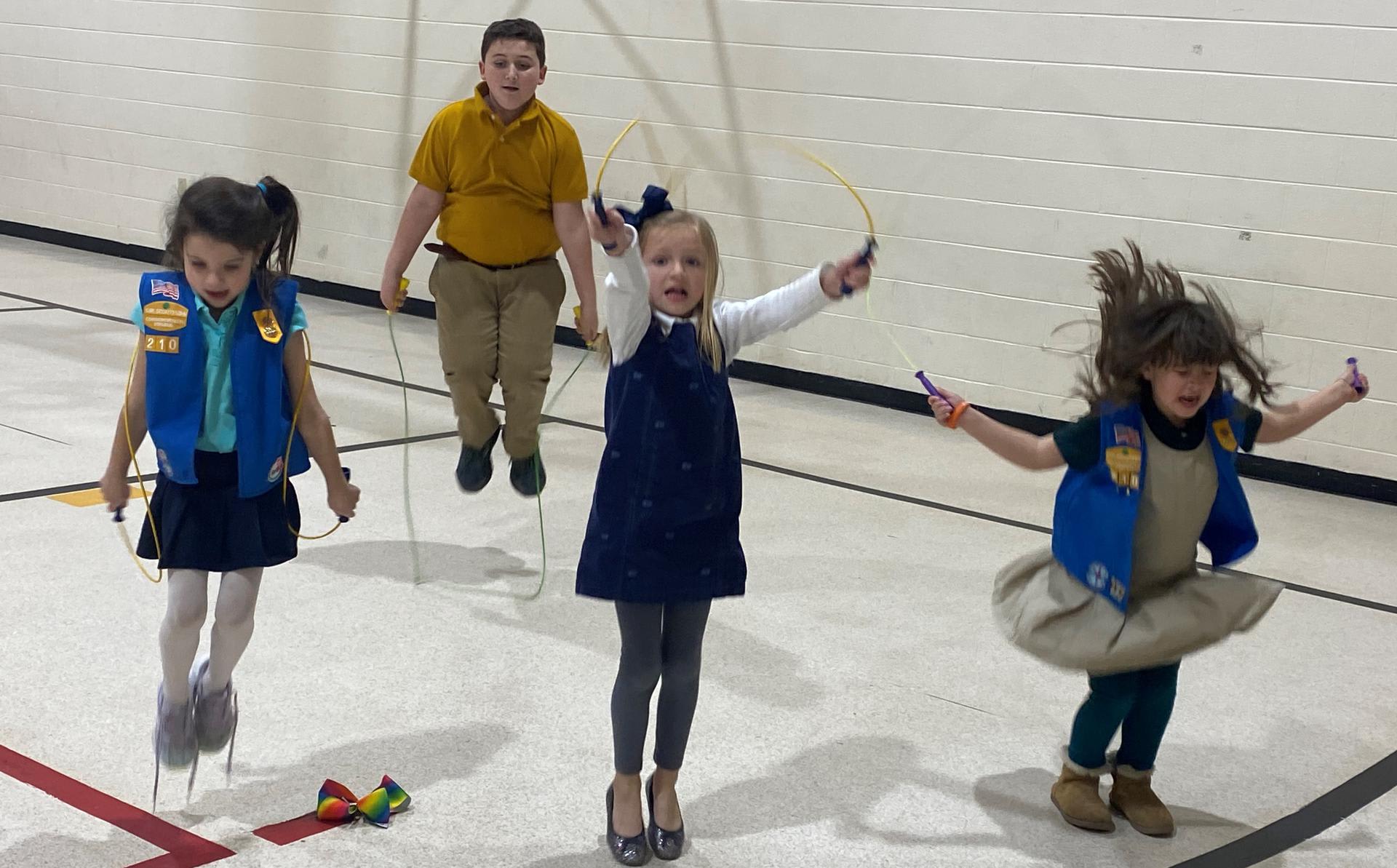 Every January, the Fuqua Lower School participates in the Jump Rope for Heart event. The Jump Rope for Heart event began on January 27 and ended on January 31st. Jump Rope for Heart is sponsored by the American Heart Association and encourages children to be a Heart Hero by learning about heart health, spreading the word and raising funds to save other children. This year, our students raised money to be donated to the American Heart Association in honor of Asher Pleasants, brother of Fuqua students Mary Reagan and Piper, who was born with a congenital birth defect. The money raised from this event is used for research and education on heart health. This year, the Lower School students raised over $9,000 dollars!
Orientations for Lower School Students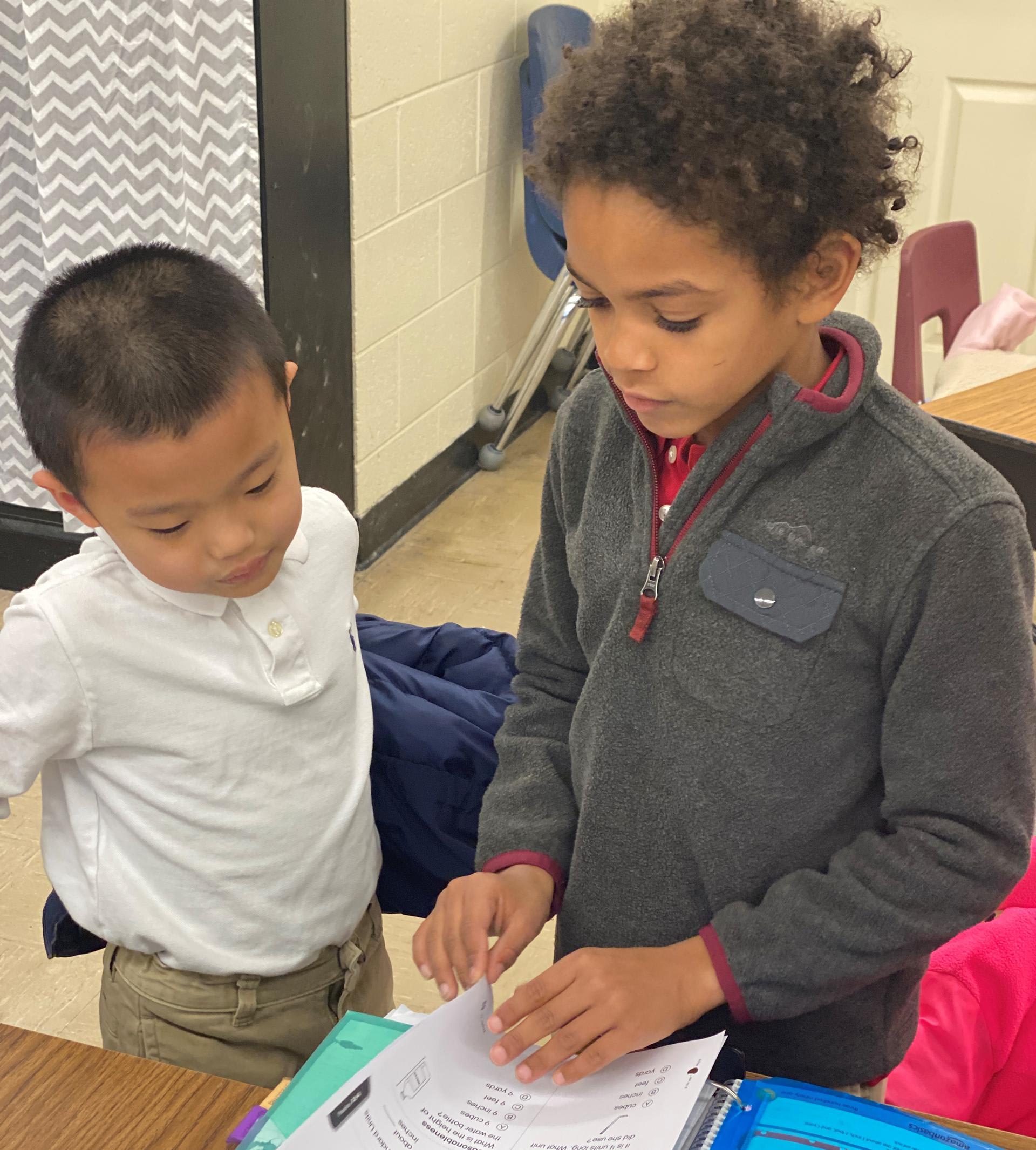 Students in grades PK4, 1, 3, and 4 enjoyed a morning visiting the next grade level in preparation for the 2020-2021 school year. Guided by current students in the classroom, visiting students were shown the ins and outs of what their typical day is like. After this exciting morning of exploring new rooms and meeting new teachers, our lower school students are eager to move up next year!
Middle School Students Dance the Night Away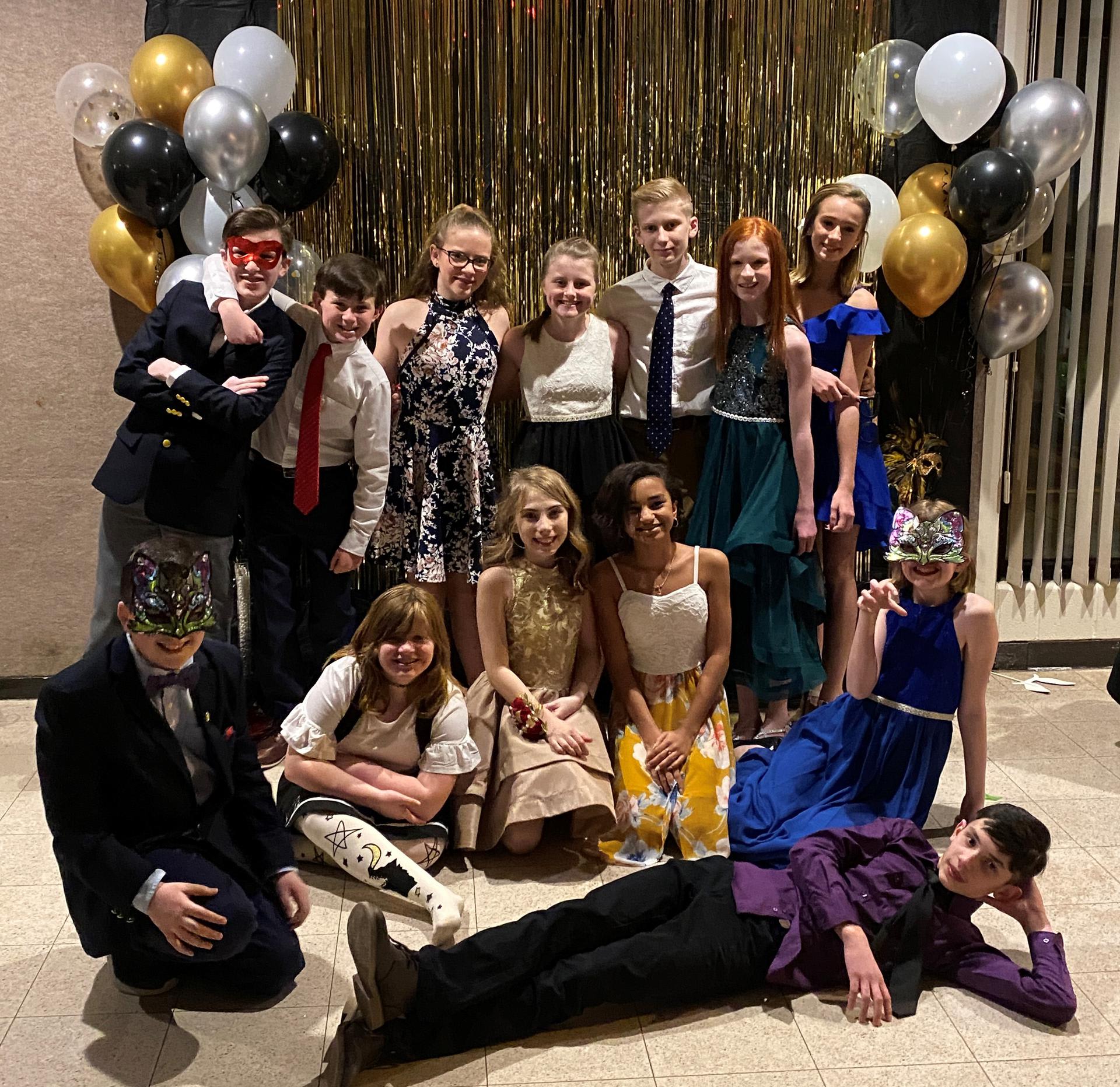 Middle school students enjoyed an evening of friends, fun and good food at their second of three middle school dances. The dance theme, Middle School Masquerade, was selected by the SCA. Students were encouraged to wear their Sunday best for the event. With DJ Christopher Kendall '19 on hand to play great music, students danced the night away. Special thanks to the PTSA and the Class of 2024 parents and students for your help with this wonderful event.
Valentines Made for Hospice Patients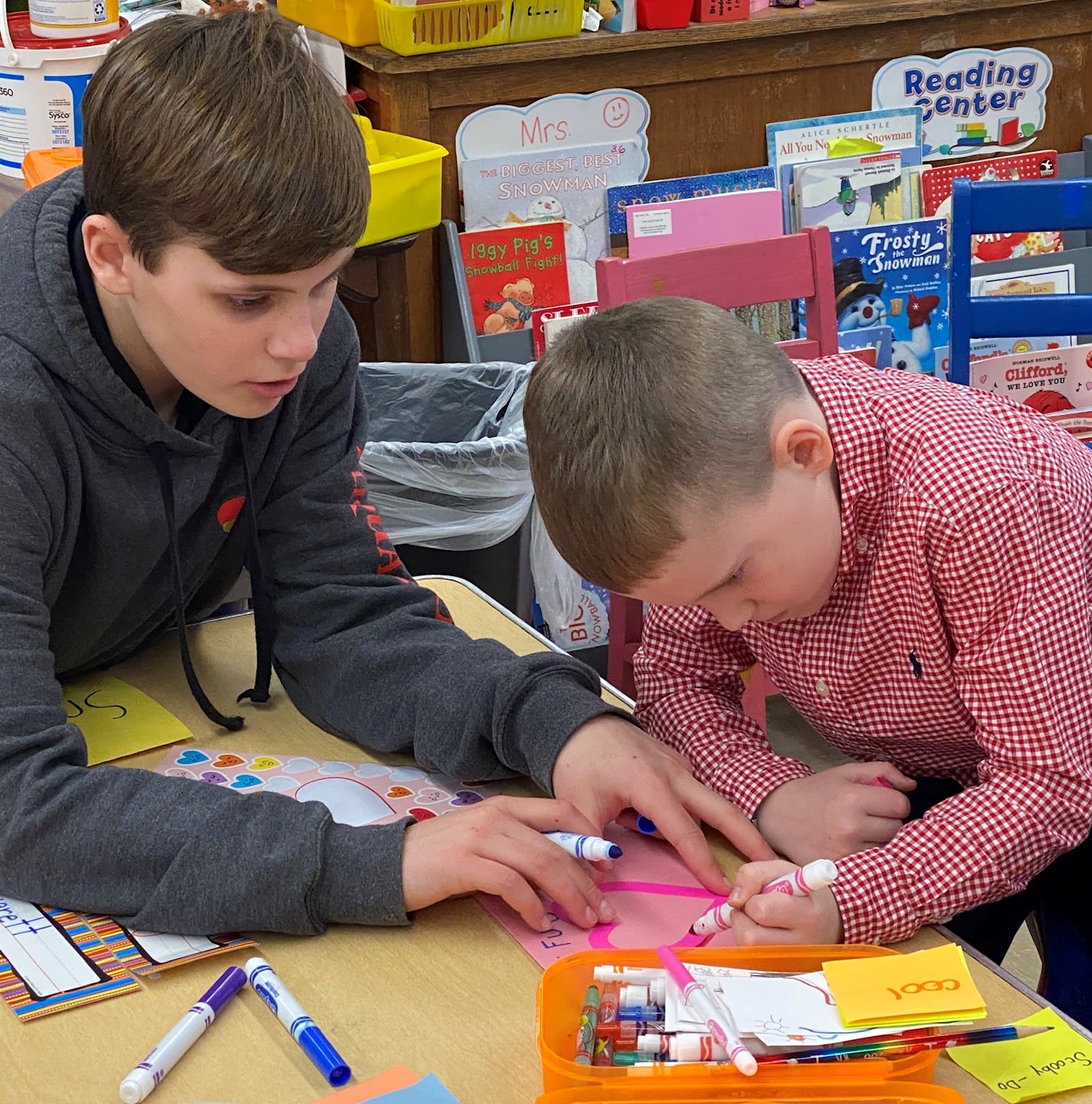 K/1 students worked with their 8th grade buddies creating Valentines for hospice patients. The buddies collaborated on design and color to make beautiful cards that were sure to put smiles on the faces of those who need it most.
Black History Month Celebrations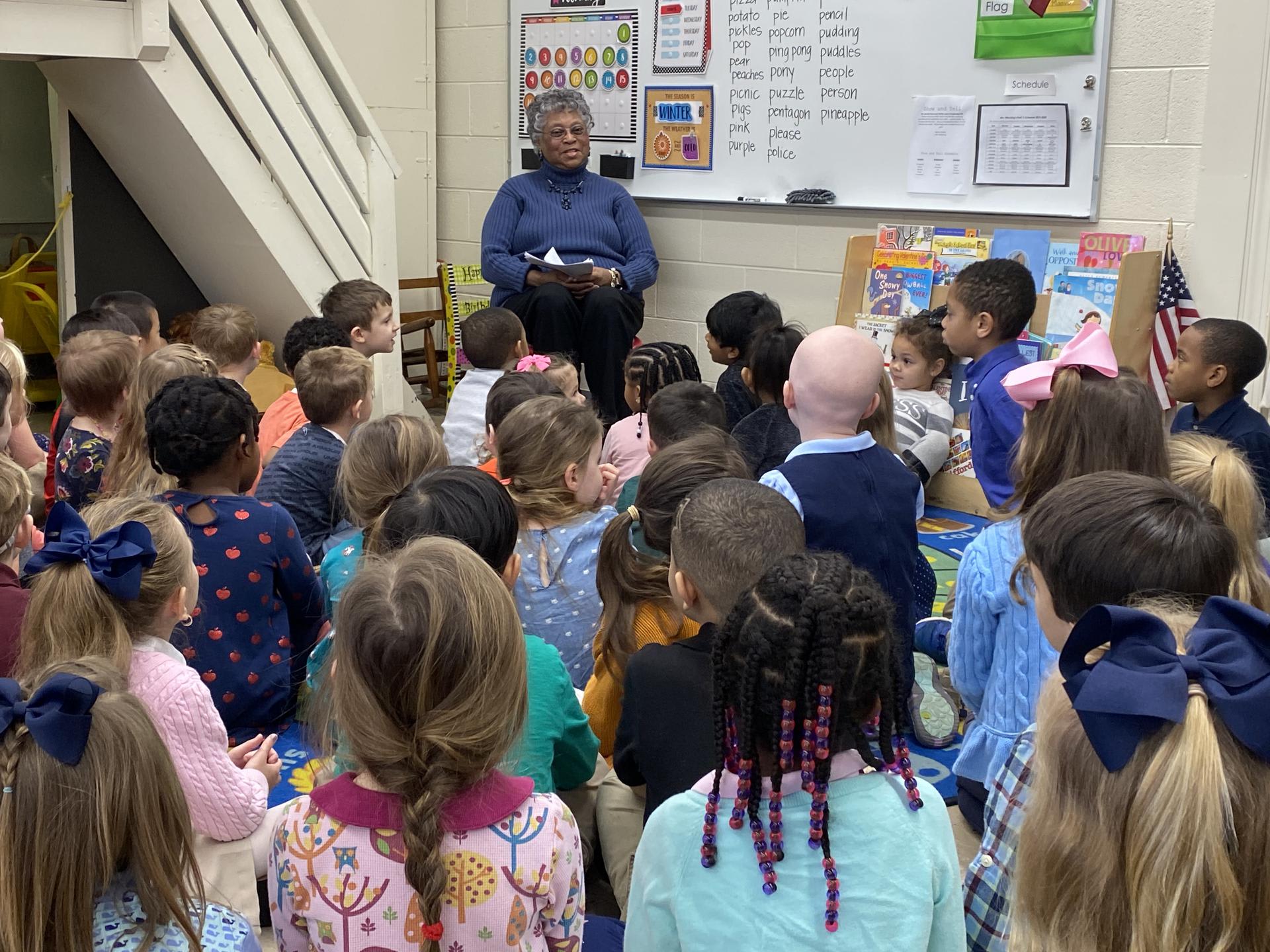 Decorating our classroom doors, in honor of Black History Month, is just one of the many ways in which our lower and middle school teachers and students are collectively learning, teaching and celebrating the achievements, contributions, challenges and triumphs of African Americans throughout American history. Fuqua parents, such as Jessica Simmons, Jessica Robinson, Juanita Giles, and the Reid family, also visited our rooms to share experiences and read books to the students on African American History. Edith Crawley, a Fuqua grandparent, shared her story of meeting Dr. Martin Luther King, Jr. at Shiloh Baptist Church in Baltimore. What an amazing month celebrating those who have made such a lifelong impact on our country today!

On Friday, February 21st, alumni from across the years returned to Gilmer Gym to join in what is fast becoming a new Fuqua School tradition--Winter Sports Night for Seniors and Alumni. The celebration for boys and girls basketball, cheerleading, and swim changed significantly a year ago. In 2019, Senior Night for basketball and cheerleading was almost cancelled when the opponents did not come. Instead, alumni, along with faculty and staff, came to challenge the basketball team and cheerleaders, and the positive energy of that event was impressive.

This year's event was planned and was surely one for the record books. Students and alumni alike played as if they were winning a gold medal with the Falcons past and present cheering them on. Senior Michael Corrigan said that he really enjoyed just having fun with his teammates. His sentiments were echoed by senior Charlotte Haney who added that it was "great to see people who had graduated that I hadn't seen in years." Whatever brought folks to Gilmer Gym that Friday allowed them to take part in another amazing Fuqua School memory. If you did not get a chance to take part this year, keep an eye out! We will do it again next February.
Making Music Across Virginia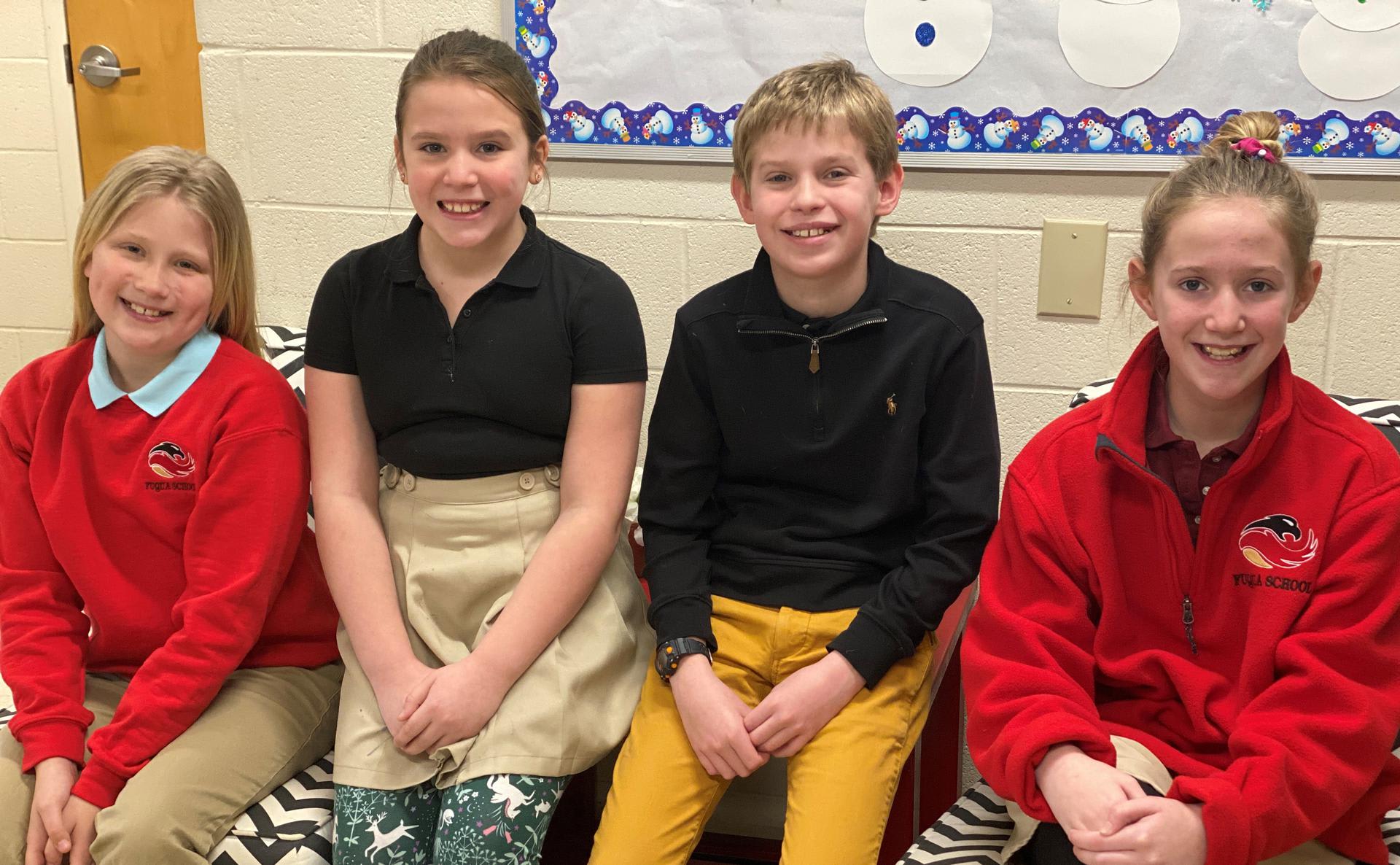 Students from elementary schools across the state will experience the joy of making music together in this year's All Virginia Elementary Chorus. Fuqua School students in 5th grade that were interested auditioned and were chosen to participate in this annual performance. These students will work with a master conductor, perform a varied repertoire of quality choral literature, and increase their knowledge of vocal skills. The performance is on Saturday, April 4, 2020 at Eastern View High School in Culpeper, Virginia. Please wish the following Fuqua School students congratulations for earning this distinction: Aviva Bloom, Rebekah Call, Cameron Pace, and Blair Pembelton
Students Attend Diversity Seminar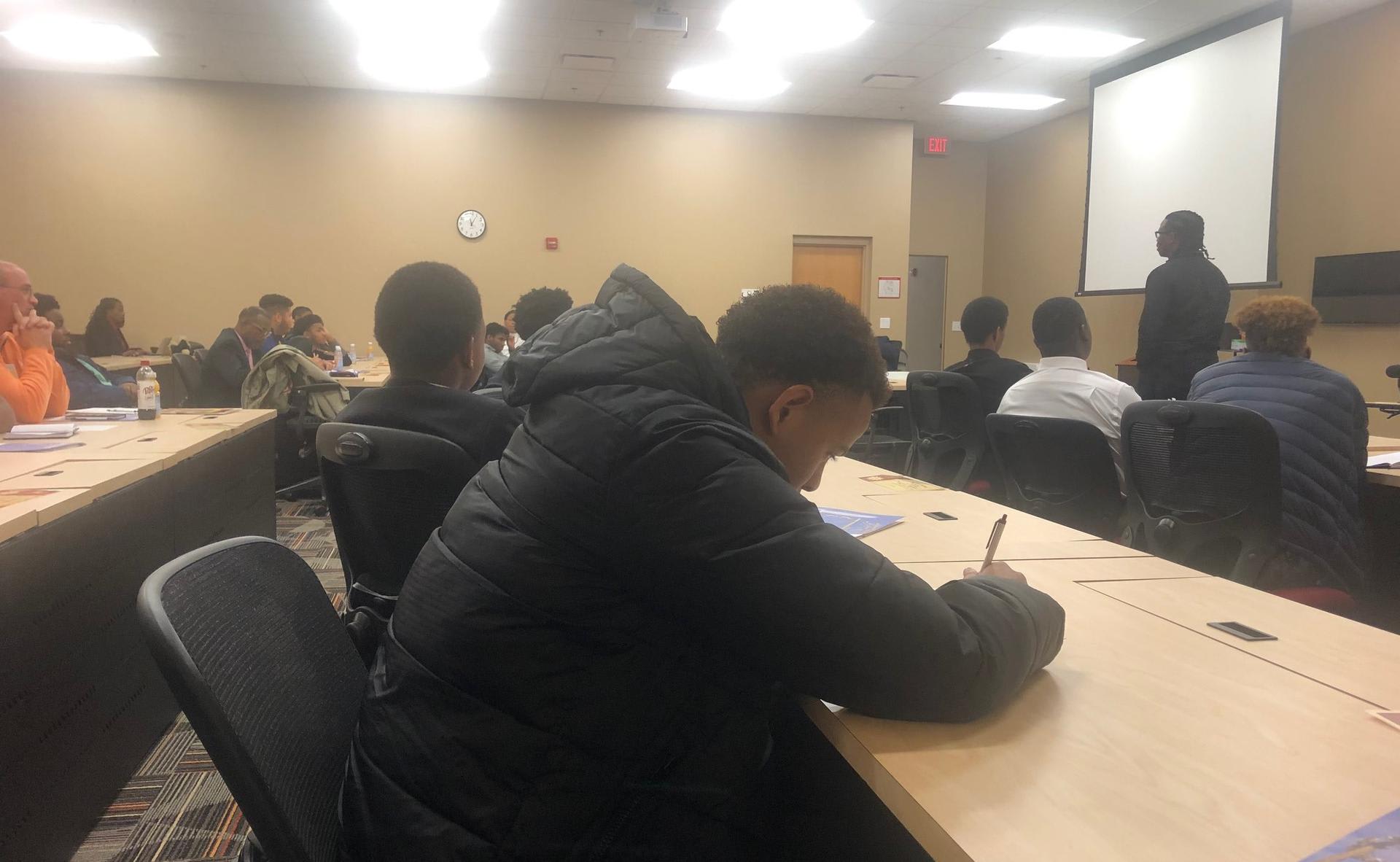 Junior Maureon Tisdale-Couch and Senior Jaylen Hempfield recently attended the Southside Virginia Community College's (SVCC) "Make It Happen" program. This program, aimed to help inform African American students on the college application process, included a panel discussion where professional African Americans in Higher Education shared a vast amount of knowledge with participants. Students learned from College Presidents, Deans, and even a supervisor from the US Patent Office. The panel passed on words of encouragement to all present. These words, simply put, were to chase after your dreams, surround yourself with positive people moving in the right direction, and don't wait for someone to help you reach your goals.
According to Mike Edwards, Athletics Director who accompanied the students, "It was an amazing event that African American students from the local high schools in the area attended." Prince Edward, Cumberland, Nottoway and Randolph-Henry were all represented. Edwards added, " After our lunch break, we had the opportunity to sit with SVCC's President. He shared his vision for SVCC and how he hopes to form a partnership with the new Amazon HQ building to help develop programs that will teach SVCC students the ins and outs of what is needed and be placed at Amazon. He also hopes to expand their sports offerings to give those students wanting to work in a trade the opportunity to continue their athletic dreams."
The day concluded with a performance by magician Ran'd Shine who incorporates his magic with words that help students be successful. Ran'd Shine's four keys to success are passion, skills or abilities, temperament and support. Ran'd Shine's final words to the young students were, "Your Network is your Net Worth. Who you surround yourself with is who you will become. "
"It was an amazing event! I am happy that we were able to represent Fuqua School" added Edwards.
Sporting Clays Fun Shoot - Register Now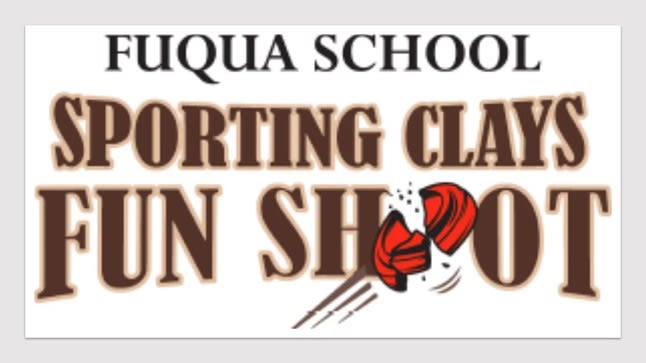 Saturday, March 21
9 AM - 2 PM
Rain or Shine
Central Virginia Sporting Clays, Palmyra, VA
Click here to register for Sporting Clays Shoot.