Fuqua School Falcon Flyer: February 1, 2020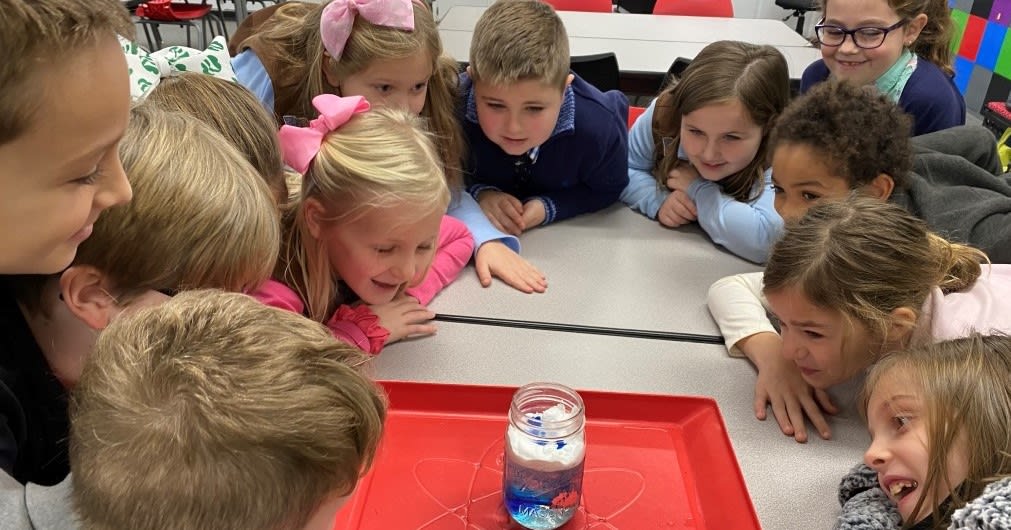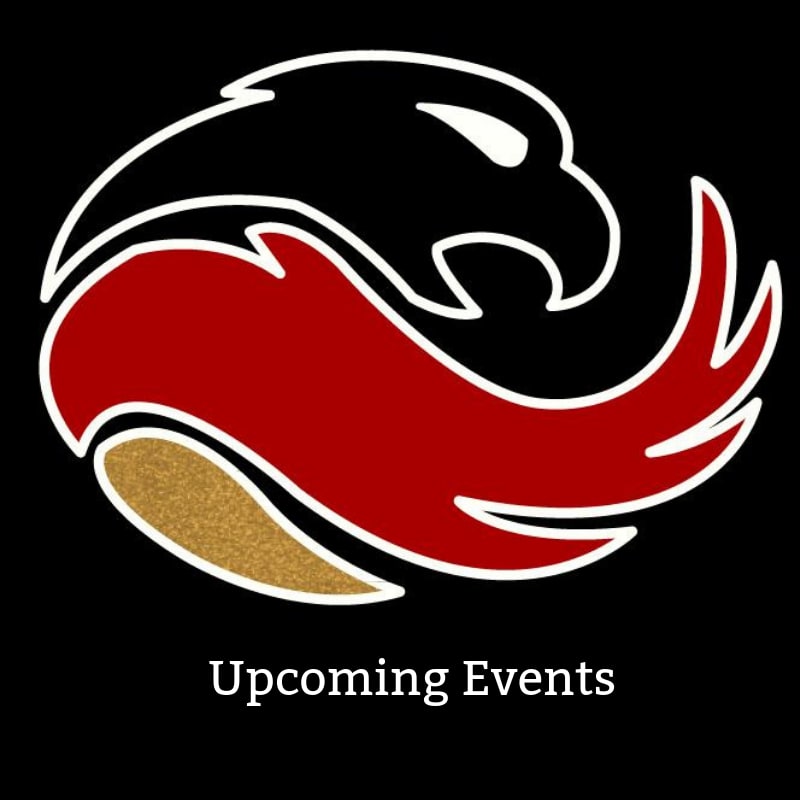 To stay up to date on all upcoming events, click here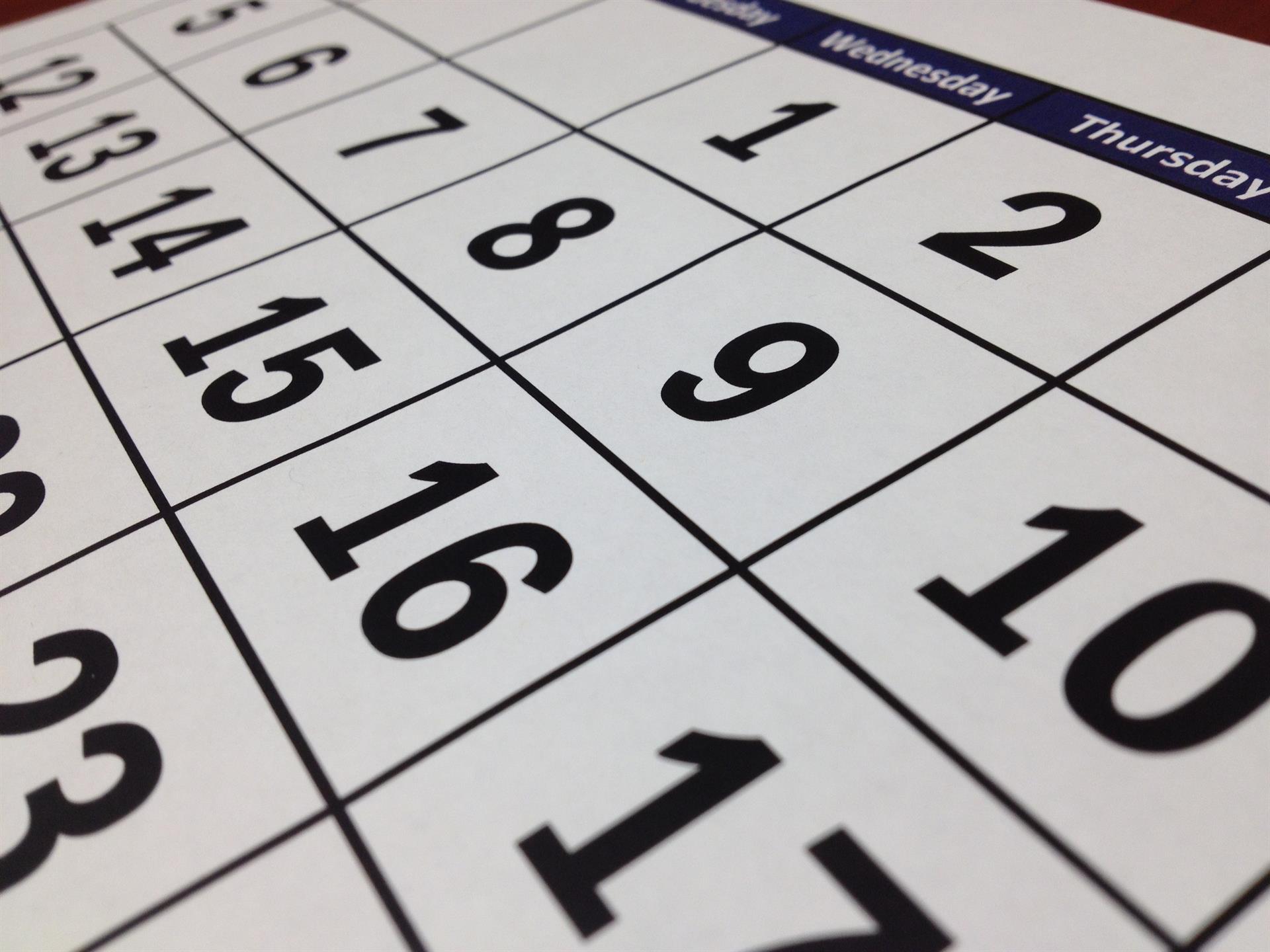 2019-2020 Academic Calendar
HEAD OF SCHOOL SEARCH UPDATE
The HOS Search Committee would like to thank all those in the Fuqua community who came out during the last two weeks of January to meet any of our three candidates for the position. Your response was phenomenal, and we so appreciate your energy, enthusiasm, and support as we enter the final phase of our search. Many of you have shared your thoughts about the candidates with members of the committee or the Board, and we invite all others to reach out to those members as soon as possible if you want to share additional thoughts or comments. It is our goal to move thoughtfully but swiftly to name a next HOS in order to facilitate an orderly and smooth transition as we plan for the coming school year.
With thanks,
John Gantt, Chair
HOS Search Committee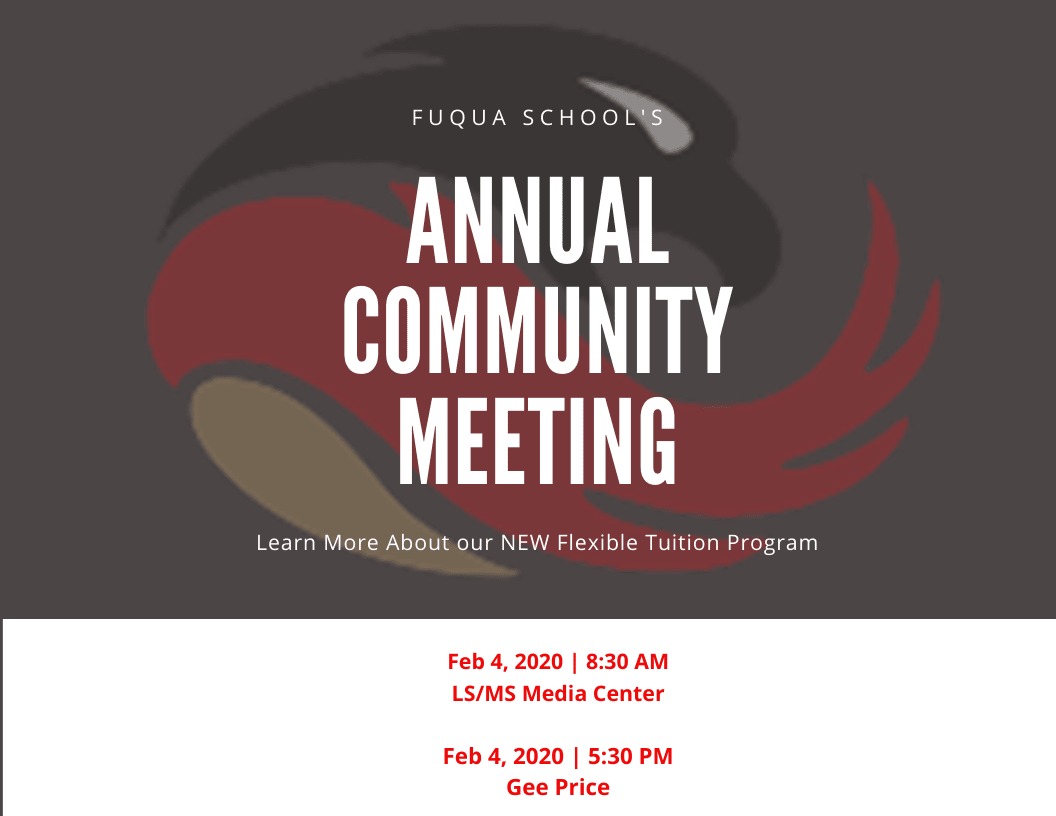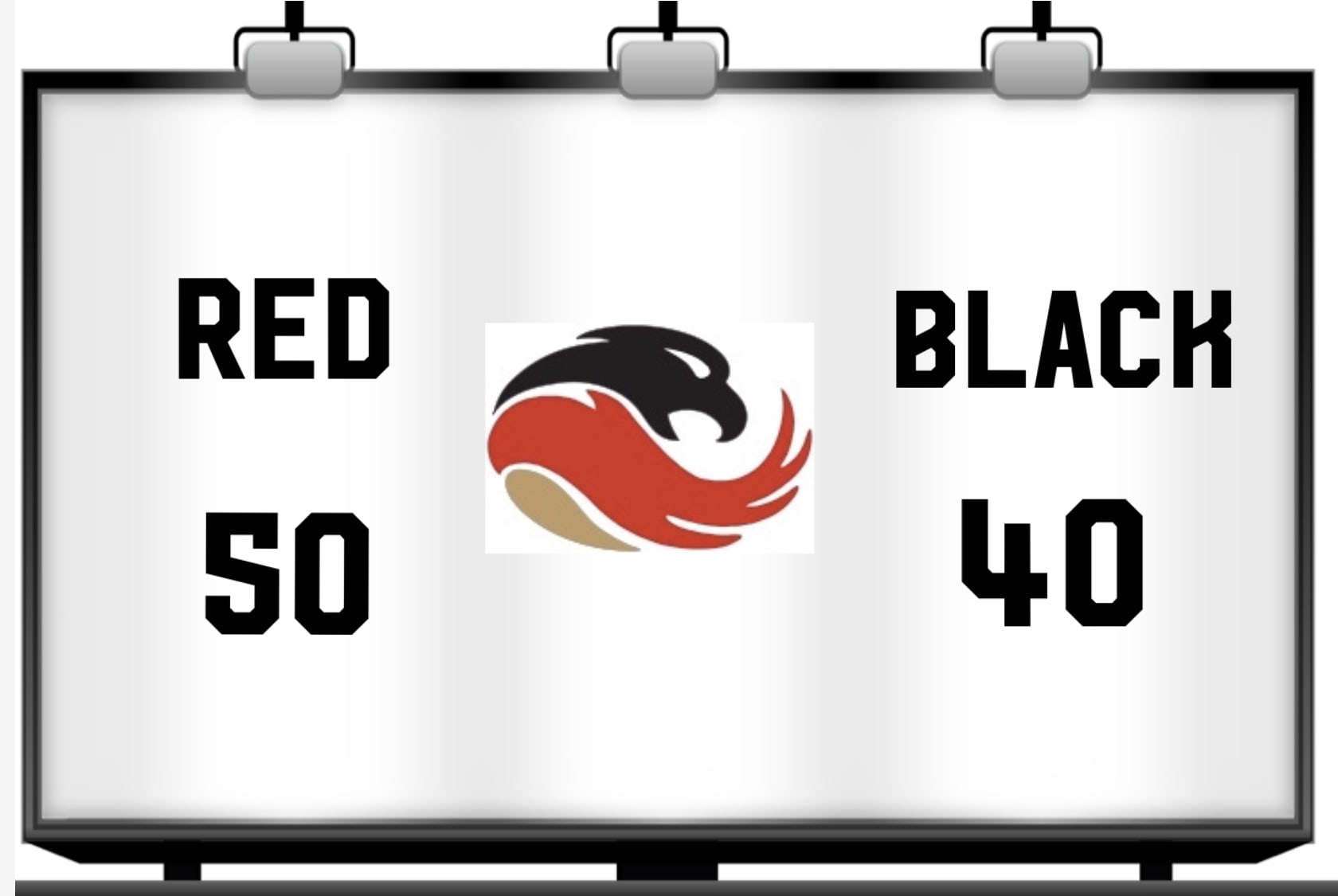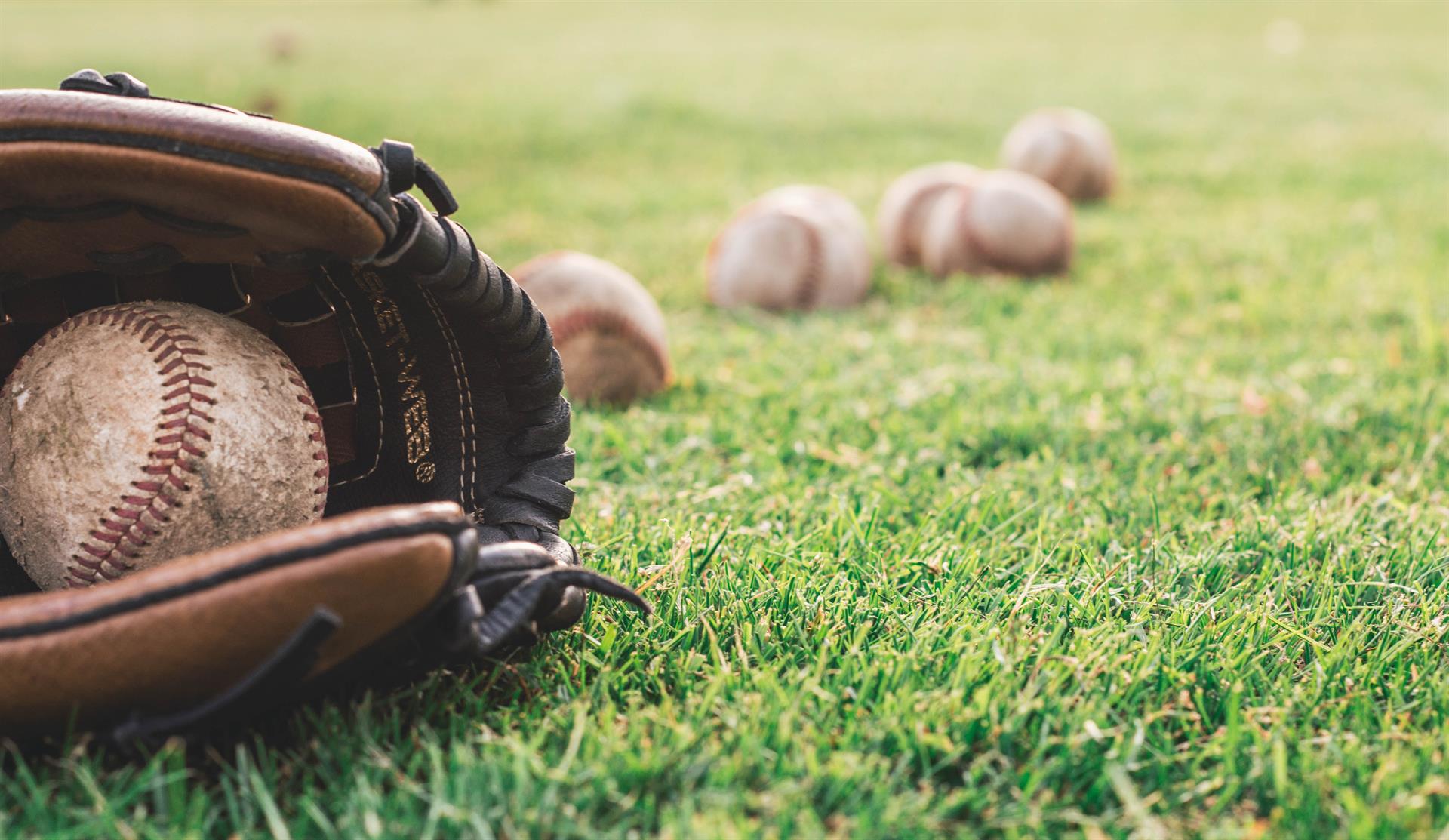 Winter Sports
Boys Basketball, Girls Basketball, Cheer, and Swim
Please check Rschool for sport team schedules and updates!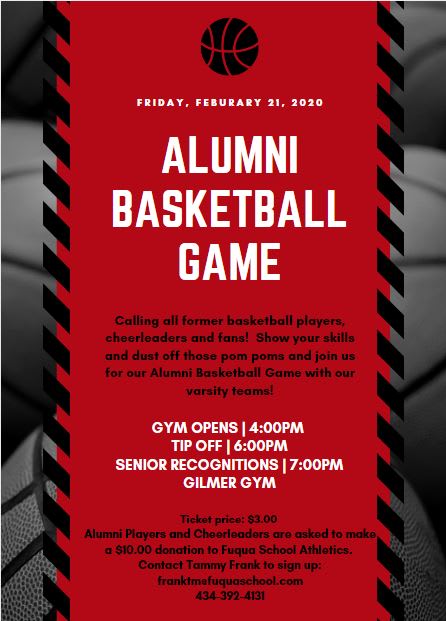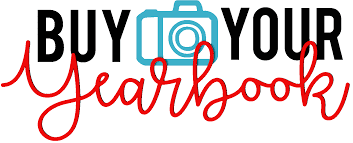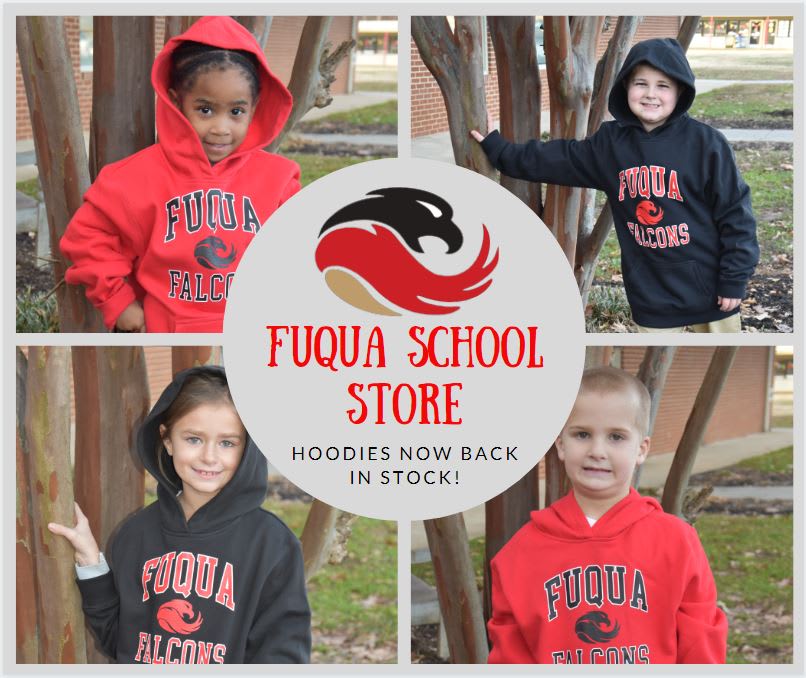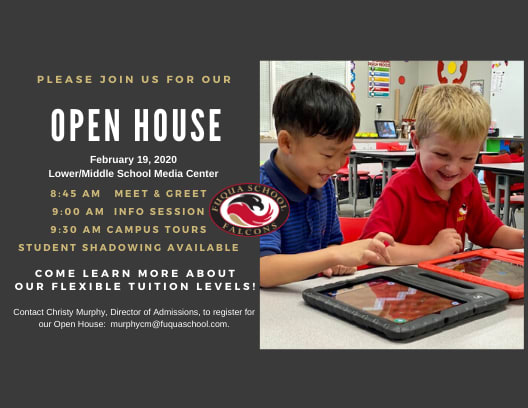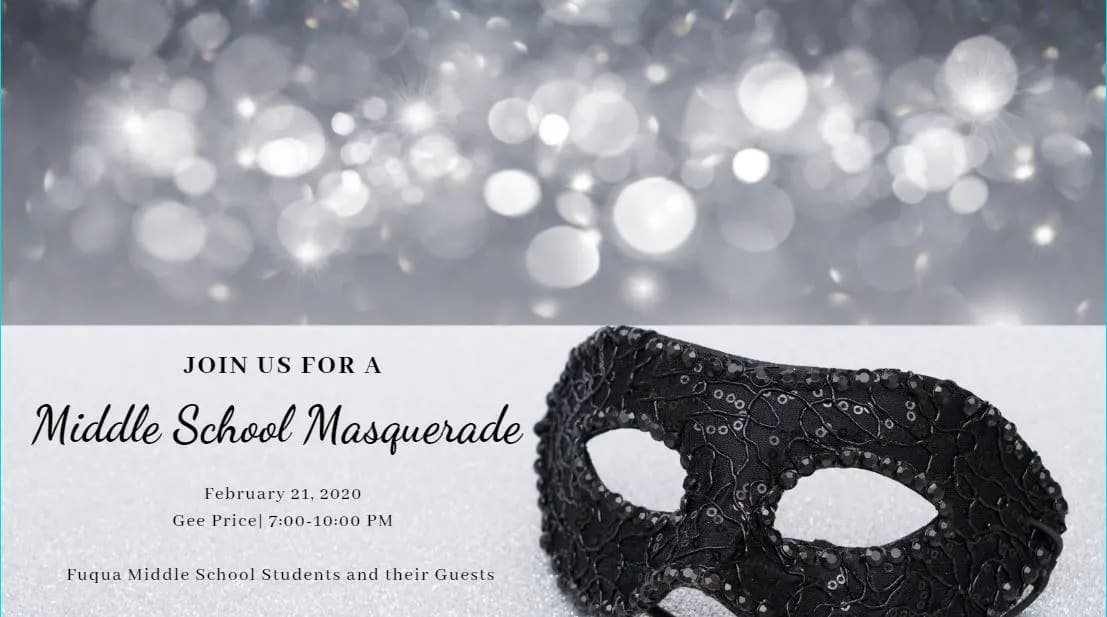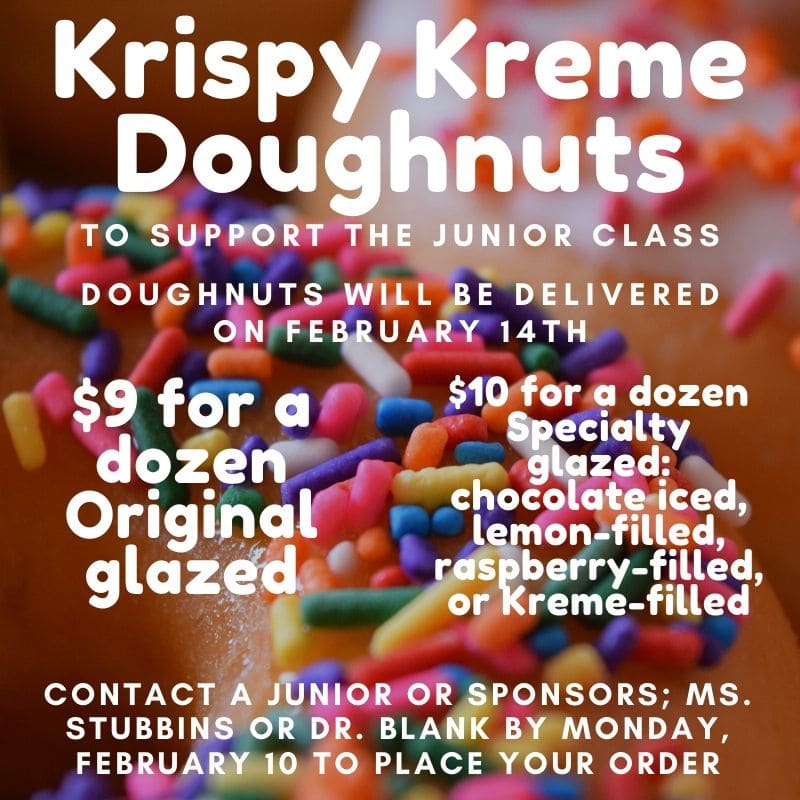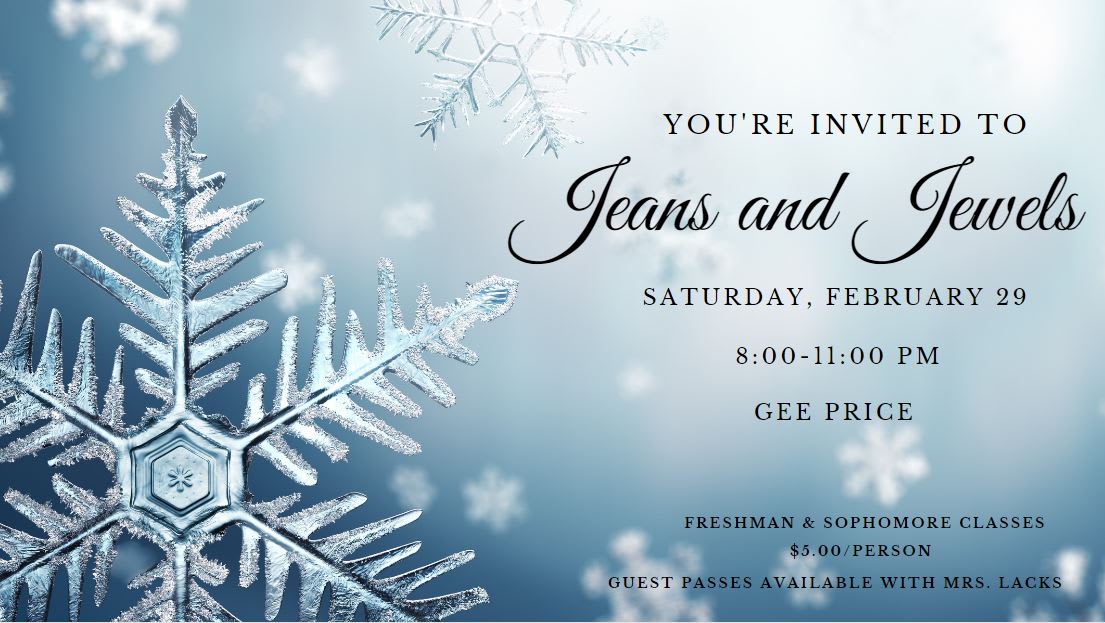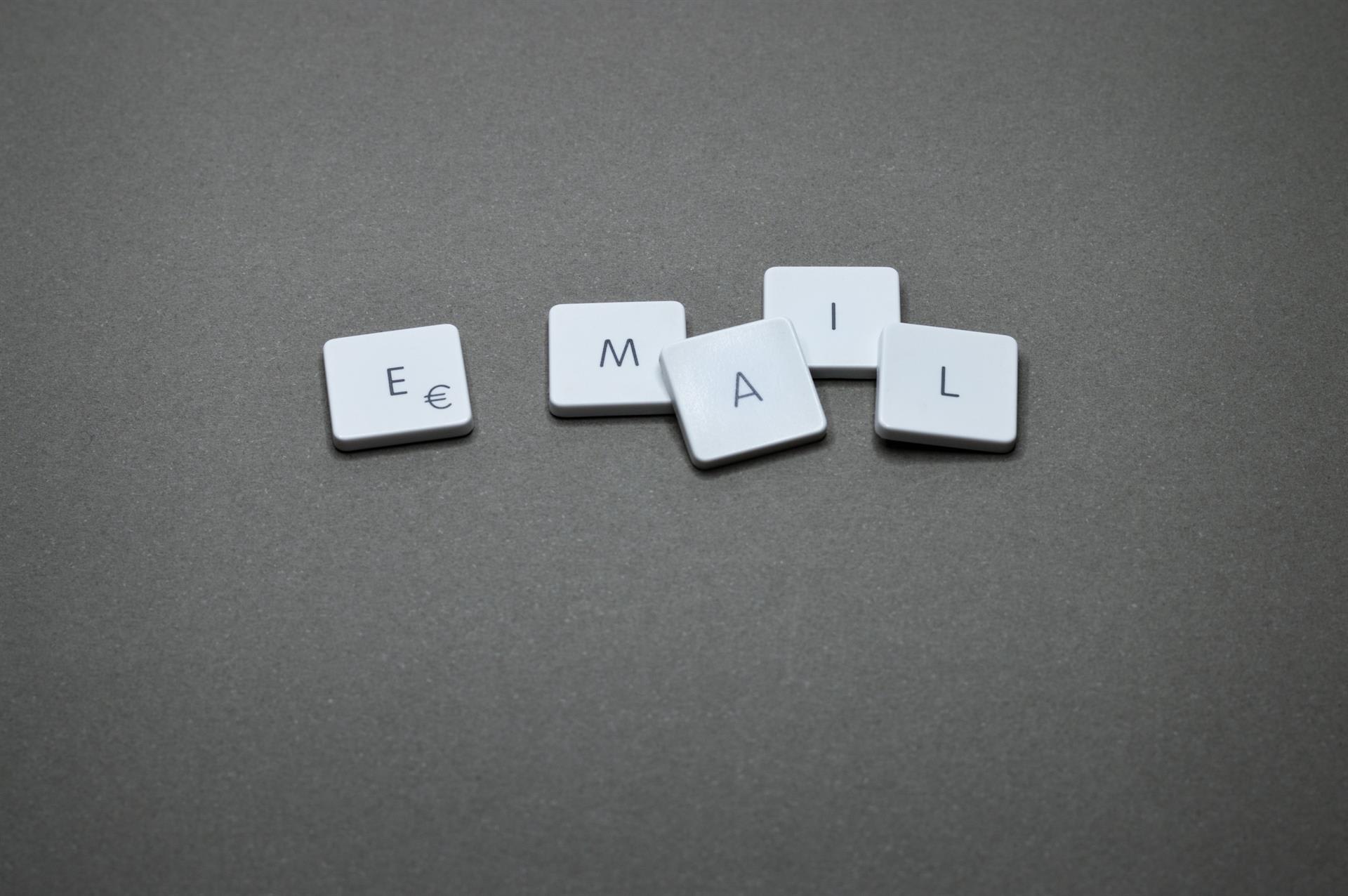 Share every Falcon Flyer with your family and friends. Send their email to FalconFlyer@FuquaSchool.com and they will be added to our Falcon Flyer guest list. Don't miss a Falcon Flyer...previous editions are available under Fuqua School Publications!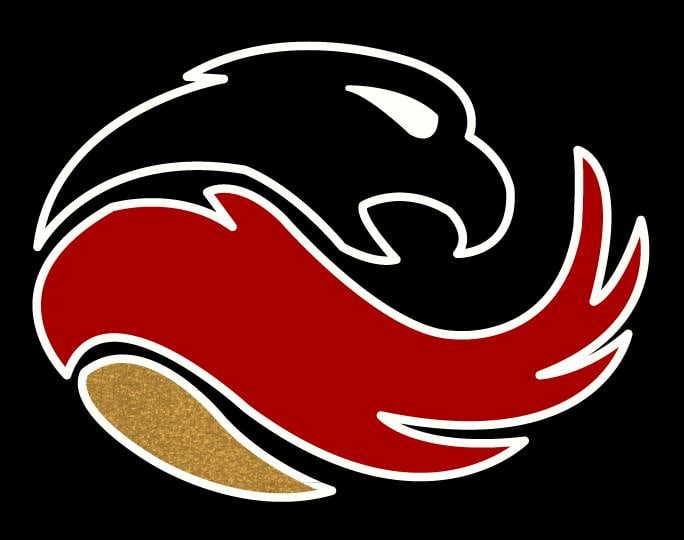 Request to Use Falcon Logo, Etc.
For information on To Use Falcon Logo / Fuqua School, click here. Vendors must have a signed copy of the request to use form before creating any items and must be approved by John Melton.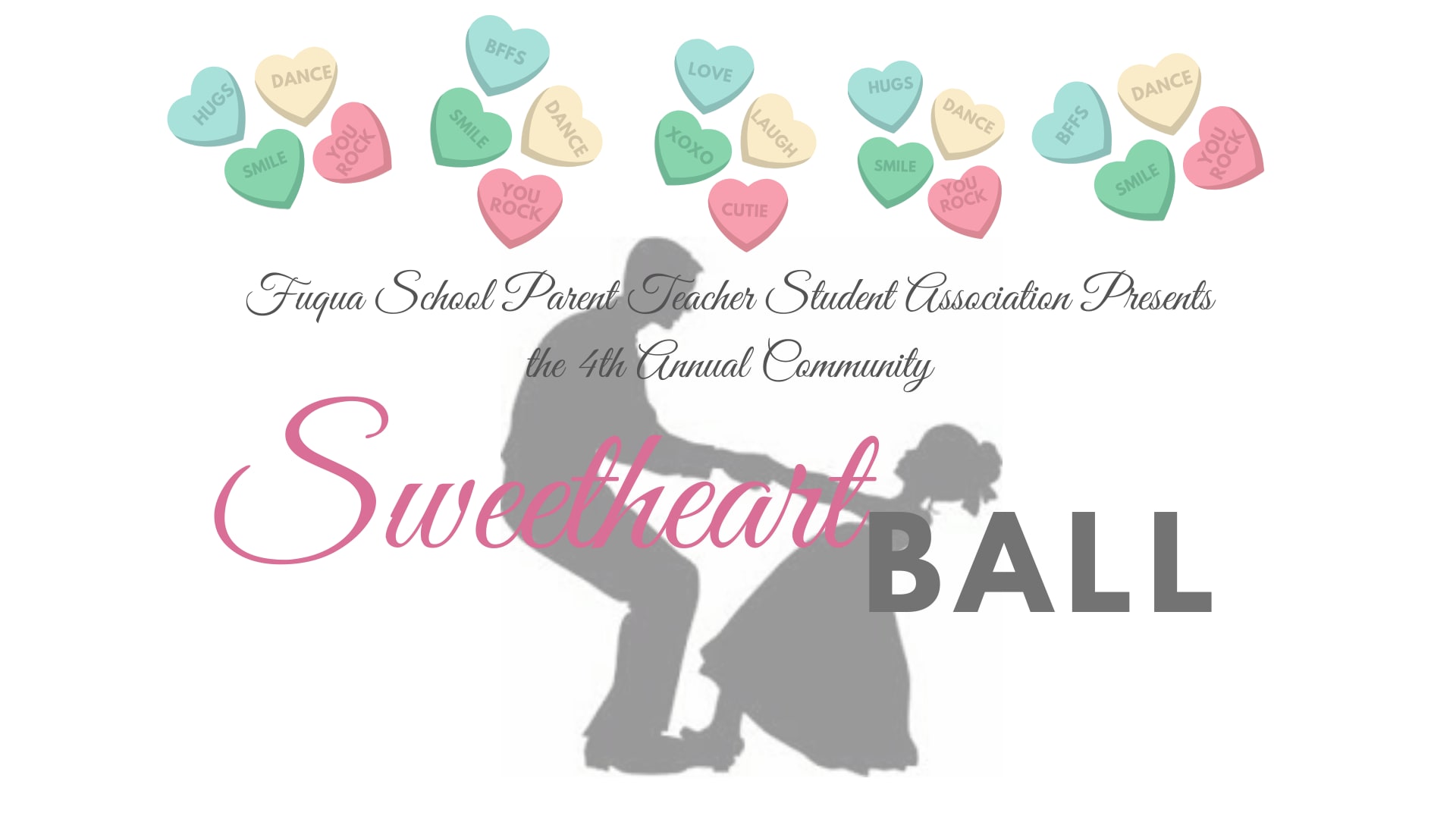 https://payit.nelnet.net/form/9uZcCd2GSweetheart Ball: The Fuqua School Parent Teacher Student Association invites all girls (grades PK-5) and their special dads/uncles/brothers/grandfathers to the Sweetheart Ball on Saturday, February 8 from 6:00-8:00 PM in the Gee Price Activity Center. Join us for a night of fun and dancing and have a special photograph taken by Overstreet Photography. Bring your friends to this fun community event, and have a great night out! Register here for this fun evening!
Falcon Threads: Don't forget about our dress code approved items that need to be added to your closet! You can't beat our deals! As always, you can shop at your convenience - stop in and stock up! Pick up the key from your division office, shop, and return payment with key.

Join AmazonSmile and help Fuqua School!
Turn your Amazon purchases into a force for good. With every eligible purchase, AmazonSmile donates 0.5% to the charity of your choice. This includes all Charity List purchases as well as millions of everyday items at smile.amazon.com. Join AmazonSmile today and help Fuqua School!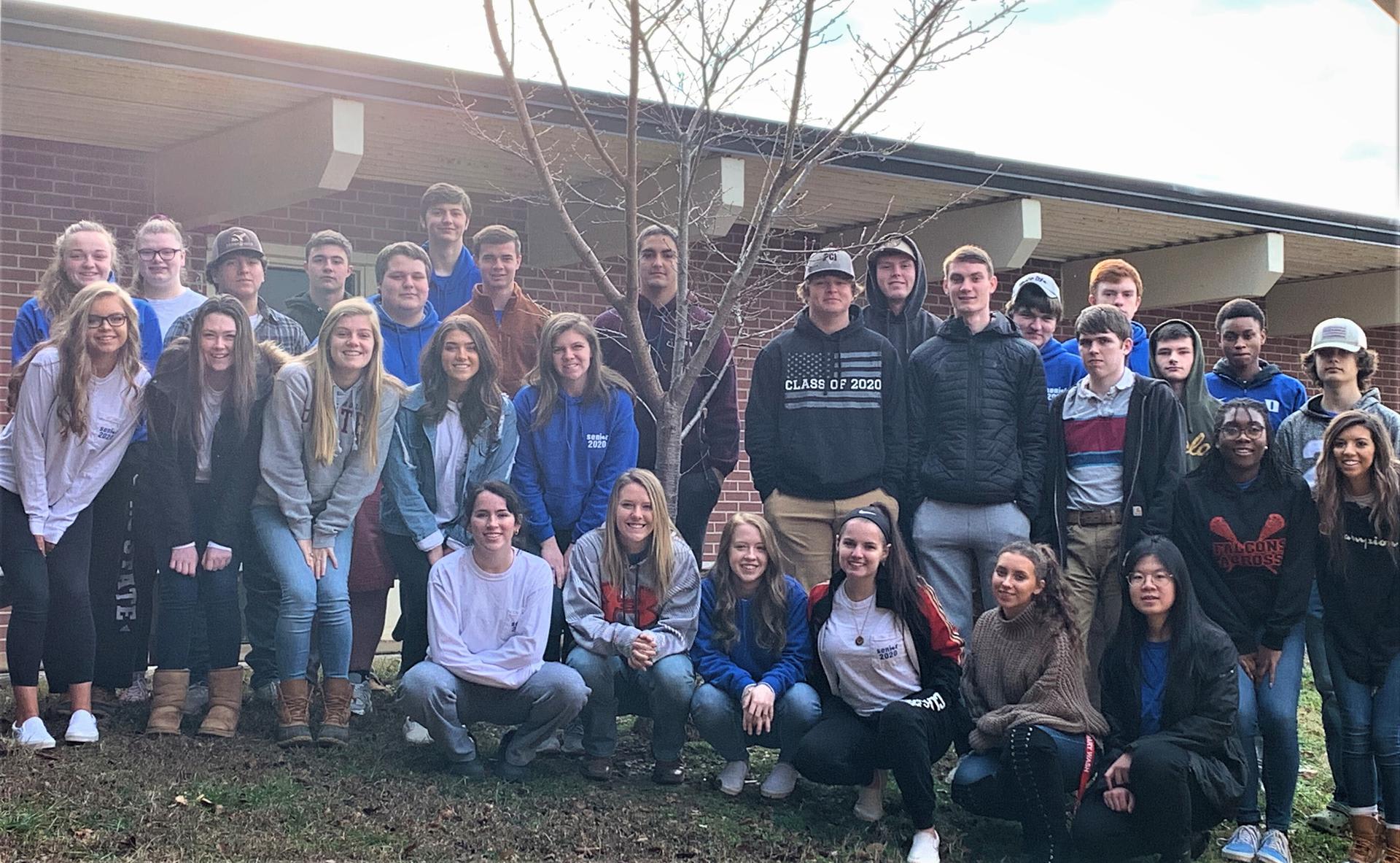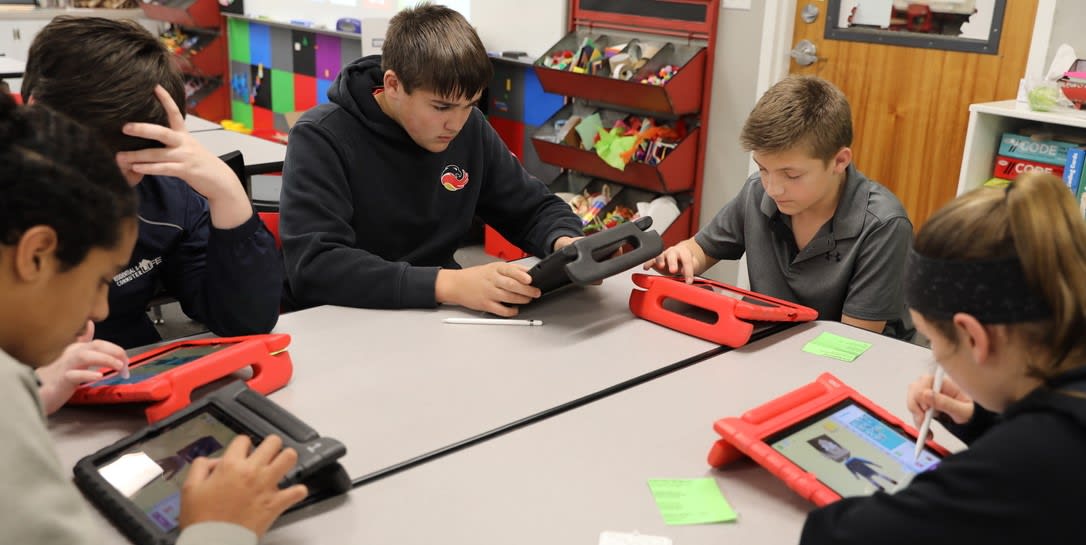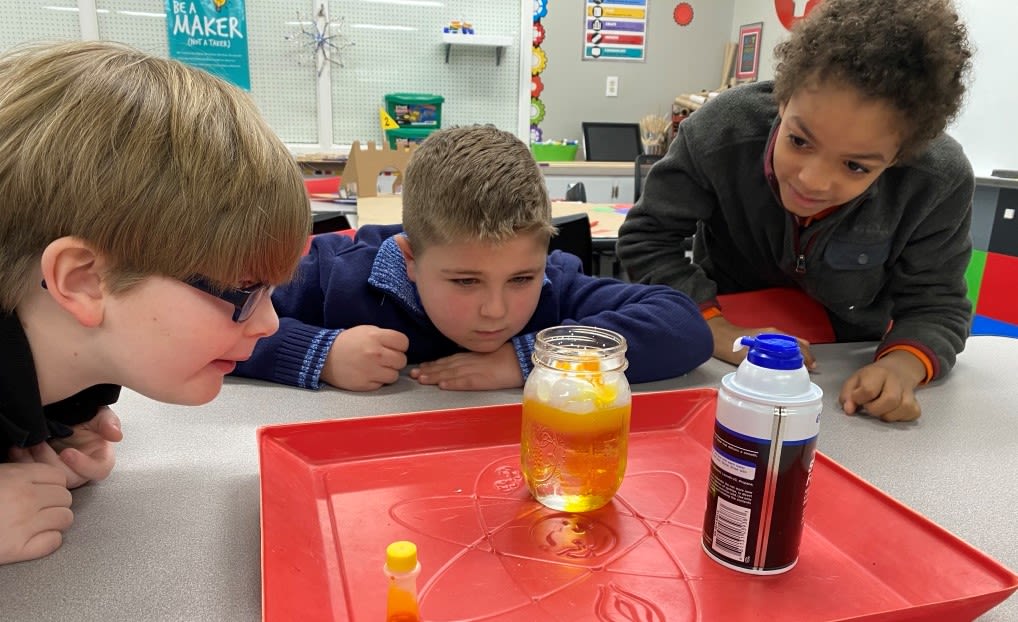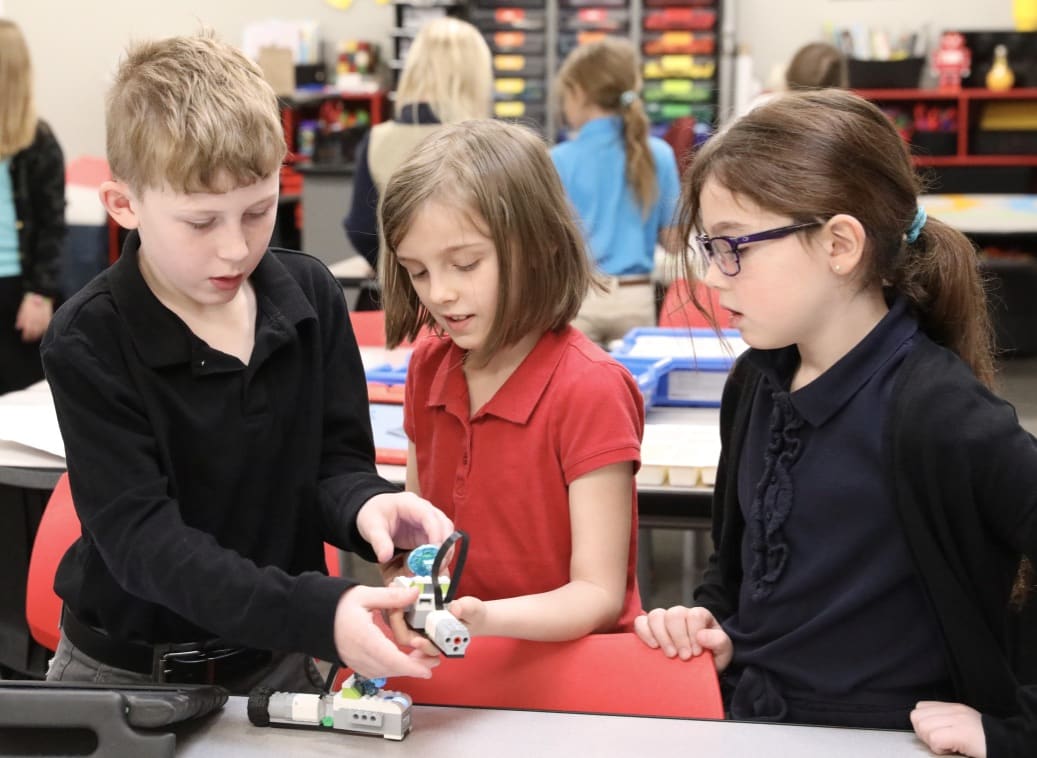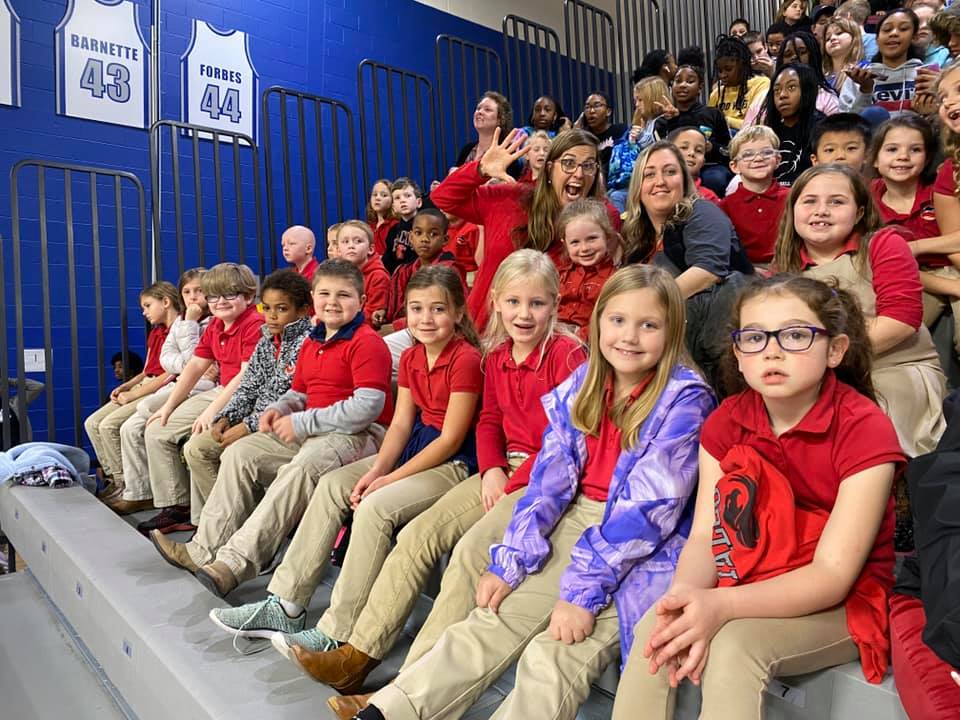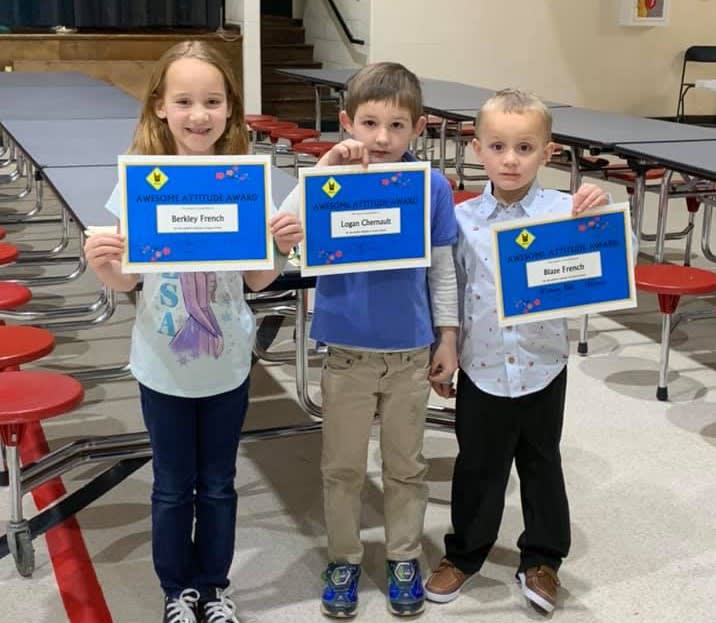 Connect with Us on Social Media
Dear Fuqua Family,
Welcome to 2020! As you might expect, we are busy planning for the 2020-2021 school year. The recent tradition of sending home an online parent survey in mid-January has yielded very helpful information from you that we have used to shape our plans for the future. The results of the survey, and additional important information about the 2020-2021 school year, will be shared at our Annual Community Meetings. The meetings will be held at 8:30 AM in the LS/MS Media Center on Tuesday, February 4, and again at 5:30 PM in the Gee Price Activity Center. All Fuqua School parents are encouraged to attend one of these meetings.
In these meetings, we will be sharing details about a new Flexible Tuition Program the Board of Trustees has approved for the upcoming school year. We began our conversation about Flexible Tuition almost two years ago. In a January 2019 Flexible Tuition Survey, almost 80% of parent respondents indicated they would be interested in participating in a Flexible Tuition Program. Since that time, the Administrative Team and the Board have been researching Flexible Tuition and developing a version of the program to fit our school. Please come to the Community Meeting to learn more.
Other topics we will cover during the Community Meeting will include re-enrollment procedures, the 2020-2021 academic calendar and tuition levels, progress on our upcoming May 2020 Virginia Association of Independent Schools 10-year Accreditation Visit, and goals for the 2020-2021 school year. We are looking forward to hosting you on either February 3 or 4!
Go Red! Go Black! GO FALCONS!
John Melton
Head of School
Lower School SCA Works for Change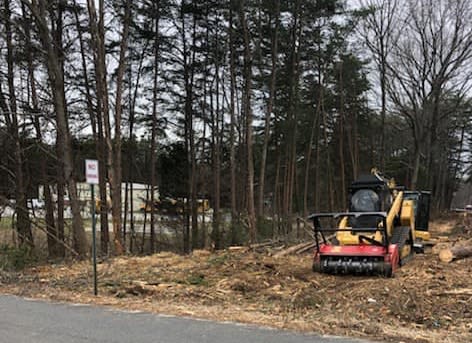 The Lower School SCA had a mission as they began the 2019-2020 school year. They wanted to create change. One way they sought to create change was to improve their current 4/5 playground. Through a lot of planning, designing, selling Fuqua blankets, and parent help and support, they not only improved their playground but they also moved it! Be sure to stop and check out their new space for play and fun featuring a Gaga pit and all!!!
First Semester Awards Presented to Lower School Students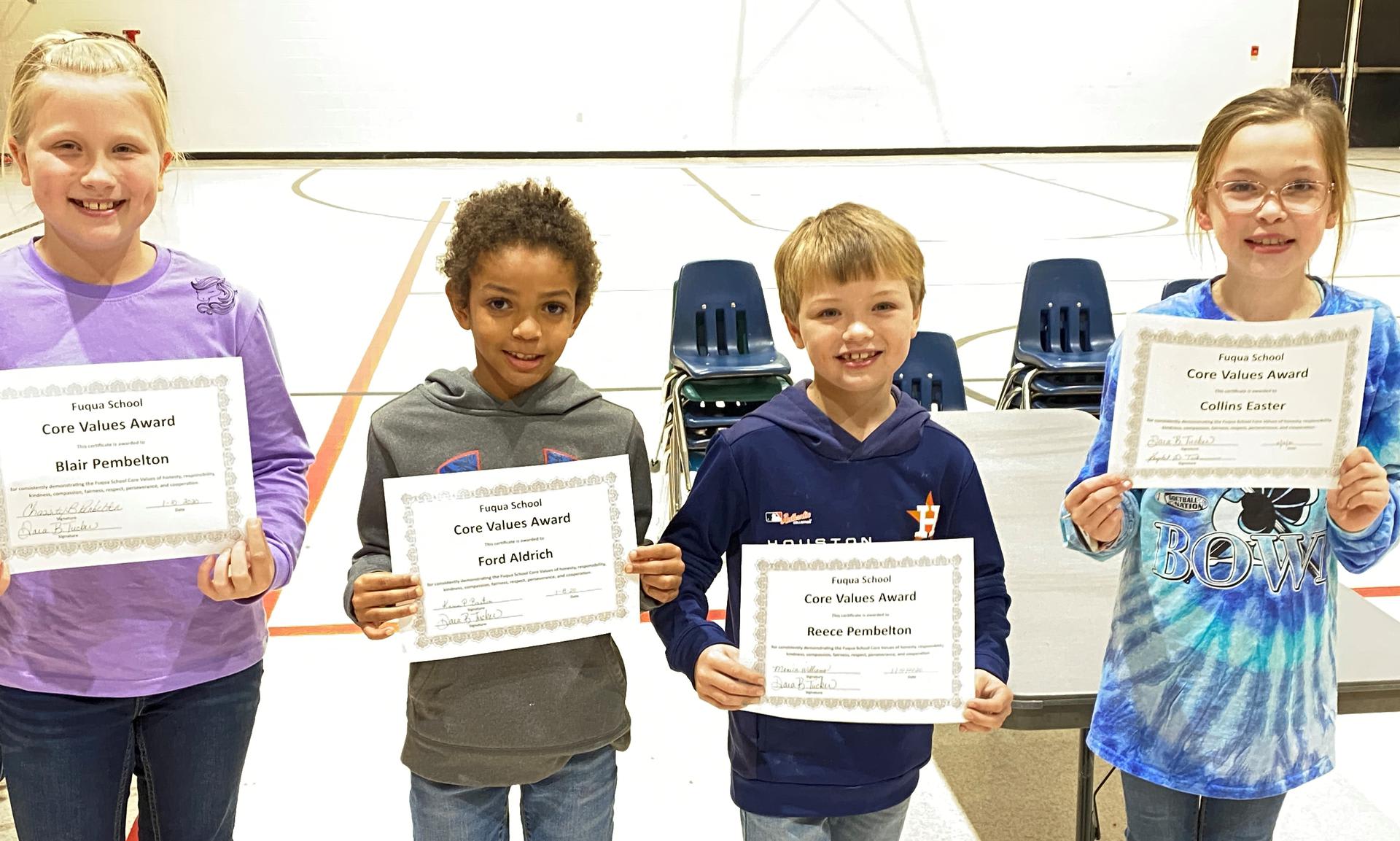 Congratulations to our Lower School 1st semester award winners. We're so proud of you!! Please click here to see the list of all the award winners.
"Skeeter" Fore Golf Tournament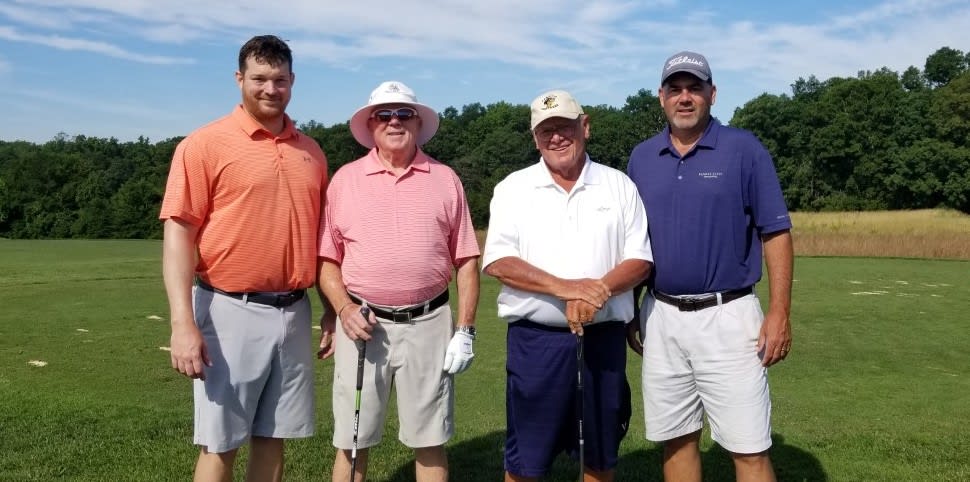 Alumni, Family & Friends,
With the continued leadership of J Fulton '80 and Scott Sprouse '00, the Alumni office is gearing up for this year's "Skeeter" Fore Golf Tournament, which promises to be very exciting! Our goal is to have 25 teams playing--help us get there by making plans to join us Saturday, June 20, 2020. All alumni, friends and family are invited. Again, this year we will hold the tournament at The Manor Resort Golf Club. We appreciate The Manor hosting our event and look forward to playing on their beautiful course.
If you have never played in the "Skeeter" Fore tournament, this is the year to start. This is a "Captain's Choice" tournament, with an 8:30am shotgun start. Coach Fore's team holds last year's title and welcomes you to come out and challenge them for the title this year. Pull out those yearbooks, find three friends, dig out the clubs, and make a day of it. The entry fee includes: 18 holes of golf, cart service, lunch, and great prizes. Teams must register in advance, so start putting together your team and register early to take advantage of the Early Specials. Register on-line at www.fuquaschool.com under Alumni or you can contact Tammy at 434-392-4131, ext. 235 or franktm@fuquaschool.com
The three of us look forward to hearing from you soon and to seeing you on the greens in June.
Tammy Frank
Director of Alumni Affairs
Students Attend Prejudice Awareness Summit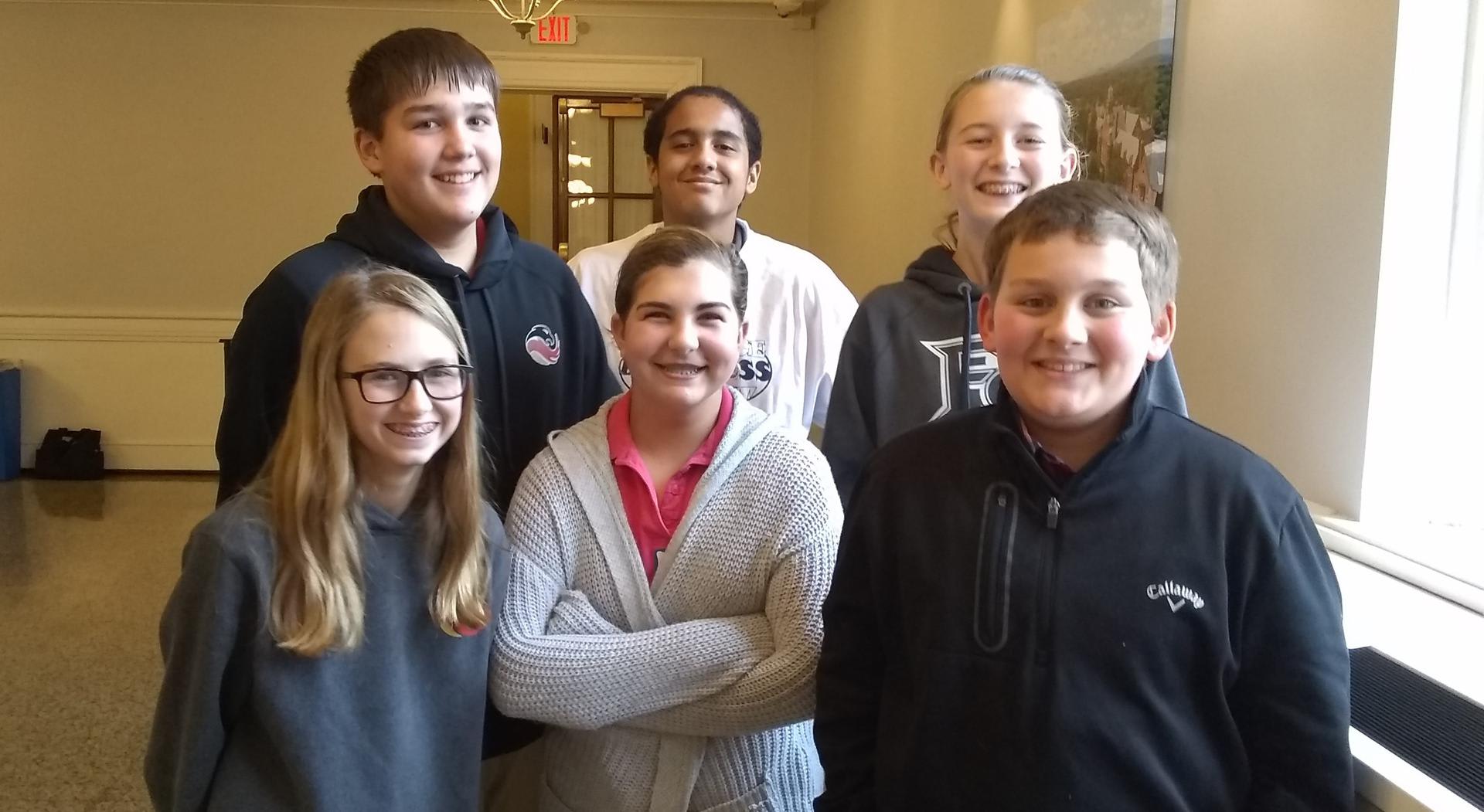 Middle school students, Vivian Eason, Marissa Dempsey, Marina Morris, Joshua Milligan, Bradley French, and Julian Price, attended the Virginia Center for Inclusive Communities Prejudice Awareness Summit at Randolph College in Lynchburg, VA. The summit was a one-day program that is designed to bring together approximately 100 Central Virginia 7th and 8th grade students to help equip them with the necessary tools to assist in areas of conflict resolution, prejudice and stereotype reduction, multicultural communication, leadership, and advocacy. The students worked in teams to develop achievable and concrete solutions to the tough challenges that they may face during their middle school years. This group of student leaders will now work alongside Mrs. Tucker and Mrs. Rostan to create a campaign bringing awareness about verbal dehumanization, bullying, and deliberate avoidance to our middle school students. Stay tuned for further information regarding their campaign!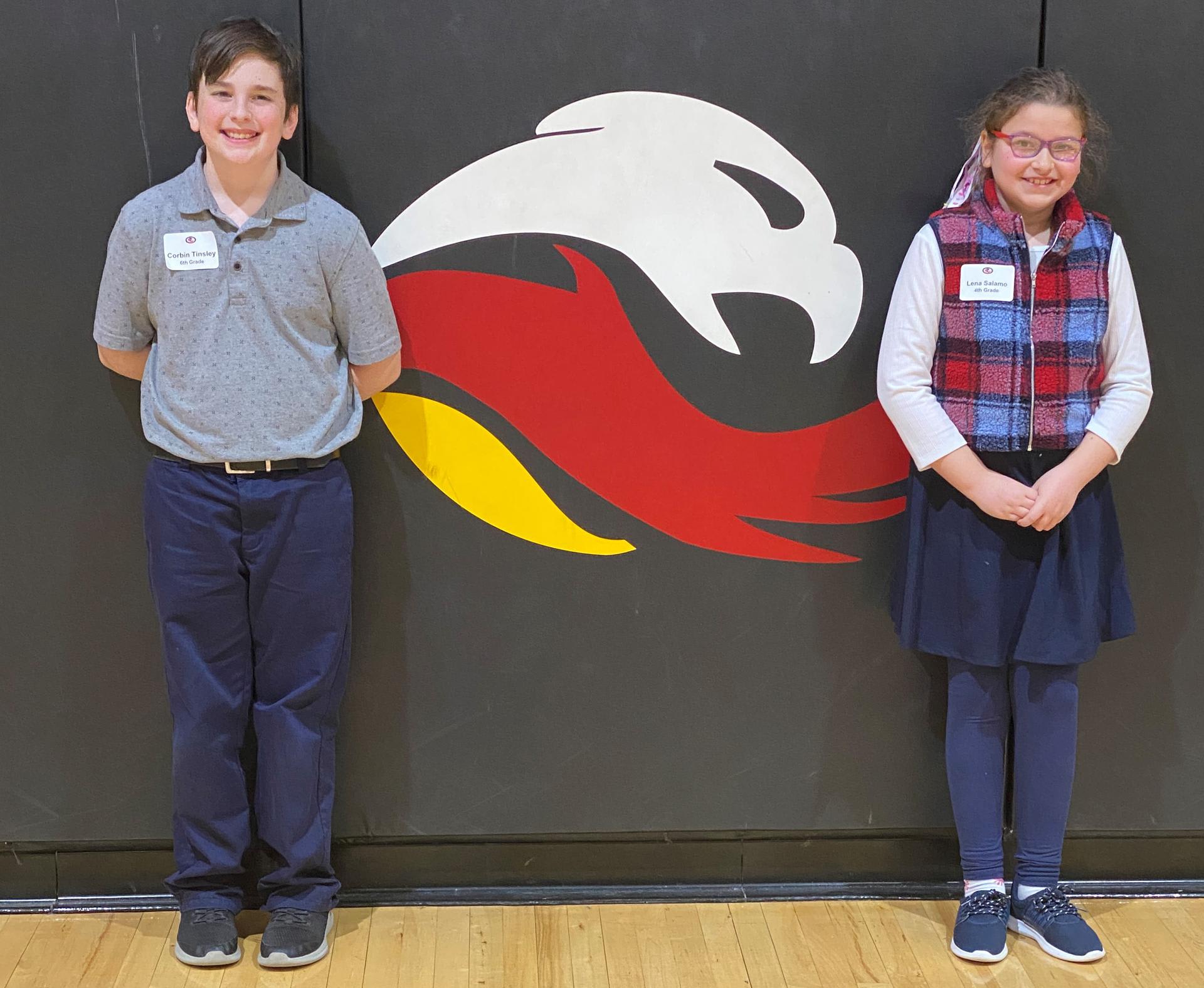 Congratulations to the following grade level winners that participated in the Fuqua School class spelling bee in January. 4th Grade: Lena Salamo and Wyatt Tucker (Collins Easter- alternate); 5th Grade: Mary Reagan Phaup and Murphy Witko (Cameron Pace- alternate); 6th Grade: Ashlyn Ligon and Corbin Tinsley (Rudee Atkinson- alternate); 7th Grade: Taylor Elmore and Luke Jarrett (Hannah Whaley and Joshua Milligan- alternates); 8th Grade: Noah Cole and Carter McCarty (Austin Frazier- alternate).
After 34 rounds, 4th grader, Elena Salamo, became the Fuqua School 2020 winner with 6th grader, Corbin Tinsley, placing second. Elena will move on to the Scripps Private School Regional Spelling Bee held in Richmond on February 3rd. Good luck, Elena!
Geography Knowledge Tested in Geo Bee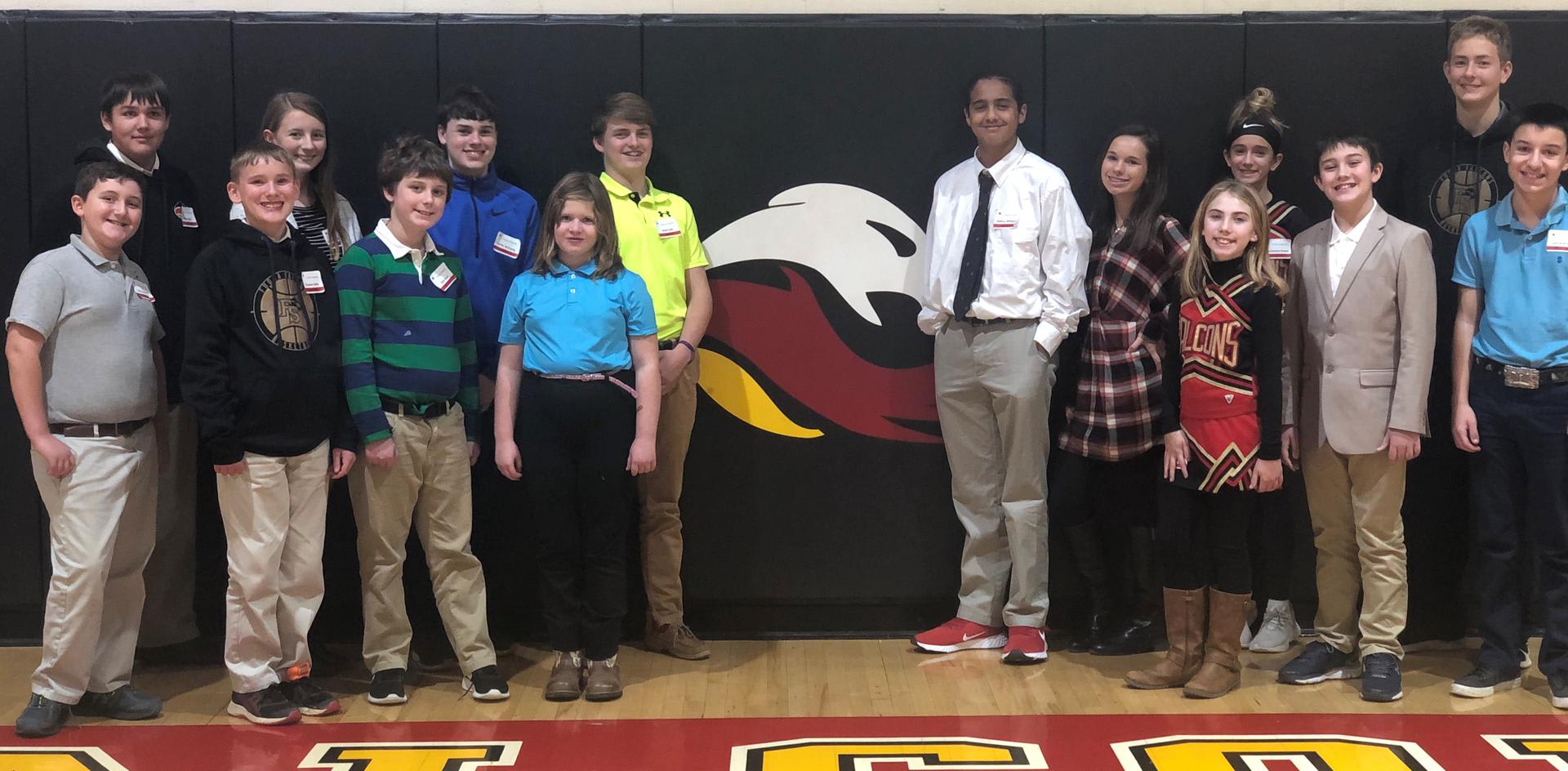 Students in grades 5-8 participated in Fuqua School's National Geographic Geography Bee. "The National Geographic Bee is an annual competition organized by the National Geographic Society, designed to inspire and reward students' curiosity about the world." Congratulations to our 2019 Geography Bee Winners: Joshua Milligan (7th Grade) First Place; Noah Cole (8th Grade), Second Place; and Marissa Dempsey (7th Grade), Third Place. Joshua will go on to the 2020 regional competition representing Fuqua School. Congratulations, also, to all of our classroom winners and alternates: Grade 5: Colin Jamerson, Murphy Witko, Silas Bego; Grade 6: Lars Andrews, Grace Furman, Emma Grant, Mackenzie Hearn; Grade 7: Joshua Milligan, Marissa Dempsey, Brandon Seiler, Julian Price; Grade 8: Ava Thrasher, Noah Cole, Carter McCarty, and Sam Minix.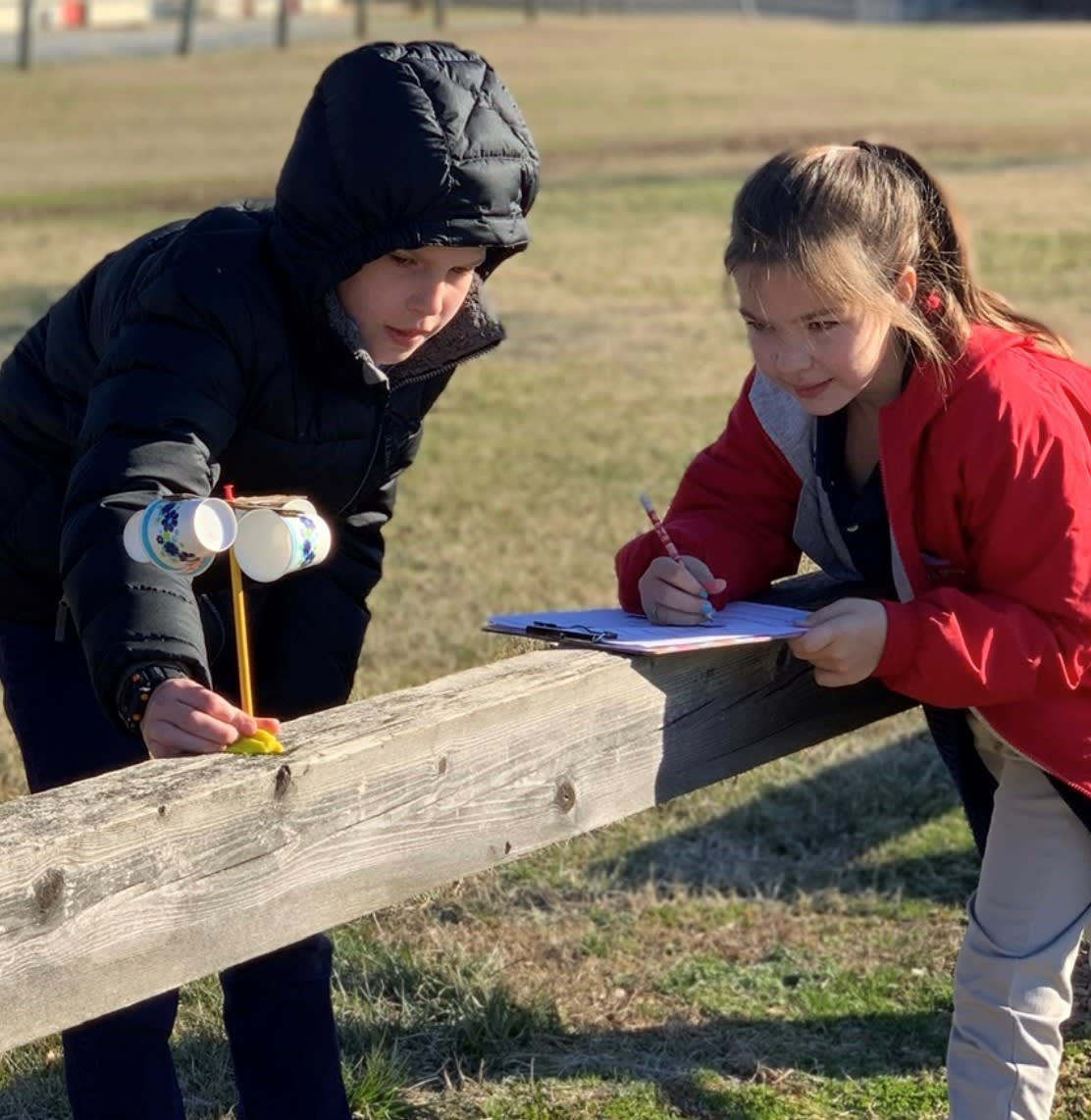 To apply their study of wind and its impact on the environment and weather, fifth graders created their own anemometers. An anemometer is a scientific tool used to measure wind speed and direction. The students took their anemometers and experimented with them at different places across the Fuqua School campus.
Hooray for the 100th Day!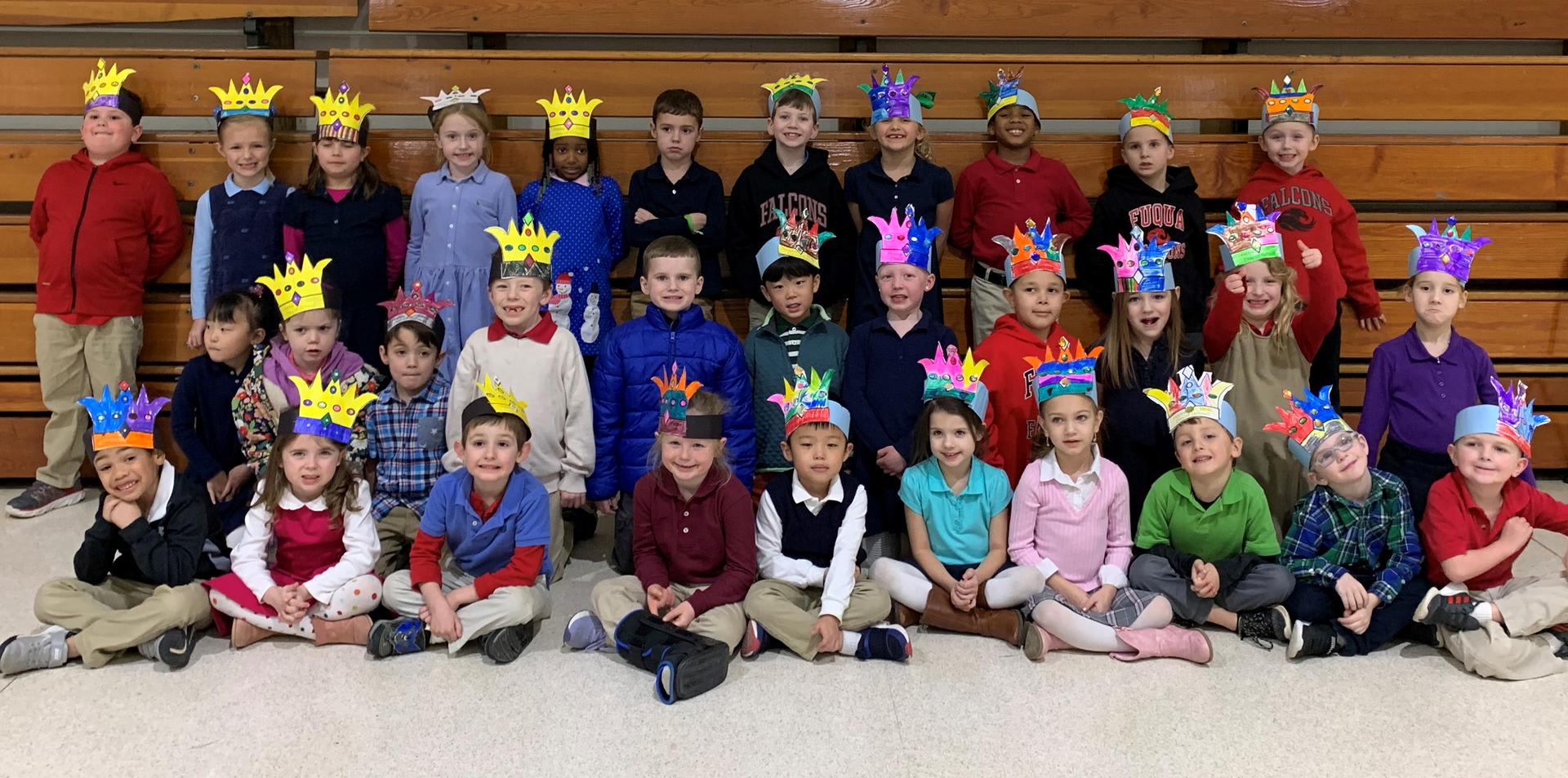 Fuqua School's PK and K/1 classes enjoyed celebrating the 100th day of school on January 24th. Students used their imaginations to create projects representing 100 items. From 100 lollipop plants, to 100-piece LEGO builds, to 100 pennies- students had a lot of fun showing off their counting skills. Classroom activities included making a special snack of 100 pieces of various crackers, cereals, and candy, and making and wearing crowns throughout the day with the number 100 on them. Students also participated in various counting exercises, as well as special math and art lessons to celebrate the day. What a wonderful way to spend our 100th day of school!
Education Day at Longwood Basketball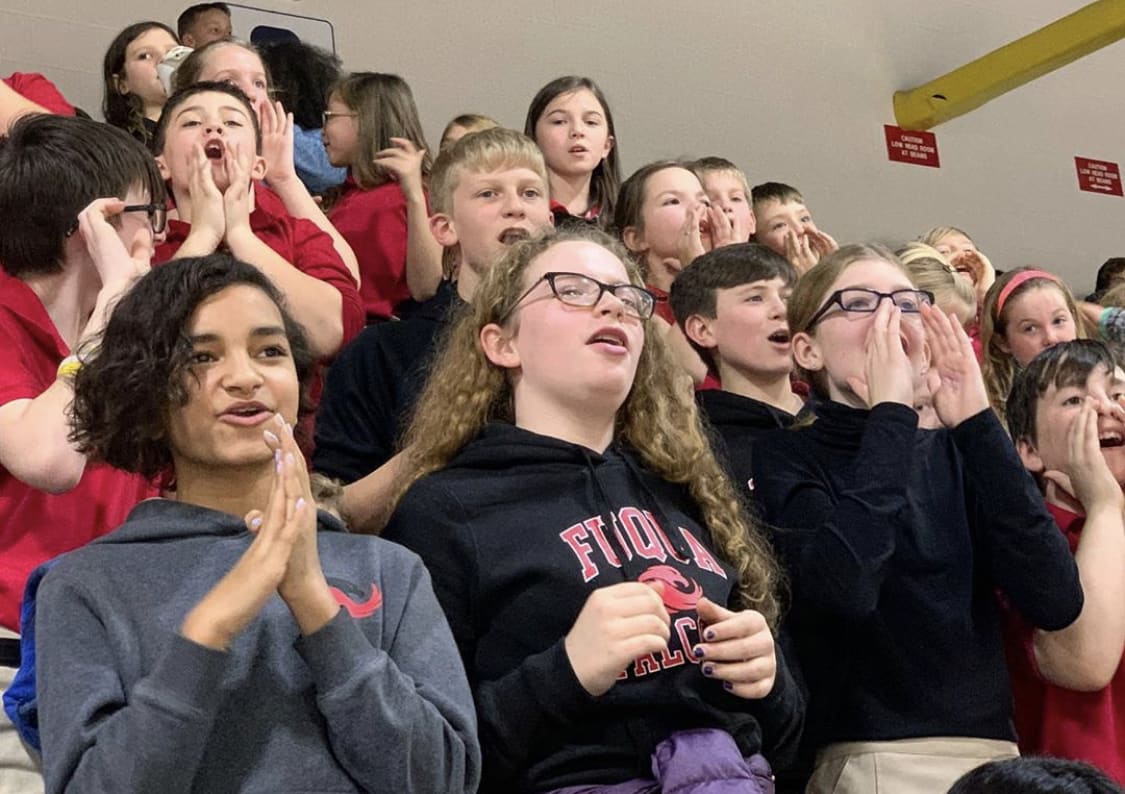 Fuqua School students in grades PK-8 joined other local schools for Longwood University's annual Education Day. Education Day is an opportunity for area children to get onto Longwood's campus and learn more about the university. During the 2020 Education Day, students were invited to cheer on the Lady Lancers basketball team as they took on Radford University. This gave students a chance to cheer on their hometown college team, while also being able to visit parts of the Longwood campus. Students enjoyed the halftime games, the towel toss, and the cheerleader's performance in addition to the game.
US Students Excel in Band Competition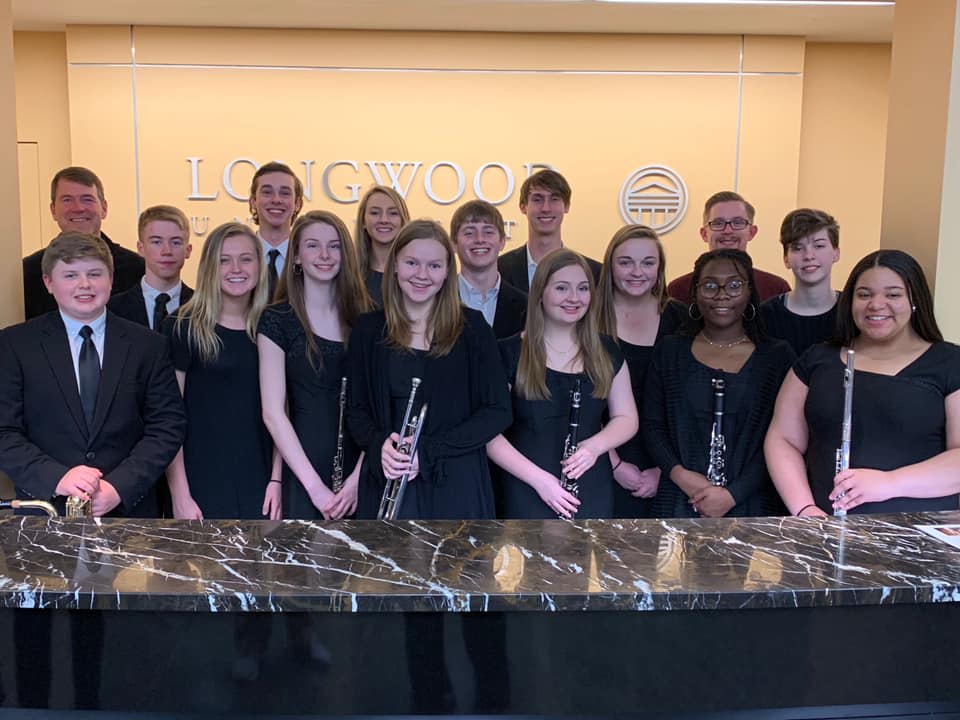 Congratulations to the following students that placed into the Longwood University Honor Bands in December: Robin Ball, Erica Chapman, Emily Erickson, Luke Gee, Elizabeth Hall, Ashley Handy, Kayla Knott, Ryan Ledger, Holt Mason, Rachel Mason, Grace Puckett, Jayden Seagle, Sophie Watson, and a big shout out to Jordan Ledger for placing 1st chair on Baritone Saxophone. In addition, kudos go to several students who traveled to Thomas Dale High School on Saturday, January 11 to audition for the District III Honor Band and received a spot. Emily Erickson made third alternate on flute, Wellsley Waller placed 20th on clarinet in the Middle School Band, and Marissa Dempsey made second alternate on clarinet in the middle school band. We are so proud!
New York City - A Senior Tradition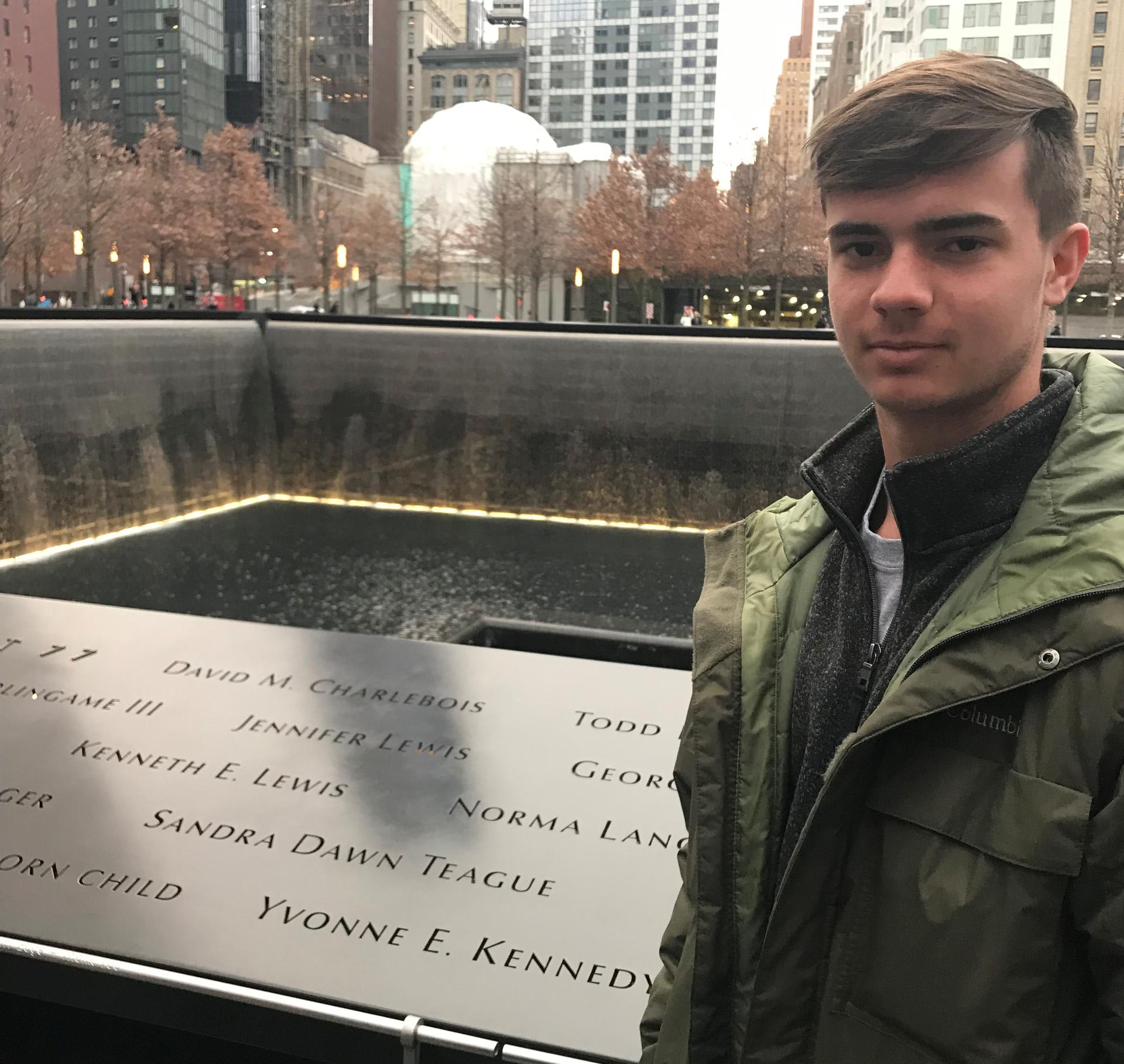 Kenneth Lewis, Class of '70, and his wife Jennifer were flight attendants who perished on September 11, 2001 when American Airlines Flight 77 was hijacked by terrorists and crashed into the Pentagon. Pictured is Senior Drew Osborn, the 2019 recipient of the Jennifer and Kenneth Lewis memorial scholarship. Osborn and classmates visited the 9/11 Memorial during their class trip to NYC and located the couple's names to pay their respects. Osborn said, "It was an honor getting a scholarship named after a Fuqua graduate and spouse who died on such a terrible day. " To read more about the Senior trip to New York City click here.