Falcon Flyer: March 15, 2019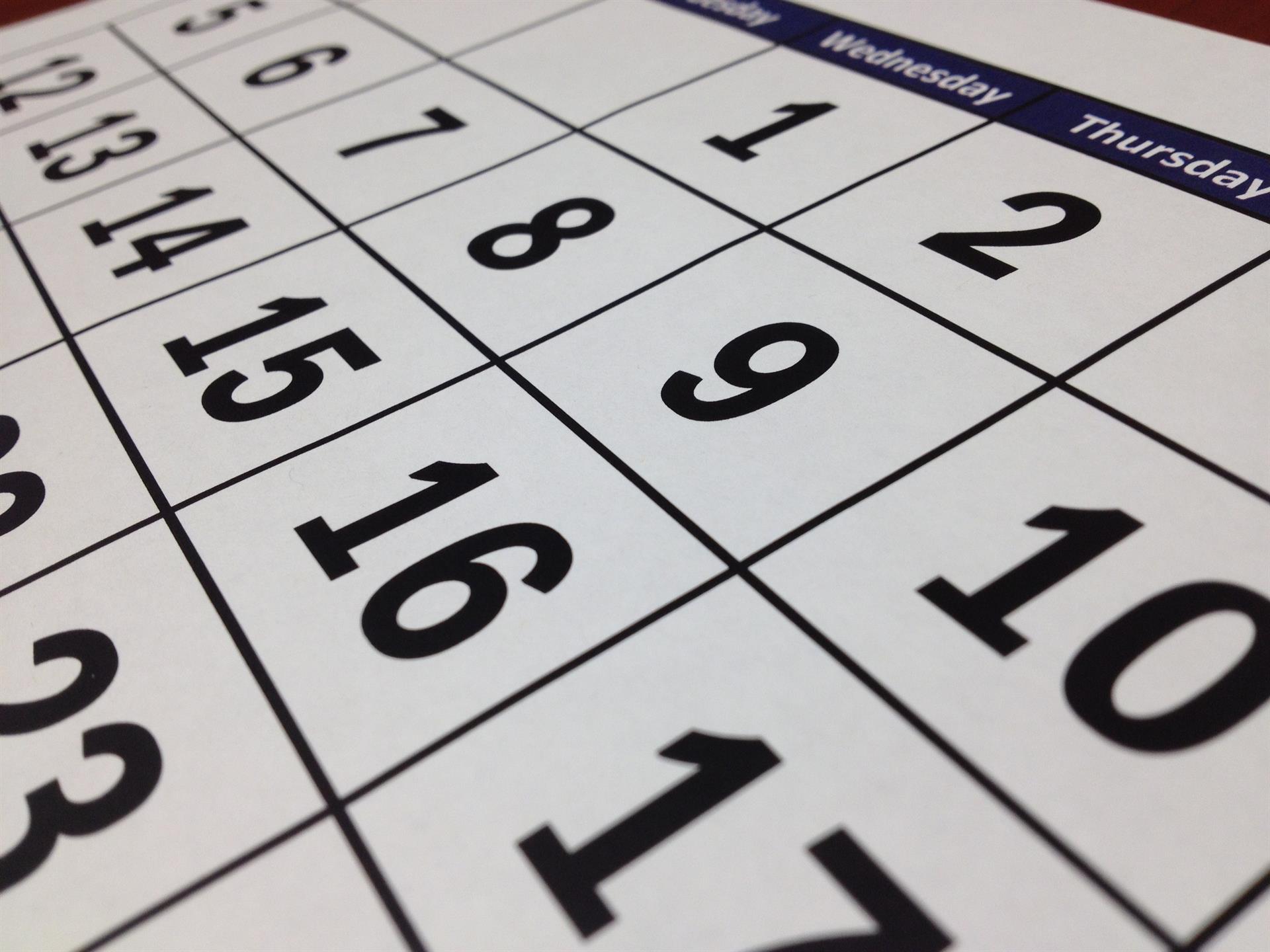 2019-2020 Academic Calendar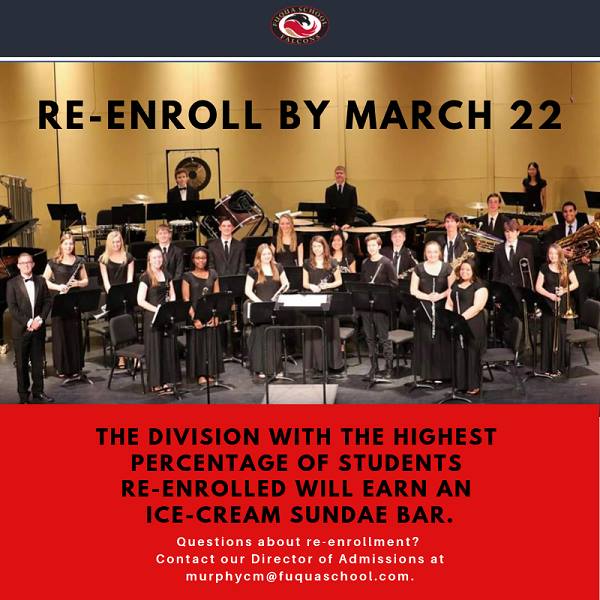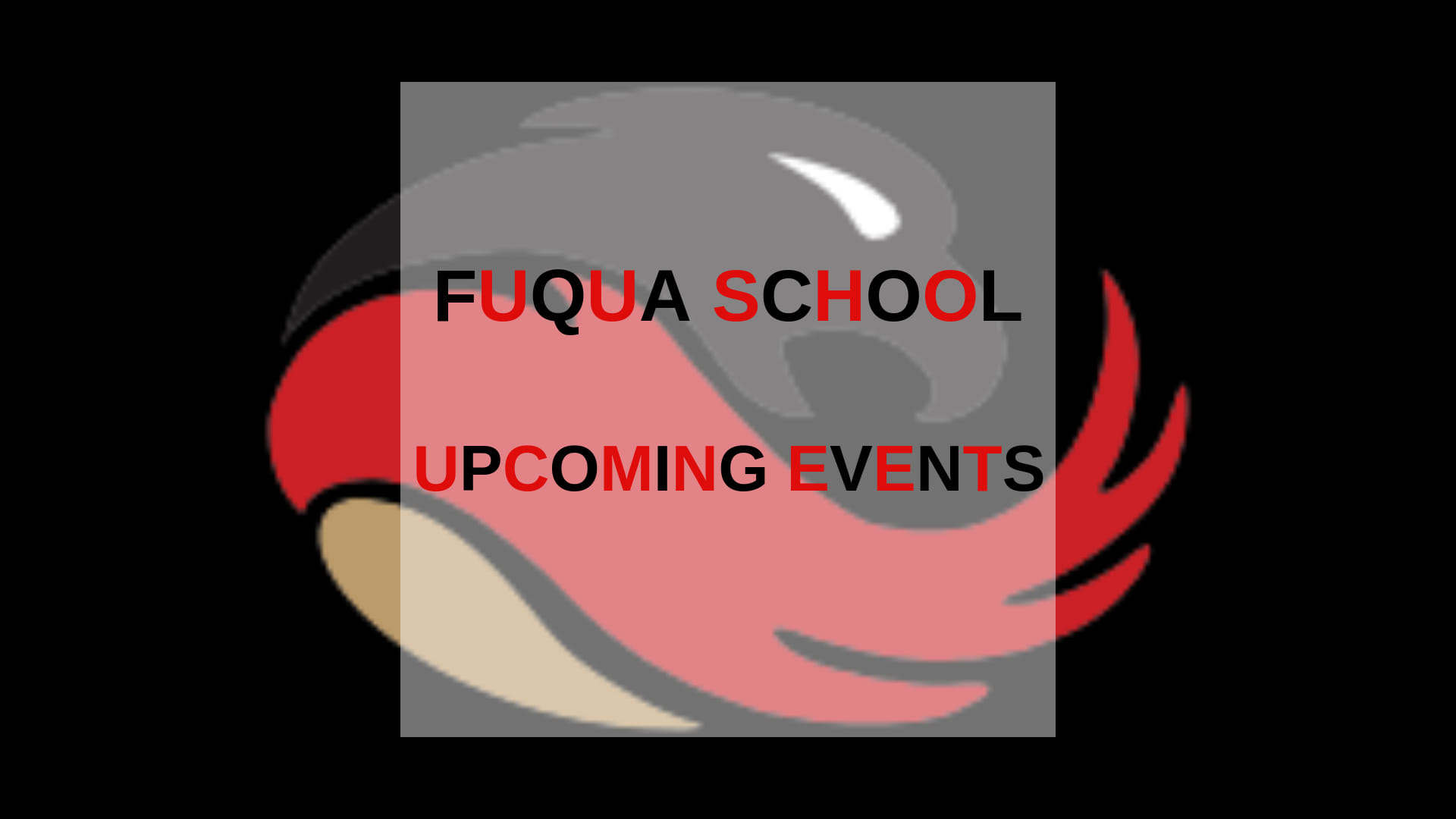 To stay up to date on all upcoming events, click here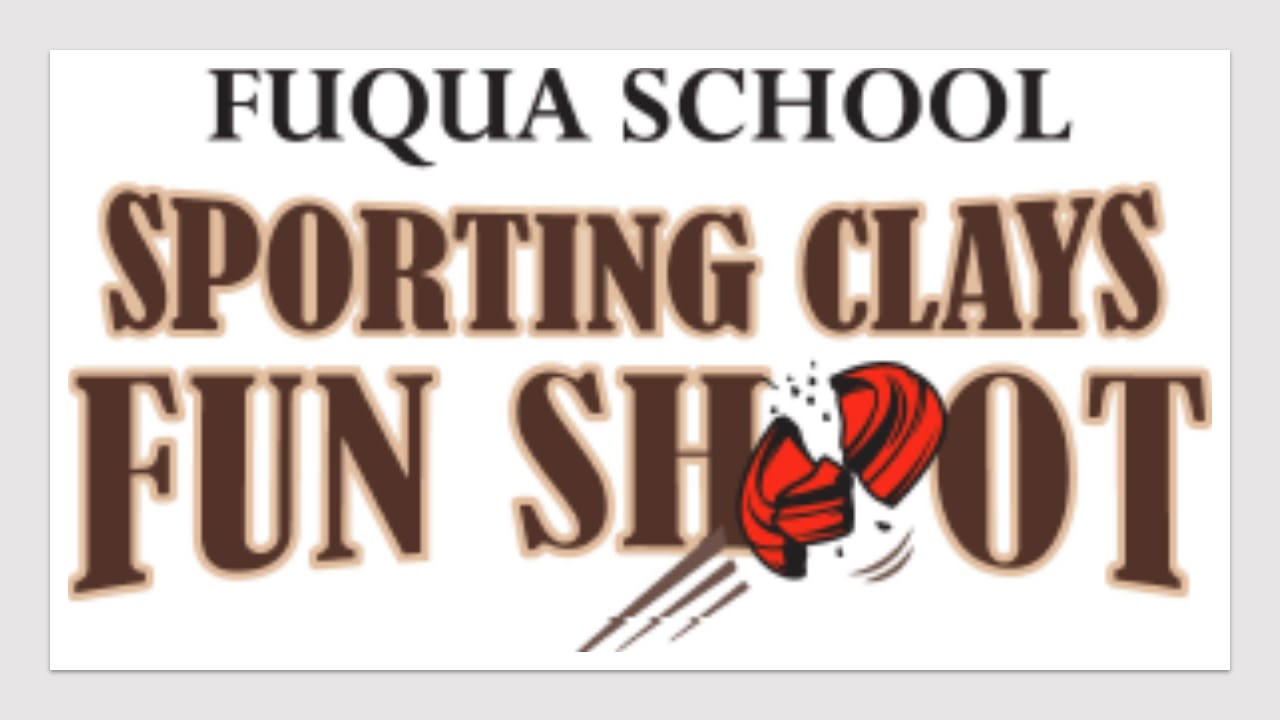 Saturday, March 23, 2019
9:00 AM - 2:00 PM
442 Middle Fork Road
Palmyra, VA 22963
To register or sponsor, click here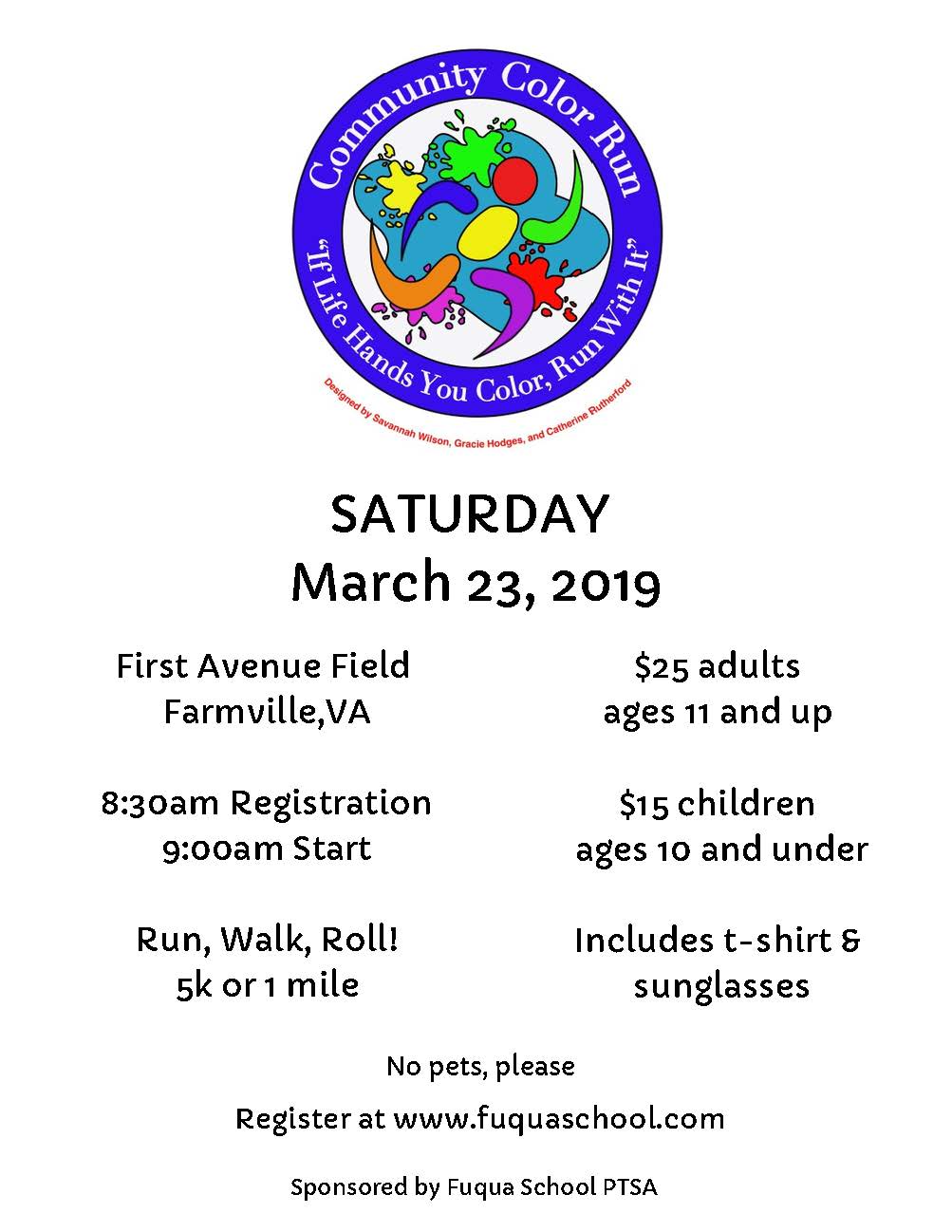 Saturday, March 23, 2019
8:30 AM Registration
First Avenue Field in Farmville, VA
To register, click here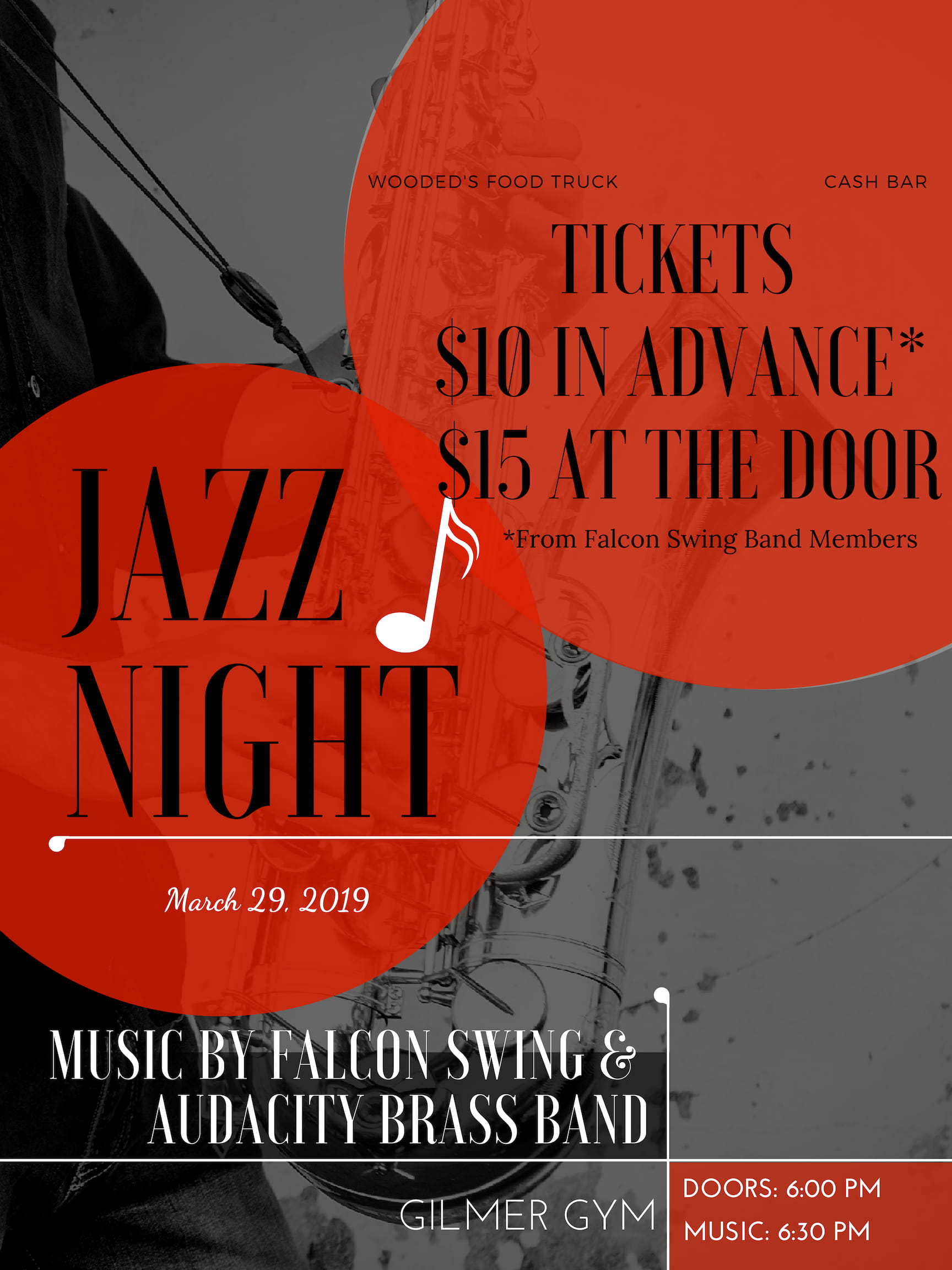 Friday, March 29, 2019
Doors Open: 6:00 PM
Music Begins: 6:30 PM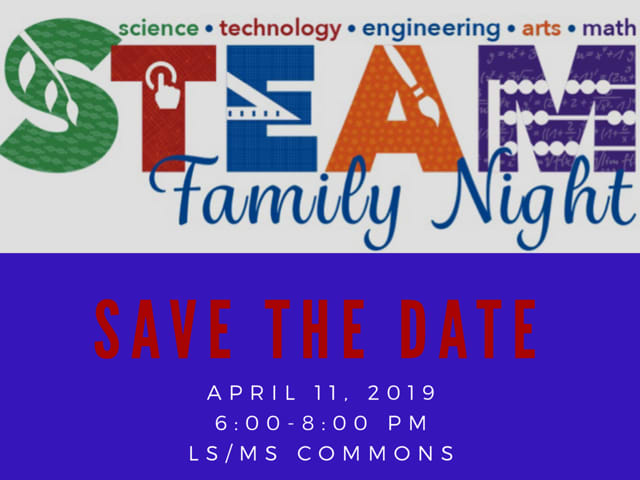 Thursday, April 11, 2019
6:00 PM - 8:00 PM
L/S & M/S Commons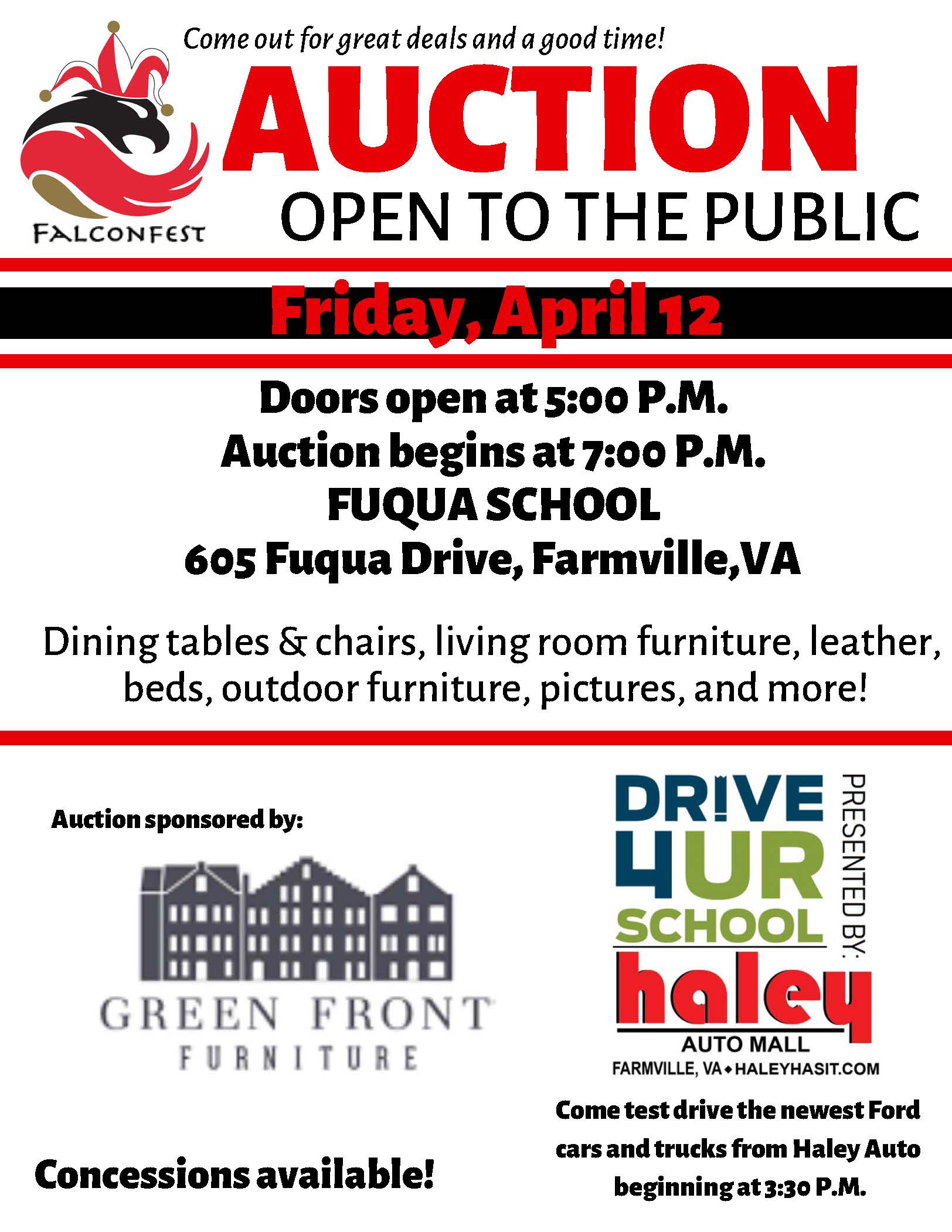 Save the Date!
Friday, April 12, 2019
 Drive 4UR School : 3:30 PM
Doors Open: 5:00 PM
Auction Begins: 7:00 PM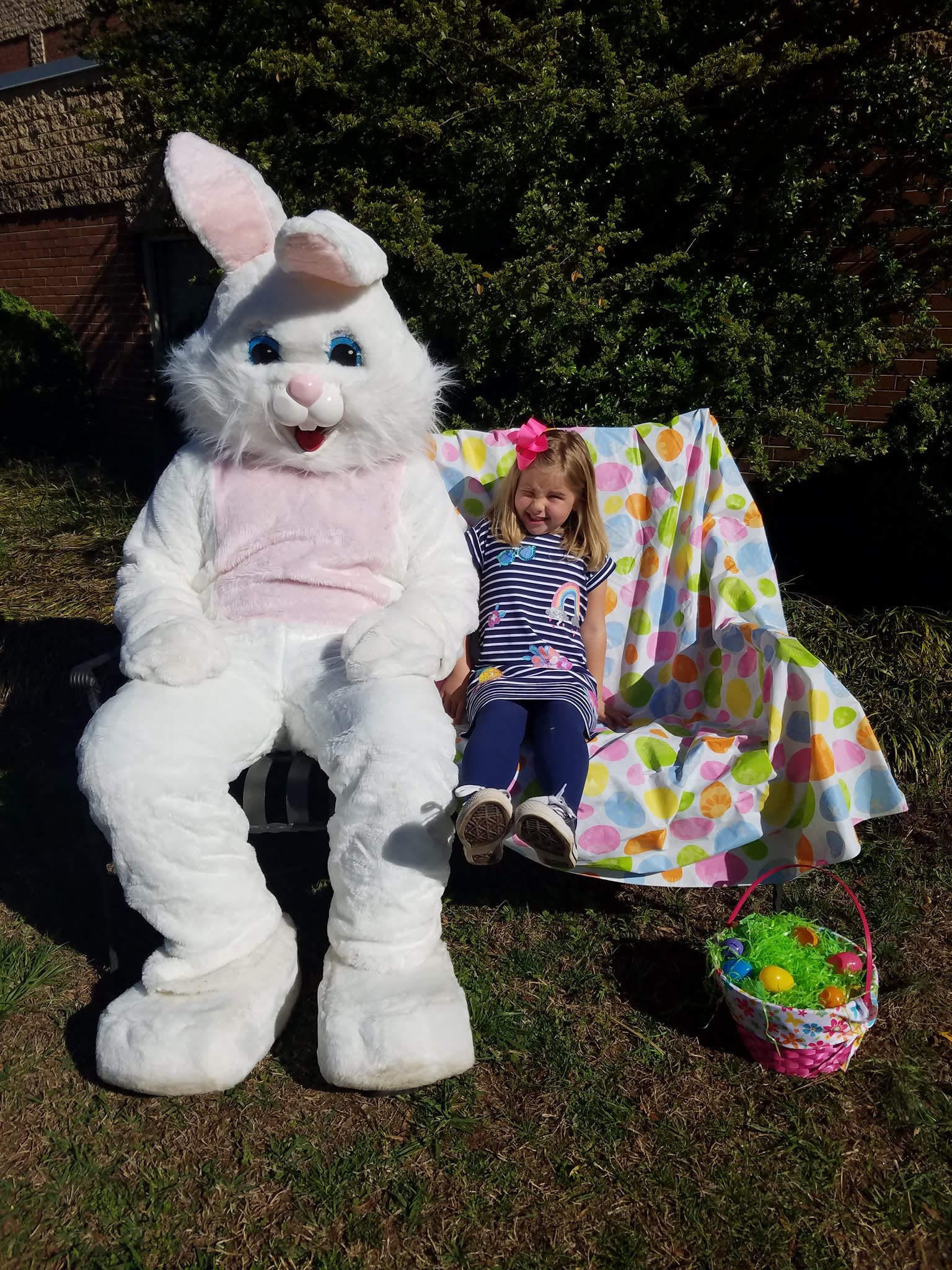 19th Annual Easter Egg Hunt
Rain or Shine 
Saturday, April 13, 2019
 10:00 AM
Gee Price Upper School
Children 9 Years and Younger
are invited to join in the fun!
Refreshments Served
For more information, please contact
Tammy Frank 434-392-4131 ext. 235
Courtesy of the Alumni Association and the Fuqua School PTSA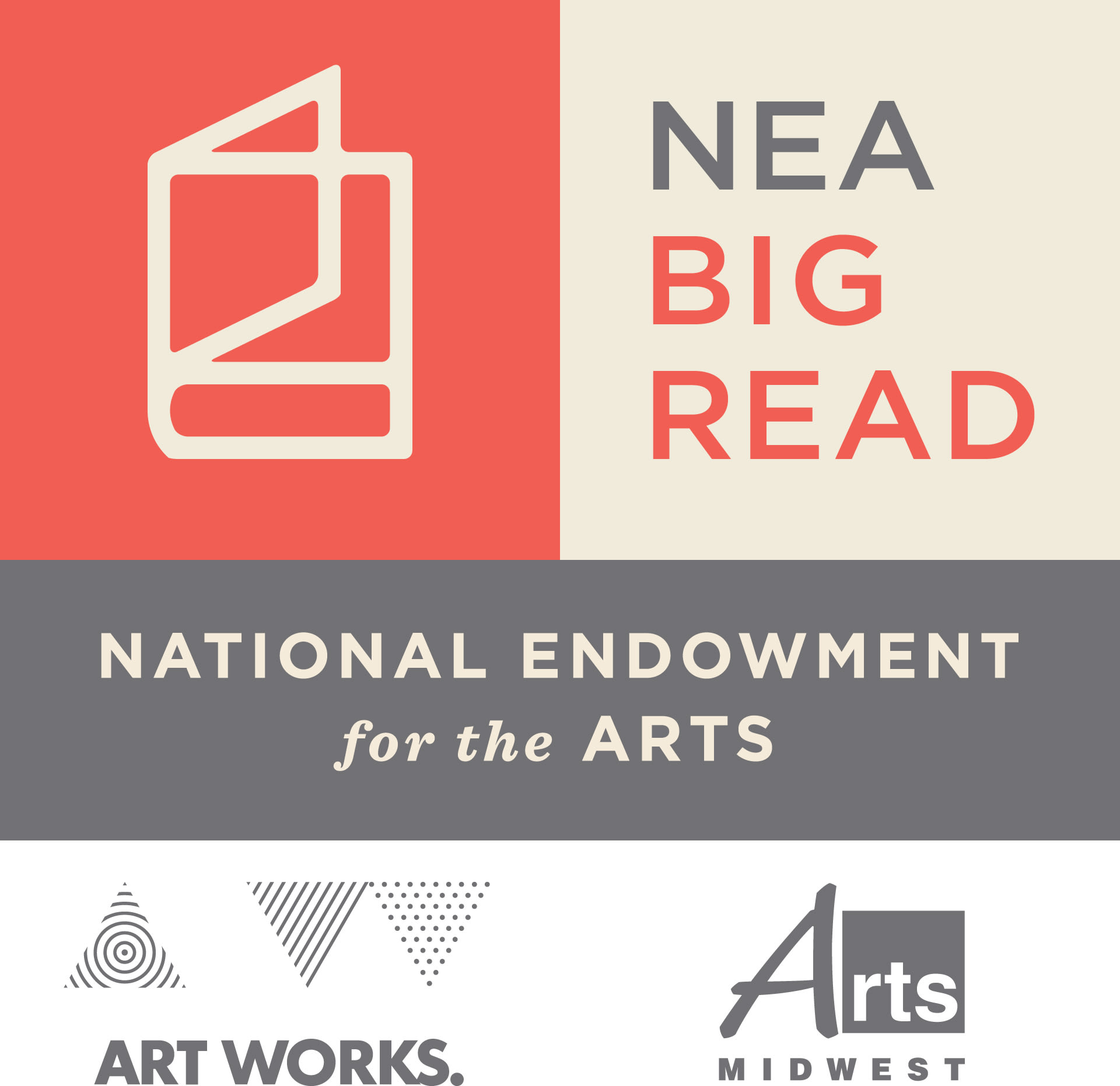 Fuqua School is excited to be part of the Heart of Virginia NEA Big Read event! Our Readers' Club, English Honor Society, and 11th-12th grade English classes will examine this year's Big Read book, Burning Bright by Ron Rash. We will continue the discussion with an on-campus colloquium in late April. The Big Read event kicks off on Saturday, April 6. If you're interested in being part of this event, please click here for more information.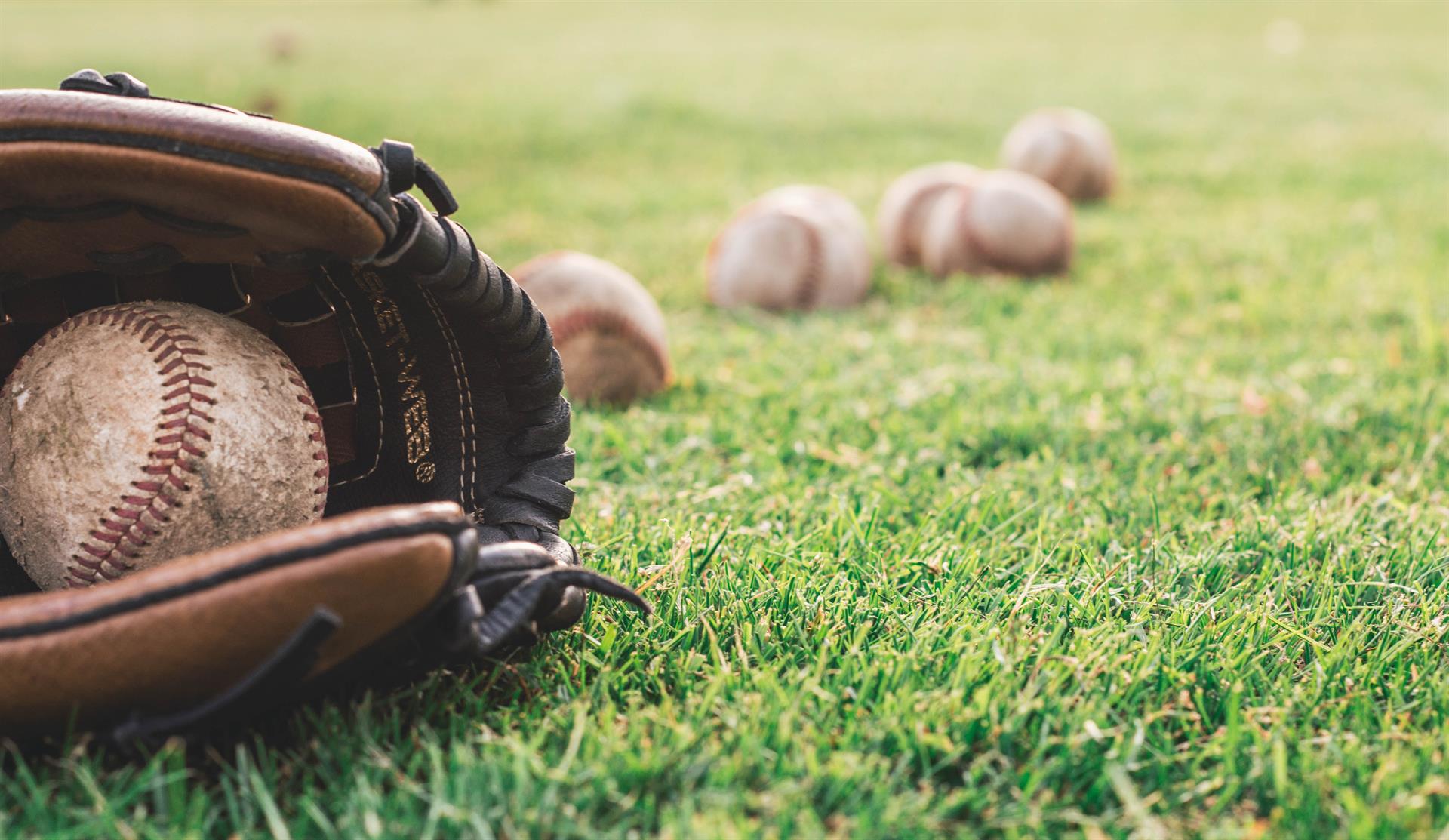 Spring Sports: Baseball, Softball, Lacrosse, Golf
All Spring Sport Participant Physicals due immediately.
Please check Rschool for sport team schedules and updates! 
Regular Season Pass Cost:
Student Yearly $25, Adult Yearly $50, Family Season $50, Family Yearly $150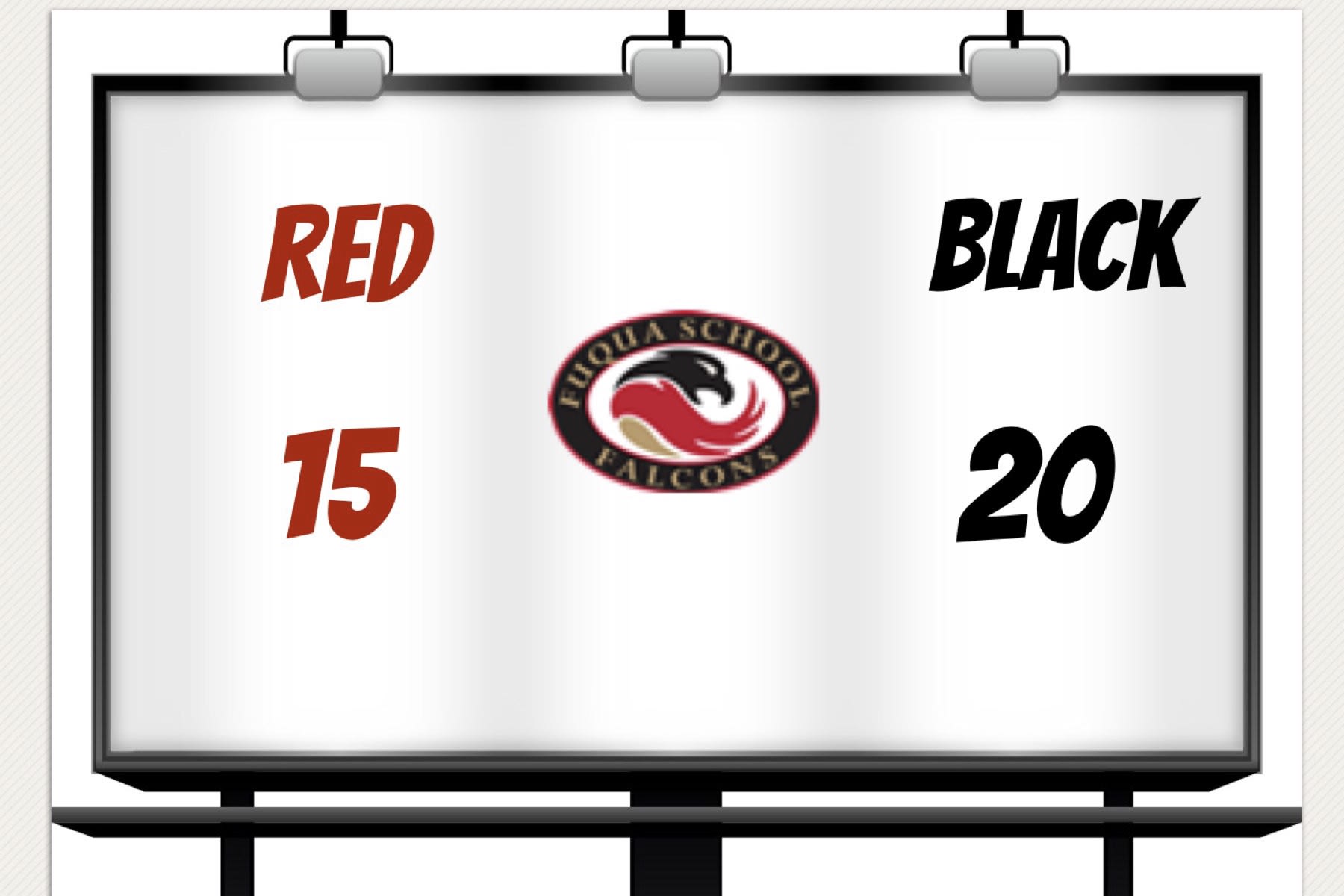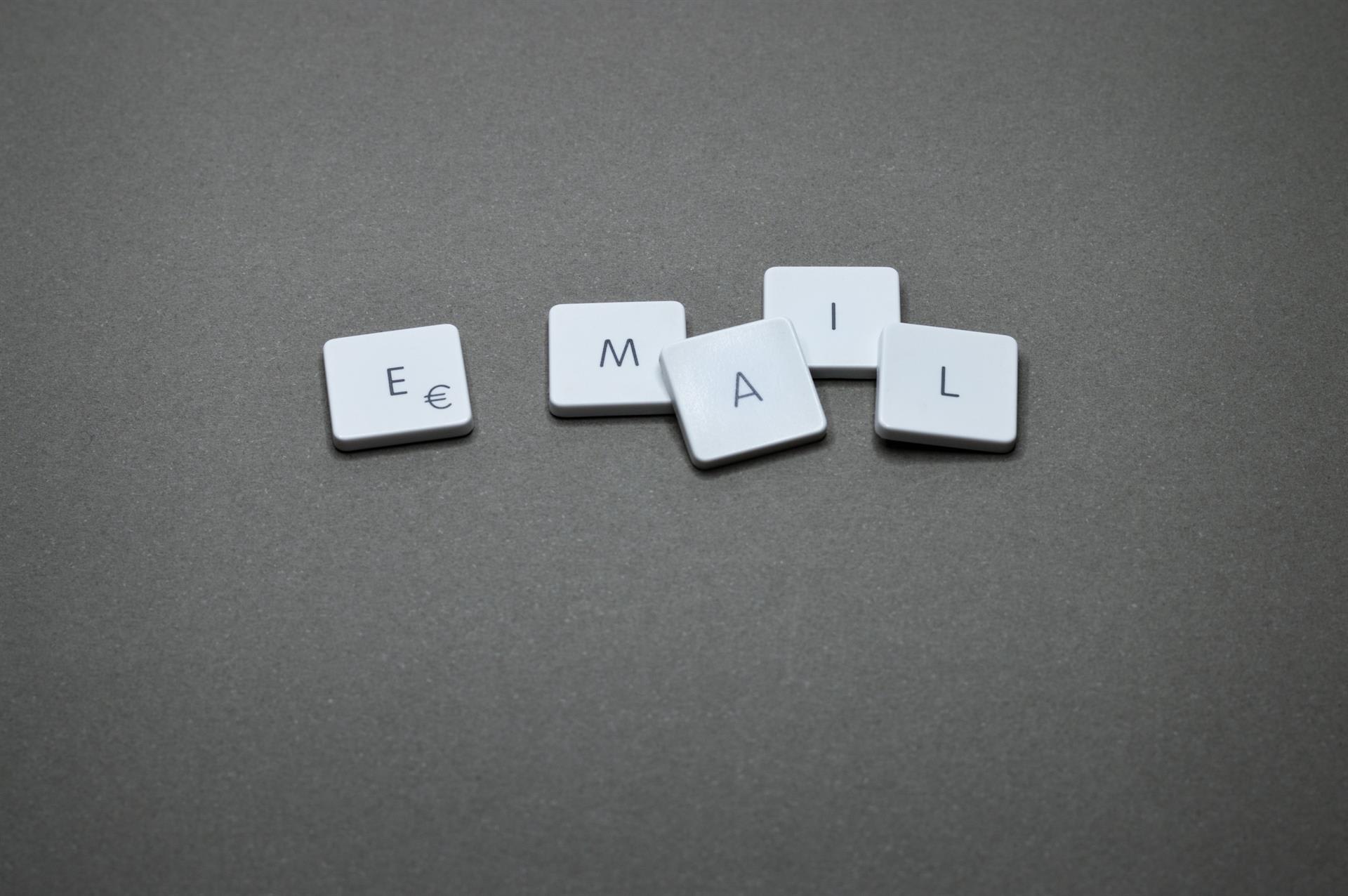 Share every Falcon Flyer with your family and friends. Send their email to FalconFlyer@FuquaSchool.com and they will be added to our Falcon Flyer guest list. Don't miss a Falcon Flyer...previous editions are available under Fuqua School Publications!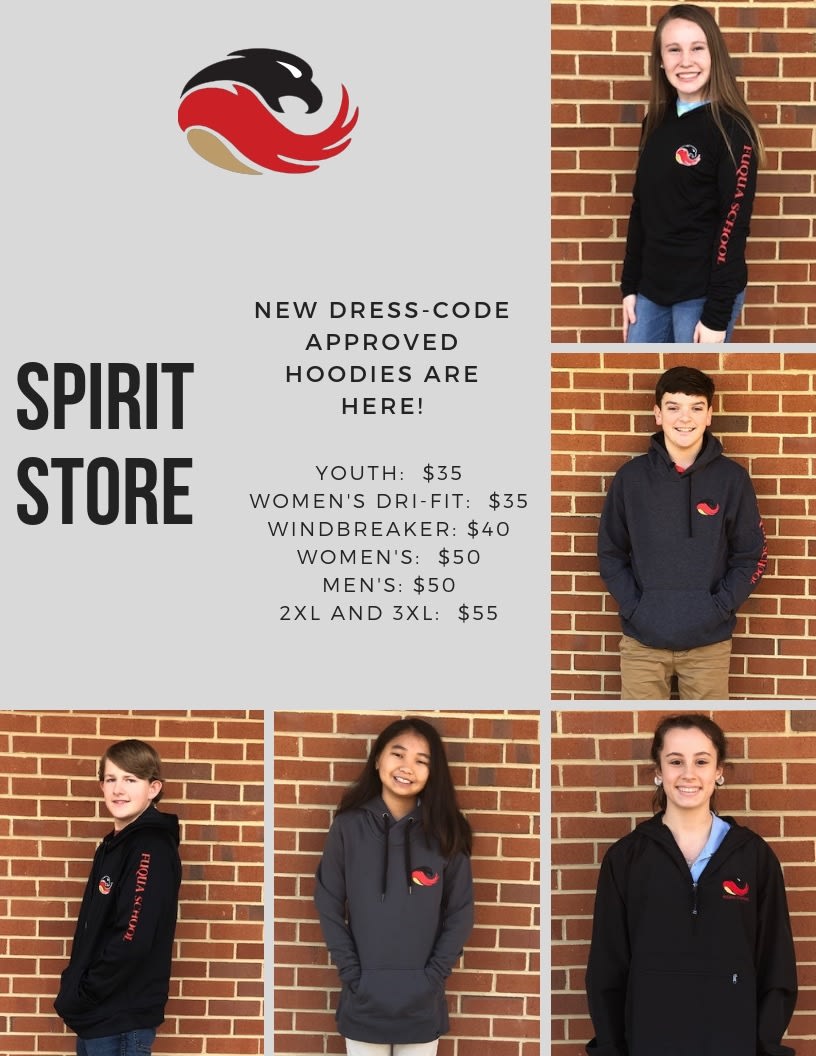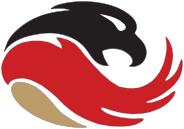 Request to Use Falcon Logo, Etc.
For information on To Use Falcon Logo / Fuqua School, click here. Vendors must have a signed copy of the request to use form before creating any items and must be approved by John Melton.
Connect with Us on Social Media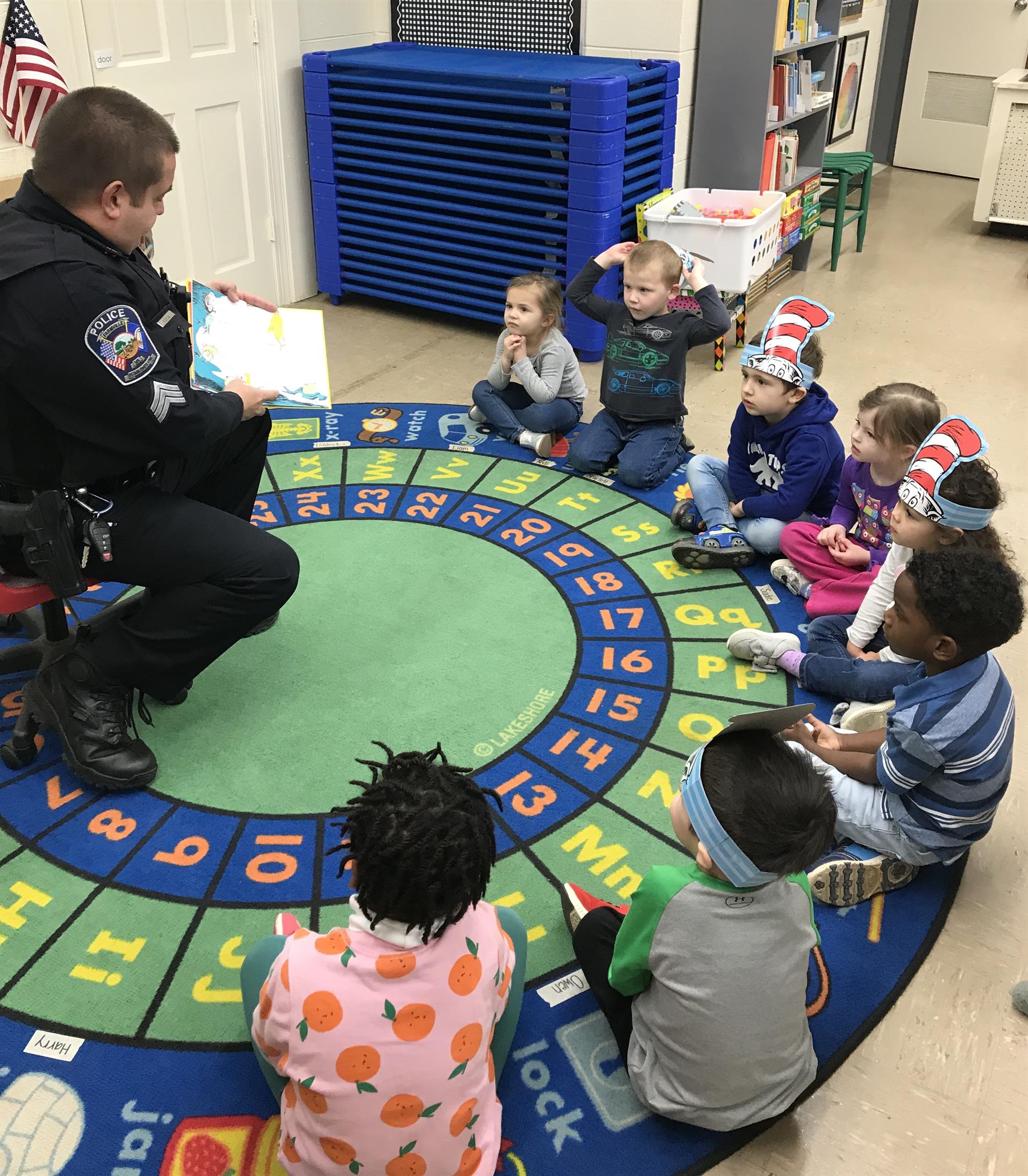 Dear Fuqua Family,
Wouldn't you love to have your very own family parking spot for the year on either the Lower School/Middle School or Upper School campus? An always available and conveniently located spot could give you quick access to assemblies, evening events, sporting matches, and just day-to-day activities at our school. Re-enroll by the March 22nd deadline and your family's name will go into a drawing for your very own space, one for each division!
Also, don't forget we will host our 3rd Annual Sporting Clays Fun Shoot on Saturday, March 23rd.  Please join us for an enjoyable day of sporting clays, wobble and five stand targets, as well as an opportunity to win a Pelican Cooler that has been generously donated by Appomattox River Company. Please click on the link above to register for the shoot, sponsor the shoot, and/or purchase raffle tickets.
Finally, I hope everyone is enjoying spring break. Taking the opportunity to step back, spend time with family, and contemplate all the benefits of a Fuqua School education, before the mad sprint to the end of the year, is refreshing and necessary. I hope your stay-cation or vacation has been both enjoyable and rejuvenating. 
Go Red!
Go Black!
GO FALCONS!
John Melton
Head of School
Fuqua Falcons Lose Two Family Members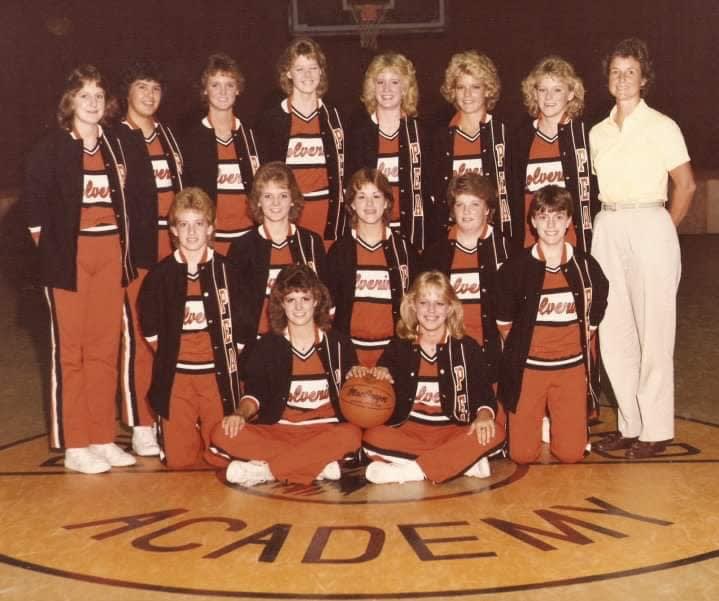 Nona Elizabeth "Beth" Fore
August 5, 1949 - March 10, 2019
Nona Elizabeth "Beth" Massey Fore, 69, of Barber Street, Farmville, died Sunday, March 10, 2019 at her residence.  She was the loving wife of Lewis Lee "Skeeter" Fore for 40 years. In addition to her husband, she is survived by three basset hound children, Daisy, Lilly and Toby; brother-in-law, Earl Fore and wife Hester of Richmond; one nephew, Joel Fore and wife Rebecca of Richmond; nieces, Michelle Murmann and husband, Urs of Powhatan, and Susan Grant of Buckingham. 
Born in Lynchburg, August 5, 1949, she was the daughter of the late Naomi Jamerson and Benjamin Massey.  Beth was a beloved school teacher, softball and basketball coach at Prince Edward Academy/ Fuqua School for over 35 years.  She also worked in photography; first with School Pictures Inc. and later with Karen Smith Photography.  Beth was known for her generous spirit, and for her enduring relationships with former students and athletes. She will be sorely missed by a multitude of close friends with whom she willingly shared her life.
A graveside service was held on Thursday, March 14, 2019 at Pamplin Cemetery with Revered Marsha Davis officiating.
Dorothy "Dot" Mae Brisentine Campbell
December 17, 1929 - March 9, 2019
Dorothy Mae Brisentine Campbell, 89, passed away peacefully on Saturday, March 9, 2019, at her home in Prospect surrounded by her family. She was born December 17, 1929 in Prospect, VA. She was wife of the late Ernest Edward Campbell, Sr. and the daughter of the late Watkins Davis and Mae Meredith Brisentine of Prospect. She was preceded in death by her brother Donald Meredith Brisentine.

She is survived by her children Eddie Campbell and wife Robbin, of Hampstead, NC, and Watt Campbell and wife Patty of Cumberland, VA, Jane Campbell Lowe and husband Jim of Lynchburg, Lynn Campbell Tougas and husband Scott of Chesterfield; eleven grandchildren Branden Campbell and wife Brooke, Becky Campbell Maynard and husband Jeff, Frank Campbell and wife April, Chris Campbell, Cole Campbell, Max Campbell, Chas Lowe, Campbell Lowe, Cate Lowe, Rachel Tougas and Jacob Tougas and fourteen great grandchildren. She was a retired teacher from Fuqua School. She was an active member of Prospect United Methodist Church where she served as a leader of Pray and Stitch ministry, UMW and church historian.

A funeral service was held on Tuesday, March 12,  at Prospect United Methodist Church.
PK4 Students Celebrate Dr. Seuss's Birthday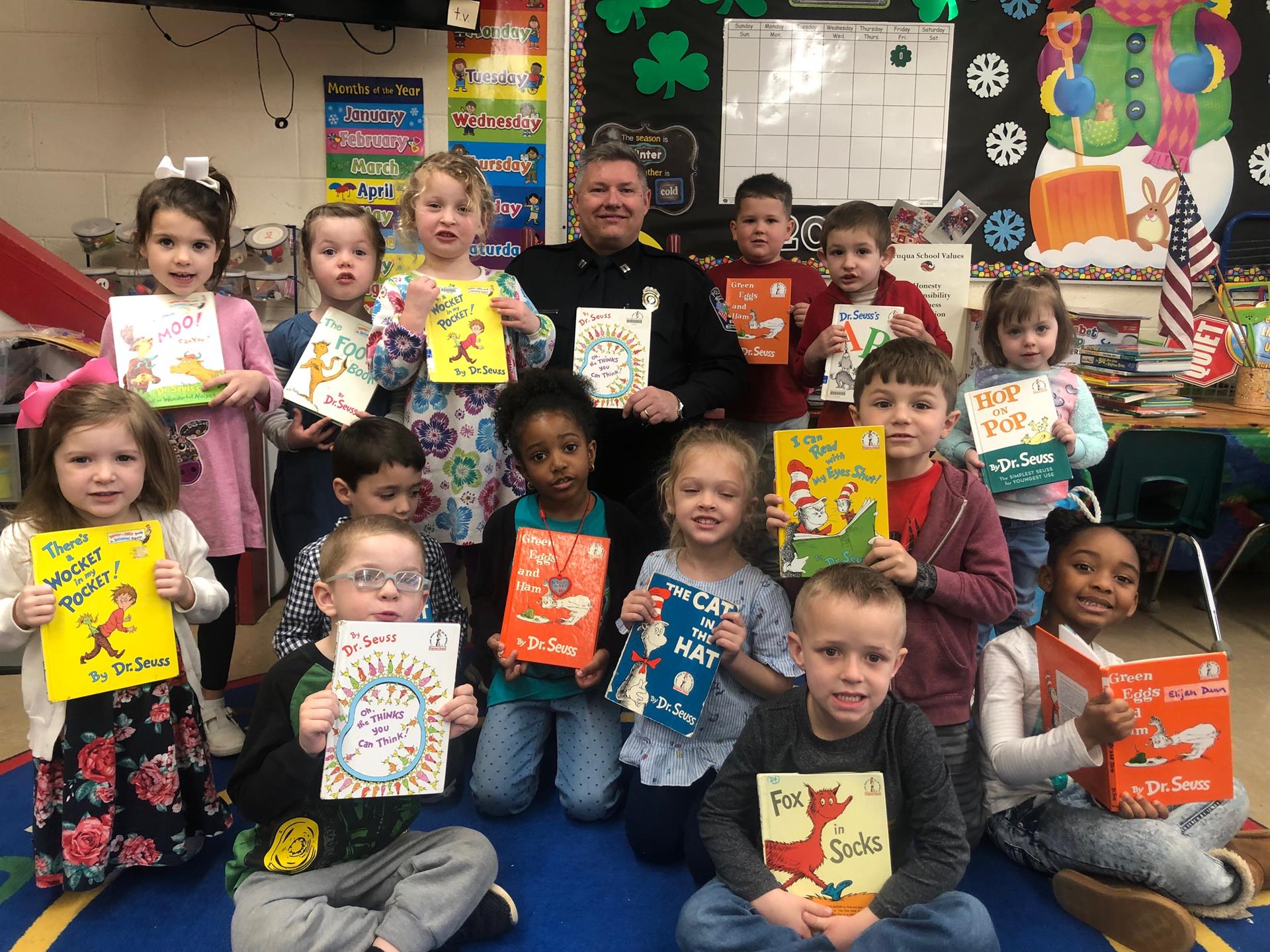 The PK4 students celebrated Dr. Seuss's birthday in style. On Thursday, February 28th, students traveled to Longwood University to see "A Salute to Dr. Seuss". On Friday, March 1st, sixth-grade student, Marissa Dempsey, came into the classroom and read the story of The Lorax. After reading the story, Marissa made truffula trees with the children during snack. Our second visitor for story time was Officer Hogan from the Farmville Police department.  Officer Hogan read Dr. Seuss's Oh, the Thinks You Can Think, and There's a Wocket in My Pocket.  The children had a great time rhyming words from the stories with Officer Hogan.  Each child also brought in his or her favorite Dr. Seuss book from home and made a floor graph with the books. The most popular book was Green Eggs and Ham.  What a fun way to celebrate Dr. Seuss's 115th birthday!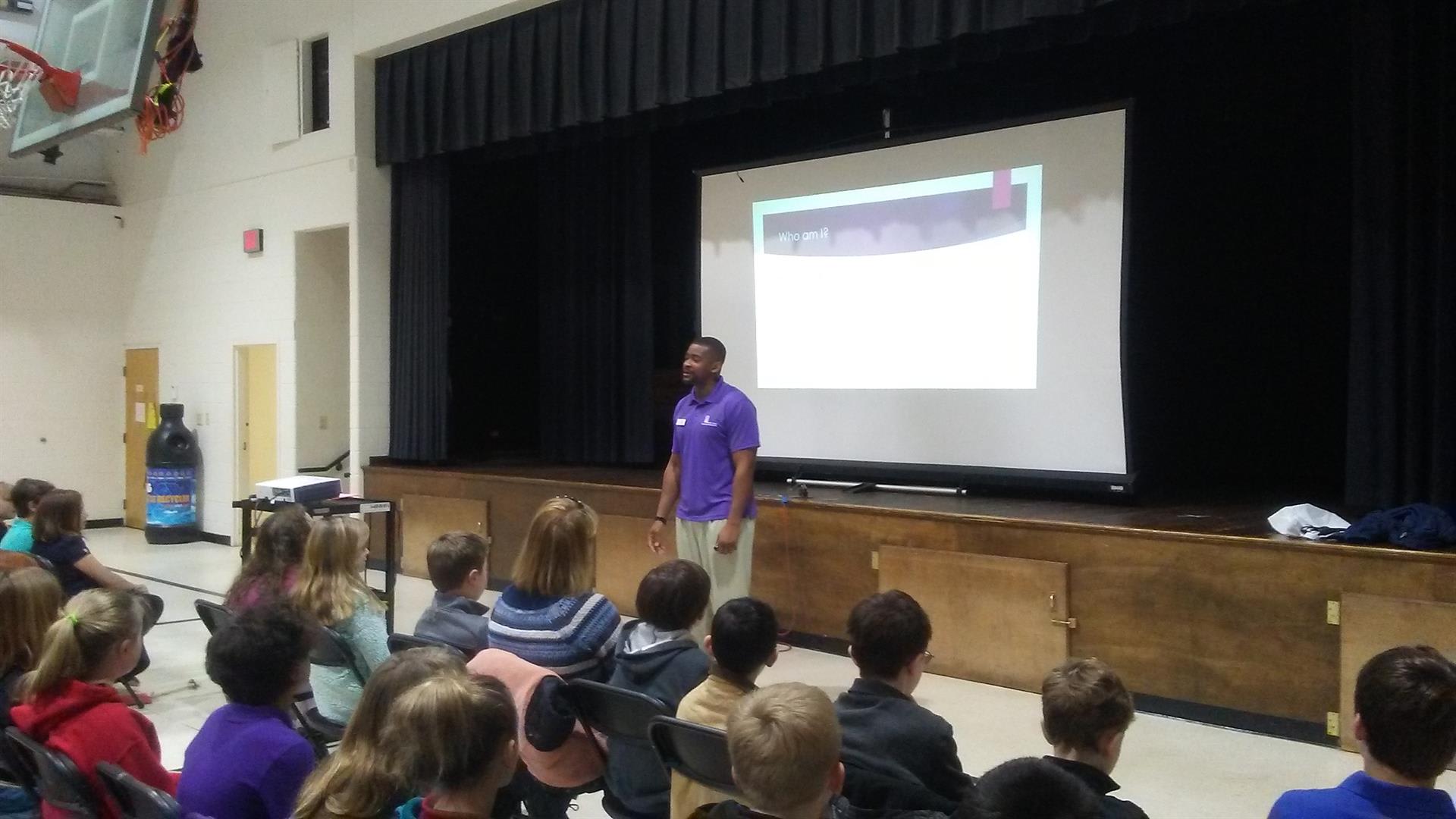 Cainan Townsend, Director of Education and Public Programs at the Robert Russa Moton Museum, visited Fuqua School's 4th-8th graders. His presentation, The Moton Story, shared the history of the Civil Rights Movement and how this impacted our country and Prince Edward County. He also gave a pictorial history of Prince Edward County, showing pictures of the different schools and helping students make comparisons between them. Townsend also had the students participate in several interactive activities, including a simulation to demonstrate the difference between equality and equity. He also discussed the differences between sympathy and empathy and how kids can show empathy to people who are different from them.
Agriscience Students Get Hands Dirty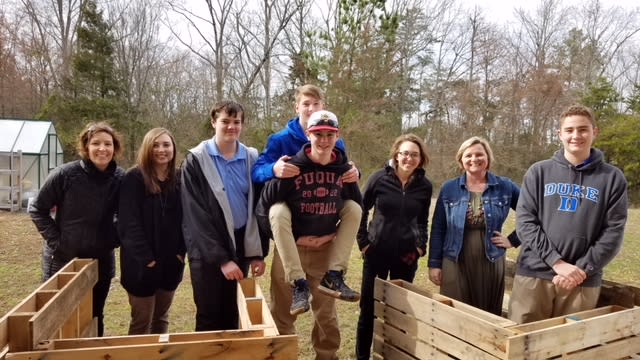 The Agriscience class has teamed up with Prince Edward County Cooperative Extension agents, Katy Overby and Nicole Shuman. The students will help establish the garden at the extension building. They will travel to the garden during 10 class periods. In these visits, students will gain a better understanding of the importance of soil and IPM (Integrated Pest Management) techniques. They will get their hands dirty by planting seeds, helping build a compost bin and learning how to establish an edible garden.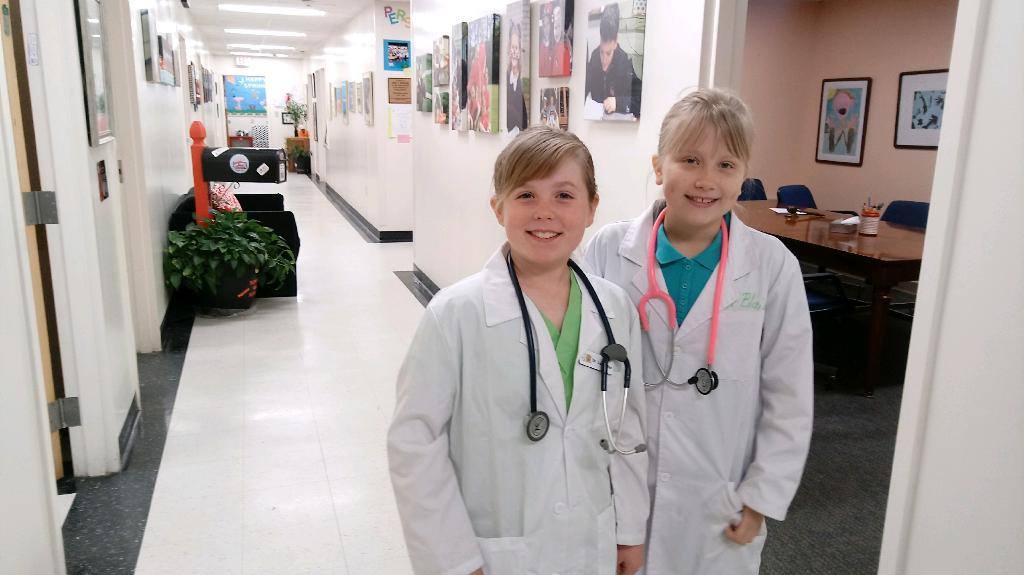 Students in grades K-5 participated in Career Day on Friday, March 1. To celebrate the day, students were encouraged to wear clothing representing their future or favorite careers.  From teachers to doctors to bankers to contractors, the Lower School campus was filled with students dressed for a variety of dream jobs.  During this event, students rotated in stations throughout the morning and heard from a multitude of presenters including a clinical laboratory scientist, a nurse, an art professor, a nurse practitioner, a fire chief and the owner of W.C. Newman Concrete Company. Among other hands-on activities, students were given the opportunity to use search and rescue equipment, look at bacteria specimens through microscopes and listen to each other's heartbeats.  Students were even able to go outside and see exactly how a concrete truck operates. Career Day was so much fun and provided our littlest Falcons with the chance to explore new career ideas they may never have considered.  A huge thank you goes to all of our volunteers who took time out of their busy careers to be with our students on Career Day.
Upper School SCA Officers Attend Moton Community Banquet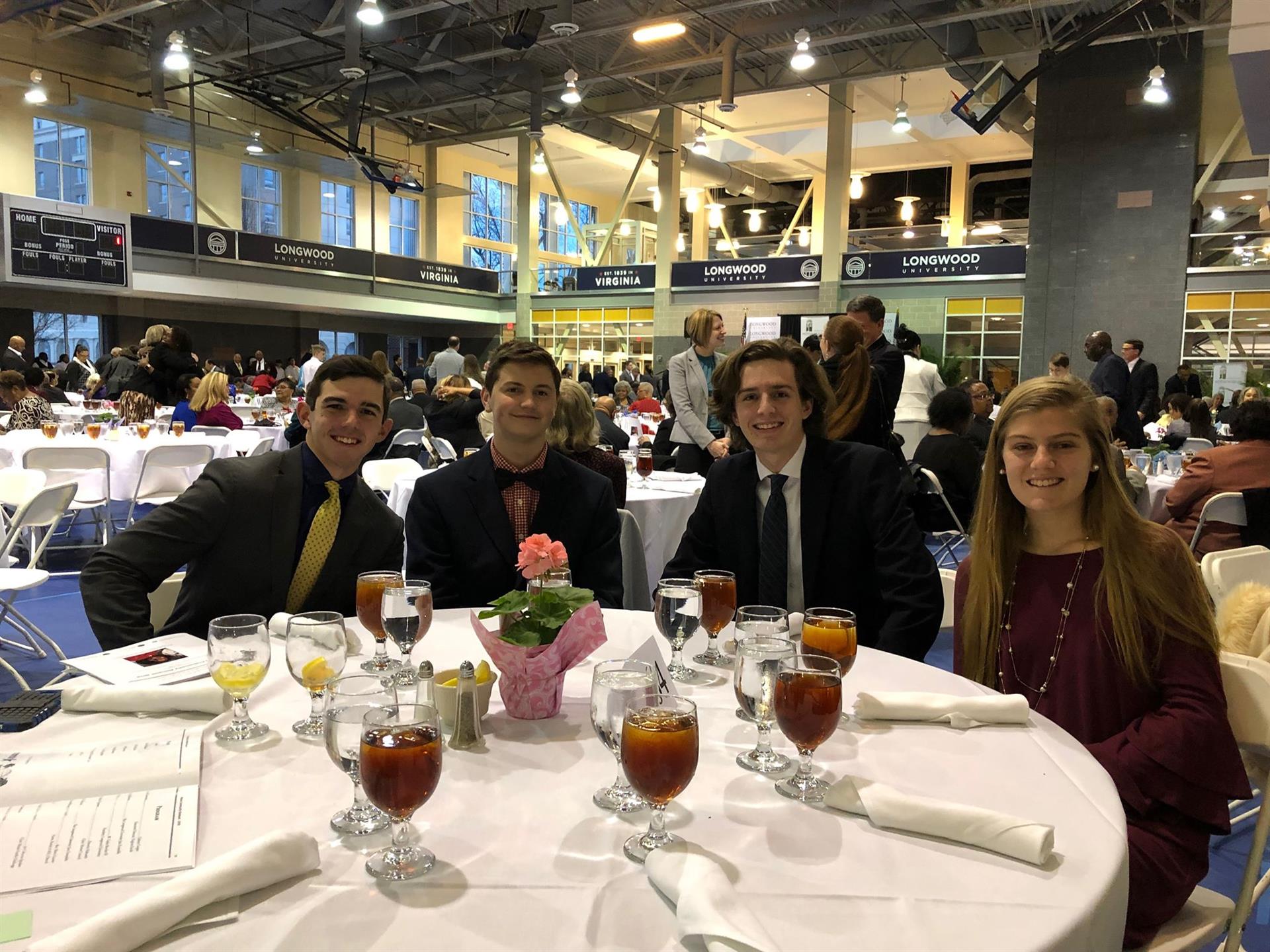 On Saturday, March 2, the Upper School SCA officers and other members of the Fuqua family attended the Moton Community Banquet at Longwood University. They heard from Chief Deputy Attorney General, the Honorable Cynthia Hudson, who was born and raised in nearby Nottoway County. Hudson detailed her inspiring educational history, growing up as one of a handful of African American students in her elementary school during the early days of desegregation. Her inspiring story included her graduation from Nottoway County High School and obtaining degrees from VCU and W&M. In her role managing daily legal operations for the executive branch in Virginia, Hudson believes she can work to benefit the less fortunate by fostering fairness and compassion in both policy and law enforcement.
Dr. Seuss's Birthday Bash at Hampden-Sydney College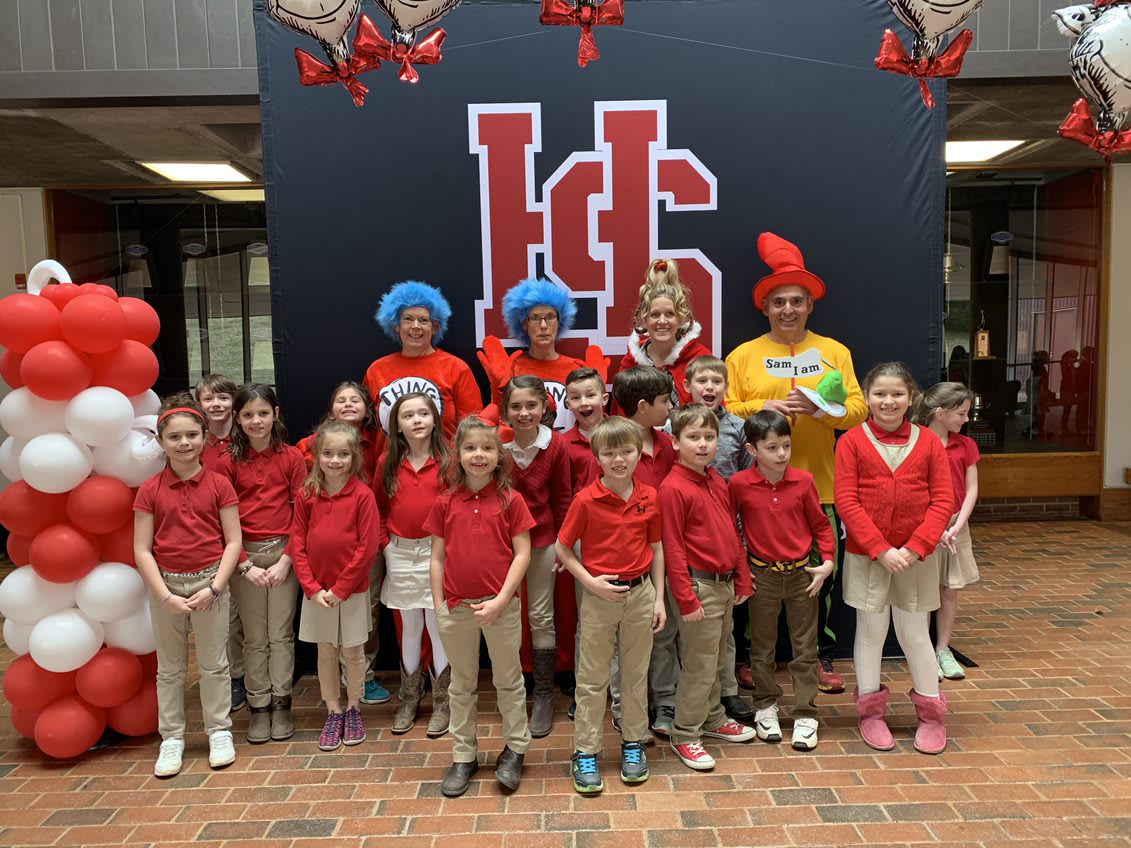 On Wednesday, February 27, the 2/3 classes attended a Dr. Seuss Birthday Bash at Hampden-Sydney College. There were a lot of fun activities including clowns, games, balloons and bouncy houses for the students to enjoy. Dr. Seuss characters could be seen throughout the day, including the Grinch. The students were also given a Dr. Seuss book autographed by Hampden-Sydney athletes. While there, students were visited by current Hampden-Sydney students who are Fuqua alumni.
Meet L/S & M/S Student Teacher: Malia O'Donnell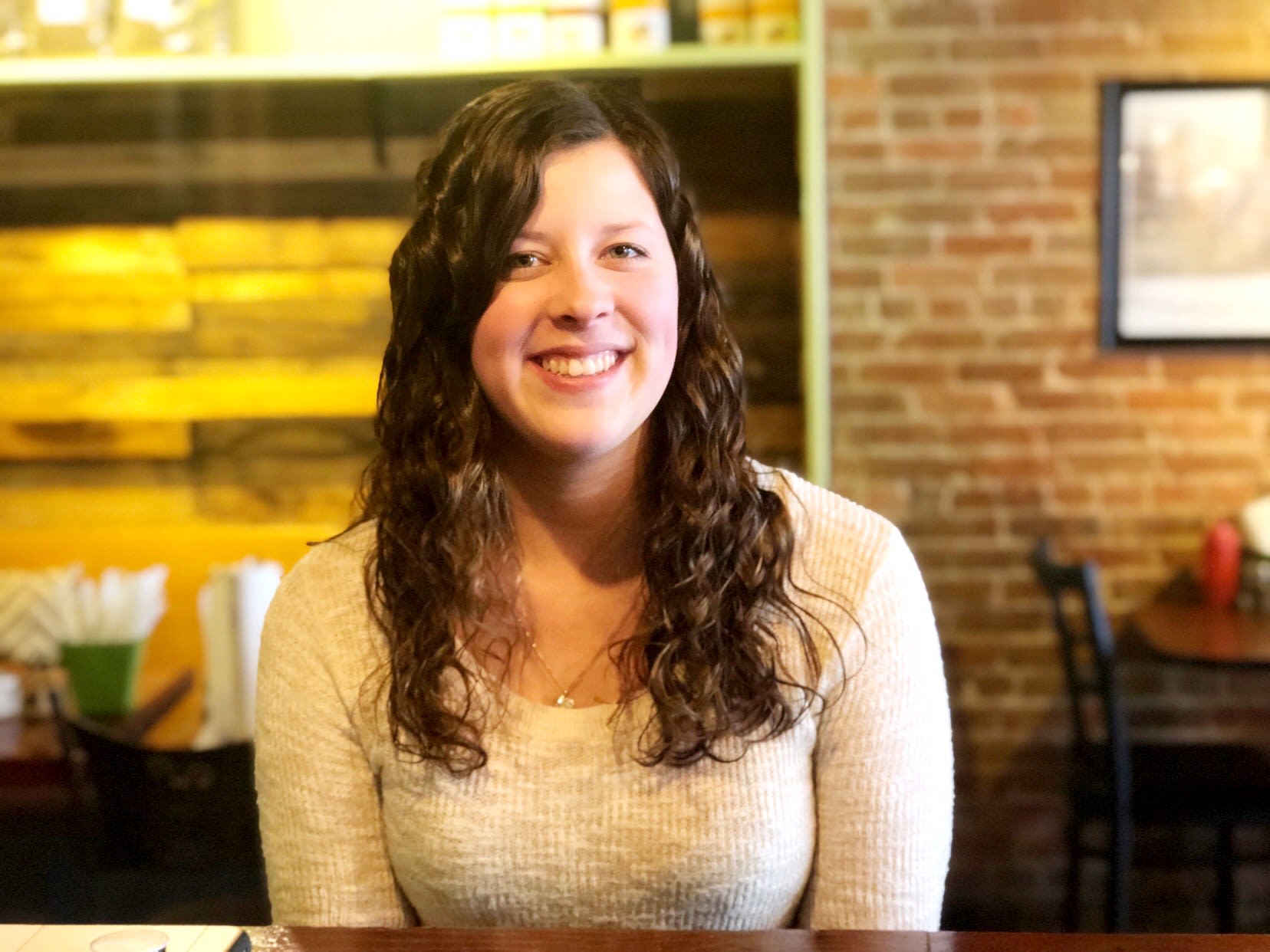 Malia always wanted to go to Longwood University to pursue her dream of teaching. She accomplished her goal and graduated in 2018 with a Bachelor of Science in Liberal Studies with a concentration in Elementary Education. Now, Malia is pursuing a new goal. She is currently completing her Master's of Science Degree in Special Education at Longwood in order to become the most effective teacher she can be for all children in her future classroom.
Working in the Lower and Middle Schools with cooperating teacher, Lynne Lindsay, as well as with Amy Rostan, Malia is gaining experience with children from pre-k/kindergarten through eighth grade. Having attended an independent school during her middle school years, Malia states, "Nothing has really changed. The kids still act the same and that's interesting to me." As for her greatest challenge, Malia believes middle schoolers are capable of more sophisticated thoughts and this keeps her on her toes. Stop by to say hello to Malia anytime until her last day, May 10, 2019. 
Envirothon Team Participates in Workshop
On Tuesday, March 5th, students on the Envirothon team enjoyed an informational workshop hosted by the Piedmont Soil and Water Conservation District.  While at this day-long event, team members learned and reviewed concepts related to aquatics, forestry, technology in agriculture, soils and wildlife. Pictured above are Sebastian Cannady, Audra Murphy, Savannah Wilson and Amber Bruce reviewing how to delineate a watershed on a topographic map.
Books Donated to Virginia Children's Book Festival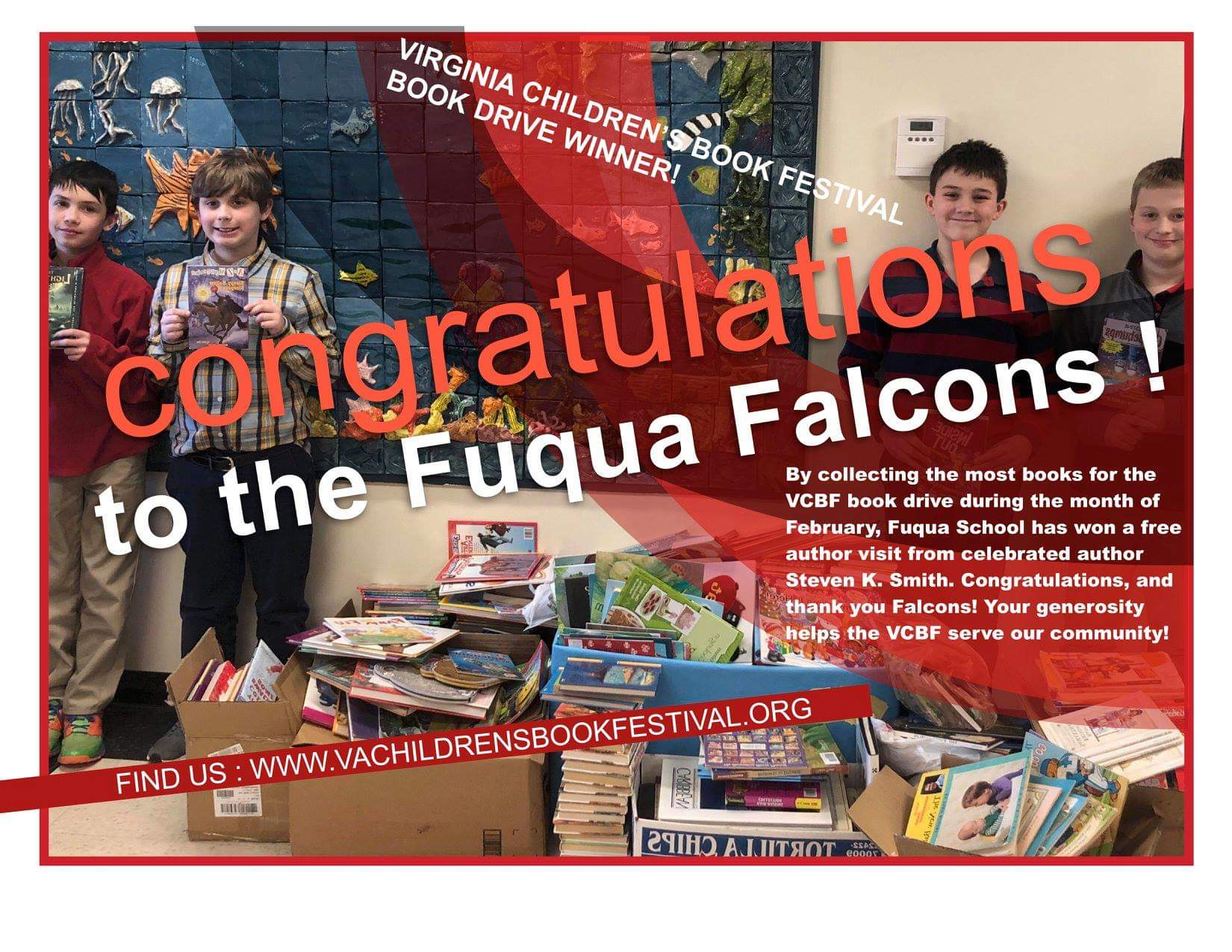 The Lower School SCA hosted a book drive for the Virginia Children's Book Festival. Lower and Middle School students donated gently-loved books throughout the month of February. Fuqua wasn't the only school collecting books. Schools throughout the area competed to see which school could collect the most books. As the winner, Fuqua Lower and Middle Schools will receive an author visit from Stephen K. Smith! Mr. Smith is the author of The Virginia Mysteries series and The Brother Wars. We are so excited about this upcoming visit!