Fuqua School Falcon Flyer - 10/15/2020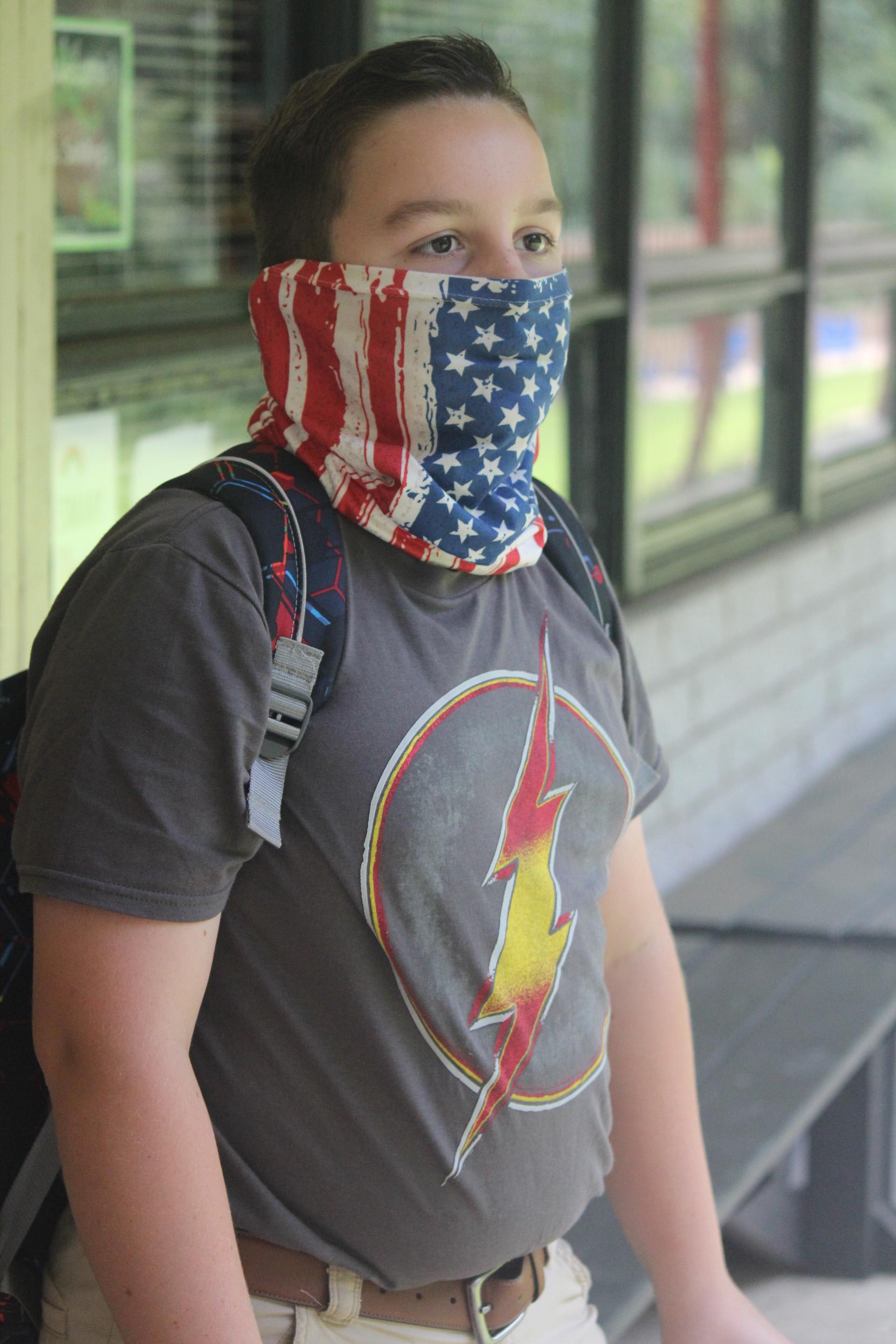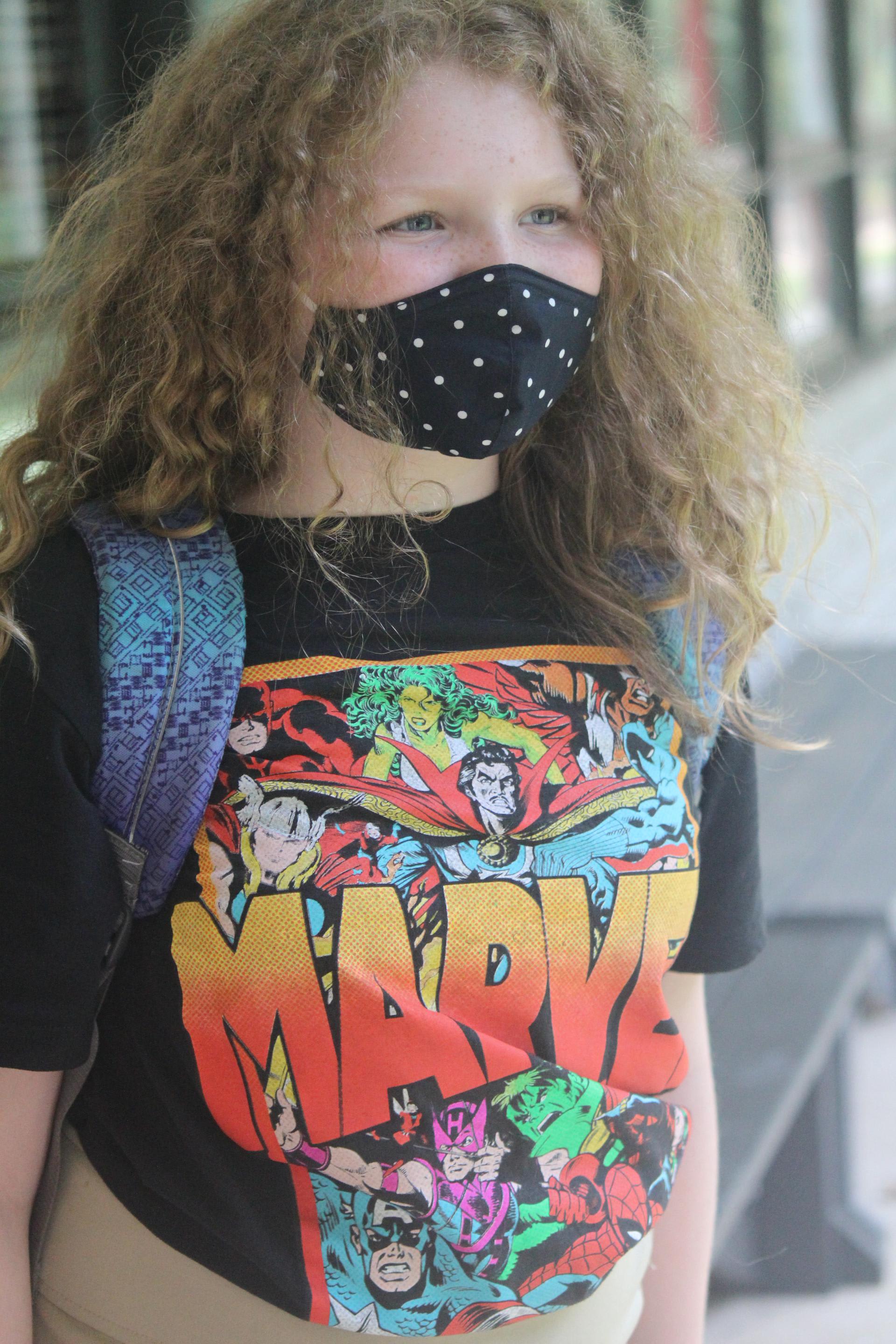 Fuqua Family,
Recently, I was asked by a friend about how our school was doing in handling all the many challenges associated with COVID-19. In response, I outlined all the many steps (or should I say strides) that we have made as a school community. As I outlined these steps, I realized that none of this would be possible without us working together.
A day in the life of our students presently involves the washing and sanitizing of hands several times a day, the adjusting of masks, the maintaining of social distance, to-go plates in the cafeterias, and temperature checks. A day in the life of our faculty presently involves the wearing of face coverings and shields while teaching, the wiping down of desks repeatedly throughout the day, and the teaching of students both online and in-person simultaneously. A day in the life of our staff presently involves the restructuring and adjusting of schedules and activities, the monitoring of visitors to our campus, and weekly conversations (and sometimes daily) with Dr. Nash and the Piedmont District Health Department. A day in the life of our parents presently involves keeping students at home when they do not feel well, helping our students remain safe away from school, staying in constant communication with our faculty and staff, and supporting heightened mitigation strategies when asked.
In looking back at the past nine weeks, an old saying comes to mind. "Teamwork makes the dream work" and I want you all to know that I am incredibly proud of all the work we have done as a family, thus far, to confront this virus.
Together, we have been able to remain on campus.
Together, we continue to provide excellent instruction for our students.
Together, we remain vigilant in our efforts to keep our students, our staff, our faculty, and our families safe and healthy.
Together, we will get through this.
Paul "Chance" Reynolds, M.P.A., Ed.S.
Head of School
Fuqua School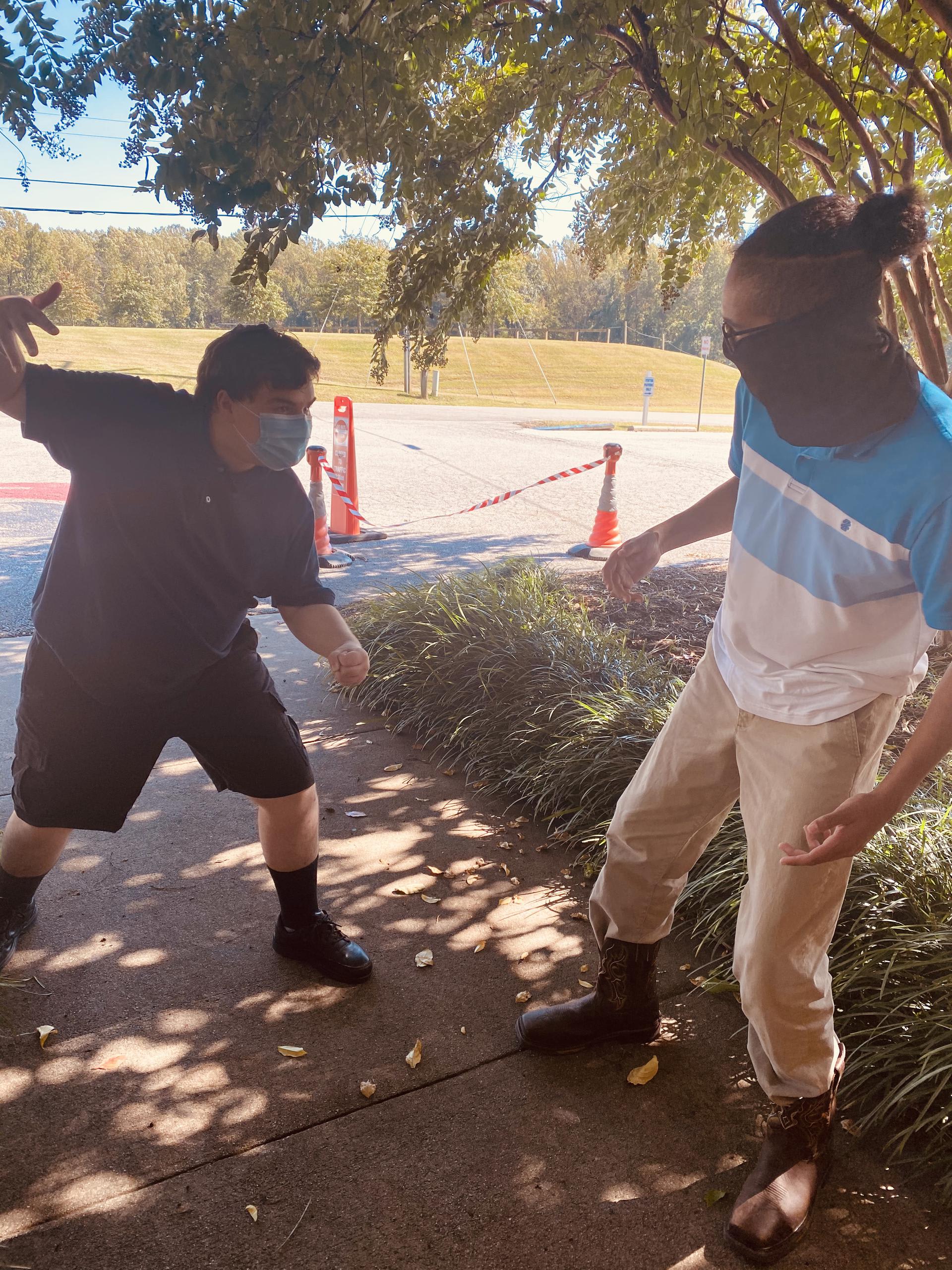 On Friday, October 2, the 7/8 Performing Arts class of the STEAM Wheel presented their epic rap battles. This project included research of a topic, writing a logical defense for a debate, making that defense rhyme, costume planning, and the physical act of performing. The students came up with topics such as books vs. movies, hunting vs. fishing, and sneakers vs. high heels among others. It was a fun day in class!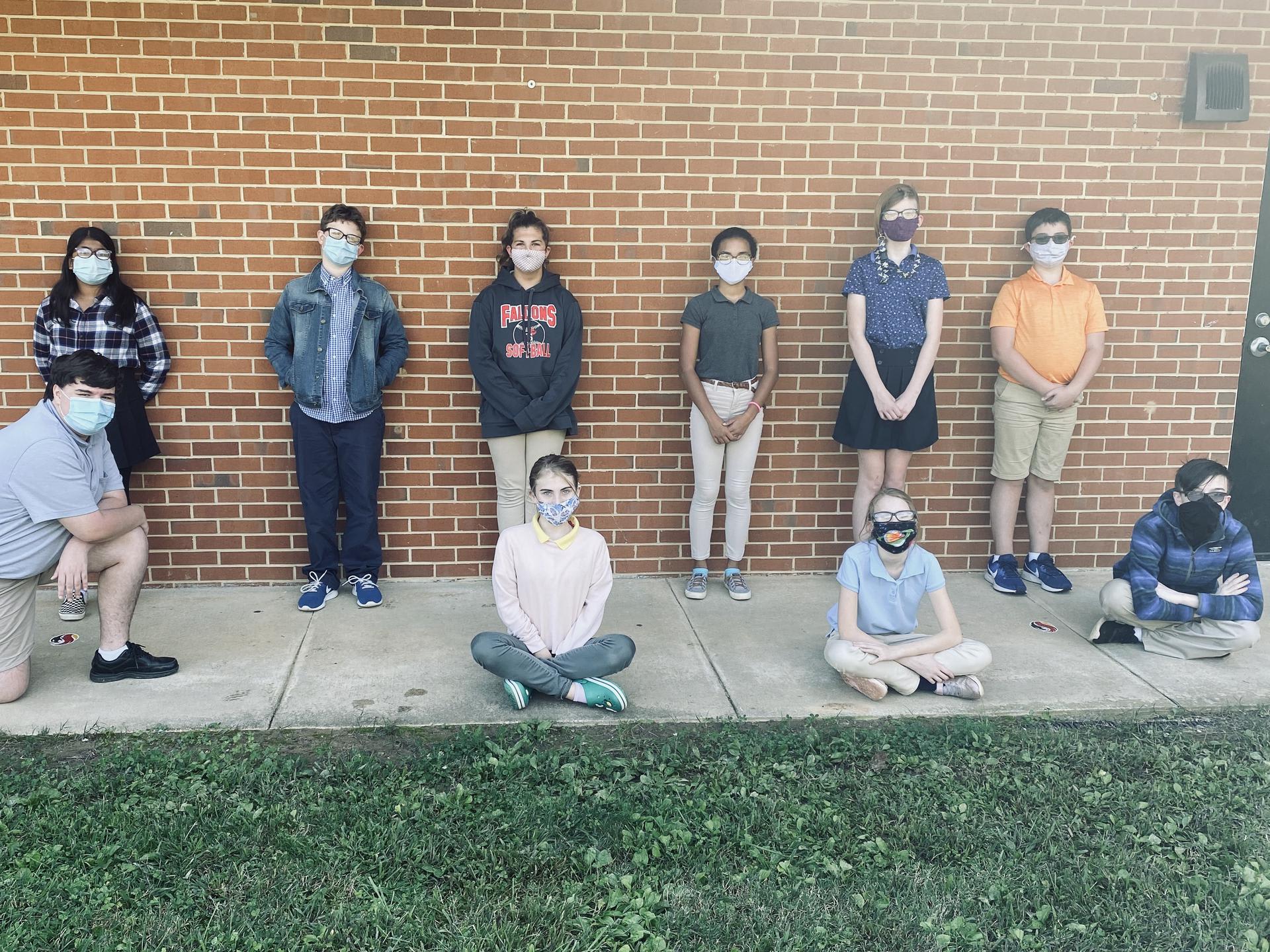 Middle School SCA Officers Selected
Congratulations to the 2020-2021 Middle School SCA. Pictured top left-right: Malaika Ahmed (Treasurer), Silas Bego (Reporter), Vivian Eason (President), Isabella Thompson (Vice President), Elle Franssen (Secretary), and Murphy Witko (Homeroom Representative). Left to right in the bottom row, Homeroom Representatives: Luke Jarrett, Emma Grant, Taylor Elmore, and Johnny Hall. Not pictured are Homeroom Representative, Colin Jamerson, and Middle School SCA Sponsor, Dara Tucker.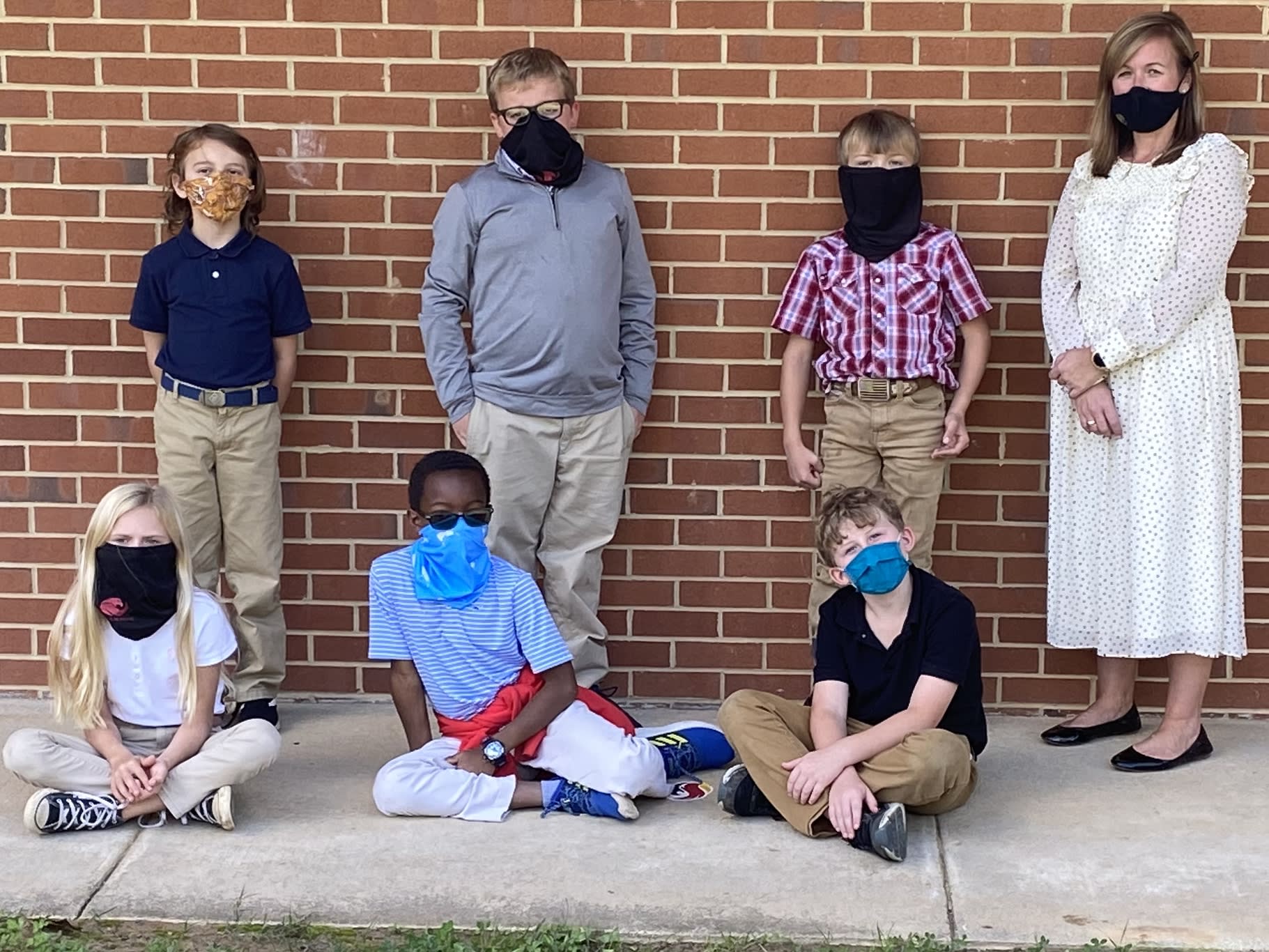 Lower School SCA Officers Selected
Congratulations to the 2020-2021 Lower School SCA. Pictured top left-right: Rocco Fortino (Secretary), Wyatt Tucker (President), Reece Pembelton (Treasurer) and Krystal Tucker (Lower School SCA Sponsor). Pictured bottom left-right, Classroom Representatives : Maddy Morris, Scott Aldrich and Clay Austin. Not pictured: Page McWilliams (Vice President)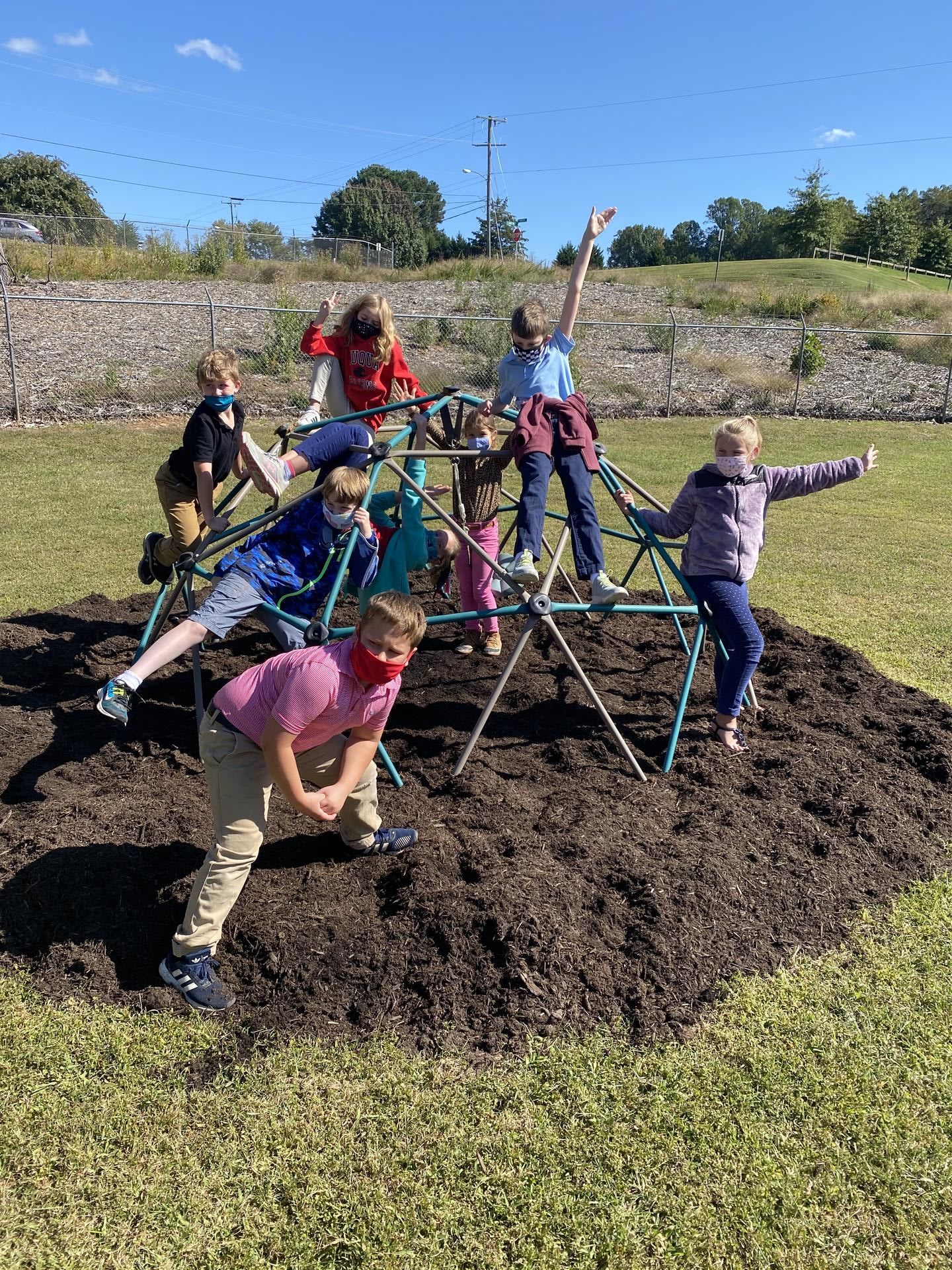 Climbing Dome Added to 4/5 Playground
The 4th and 5th grade students happily welcomed a new piece of equipment to their new playground area- a climbing dome. The dome, generously donated by 4th grader, Teagan McKinney and family, provides our older lower school students the opportunity to both climb and swing on the attached swing. And, the rock climbing hand grips help the students develop strong muscles and coordination. This climbing dome will allow our students yet another opportunity within this new outdoor space to use their imaginations in devising new games and scenarios during recess.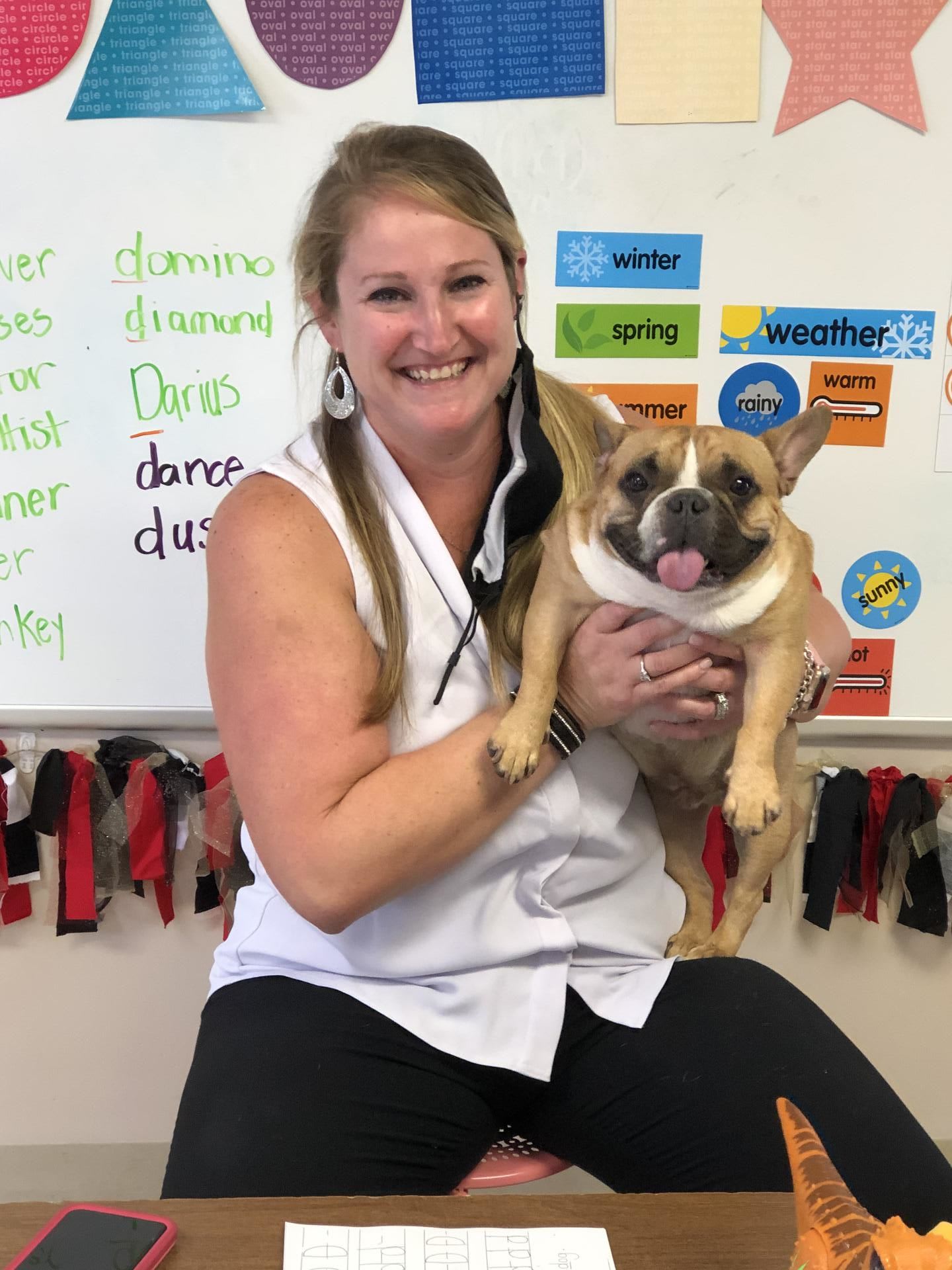 Our PK classes have been busy this year learning about the letters of the alphabet. During the beginning of October, students explored the letter "D". They focused on the sound "D" makes, traced the upper and lower case versions of the letter, and brainstormed words and classmates' names that begin with the letter. To help end their letter "D" study, Mrs. Call brought in her dog, Harley, to visit. And, Mrs. Davis's class made homemade donuts to celebrate "D".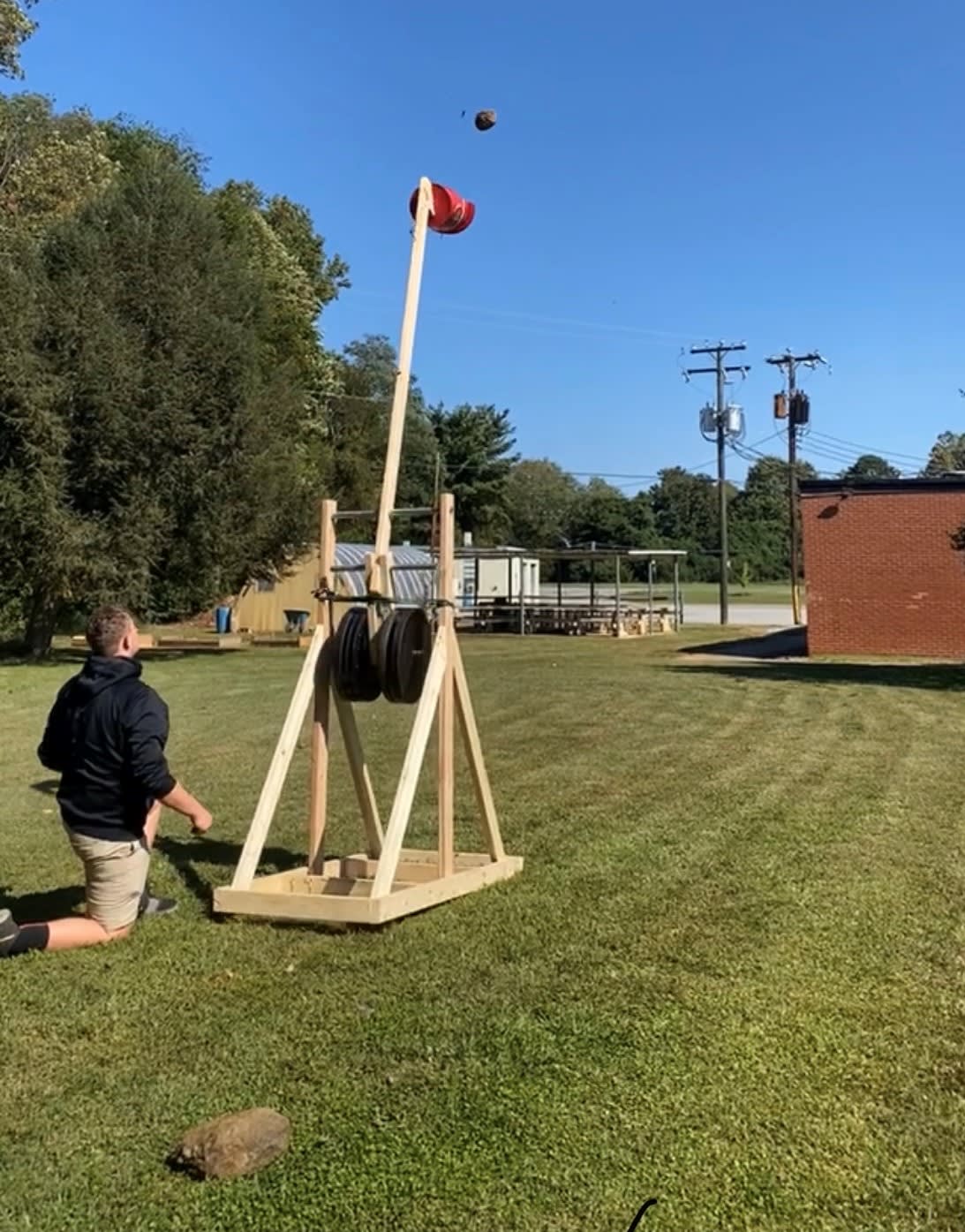 Pumpkin Smashing Physics Style
The upper school's Honors Physics class is building a trebuchet to launch decorative pumpkins on Friday, October 30th for the lower school's Pumpkin Chunkin event . During this building process, the class has had the opportunity to explore a multitude of physics concepts such as position, velocity, acceleration, projectile motion, friction, forces, and potential and kinetic energy. The students have enjoyed the hands-on learning. However, building the trebuchet has not been an easy process. Through many trials and errors, they are almost complete with our pumpkin smasher!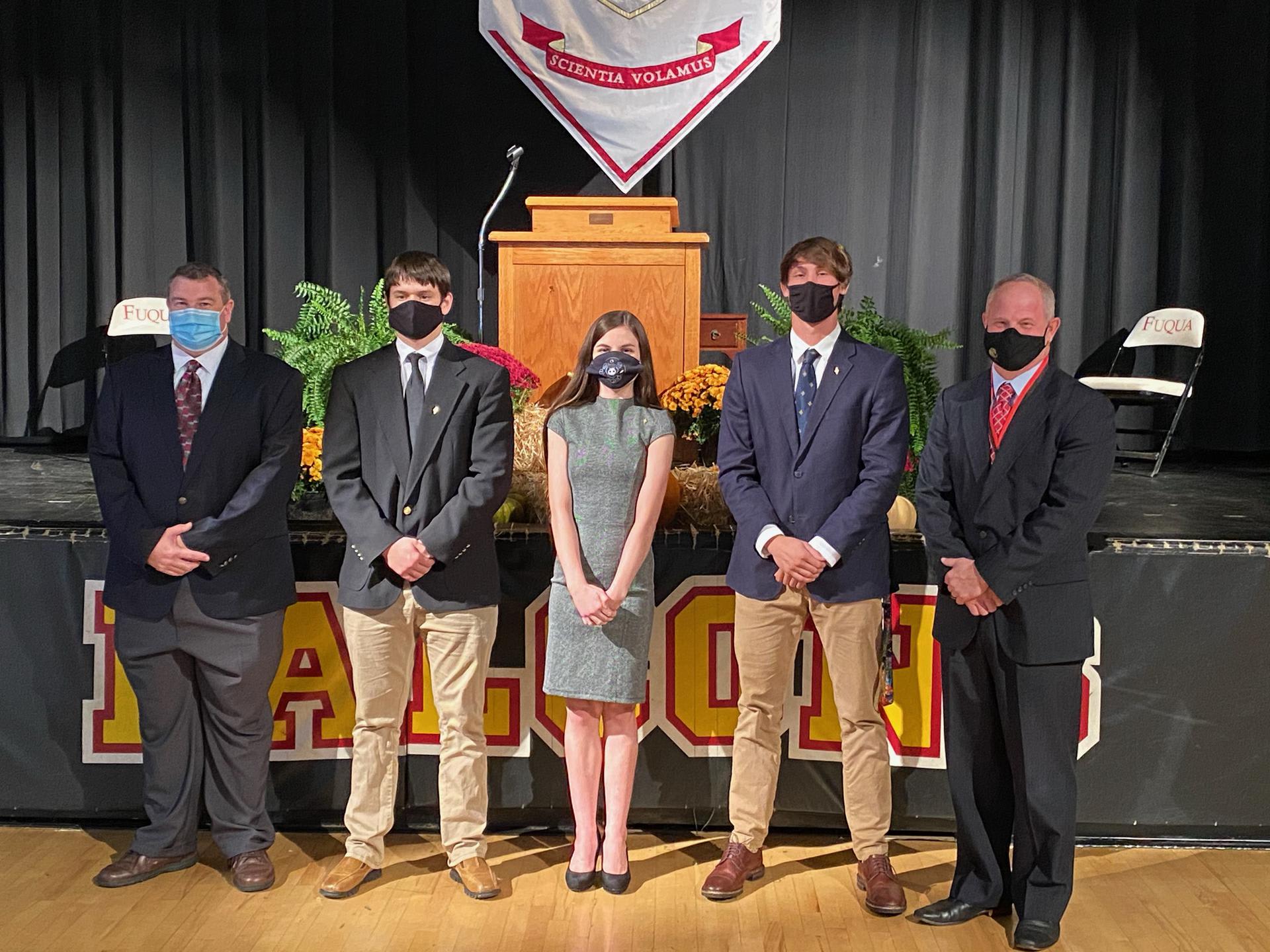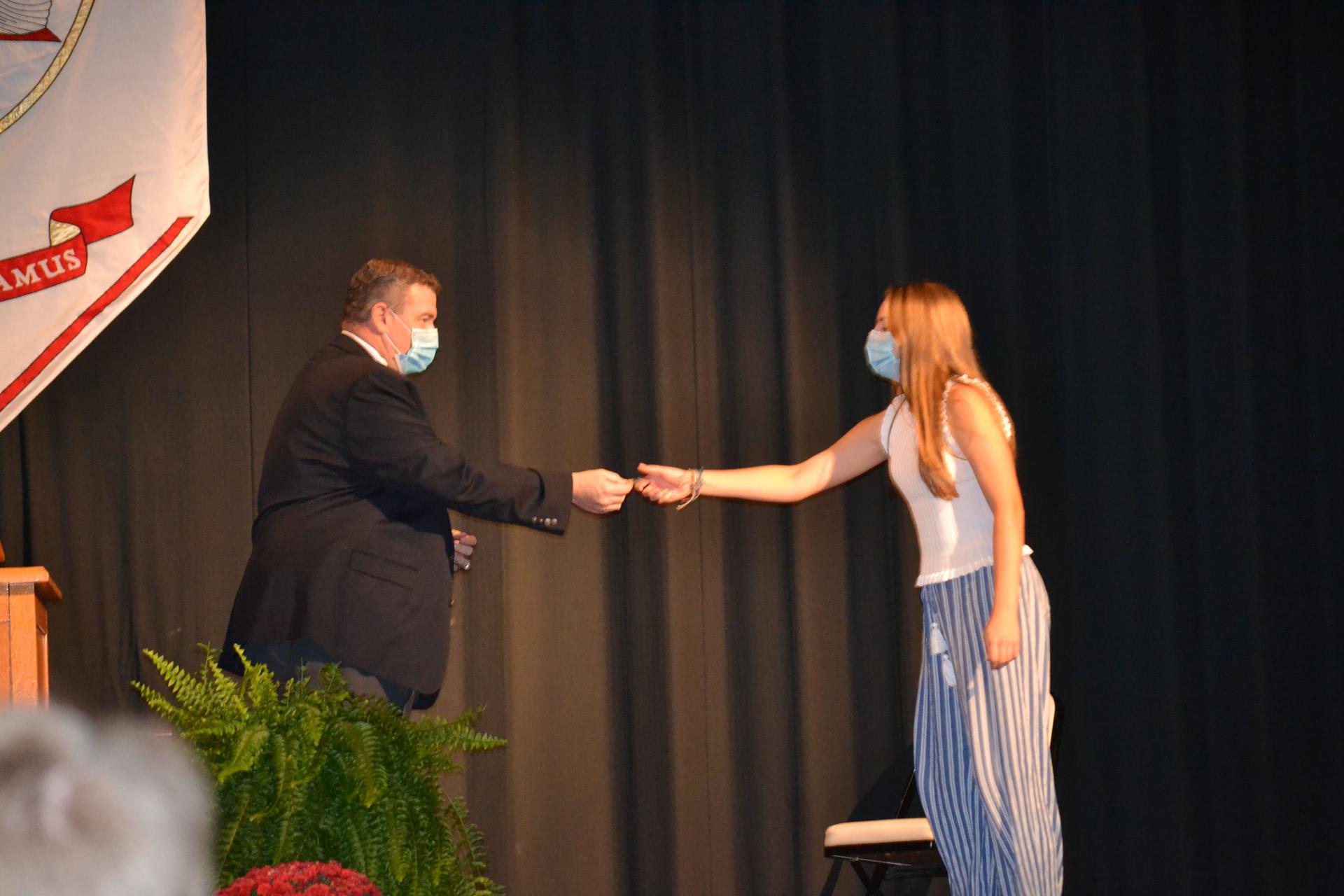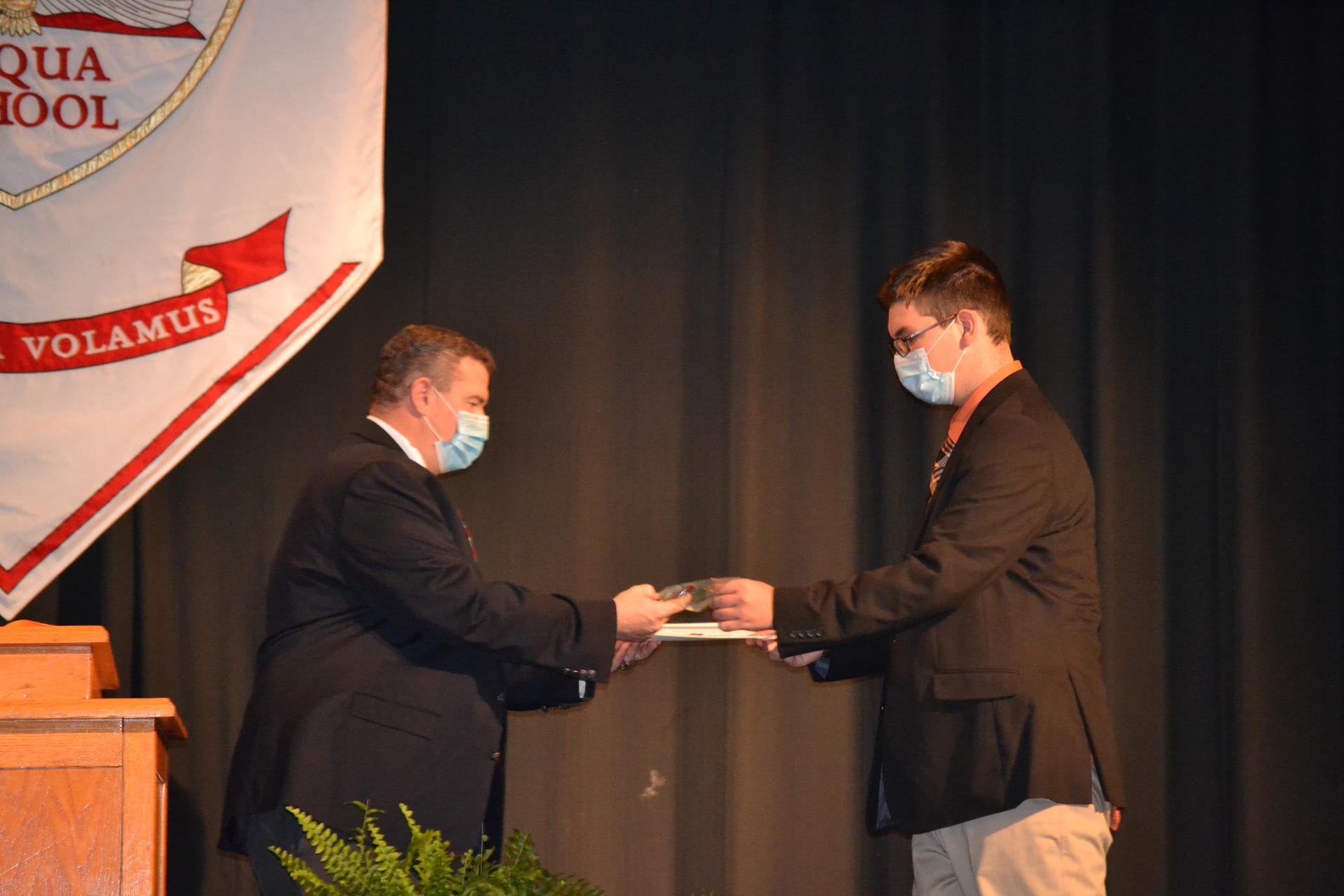 US Fall Awards Program Held
Three members of the Class of 2021, Luke Gee, Tyler Harris, and Catherine Rutherford were inducted into the Cum Laude Society at the Upper School Fall Academic Awards program on October 9. Each inductee received a Cum Laude pin, certificate, and signed the chapter membership book. These members of the Class of 2021 are the first three inductees for this academic year; the final three will be inducted during a spring ceremony. The Cum Laude Society, an international organization founded in 1906, recognizes the top twenty percent of each senior class based on grade point average and is dedicated to honoring scholastic achievement in secondary schools. Fuqua School is one of sixteen schools in Virginia to have membership in the Cum Laude Society.
Fuqua School also recognized student achievement in the Scholars Program, which inducts students in grades 10, 11 and 12 based on their academic record from the previous school year. Qualifying students were recognized as High Academic Honors, Academic Honors, and Honors.
Also honored at the assembly were students being inducted into various Academic Societies. Fuqua School has eight Academic Societies, each designed to recognize academic excellence and strong interest in specific content areas. These societies recognize students in English, Math, History, Science, Spanish, Latin, Art, and Theater. Interested students who met the eligibility criteria applied for membership.
"I am very thankful that we were still able to host our annual fall awards program, " commented Jennings Custis, Upper School Head. "Although it was not in our traditional setting, we were able to honor each class in grades 10-12 in three separate programs. Unlike past programs, masks, socially-distanced chairs, and a small setting were all guidelines in place for us to have a safe program; however, we were able to keep with tradition and honor our students. While continuing to be faced with this 'new normal', we are working hard to keep our traditions and programs in place for our students.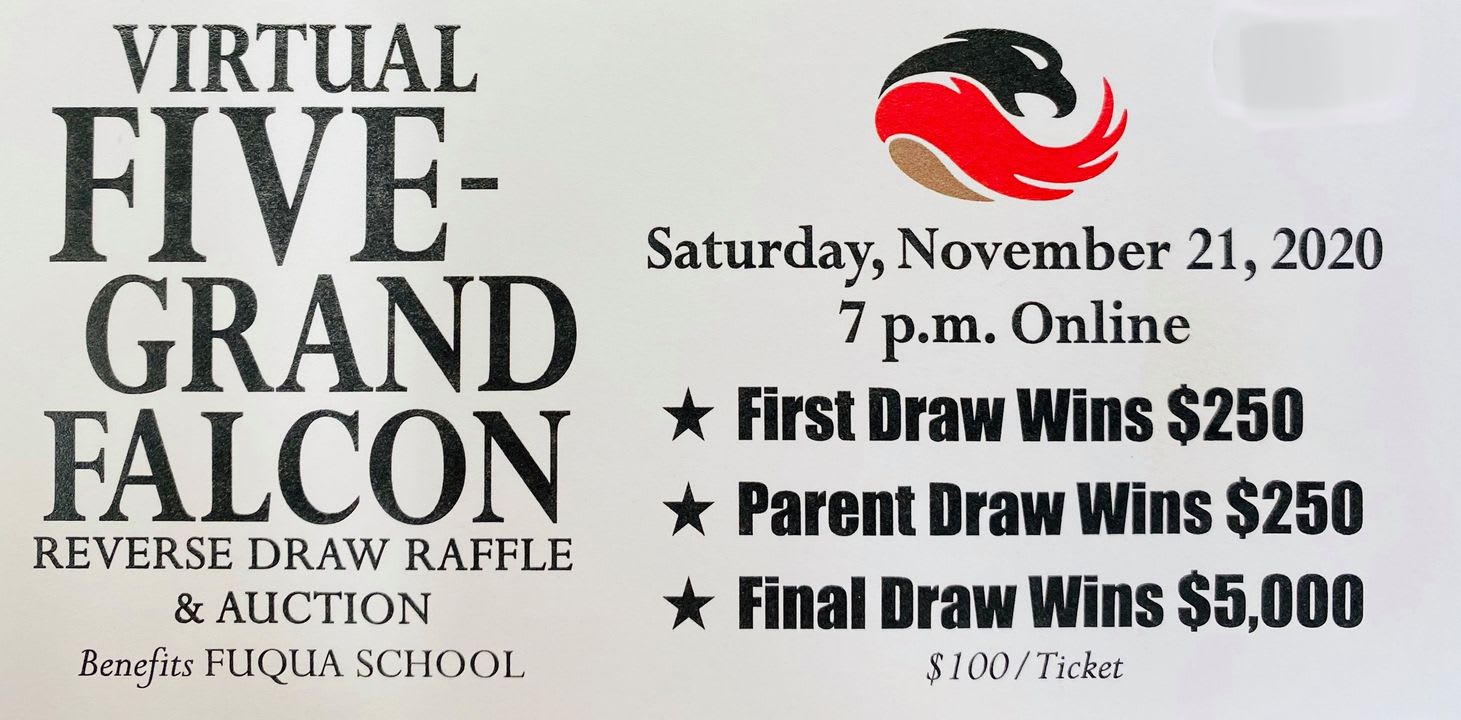 5 Grand Falcon Going Virtual
This year's 5 Grand Falcon event will look slightly different than in year's past due to COVID restrictions. However, our goal is still the same – to raise needed funds to help our students reach their boundless, individual potential. This year's event is scheduled for Saturday, November 21 at 7 PM. Money raised at this event is used for student-centered programs. Every dollar raised will go directly to the school. This year's event will be completely virtual utilizing ZOOM to showcase our reverse draw raffle, and an online auction platform will be available for the auction. The first ticket drawn wins $250 while the last ticket drawn wins $5,000! Parents who purchased a ticket will be entered in a separate drawing with a $250 prize.
Don't miss out! Get your ticket today!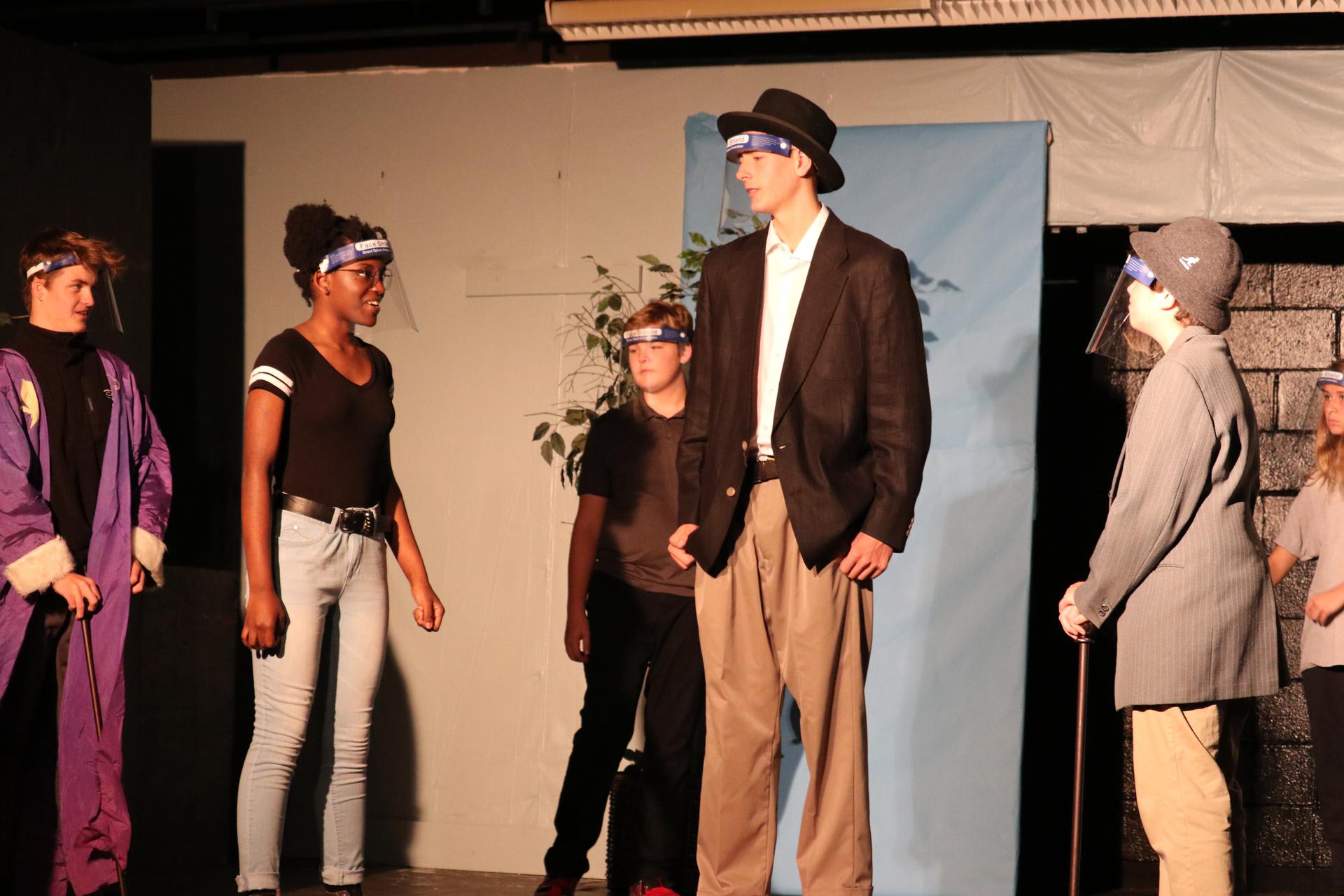 Theater Performs The Spot
On Thursday, October 8th, the freshman theater class performed The Spot, by Patrick Gabridge, for a few faculty and staff members. The short play was about a man who found a comfortable spot to stand. But town members tried everything, including bribery, to make him move. From rehearsals to the performance, the young actors and actresses were able to learn important skills such as recitation and collaboration. Freshman, Heith Taylor, who played the part of a funny businessman, said of the performance, "Our first performance was fun and my part fit my personality perfectly."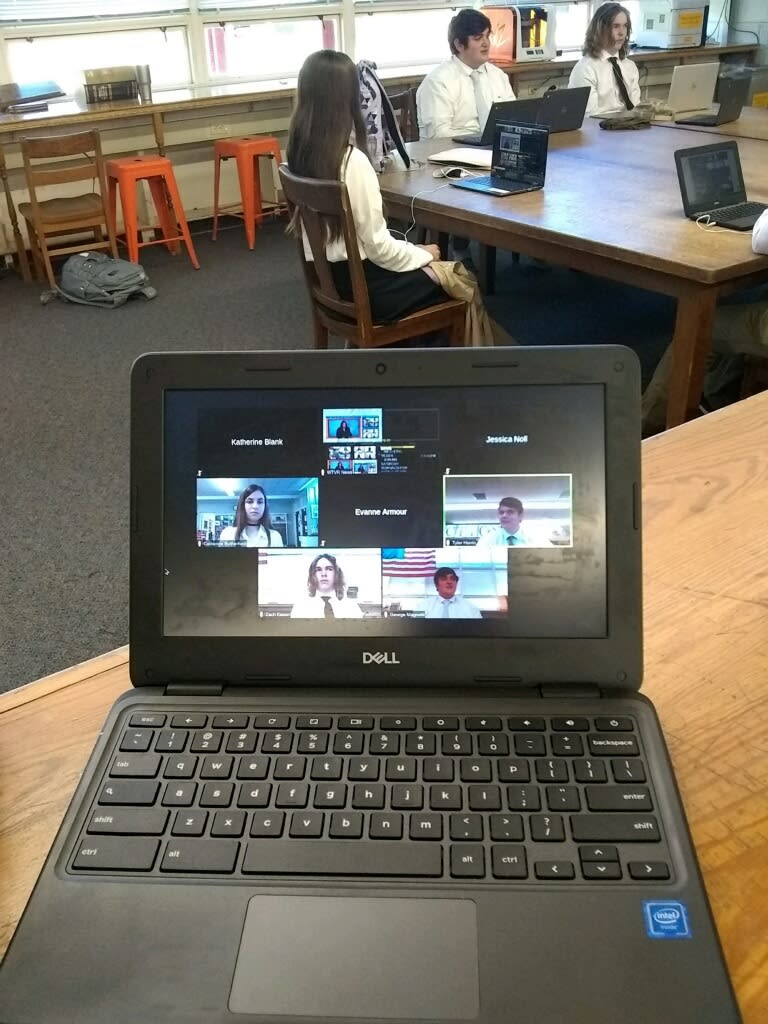 Battle of the Brains Team Competes
Like all other institutions in the year 2020, Battle of the Brains has had to change its format in response to COVID-19. Typically, Fuqua's team of four heads to Richmond to Channel 6 news station, where they meet the opposing team and are taped as they compete. The game consists of several toss-up rounds, in which questions are asked by the host and then answered by whomever buzzes in first; and a category round, in which each team chooses a category, discusses the question as a group, and then the team captain answers the host.
This year, the matches occur via ZOOM, meaning the four team members can compete from their own homes if necessary. Toss-up rounds are completely revamped, with the host asking each individual team member a specific question as a way of accounting for the time lags that sometimes occur with zoom. The category round is the only element that remains unchanged, though when the team captain answers, he has to tell the host that his response is the "final answer," to distinguish between the true answer and the possible answers the team has audibly debated. The results of these zoom matches will be broadcast as usual on Saturday mornings.
Check out the Fuqua School team of Zach Eason, Captain, Tyler Harris, George Magnotti, and Catherine Rutherford this Saturday, October 17 at 10 AM on CBS Channel 6.