Fuqua School Falcon Flyer - 11/01/2020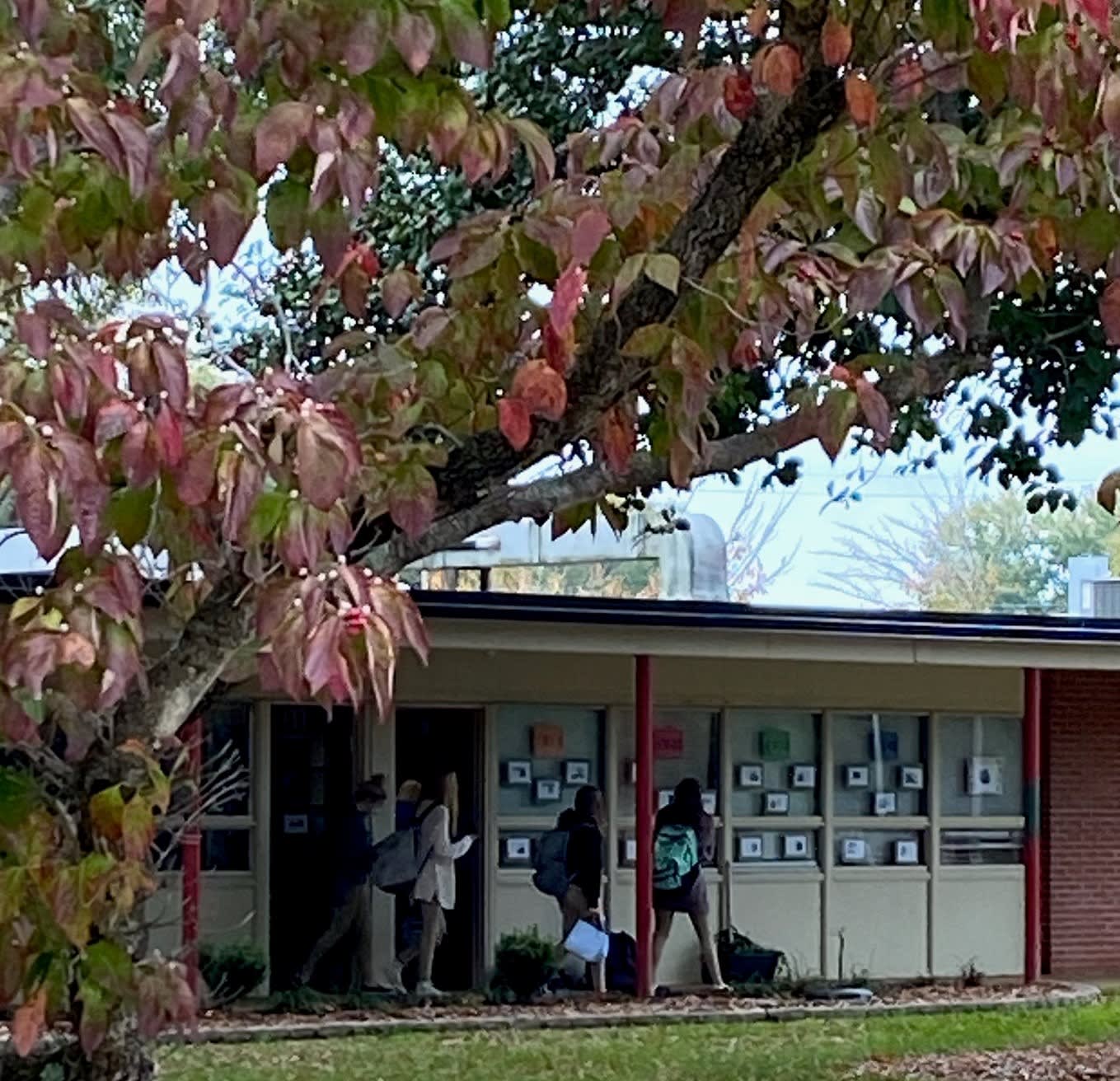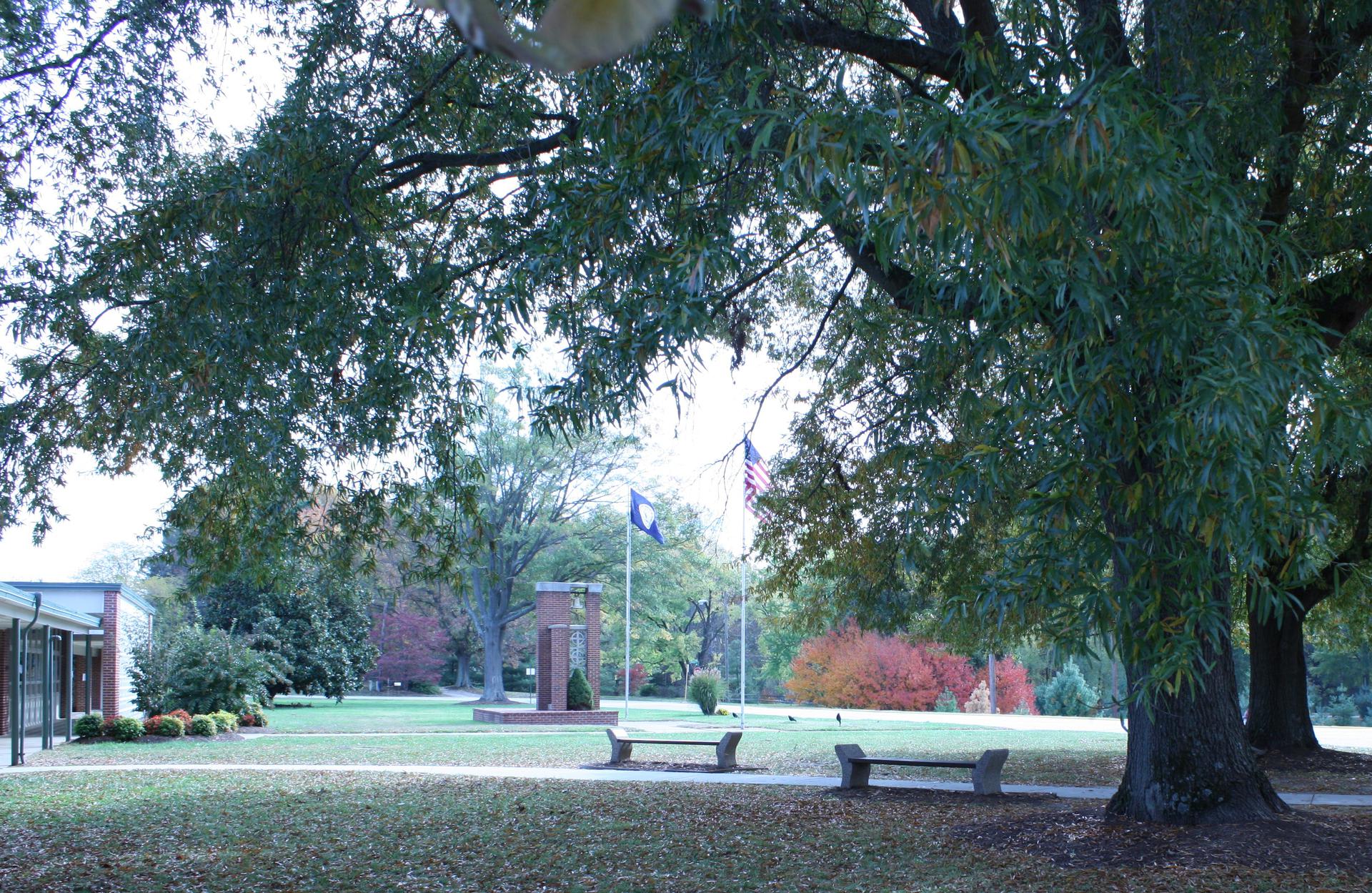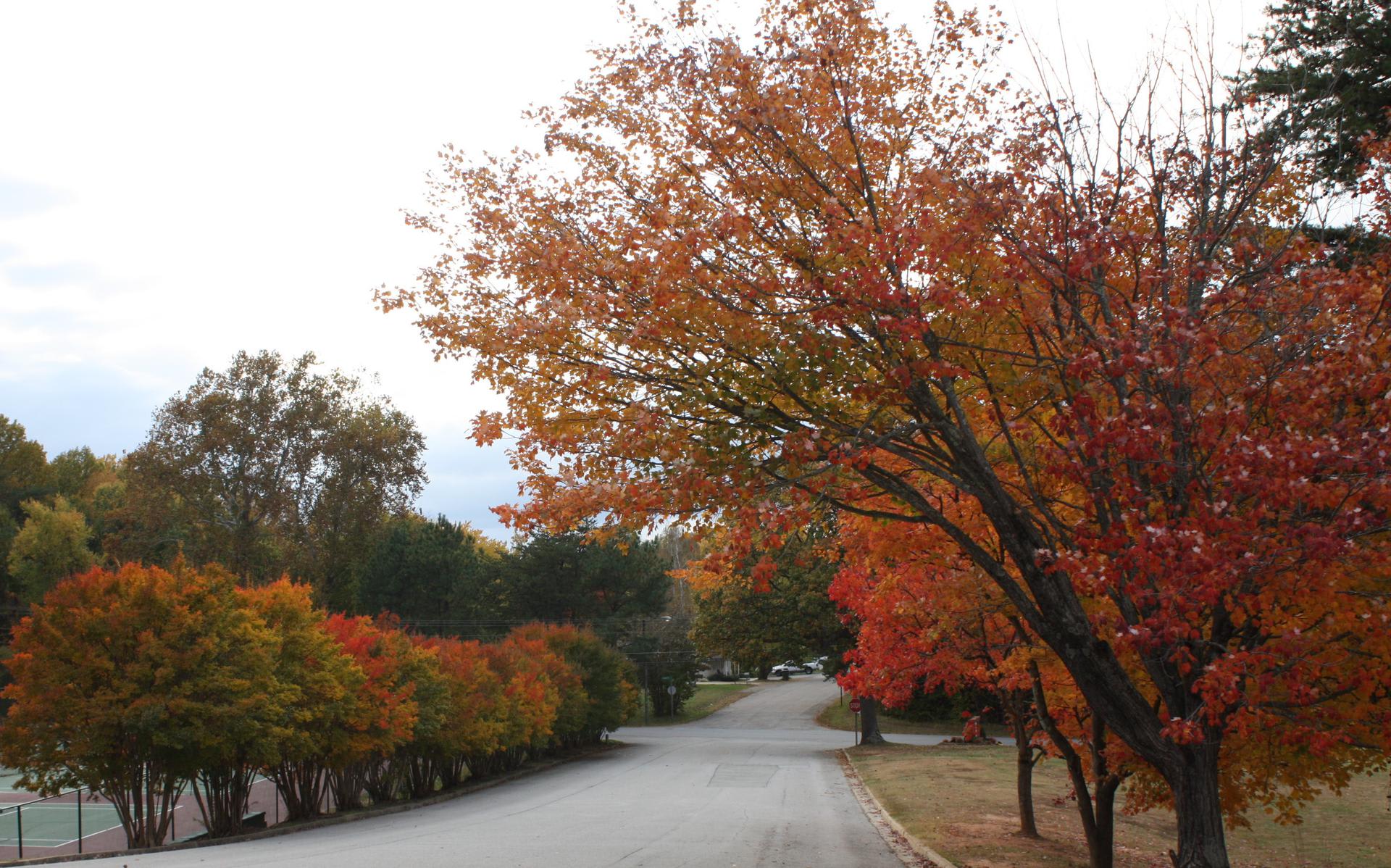 Fuqua Family,
As I watch the many leaves that populate the stately oak trees on our campus turn into bright shades of red, orange, and gold, I am reminded that the Thanksgiving holidays are right around the corner. For me, this has always been a time where I pause to reflect and give thanks to God for the many blessings in my life while gathering with loved ones for turkey and dressing, football, and in my case, a nice long nap that afternoon.
Here at Fuqua School, we are also planning to share all we are thankful for this year by introducing our "Thankful for Fuqua" social media campaign. Every day in the month of November, we will be posting various students, staff, faculty, and families explaining why they are grateful for Fuqua School and what they love about our school. Please be on the lookout for these posts. In addition, this month kicks off our Falcon Fund Drive and features our biggest fund-raising event of the year, the 5 Grand Falcon!
With the Falcon Fund, I am pleased to announce that our Board of Trustees has very generously offered to give a cumulative total of $40,000 as a "match" if we can raise $40,000 as a family! Likewise, the Jessie Ball duPont Foundation has offered to also give us a "match" of $25,000, if the online gifts received through our website reach $25,000! In other words, any gifts made online over the next month have the potential to have three times the impact! (A $1 online gift + A $1 match by JDB Fund + A $1 match by our Board of Trustees = A $3 gift for our students and our school!)
In addition, tax law changes for donations in 2020 due to COVID19 have created another wonderful opportunity for our families to be able to help in new ways! If you are a family who chooses not to itemize, you can now reduce your taxable income by $300 for individuals, and $600 for married couples, by making gifts of these amounts to our school. And, if you are a family who historically itemizes, you now have the unique opportunity to deduct contributions up to 100% of your 2020 Adjusted Gross Income with your gift this year! (To learn more, please reach out to your accountant for more details and advice.)
Lastly, our 5 Grand Falcon promises to be "virtually" awesome this year! No matter whether you are a fan of our online auction items, our 5 Grand reverse raffle, or the fun that surrounds the event, we promise to "zoom" the countdown directly into your living room. Our hope is that many of you will buy a ticket (or two), have a 5 Grand Falcon viewing party in your home, enter to win one of the great auction packages using your phone, and help us in every way you can to continue to support the mission of our school by supporting the 5 Grand Falcon and the Falcon Fund during the month of November!
Paul "Chance" Reynolds, M.P.A., Ed.S.
Head of School
Fuqua School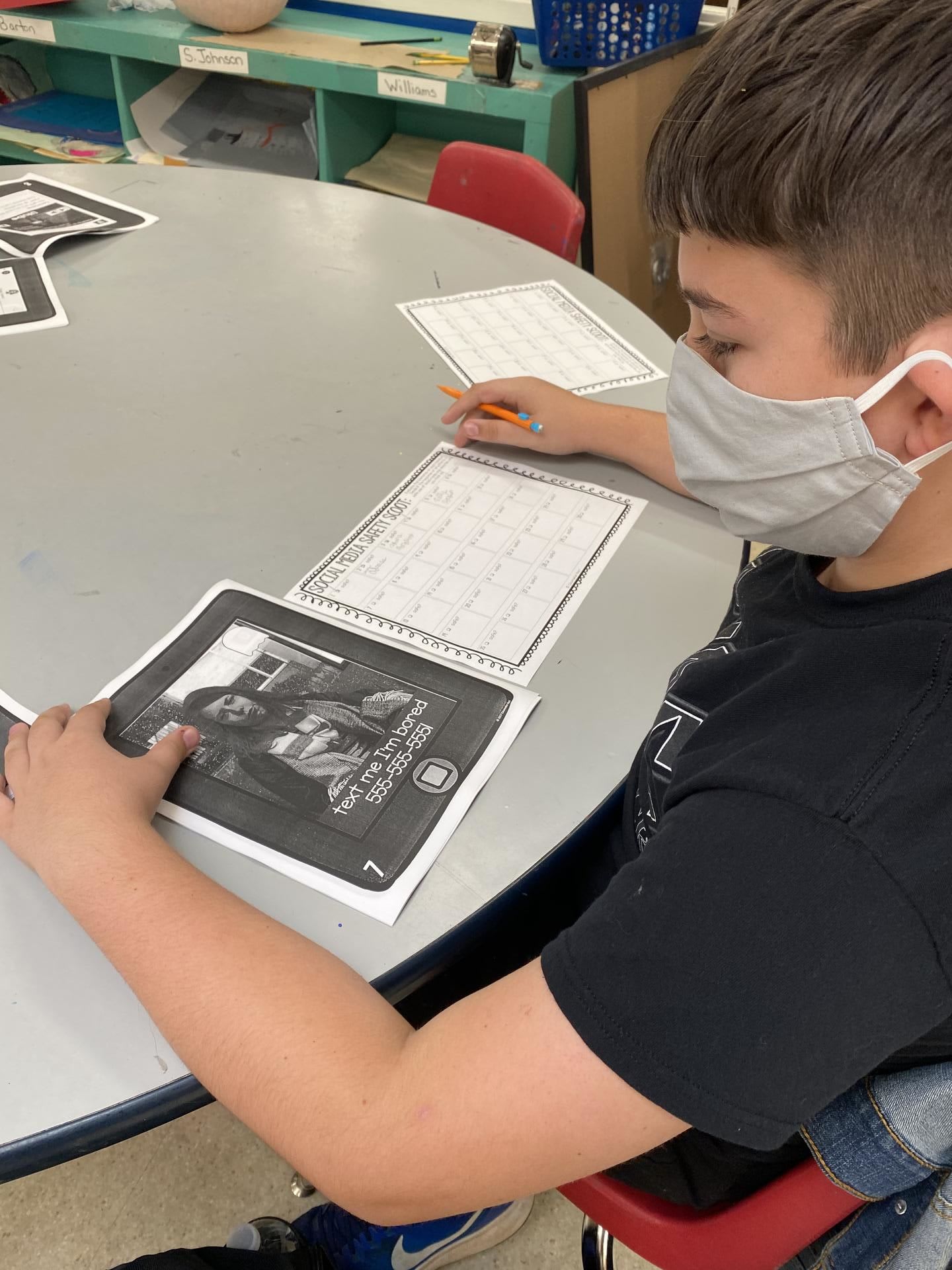 Learning About Social Media Responsibility
Middle school students are studying social media responsibility and digital safety this month in their Advisory classes. In this activity, students looked at sample Instagram posts, Snapchat posts and group texts to determine if they were safe or unsafe. Then, each one was discussed as a group to remind the students what is "okay" versus what is unsafe to post on social media platforms.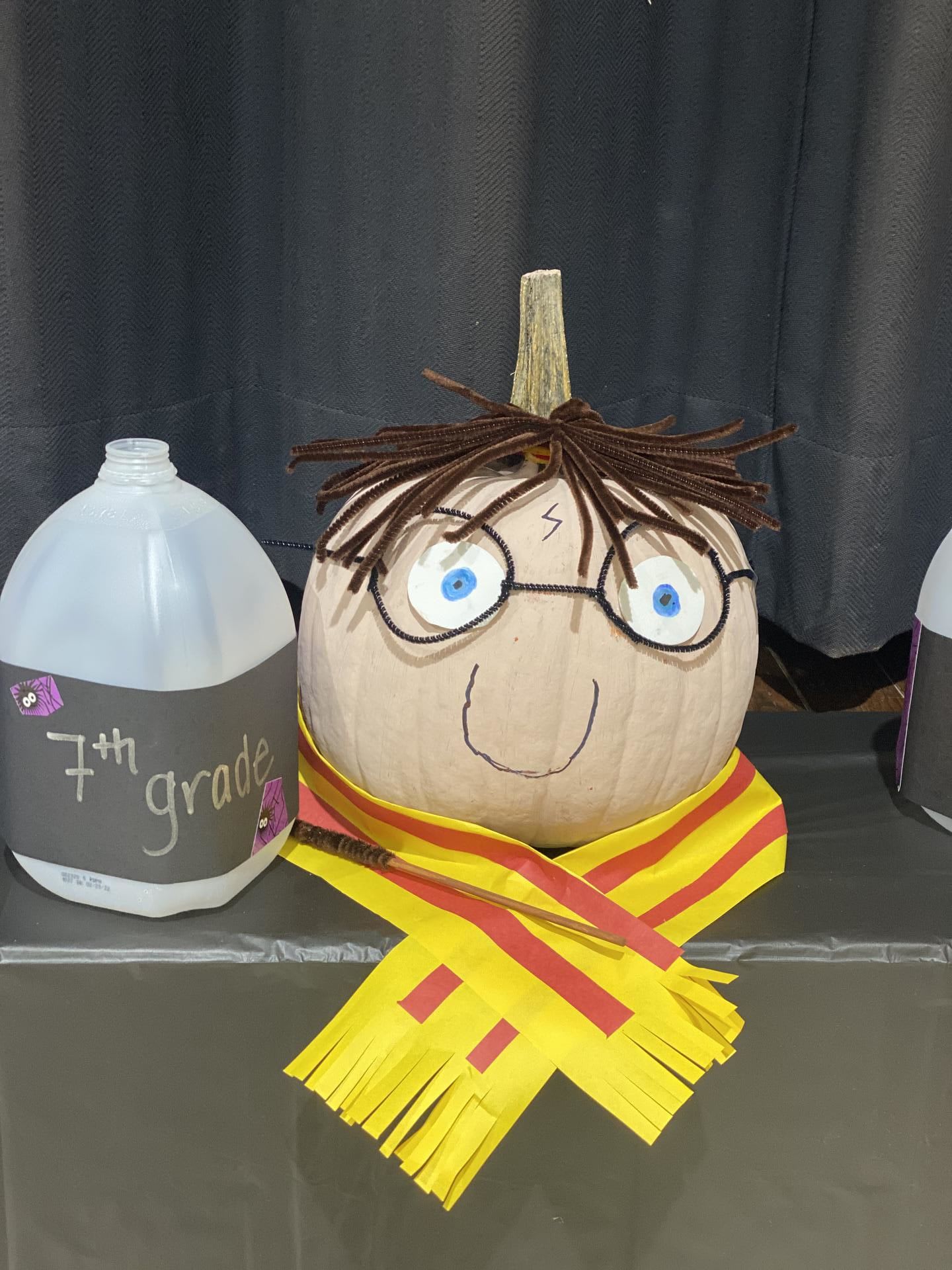 This year, an annual lower and middle school tradition, The Pumpkin Lighting, was unable to be held due to safety concerns related to COVID19. However, this did not stop our Fuqua School PTSA from coming up with an alternative plan. As tradition goes, each class still selected a class theme for their pumpkin depending on a current literature unit, topic of study, or just to have some fun. With help from classroom parents, pumpkins of all shapes and sizes arrived at school….from Oscar the Grouch to Harry Potter to Narnia. During the last week of October, students in grades K-8 participated in a penny war. Students used pennies to give positive points for their class pumpkin. Students could also use any other coin to deduct points from other class pumpkins. The final winners of the Pumpkin Penny War contest received a dress down day. All proceeds from this contest benefit the Lower and Middle School SCAs.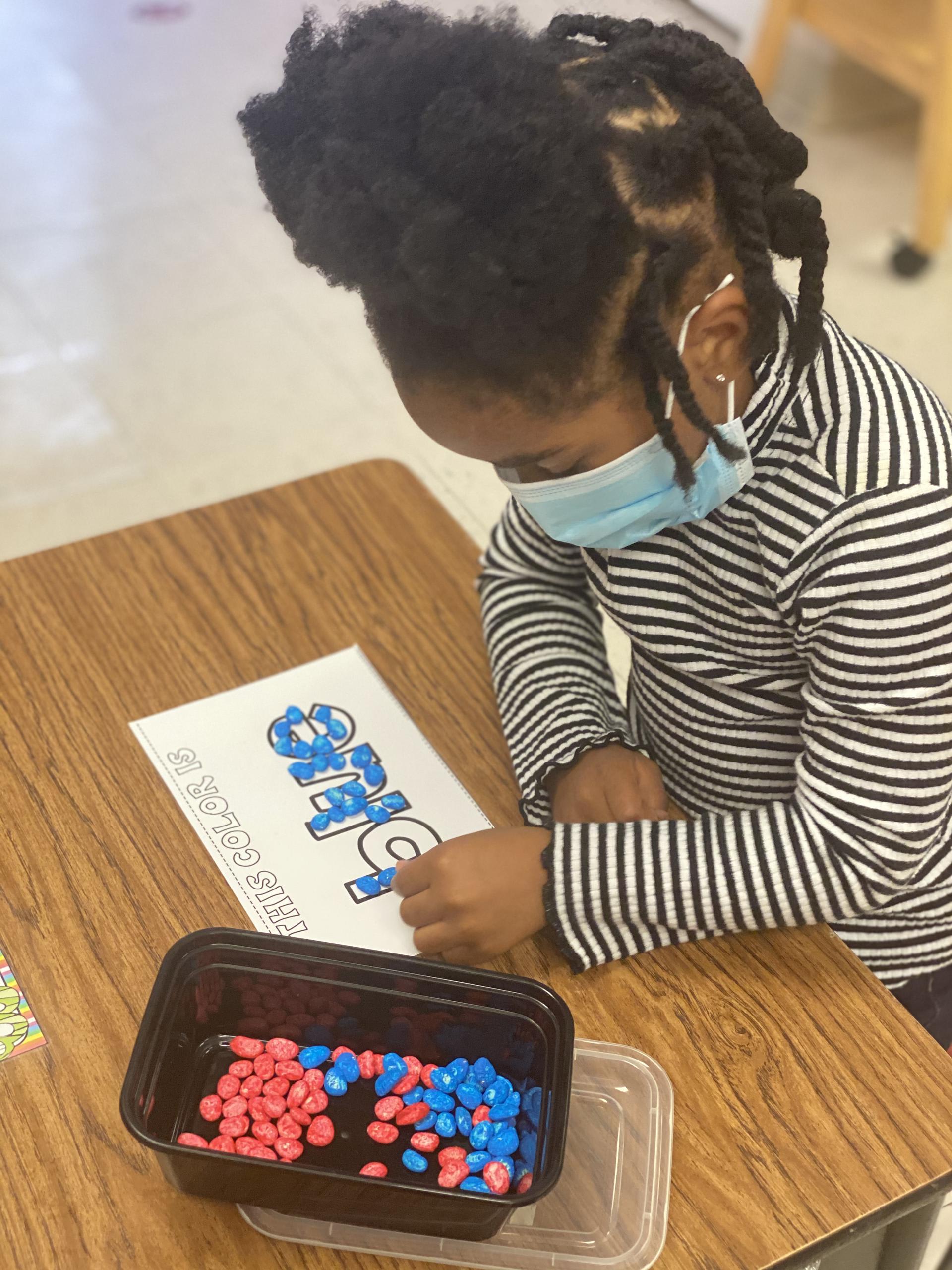 PK Students Learn Their Colors & Numbers
Exciting things continue to happen at The Falcon's Nest where learning grows by leaps and bounds each day. This month, students in Mrs. Davis's PK3 class are learning about their colors. In addition to singing songs about the colors, students are also sorting beads and using them to spell the color out. These activities incorporate not only color identification, but also help students learn their letters, too!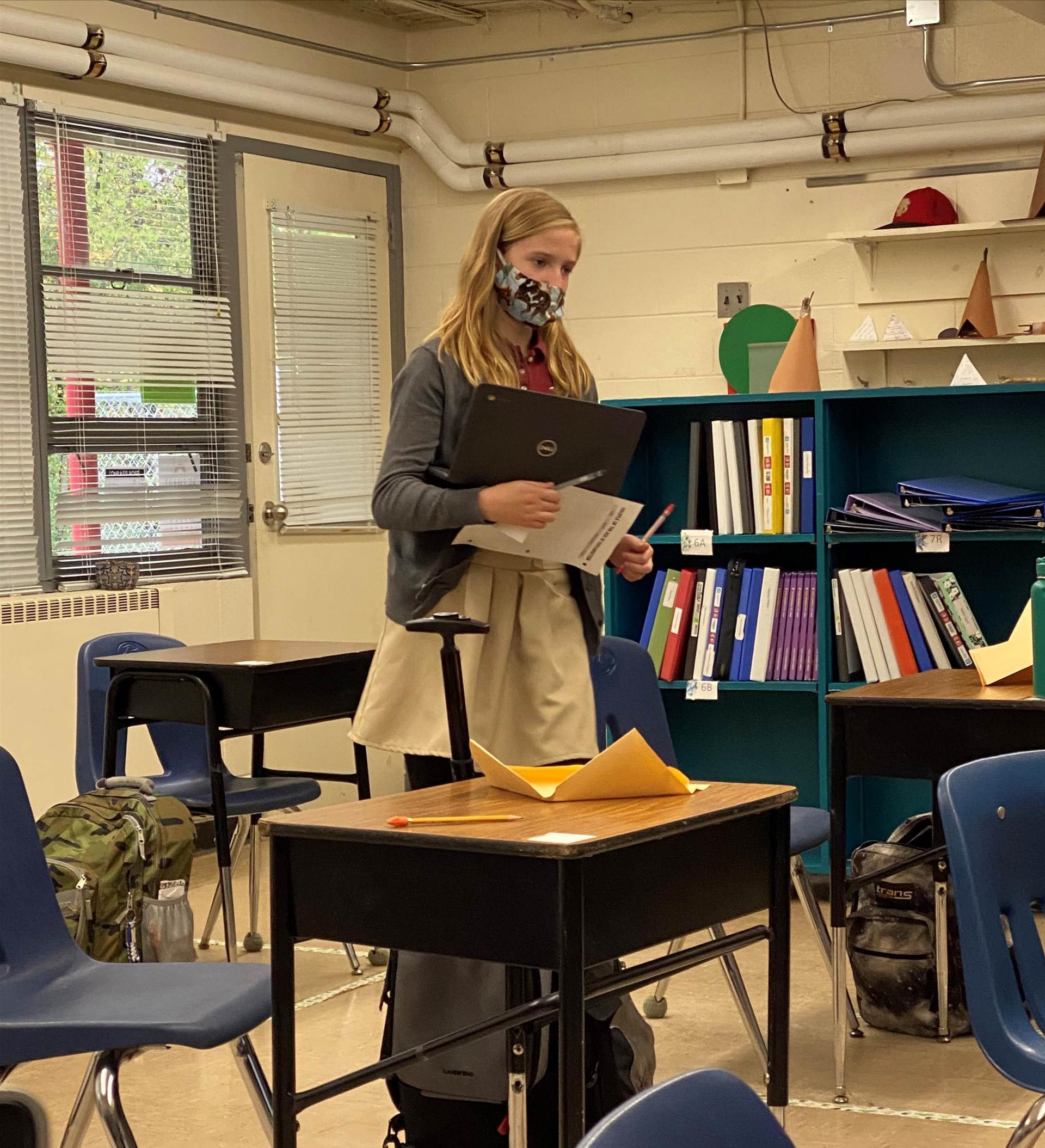 Student Teachers Participate in Practicums
Fuqua School and Longwood University have a long-standing partnership in welcoming students in their education department to observe our talented teachers. However, in an effort to keep our students and faculty safe, we have limited our on-campus visitors to only Fuqua faculty, staff and students.
Yet, we wanted to help these aspiring teachers still get an opportunity to observe from afar, Thirteen Longwood practicum students were invited to observe virtually through the classrooms' Zoom sessions. By pairing these students up with one of our lower and middle school teachers, these Longwood students are still able to observe the teacher in action, as well as participate in class discussions and discover each teacher's Google Classroom. (Pictured is 6th grader, Rebekah Call, rotating through centers with virtual student, Colin Jamerson, and Longwood student, Ms. Newbold, on her Chromebook).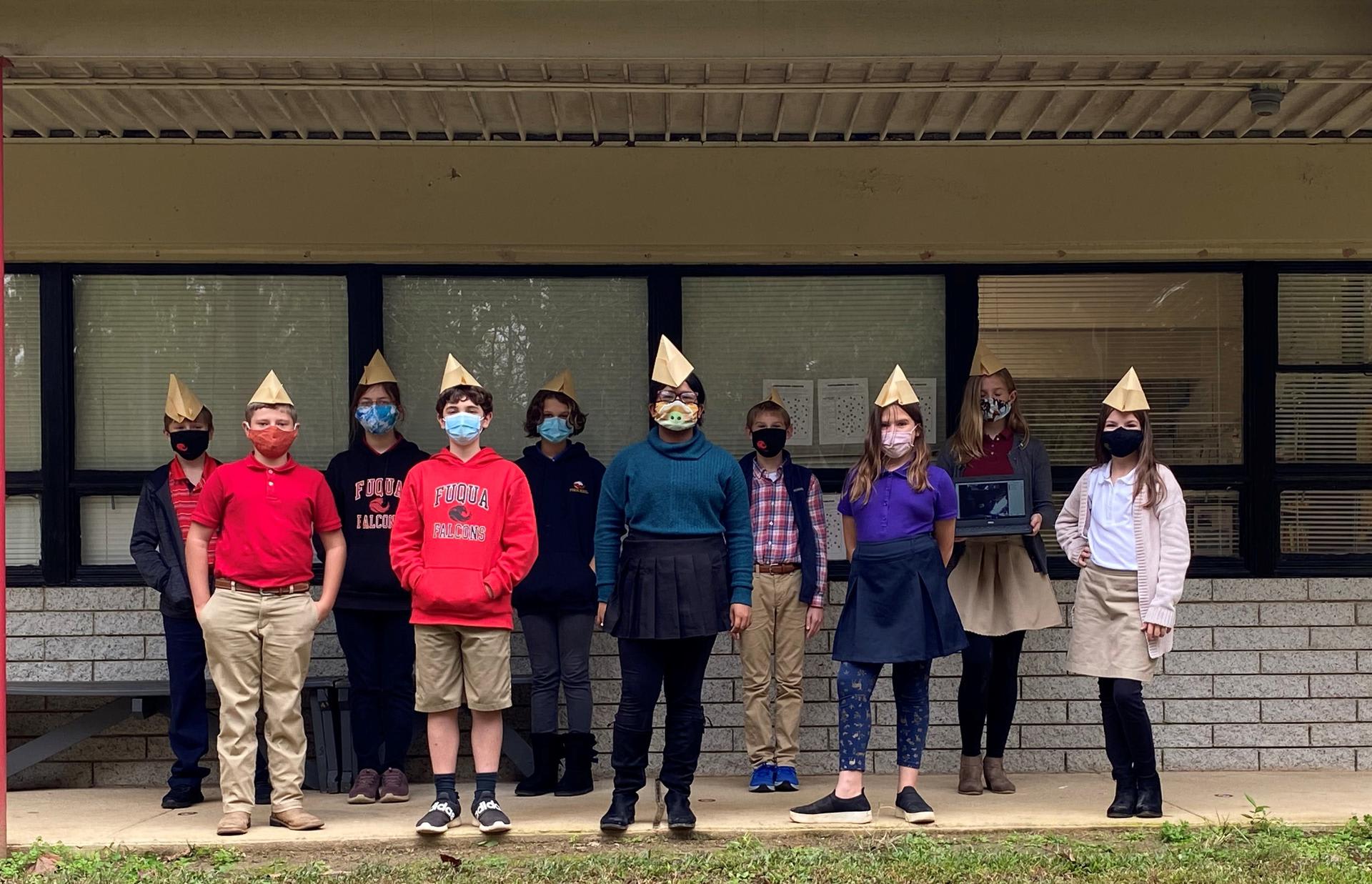 The 6th grade is learning about European Explorers in their history class. As a reinforcement lesson, students rotated through 8 stations of explorers, charting their courses on a map and taking extra notes on the importance of each. Before rotating in the stations, the students made explorer hats to help get them in the mood to explore. . After mapping, students planned a dinner party with the 8 explorers, placing them in seats next to people they would have something in common with.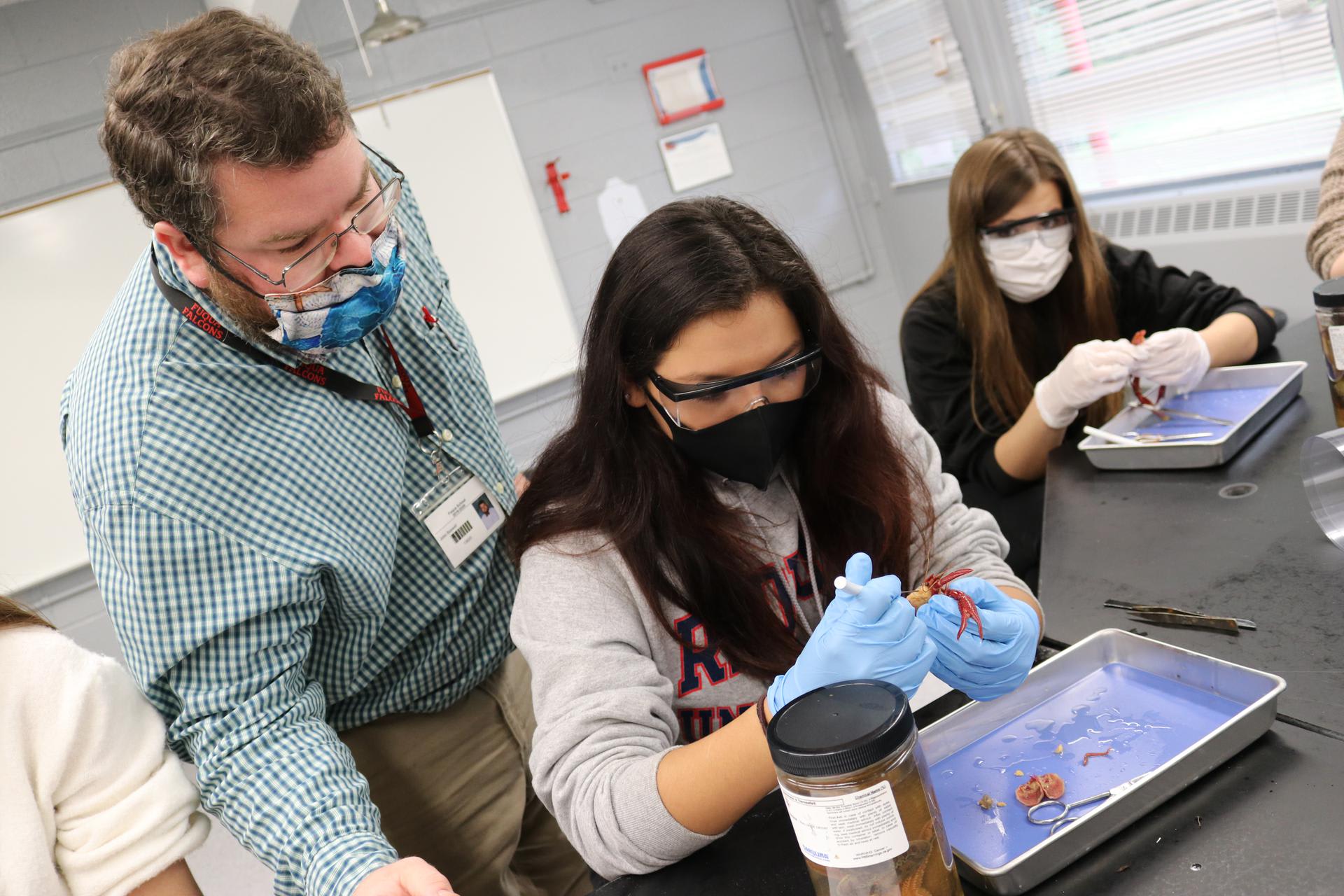 Learning Through Dissection
The Upper School Honors Zoology class finished their study on crustaceans with an in-depth dissection of crayfish. They learned about how crustaceans evolved their segmented "toolkit" of legs and specialized mouth parts to grow, survive and reproduce. This class has utilized the newly renovated science lab to dissect model organisms representing the phyla of annelids (worms), mollusks (clams), and insects (locusts). The study of Echinoderms (starfish and related species) with higher level vertebrates are next on the horizon!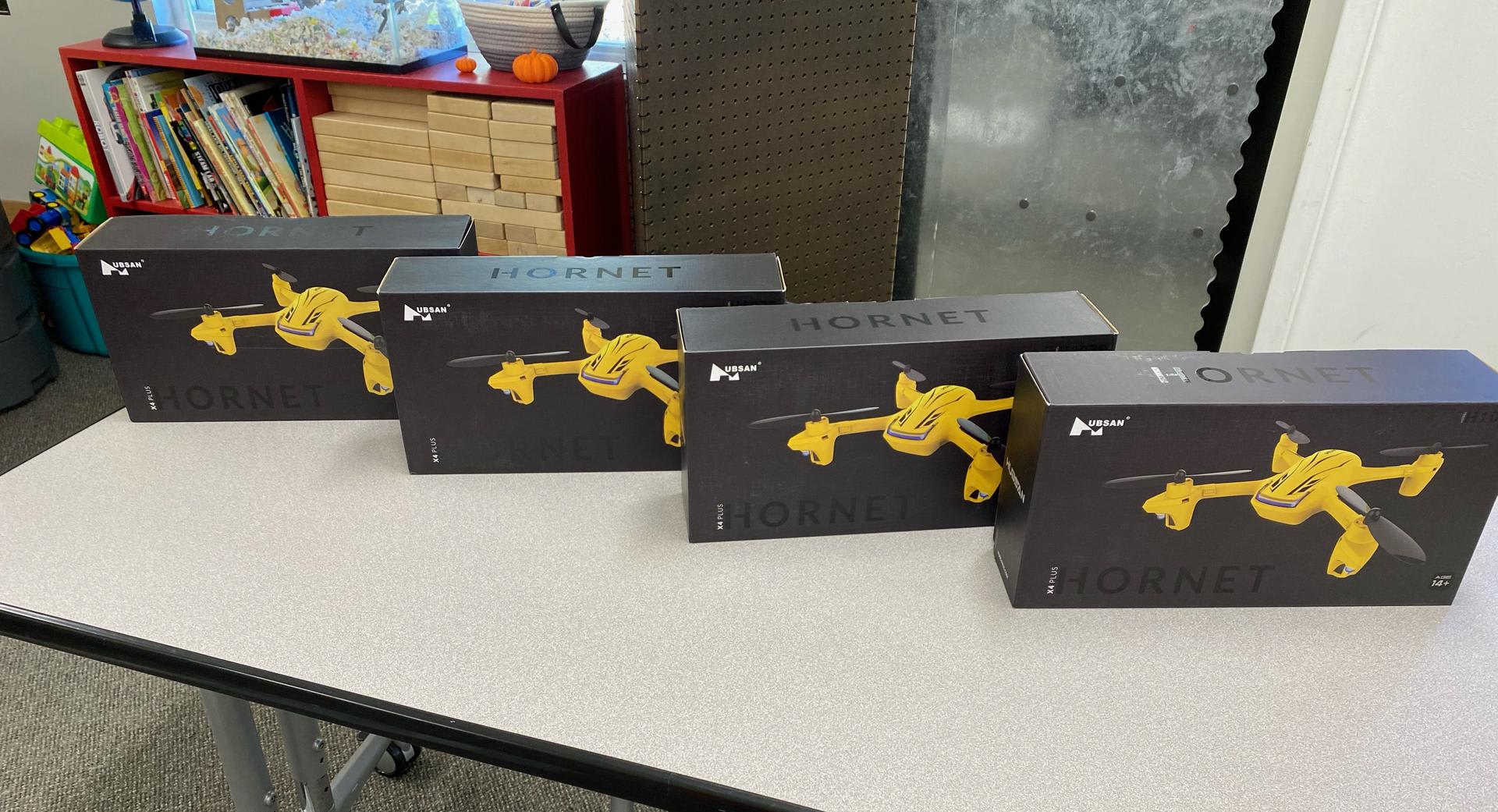 STEAM Lab Receives Drones
The STEAM Lab has some exciting new additions! STEAM Lab Coordinator, Kathy Jefferson, received four drones from a grant she received from the Civil Air Patrol (CAP). As part of the grant, students will try the lessons provided by the CAP. Drones are engaging for students of all ages, and they can enhance a students' orientation, motor skills, and helps them build a better understanding of the world around them. These are the first set of drones the STEAM Lab has acquired, and Mrs. Jefferson is looking forward to using them as part of her STEAM curriculum.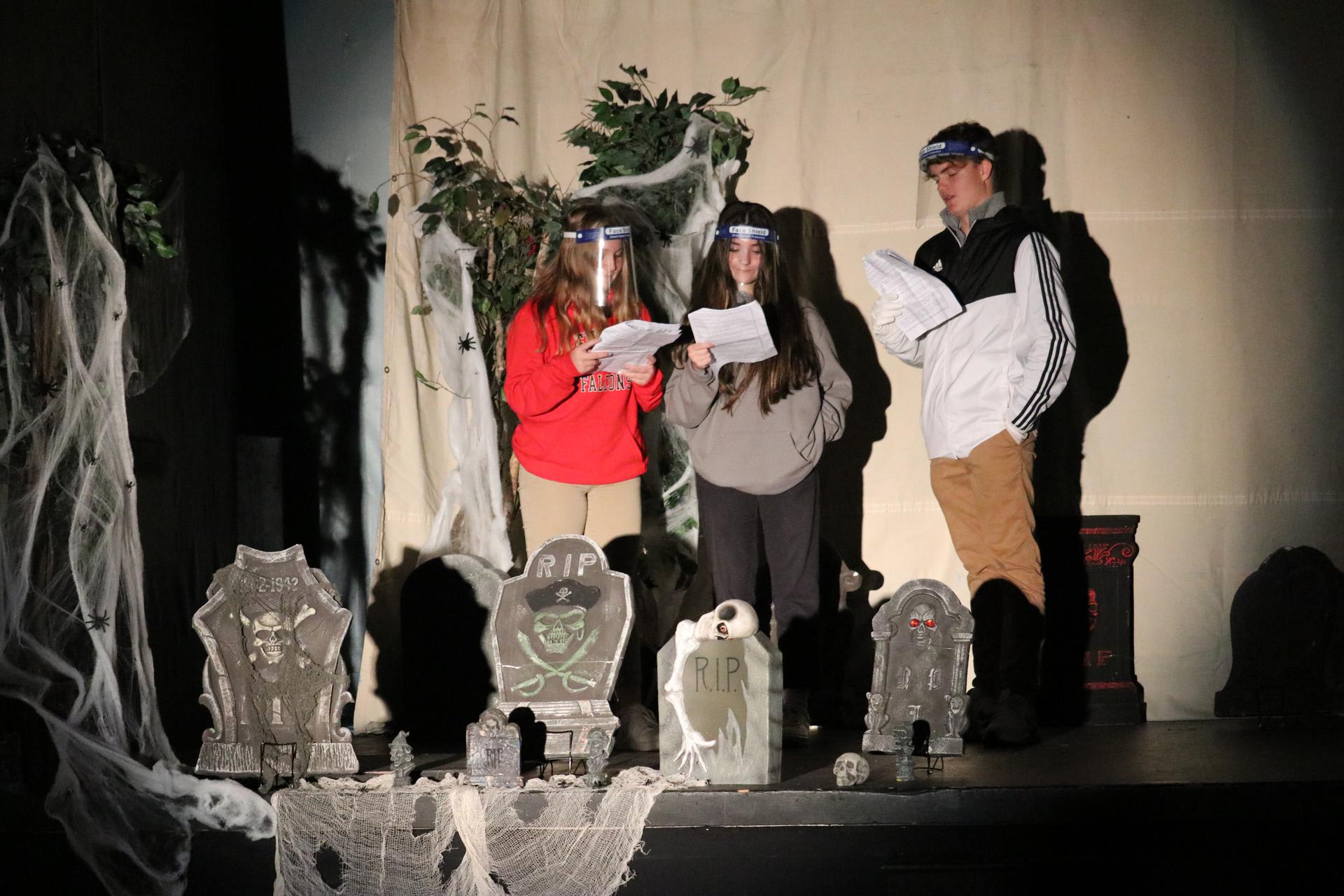 Reader's Theater Presented
The theater students have been studying reader's theater, which is a dramatic presentation of a written work where readers read from a script. To culminate the study, the theater students performed "Girl in the Gap" by Teen Readers' Theater. It was loosely based on the Japanese legend where the spirit of a young murdered girl lurks in small spaces or gaps that could be used as hiding spaces. The Halloween presentation allowed the class to practice being on stage and the opportunity to work with lighting and sound.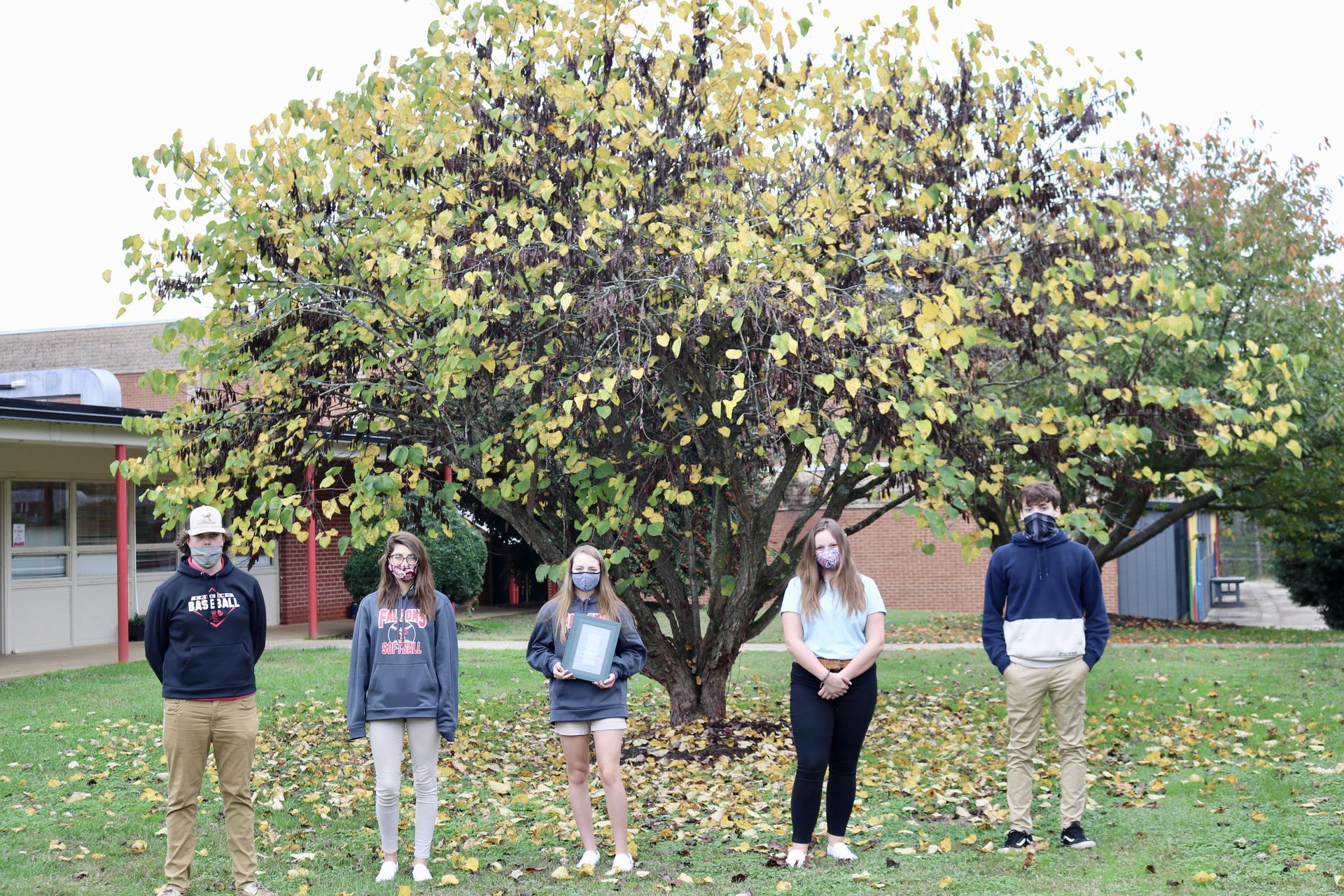 Yearbook Staff Receives Recognition
The 2020-21 yearbook staff proudly holds the Herff Jones 2020 "best-of" publication Portfolio, which showcased the amazing work that came from yearbook staffs across North America. Fuqua School's 2019 yearbook, Born To Be A Falcon, was featured in the Portfolio on page 196. Of the thousands of yearbooks printed by Herff Jones, only 477 schools were chosen to be featured in the Portfolio. Herff Jones stated, "Judged by industry experts on various design and storytelling elements---from themes to covers to features---the featured staffs truly epitomize the student innovation that came from yearbook classrooms in 2019."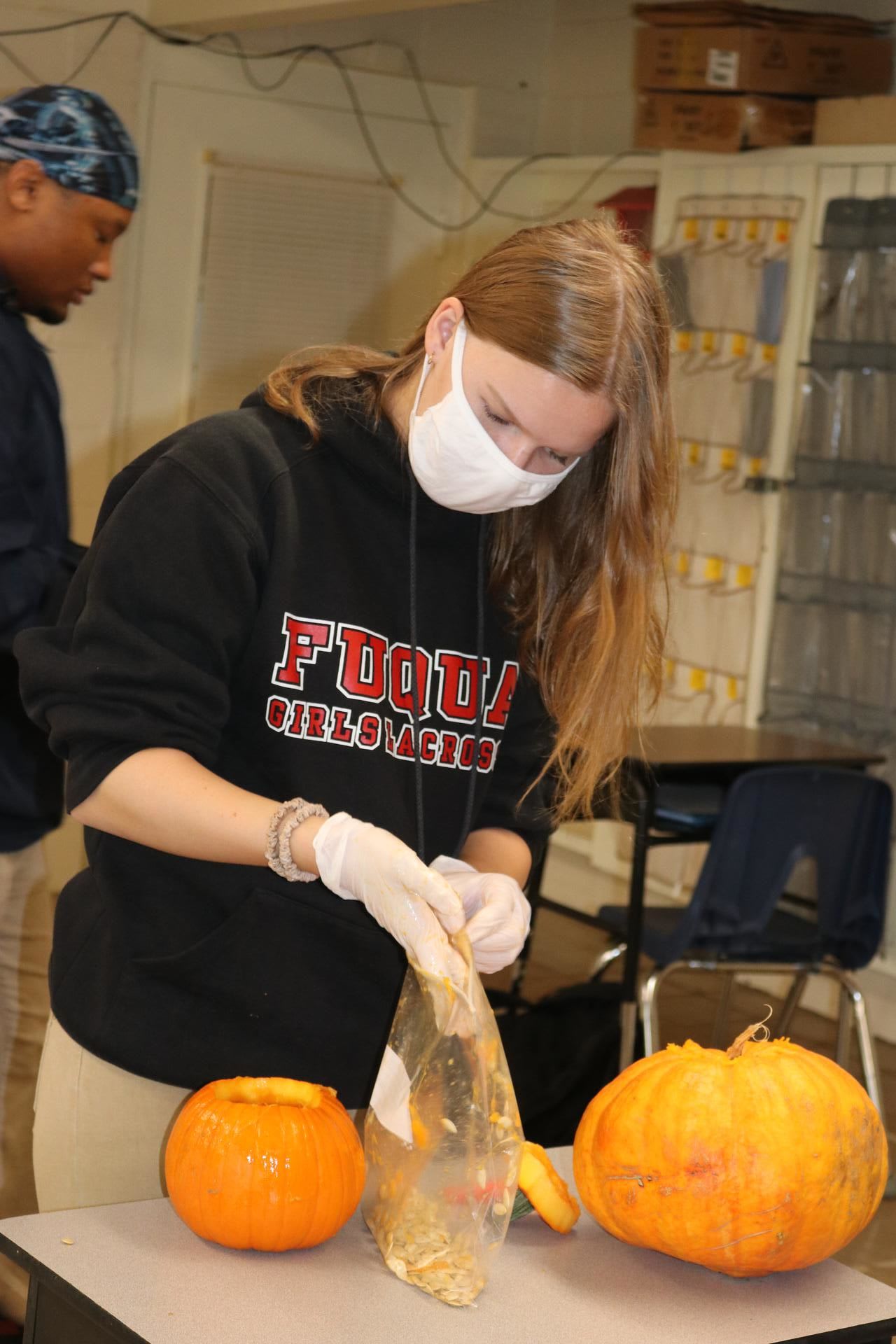 Recently, upper school students in the Algebra II, Honors Pre-Calculus, and Honors Physics classes all had the opportunity to carve pumpkins – math style! For some students, this was their first time ever carving a pumpkin. The students had to carve a pumpkin following certain guidelines. They had the choice to either 1) measure the radius of their pumpkin from center to edge and use the volume formula of a sphere to approximate the volume of their pumpkin, 2) count the number of seeds inside their pumpkin, then determine what percent of seeds their pumpkin has compared to the average pumpkin when the average pumpkin has 280 seeds, or 3) incorporate at least three geometric or mathematical symbols in their pumpkin carving. While these decorative pumpkins gave the perfect Halloween vibe outside the classroom, the physics class launched their creations with the catapult they built to ensure it worked perfectly for our Pumpkin Chunkin' event.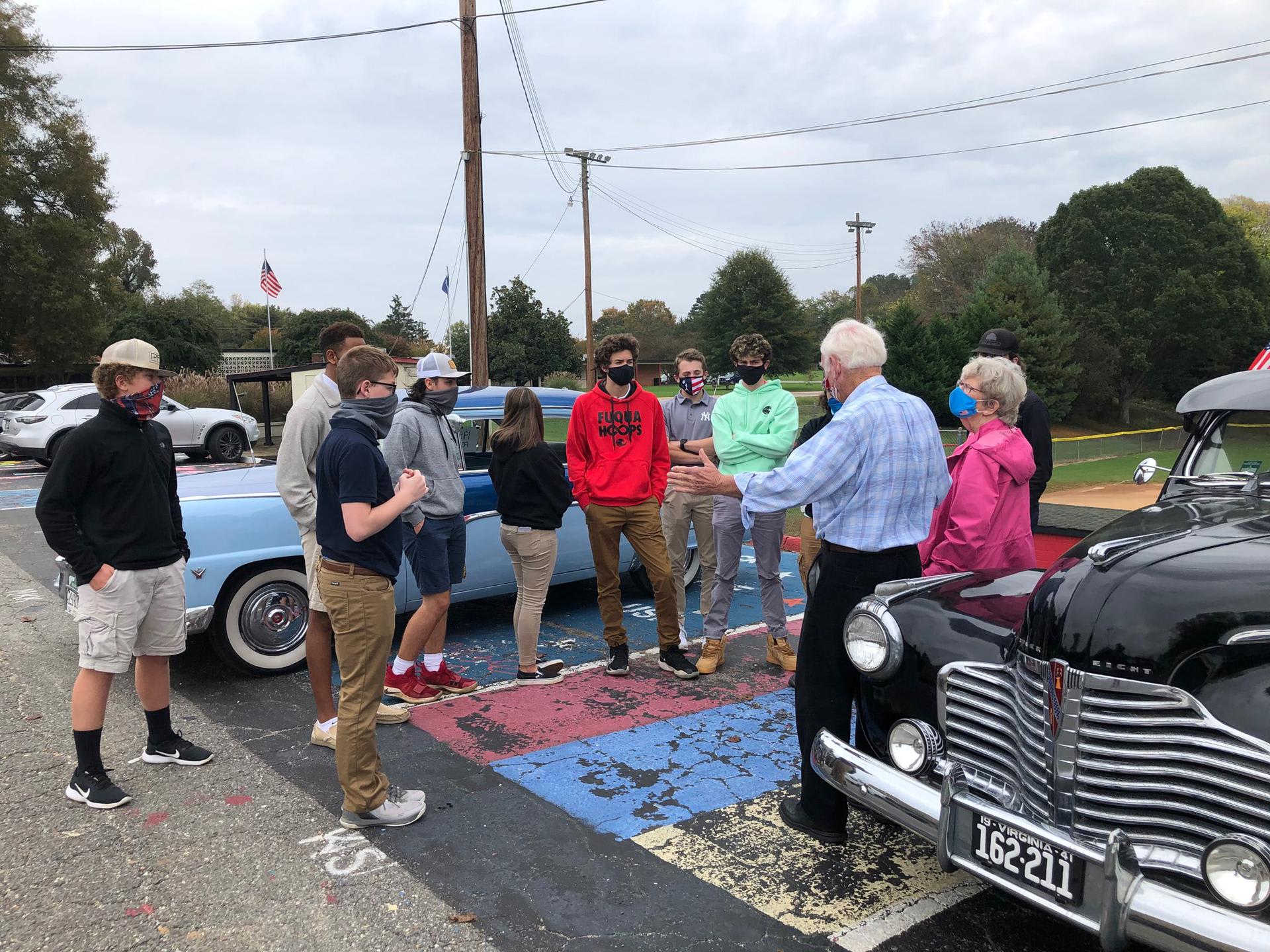 Alumnus Mr. Gene Southall brought two of his vintage cars to share with students in American Popular Culture who were studying the 1940's and 50's. His '41 Buick and '55 Ford were both hits with the class members. After sitting in the cars themselves, students remarked how roomy they were compared to more modern versions, and Mr. Southall explained that the cars had only AM radios, straight shift transmissions, and no air conditioning. Some students also admired the powerful engines and dual exhaust. Our thanks to Mr. Southall and his friend Susan Oertel for making the visit possible!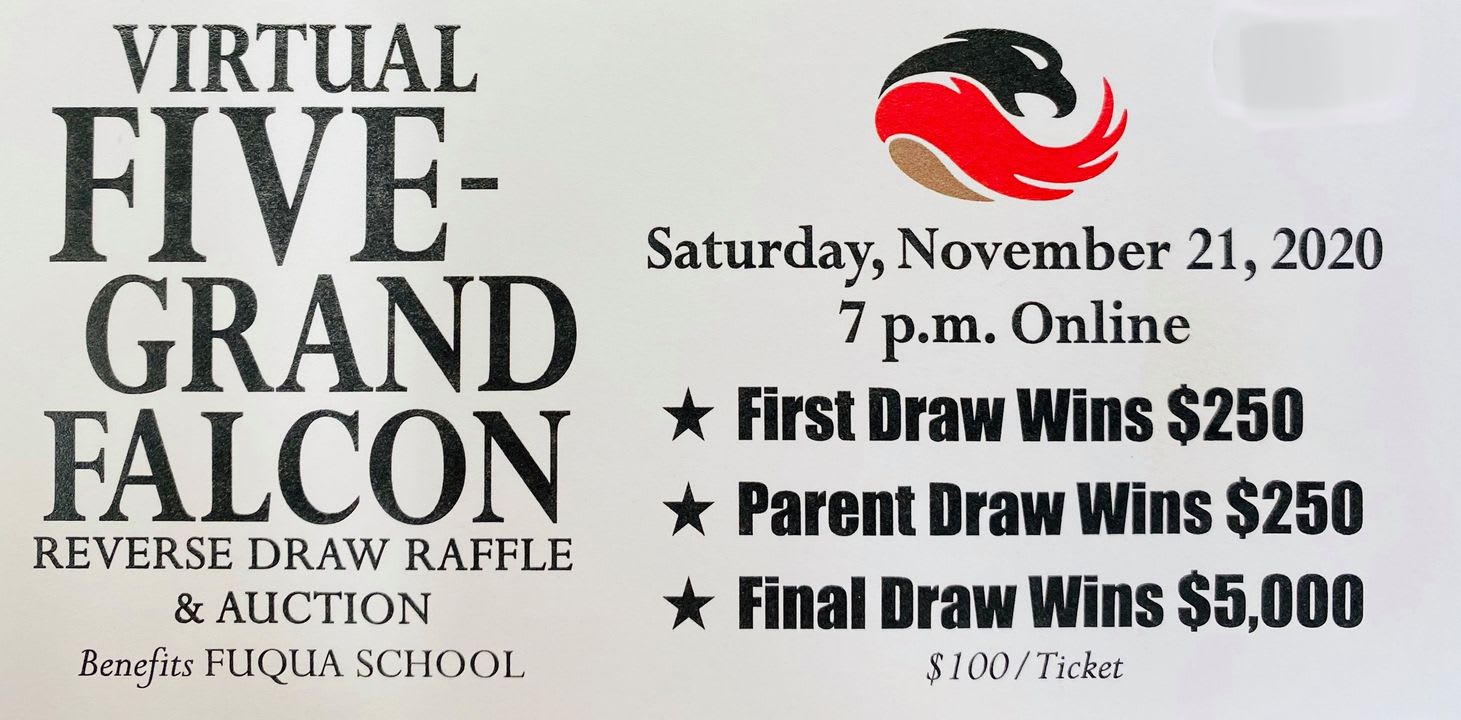 5 Grand Falcon Going Virtual
This year's 5 Grand Falcon event will look slightly different than in year's past due to COVID restrictions. However, our goal is still the same – to raise needed funds to help our students reach their boundless, individual potential. This year's event is scheduled for Saturday, November 21 at 7 PM. Money raised at this event is used for student-centered programs. Every dollar raised will go directly to the school. This year's event will be completely virtual utilizing ZOOM to showcase our reverse draw raffle, and an online auction platform will be available for the auction. The first ticket drawn wins $250 while the last ticket drawn wins $5,000! Parents who purchased a ticket will be entered in a separate drawing with a $250 prize.
Don't miss out! Get your ticket today!